EP Review
Kadhja Bonet - The Visitor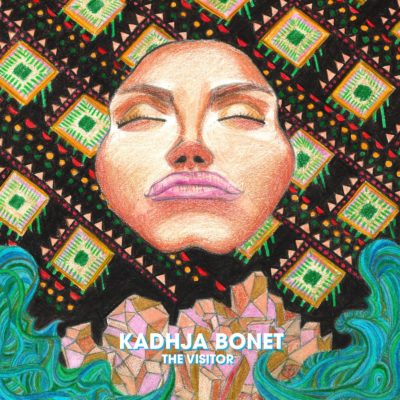 Kadhja Bonet's debut mini-album is a hybrid between the past and the future.
Label: Fat Possum
Released: 21st October 2016
Kadhja Bonet's music could easily belong in another time, a hybrid between the past and the future. Debut mini-LP 'The Visitor"s opening track 'Honeycomb' (after a swirling, other-worldly instrumental intro) would feel completely at home in ballrooms and '60s film montages, but places itself into the present day with unexpected twists and turns into layers of acapella vocals.
The San Francisco-born's biography claims: "Kad-ya was born in 1784 in the backseat of a sea-foam green space pinto," and this abstract, undefinable nature seeps through every moment of 'The Visitor', the album creating a whole new world for itself to live in. Its title track folds out into an elongated, spaced outro - there's all the elements of soul music, just this time it's visiting from a different planet.
'Gramma Honey' employs a noodling acoustic guitar and creeping percussion which takes her into Radiohead territory, while 'Portrait Of Tracy"s two minutes are probably the album's most confused moment, yet possibly its most brilliant. Strings that could fill any hall give way to a whole shedload of instruments laid on top of each other. The track, as with many others on 'The Visitor', finishes with Bonet's voice alone, and amongst all the weird and wonderful sounds that are given a home on the album, her voice remains the constant anchor.
'Francisco' sends off with the grace and style it maintains across the record's distinctly otherworldly eight tracks, and if Kadhja Bonet is 'The Visitor' herself, it's a trip that should be savoured.

Get your copy of the latest issue
More like this