Album Review:
Kero Kero Bonito - Bonito Generation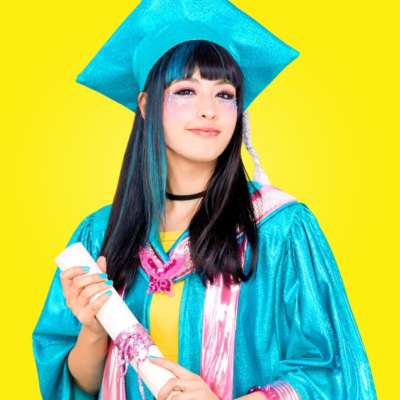 London trio's debut album has the potential to soundtrack kids' toy commercials and clog up radio playlists.
Label: Double Denim
Released: 21st October 2016
What you see is what you get with Kero Kero Bonito. Instant sugar rush pop with extra icing on top, they've perfected the quick fix formula, throwing a dozen giant would-be singles into their debut album 'Bonito Generation'. True to the title of lead single 'Graduation', they've been studying. Like being waist-deep in a 'How To Make Bangers' rulebook, KKB have mastered the art of pure, don't-give-a-fuck pop.
It won't be for everyone, mind you. Nods to game soundtracks, J-Pop and a supply of knowing winks prompt questions over whether the trio's genuine pop ambition is shadowed by irony. But despite affiliations with part-time satire club PC Music, they're not taking the piss. There's a genuine love for giant hooks and zero-inhibition songwriting. 'Lipslap''s wobbling bass, 'Trampoline''s Euro-Trance chorus and 'Fish Bowl''s floaty pulse are schooled in 'NOW' compilations and days wasted watching MTV.
'Bonito Generation' is crammed full of tiny quirks. Sarah Bonito and Lobban stop to have a natter on 'Heard a Song', half a dozen hip-hop samples encircle on 'Waking Up', and a camera shutter pops in for 'Picture This'. The one fault with this first work: It crams together a bunch of massive singles, melted into a sometimes grating dose of glucose. But that's the compromise for penning twelve monster hits. And these really are hits. They're not songs to skirt the pop fringes without making an impact. They could and should soundtrack kids' toy commercials, clog up radio playlists. Kero Kero Bonito aren't fooling around.
More like this