Album Review:
Toy - Clear Shot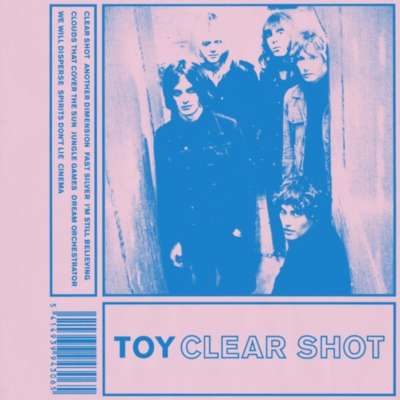 A melodic, sprawling record to wig-out to.
Label: Heavenly
Released: 28th October 2016
There's currently a ridiculously exciting scene in Brighton; from the grunge hooks of literal buzz-band Black Honey to the creative hub of the Echochamp house, shared by The Magic Gang and Abattoir Blues. TOY and their blend of krautrock and psychedelia came long before this, with their self-titled LP released back in 2012. Their second release came pretty speedily after the next year and brought with it a few tweaks to their already masterful sound; slightly longer tracks, a little less of a tendency for pop hooks and a more expansive atmosphere.

This time, they've worked on 'Clear Shot' for three years, and the longer period of crafting it pays off. They've managed to brilliantly blend the driving rhythms of their second LP with the indifferent vocals and catchy riffs of their first to create something that seems to find just the right balance. There is also some injection of acoustic guitar and use of more synths; 'I'm Still Believing' is probably the most post-punk and classic TOY have sounded, while 'We Disperse' is the most melodic and delicate the band have ever been.
As individual tracks, perhaps there are no singles as instant as say 'Colours Running Out' or 'My Heart Skips a Beat', but 'Another Dimension' comes close. It's an immediately classic sounding track; fantastically switching between a Magazine-esque twangy riff to a blissful chorus that Slowdive would be more than proud of. It's clear that the Horrors' stamp of approval and influence in making them influential won't ever be rubbed-away; 'Cinema' ends in the kind of epic fashion that 'Oceans Burning' does. But of course, that ain't a bad thing, because the Horrors are bloody horrowshow. All in all, it's a melodic, sprawling record to wig-out to; and one that means that 'Clear Shot' hits the mark indeed.