EP Review
Nine Inch Nails - Not The Actual Events
4 Stars
A battlecry for something truly epic to come.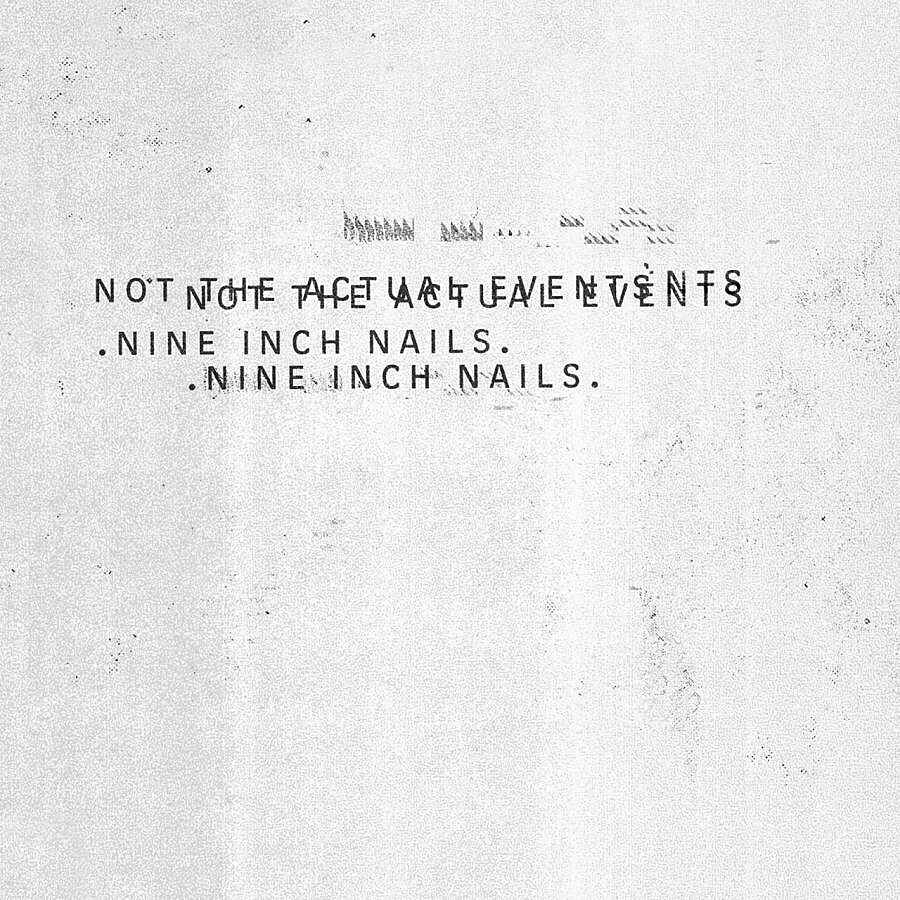 A decade ago Nine Inch Nails unleashed fifth album 'Year Zero' on their baying audience. Marking the last time Trent Reznor's project had created an album as a cohesive entity, rather than the free-for-the-fans playground of 'The Slip', instrumentals 'Ghosts I-IV', or the impeccably curated career-revisiting of 'Hesitation Marks'. 'Year Zero' was a concept album, set in 2022, surrounding an increasingly militarised police-state of future America, blighted by terrorism with its populace subjected to invasive surveillance and inescapable brainwashing. Since departing to score countless films, as well as his subsequent albums, it's a narrative Trent has never quite let go of.
As the provocatively titled 'Dear World,' suggests it's a narrative he may even be coming to see himself in. All of us, as he observes "Yes, everyone seems to be asleep", with its repeating motif of "you didn't even notice", the keyboards bouncing back and forth from razor blade to barbed wire. Far from the standard emotional melodrama, he delivers it as an almost dispassionate spoken word piece, the monologue of a man teetering of the edge of the rooftop. Prior to that, opener 'Branches/Bones' echoes 'Survivalism' and '1,000,000' effectively as a electro-industrial stomp along, before quickly admitting it "Feels like I've been here before" and ending. It announces a clear intention, even desperation to move Nine Inch Nails along, to hack straight into the next chapter in its timeline.
Longtime collaborator Atticus Ross is named as a formal member of the project for 'Not the Actual Events', and his influence is felt in the viscous enveloping of sound of 'She's Gone Away'. A grinding behemoth of a song where Trent's vocals are frequently met with a gargantuan metallic squall, as if he's in call-and-response with a robot god. It hark backs to the rusted textures of 'The Fragile' on an EP that echoes the inferno excess of 90s Nine Inch Nails more than it could have been expected to.
'The Idea of You' pushes further into the depths, heavier still, with Dave Grohl's drumming propelling a verse that sounds like a sad scene in Mr Robot into a screaming, breathless chorus of "Wait, none of this is happening!". The descent continues to a point, 'Burning Bright (Field on Fire)', where even Trent may not have ventured to before – a submerged, drowning sensation of a near-shoegaze Jesus and Mary Chain or My Bloody Valentine swamp. With an aggressive, claustrophobic chorus where he implores the listener to "Breathe, breathe, break through the surface and breathe". If Trent's 'Year Zero' comes closer and closer into view, he may finally have written the perfect opposite to set-closing classic 'Hurt' - it may be the best most empowering chorus he ever wrote.
With the announcement that 2017 will not see just one but two projects from Nine Inch Nails, 'Not The Actual Events' serves as an excellent primer for what is to come. But more importantly, and more pressingly, it asks more questions and takes more risks than any welcome back should. It's not a postcard of a legendary past, its a battlecry for something truly epic to come.
More like this