Hurrah!
Diet Cig announce debut album 'Swear I'm Good At This'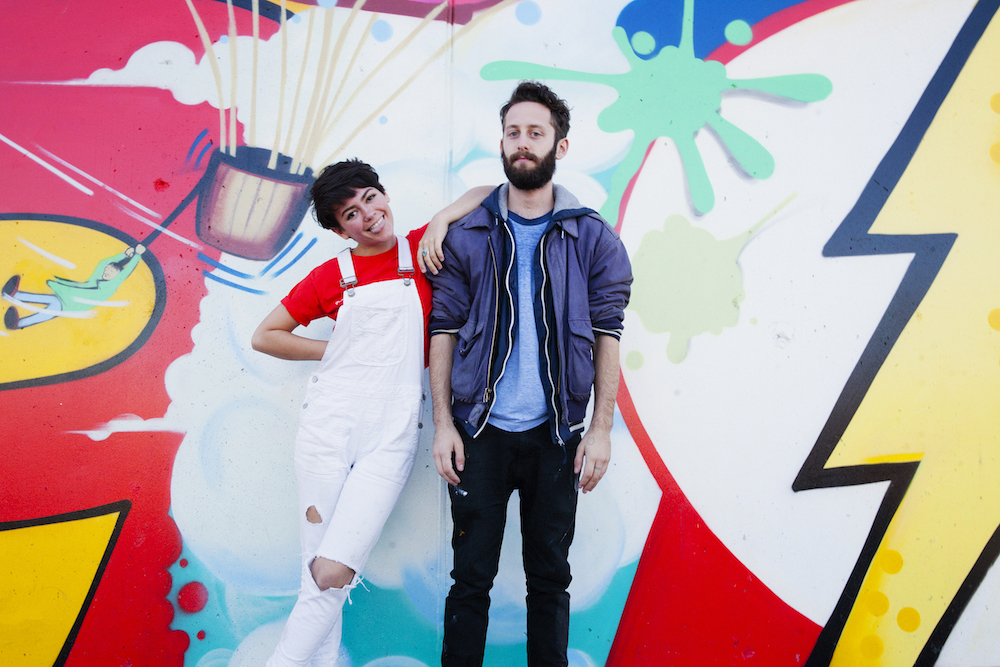 The high-jumping champs have also lifted the lid on brand new pop-punk banger 'Tummy Ache'.
High-jumping champs and DIY Class of 2017 stars Diet Cig have officially announced their debut album, after hinting it was finished earlier in the week.
'Swear I'm Good At This' - complete with embroidered artwork - is out on April 7th via Frenchkiss records, and around the same time, the pair kick off a U.S. tour. There are no UK dates out there yet, but fear not, dear readers; it seems likely they'll be visiting sooner rather than later.

Along with confirming their debut full-length, Diet Cig have shared more ace music to tide us over. 'Tummy Ache' - a belter of a song, which toys with the complexities of showing kindness in the harsh rock scene - gives a taste of what to expect.
"It has a message which is really important to me and other femme people," Alex told us in Diet Cig's Class of 2017 feature, speaking about 'Tummy Ache'. "It's biting back from a place of sexism in the music industry, and dealing with trying to be punk, hard and tough, but also being soft and empathetic. It's really hard to be seen as a soft person in punk," she points out, "even though being soft is actually so much harder and more radical."

Listen to 'Tummy Ache' below, and scroll down for those US tour dates.
FEB
04 Binghamton, NY @ Binghamton University
22 San Francisco, CA @ Brick & Mortar Music Hall (Noise Pop)
MAR
14-19 Austin, TX @ SXSW
APR
05 New Haven, CT @ BAR
06 Philadelphia, PA @ Boot & Saddle
07 Brooklyn, NY @ Baby's All Right (early show)
07 Brooklyn, NY @ Baby's All Right (late show)
08 Boston, MA @ Brighton Music Hall
10 Montreal, QC @ Bar Le "Ritz" P.D.B.
11 Toronto, ON @ Drake Hotel
12 Rochester, NY @ Bug Jar
13 Washington, DC @ Rock & Roll Hotel
14 Richmond, VA @ Gallery 5
15 Carrboro, NC @ Cat's Cradle - Backroom
18 Orlando, FL @ Will's Pub
19 Tampa, FL @ New World Brewery
20 Tallahassee, FL @ Club Downunder (at FSU)
21 Atlanta, GA @ The Masquerade
22 Charlotte, NC @ Snug Harbor
26 Eugene, OR @ Boreal
28 Seattle, WA @ Barboz
29 Portland, OR @ Mississippi Studios
MAY
01 Reno, NV @ Holland Project
04 Los Angeles, CA @ The Echo
05 Anaheim, CA @ Chain Reaction
06 San Diego, CA @ Che Café (at UC San Diego)
08 Santa Cruz, CA @ The Catalyst Atrium