Interview:
Lucid Dreams: Cherry Glazerr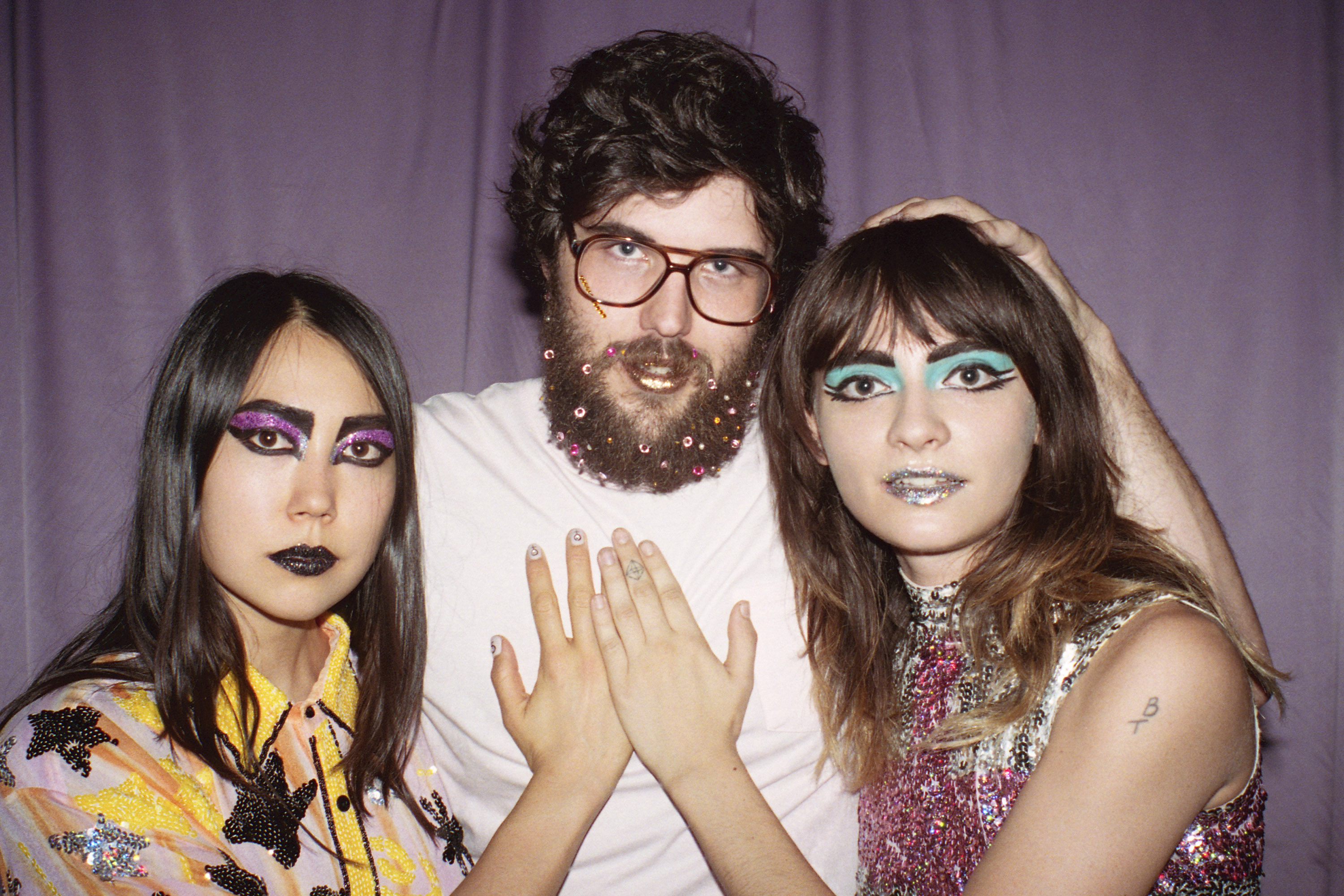 'Shagging her guitar' and ripping up Sunset Sound, Clementine Creezy's turned her bedroom project into a bonafide band.
Clementine Creevy sounds as if the whirlwind pace of Cherry Glazerr's ascension to the position one of indie rock's most exciting prospects is beginning to catch up with her. On the face of it, that's not at all unreasonable; after all, this is a project that began in her bedroom at the age of fifteen. Four years later it now beginning to bear genuine fruit. The band's album Apocalipstick has met with near-unanimous critical praise, and now in the midst of their most extensive touring schedule to date, the decision to sign with Secretly Canadian - jumping ship from the DIY roots they had down at Burger Records - is beginning to open up entirely new doors for them. "We're in a cab, and we've been doing tons of interviews," says Clementine, groggily. "I think we're heading to a fucking radio session or something. I don't really know what to expect."
All of that aside, though, it's not as if Clementine's life outside the band hasn't been moving at breakneck pace since she formed it. Her extracurricular activity these past few years has seen her dabble in modelling, front the fictional band Glitterish in the Amazon series Transparent and help to score a Saint Laurent fashion show; she penned 'Had Ten Dollaz' at the personal request of the fashion house's then-creative director, Hedi Slimane. All the while, she insisted Cherry Glazerr remained her primary focus, and her interviews were imbued with a palpable love of music, from namechecking Carrie Brownstein as a hero, to citing a world tour as being her single biggest ambition.
She's well on the way to achieving that with new LP 'Apocalipstick', which sees the group nailing down a stable lineup - Tabor Allen's behind the kit, with Sasami Ashworth on synths - and moving to a larger label, too. It was, she explains, a leap of faith to sign with Secretly Canadian. "We knew that they were great guys, and that they'd be easy to work with. And we knew that they had great taste. But it felt like it was more a case of us feeling like it was the right time, and that this was the right choice for us as a band. It's been going swimmingly so far."
"It's been going swimmingly so far."
— Clementine Creevy
The switch afforded Clementine the opportunity to ditch the bedroom surrounds of her career's early days in the most spectacular fashion imaginable; 'Apocalipstick' was recorded at Los Angeles' iconic Sunset Sound studios, etching Cherry Glazerr's name into the building's folklore alongside the likes of the Rolling Stones, The Doors and the Beach Boys. The resulting LP is a fierce, hook-heavy punk affair that feels like a whistle-stop tour of her musical touchpoints; where debut 'Haxel Princess' felt a touch soft around the edges, replete with teenage missives, 'Apocalipstick' snarls its approval of 'Last Splash'-era Breeders one minute ('Told You I'd Be with the Guys') and pays rollicking tribute to The Runaways the next ('Humble Pro', 'Nuclear Bomb').
"We had Joe Chicarelli, who's kind of a wizard, producing," explains Clementine, "and he basically works out of Sunset Sound. It's a very cool place; all this history, but it's really comfortable too. I don't think we really felt any pressure about it. Pressure's kind of intrinsic anyway - it's a construct of the mind. We just saw it as an opportunity to have fun in this awesome place, and that was how it turned out. It was pretty magical."
Culturally speaking, Clementine is evidently still casting her net beyond the musical world in a way that's feeding back into Cherry Glazerr's music; the first single from 'Apocalipstick', 'Nurse Ratched', was inspired by Ken Kesey's novel One Flew Over the Cuckoo's Nest. "I don't think there's necessarily any forethought given to that, though," she says. "It changes. It fluctuates. I've never thought that I'd write a song about a certain thing, and then sat right down and written it. I don't think I really plan ahead with the writing, or map out ideas. The lyrics tend to sort of flow as I write the guitar part, and then I'll jam it in the studio with the full band. Those ideas in the songs, that seem all over the place - they're always more in reference to ideas within the art itself than they are to things or people."
"Pressure's kind of intrinsic anyway - it's a construct of the mind."
— Clementine Creevy
That doesn't, though, mean that Clementine's shied away from the conceptual when it comes to the band's visual representation - particularly in the case of that specific track. The band caused a stir with the video for 'Nurse Ratched' when it dropped, appropriately, on Halloween last year; directed by Roxanne Benjamin, who boasts an impressive lo-fi horror track record that includes the likes of Southbound and V/H/S, it sees a maniacal and gore-splattered Clementine Creevy brutally murdering Ashworth, which sounds like constructive dismissal to this writer.
"Roxanne's just kind of a horror movie queen," laughs Clementine. "She's a total nerd for that stuff, and she's worked on a bunch of films in the same vein as the video. She has a really awesome way with blood and classic horror tropes in general, and she was the perfect fit when we came up with the idea to make a silly, John Carpenter-esque thing. Conceptually, everything came from Roxanne. I think it turned out great, and it was just supposed to be a fun thing; we weren't trying to provoke a certain kind of reaction."
How sincere that last point is remains to be seen - after all, in last month's clip for 'Nuclear Bomb', Clementine has sex with her Rickenbacker guitar - but she certainly always sounded genuine in her aspirations for Cherry Glazerr. Her dream of making it across the globe with the band is slowly becoming reality, with an extensive U.S. tour just wrapped and a slew of UK dates in the diary for May. "It seems like everyone's been digging it. The singles were already being sung back at us word for word, and now the new songs are going over really well - even the really new ones, that aren't on 'Apocalipstick'. It's just been a lot of fun on stage every night - and that's all that matters, right?"
'Apocalipstick' is available now via Secretly Canadian.