Round-up:
Tracks (The Magic Gang, Superfood, Marika Hackman & More)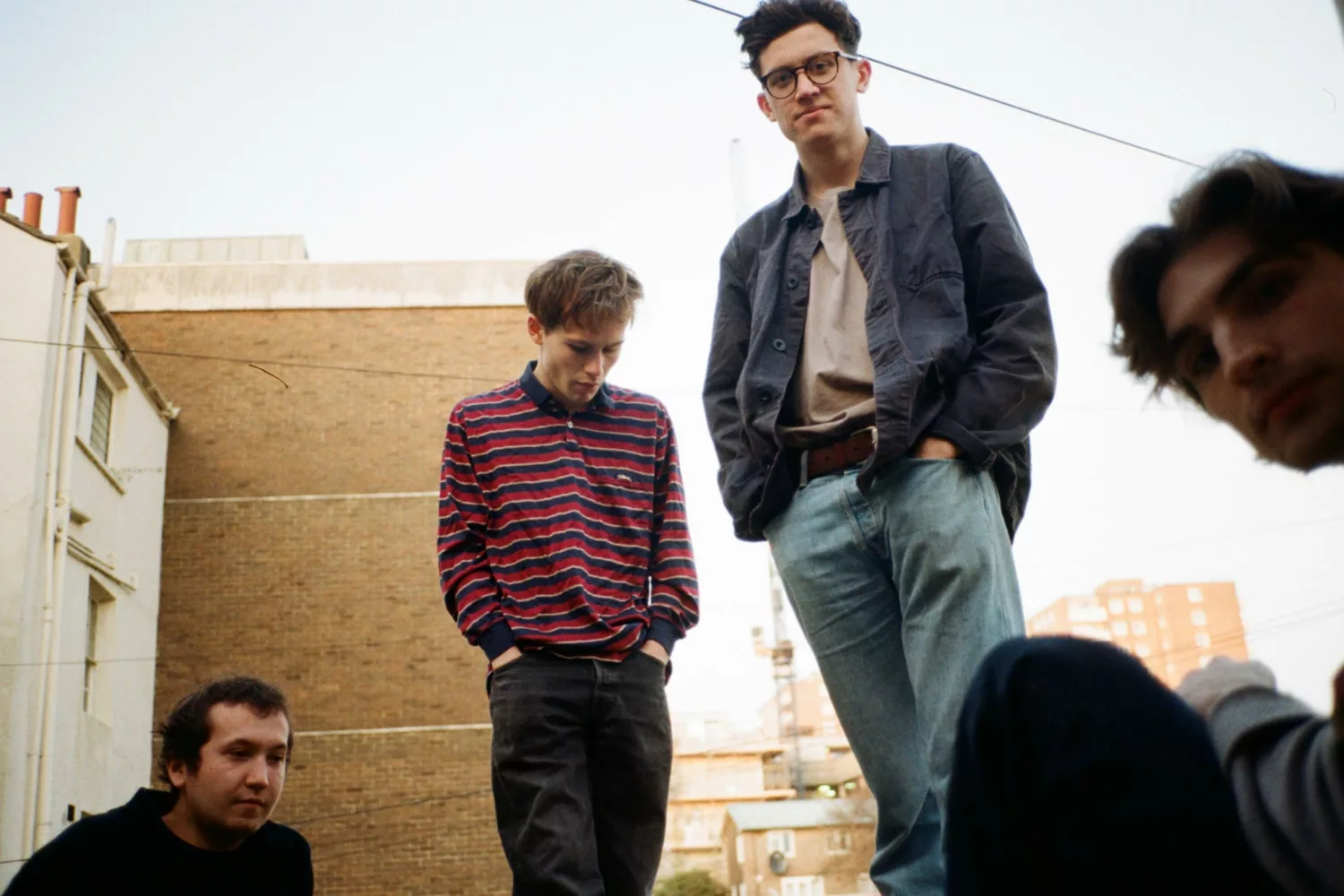 All the biggest and best tracks of the week, rounded up and reviewed.
Good afternoon dear readers and welcome to another edition of Tracks, and this week there's more new music knocking around than you can shake a stick at. The Magic Gang delivered us another bouncy cut, Superfood upped their own impeccably high bar, Marika Hackman enlisted The Big Moon as her backing band (creating the dream team) and Tall Ships may have delayed their upcoming album (boo!) but they softened the blow by releasing possibly their best track to date.
Elsewhere, we took a look at the socially-conscious return of Katy Perry, Hercules & Love Affair brought out Faris Badwan's inner disco diva, Plaitum gave us a noisy club banger, Spinning Coin hid heartbreak under sugary pop and Aldous Harding announced herself in the most intense way possible. Phew!
For our verdicts on all of this week's biggest and most exciting tracks, all you need to do is scroll down. And if you're itching to check out everything else out this week, step this way for DIY's Listening Hub, and our Essential Playlist.
The Magic Gang – How Can I Compete
Why can't all working relationships be this ideal? Like a concept ripped straight from our indie wet dreams, Brighton babes The Magic Gang have enlisted The Maccabees' Hugo White on production duties for their as-yet-untitled forthcoming EP - which will then be released through Maccabro Felix's new label Yala! Records.
A true passing on of the baton, you'll all agree.
Now, the band have debuted 'How Can I Compete?', the first offering from the record, and guess what? It's pretty much bloody perfect.
Taking the jaunty bounce of early single 'Jasmine', it kicks off with the kind of peppy bassline that could easily be an earworm chorus in itself, before getting to the actual chorus - which is obviously a monster. With singer Jack Kaye lamenting a love rival, it's a big 'ol arms-round-yer-mate moment that'll have anyone who's ever felt the familiar pang of romantic despair (so that's everyone, then) wailing along at full pitch.
What a dream team.
If, like us, you were fans of Superfood in all their scrappy, flower-loving original glory, then you'll understand that the following sentiments are in no way a sleight on the B-Towners' former work. But that said, BLOODY HELL Superfood have upped the bar, and then some.
In a very strong early contender for Total 180 Degree Turn Of The Year (a new award that we have launched just now), 'Double Dutch' finds the group (now streamlined down to the core songwriting duo of Dom Ganderton and Ryan Malcolm) not so much improving, as returning as an entirely different proposition.
Centred around samples of American kids extolling the virtues of jump-rope, the first offering from Superfood mk II is a silky smooth thing, oozing dreamy, sun-bleached languor and filled with the kind of woozy synth beats that you'd sooner compare to Jai Paul than to Peace.
You know when The Horrors came back on album two and they were so good and so progressive that everyone basically forgot that the slightly cartoony kicks of 'Strange House' ever existed? Yeah, that thing.
Marika Hackman – Boyfriend
What is it about songs called 'Boyfriend' being fucking fantastic? From Tegan and Sara's 80's indebted pop banger to Bieber's own fondue-laced take on the subject, naming a song in this tradition seems to be a sure-fire route to success. And, by gum, Marika Hackman adds another first rate contribution to history's 'Boyfriend' oeuvre with her much-welcome return.
There's so much brilliance going on here that a quick-fire recap seems most efficient to cover all the relevant ground. So, 'Boyfriend' is privy to: Marika's pals The Big Moon as a backing band, a genius piece of innuendo revolving around ACTUAL recorded dolphin calls alongside a line that promises to "to make her scream," a flippant dismissal of dongly-eyed tosspots who spend their days objectifying gay women, and an accompanying artwork which literally TAKES A KNIFE to phallic symbolism. Is this your new favourite anthem? Spoiler: yes.
Marika Hackman informed DIY she was pursuing a "completely different sound," last year (along with promising us a maraca in tribute to her percussive alter-ego Maraca Hackman) but even Nancy Drew couldn't have predicted a return this confident, this bold. In 'Boyfriend' Marika takes on important subject-matter with killer chops, and helter-skelter fun levels. In the process she fully unearths the quick-smart lyricist that was evident amid the complex haze of her debut record, and shoves it to the fore.
Tall Ships' transition from tight, rigid, loop pedal utilising math-peddlers to the free-flowing indie rock band they now take the shape of has been a gradual one. 'Gallop', from the band's 2012 debut album 'Everything Touching', was the first sign of the band shooting for a widescreen sound, and it's a journey that gained momentum through 'Will To Life' and 'Meditations On Loss', the band's latest two singles.
It all comes together on 'Petrichor', the next cut to be lited from second album 'Impressions'. The track's hurtled forward by a torrent of drums and guitars that carry the force of a runaway train, and at once it's the sound of release and relief, with a sometimes excruciating five-year wait vanishing, while also showing vocalist Ric Phethean at his calmest and most composed. He sings "please forgive me for my boring stories / I never felt that much at all," at odds with his previous, hyper-emotional self. "I know it's time for change," he whispers, before the track erupts, and 'Petrichor' serves as a milestone for the band. It's their finest moment to date.
Katy Perry – Chained To The Rhythm
Nearly four years on from Katy Perry's last album 'Prism', and the world feels like a very different place indeed. Katy herself hasn't pulled any punches when it comes to her thoughts on Donald Trump's regime, and describes herself on Twitter as 'Artist. Activist. Conscious.' It's therefore very little surprise that her new single 'Chained To The Rhythm' (written with Sia, Max Martin and Ali Payami, as well as featuring Bob Marley's grandson Skip) sees her moving away from the self-empowerment anthems she's become a dab hand at to craft a more collective, socially-conscious rally cry.
Okay, you have to look past the frankly adorable accompanying lyric video (which features teeny-tiny food being made for a hamster and a squidgy owl helping you to sing along). It simply masks the fact that here, Katy is asking us to step out of our own little bubbles and band together for something greater. Across a reggae-disco beat she regrets the fact that some people are content put "rose-coloured glasses on/ And party on", resulting in them being "chained to the rhythm". It's got a clever double-meaning behind it. Not only does it reference the clubs that people end up "stumbling around like a wasted zombie" in, but also implies that people are chaining themselves to the social and political status quo.
Katy suggests that "we could do better than that" but doesn't get too preachy either. Instead, she simply plants the seed in your mind that as a collective body we really could affect change. If this is what we can expect from Katy Perry in 2017, bring on that new album.
Hercules & Love Affair – Controller (feat. Faris Badwan)
In recent times, The Horrors have stepped far away from their origins as noisy goth-punk upstarts to embracing sweeping, anthemic synths. Frontman Faris Badwan has also further proved his adaptability with two albums of luscious vintage pop alongside opera singer Rachel Zeffira in Cat's Eyes. Surely a move into house is a bit too much even for Faris to handle though?
Step forward Hercules & Love Affair to help prove us all wrong. The alt-disco collective have recently announced that they'd be returning with the follow-up to 2014's 'Feast of the Broken Heart' sometime this year, and have teased it with the deep house cut 'Controller'. Over an underbelly of steamy beats and electro melodies (with a choir and key changes at the climax for that added late-80s feel), Faris puts in a performance that's not a million miles away from Glenn Gregory of Heaven 17. With the help of Hercules' Andrew Butler, Faris continues to show he can turn his hand to just about anything.
Matt Canham and Abi Dersiley – better known as electro duo Plaitum – apparently forged a childhood friendship thanks to their shared love of horror movies and Massive Attack. Perhaps that's why their music contains a seedy underbelly that's vicious and noisy like Crystal Castles but still harbours an alt-pop edge not dissimilar to Purity Ring. The pair have signed to Paul Epworth's Wolf Tone label and are set to release their debut album 'Constraint' on 7th April.
That title suggests they might be reining it all in a bit, but on 'Ovation' they do anything but. It's a thoroughly pulsating beast of a track that isn't afraid to bombard the listener with squalling synths and feral EDM beats. Of course, you couldn't have a song called 'Ovation' without having some applause in there somewhere, and they deliver by bringing out the handclaps during a slightly more downbeat, quieter moment. Makes sure you catch your breath there though, as it's the only chance you'll get within this four minute, thrilling aural assault.
Spinning Coin – Raining On Hope Street
Spinning Coin's double A-side single 'Albany'/'Sides', released last year, was a sorrow-drenched affair, but one with an undoubted emphasis on finding hope amongst the rubble. Even from a name alone, its follow-up 'Raining On Hope Street' seems to tread the same line.
The track showcases Spinning Coin's ability to hide a heartbreaking narrative under a sugary pop melody more clearly than ever before, and though 'Raining On Hope Street' is set on top of a pretty standard indie-pop make-up and structure, there's an atmosphere and a mood created by Spinning Coin that makes them sublime storytellers, and it hasn't wavered yet.
The atmosphere is one carved down rain-sodden Glasgwegian streets, and written in the knowledge that, no matter how deep you have to dig, hope will always present itself. It's this determination that makes Spinning Coin so invigorating.
New Zealander Aldous Harding – real name Hannah Harding – is taking her first steps on new label 4AD in a very bold fashion. Her new single 'Horizon' has no drums, no guitars, no synths, no beats, no bass. Instead, she's stripped everything back to three piano chords, a couple of deep string tones, her own voice and some dramatic harmonies. And the effect is truly haunting.
Listening to the track is a bit like staring off into the distance and contemplating life itself. When she chants "here is your princess / here is your horizon" on the chorus, she leaves it up to the listener to decide what she might be talking about. Is it a choice? Or are they one and the same? She never makes it clear, making 'Horizon' something of an existential puzzle for the individual to figure out. It's a courageous move to break forth with such a stark and challenging single, but with it Aldous Harding has emerged as a bold alt-folk figure.

Get your copy of the latest issue