Interview:
VANT: Reign in Blood
With debut album 'Dumb Blood,' VANT are putting themselves front centre in a movement who want to initiate much-needed change.
Let's just face it: 2016 did its best to compete for the title of Worst Year On Record. It probably won. As well as the death of far too many cultural luminaries, there was Trump and Brexit. But while Mattie Vant is clearly angry at the predicament we've found ourselves in, he's also quite accepting. "We're going to have to live with the decisions we've made this year," he says. On the other hand, with impending Brexit negotiations and the increasing rise of the so-called "alt-right," he also thinks that "2017 could be even worse than 2016!"
On the positive side, there's at least one reason why the next twelve months are already looking brighter: VANT's debut album 'Dumb Blood'. It's been nearly two years since blistering debut single 'Parasite' was released and, if they'd wanted to, they could've put out an album right there and then. "We recorded about twelve tracks before we were signed," Mattie says, "and at that time we were going to release it on our own and push forward with a punk mentality." Unfortunately, there was just a little bit of a stumbling block. "When we put out 'Parasite', we had no real fanbase!" Mattie laughs. "There's no point in putting a record out if no one wants to buy it!"
That's not the case now. Thanks to their blood-pumping live sets and festival appearances, as well as a string of killer singles and the 'Karma Seeker' EP, they've got people chanting along to their politically-charged lyrics left, right and centre. The time is right for the LP release, and lord knows we need a socially conscious and cathartic punk record now, more than ever.
'Dumb Blood' definitely doesn't pull any punches in that sense. Between exhilarating live favourites like 'Parking Lot' and explosive singles such as 'The Answer', the record gets its message out in quick-fire bursts of searing guitar riffs and clattering drums, with more than a handful of tracks barely making it past the three minute mark. But VANT still manage to muscle in more than a few hooks, all while still threatening to blow like the "tick tick time bomb" Mattie references twice on the record. That's probably because, for him, playing punk wasn't just born from necessity; it's also the perfect way of communicating how he feels, without any airs of pretention. "Punk just comes from that place where it's from the heart. It's a way of expressing emotion, fears about life," he says.
The flurry of mile-a-minute riffs that form the backbone of 'Dumb Blood' originally had another meaning, though. "It was a tongue-in-cheek comment on modern society," Mattie explains. "I first started writing songs that short, saying that people don't have the time of day to listen to a song or a record. So I thought if I didn't give them the chance, and the song was over before I'd given them that chance to press pause, then I'd kind of force my message in their heads without them knowing."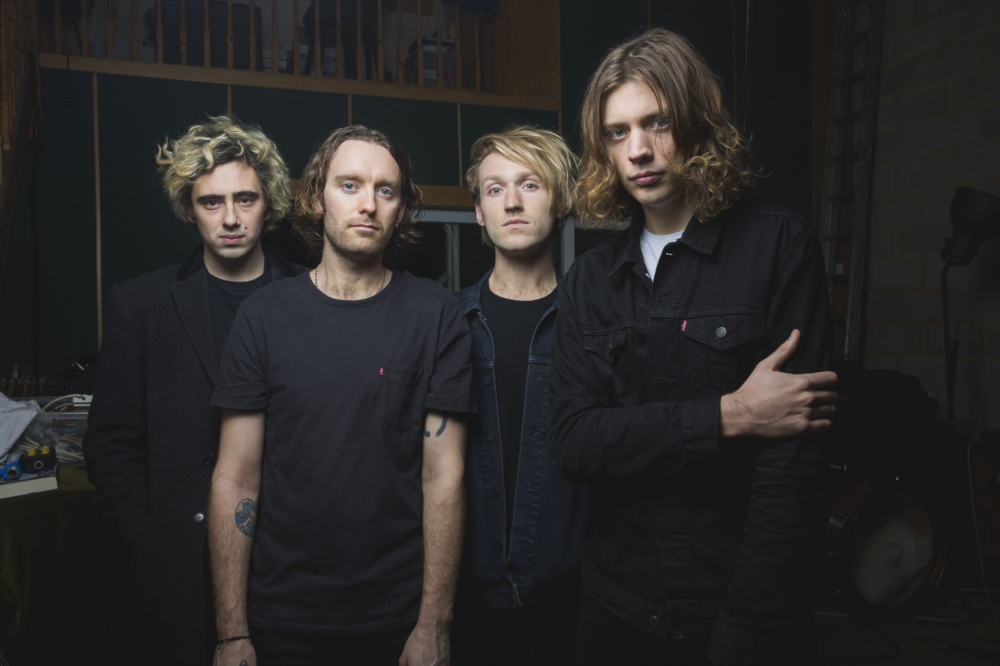 "Punk is a way of expressing emotion, fears about life."
— Mattie Vant
Curiously though, there is one moment on the record where VANT slow things down. 'Are We Free?' gradually unfurls itself over a mammoth seven minutes, building to a thunderous climax of grungy guitar squalls. You might be surprised by the inspiration behind it, though. "I'm obsessed with Neil Young and I always wanted to have a track that had a really jammy intro," Mattie explains. "Because it's so relentless up until that point, you've had this barrage of fast punk, and it gives the listener an opportunity to zone out a bit with this Wurlitzer of weird psychedelic guitar."
While 'Dumb Blood' is not only musically arresting, it also does a stellar job of tackling some of the most divisive (and pretty terrifying) current affairs. As Mattie himself says on 'Fly-By Alien,' "that world's got a few problems." That's a bit of an understatement, but Mattie was determined that "the content of the songs give an overall representation of my viewpoint on humanity at the minute." "Although they have highs, they all have their own statements in them," he says.
'The Answer' references the wars in Iraq and Afghanistan, the refrain on 'Time and Money' repeats that "there's a hole in my ozone" and 'Headed For The Sun' – one of Mattie's oldest songs – rues that "it's like we all don't give a fuck." And that's barely scratching the surface. "With everything that's happened over the last 12 months the content is probably more relevant than it would have been," he says. "It was important to me to view this as an album where if an alien species came upon it after we'd destroyed ourselves, then it would be a representation of where it all went wrong, as well as being a representation of where we are as a species at the moment."
It's not all about putting the world to rights, though; there's also a few moments calling for calm and humanity. 'Put Down Your Gun' reminds us that "we're all the same," while 'Peace and Love' is a rallying cry for more understanding. For Mattie, we've simply lost sight of what "peace and love" really means, and his lamenting over how the term now has "no meaning" is a vital part of the track. "It just became a fashion statement," he says. "We keep getting tagged in things on Instagram where there's stuff like wrapping paper with 'peace and love' written on it, or some Christmas lights, and it's the antithesis of everything I was writing against!"
"It was about wanting to talk to people in the real world."
— Mattie Vant
The perils of social media also formed the basis for 'Lampoon', which was originally written as a criticism of a generation Mattie used to see as being unable to move into action. But recent events have demonstrated that young people genuinely care about politics and want to move for change, which thrills him. "The more I've looked into it, I've realised that they really, really do care. That's really exciting."
The frontman was even more encouraged by the general public's reaction to VANT performing for the #DontDoABrexit campaign on US Election Day. "It was about wanting to talk to people in the real world," he explains, "and the only interactions we ever had were reasonable conversations. There was this really warm response to it." It didn't matter whether people agreed with their deeply anti-Trump and anti-Brexit viewpoint; Mattie was simply content that they'd made a connection with others. "They'll have that memory and resonation with someone else trying to make a statement."
It's that political and social connection that he wants to take even further into VANT's gigs, which until recently had been a form of "escape." He now believes more than ever that gigs "can be a direct form of activism and protest." "We started painting our amps and we do say a little bit here and there in between songs, but not too much," he explains. "For me, the most exciting thing about live music is that a group of young people are coming together and exerting energy in a peaceful yet anger-relieving manner."
"It feels like youth as a whole want change and whenever we talk to them at shows people are really engaged."
— Mattie Vant
By bringing the political side of their own music even further into their performances, VANT are hoping that they'll be able to further invigorate young people so they believe they have the power to really make a difference. "I'd like to think 80% of our fanbase are aware of what we're talking about and resonate with that. If they could see that I genuinely think politicians would be fearful and make them maybe think twice about certain decisions that they're making." Knowing that, it's not surprising that Mattie gets particularly enthused when talking about the reactions of fans to their messages. "It feels like youth as a whole want change and whenever we talk to them at shows people are really engaged."
But to even be able to get to this point in the first place, VANT have had to really stick by their guns. "When we started this project a long time ago, people questioned if others would criticise us for talking about politics, because it was pretty unfashionable at the time." They're now no longer alone in their mission, finding themselves in the middle of a politically energised generation of British musicians. "Now you've got bands like INHEAVEN and Declan McKenna" he points out, "and there's also bands who don't write about these things in their lyrics, like Wolf Alice, Superfood and Drenge, but they're doing benefit concerts for refugees."
'Dumb Blood' places VANT at the vanguard of it all, calling out Earth's ills and asking just what the heck we're going to do about it. With Mattie's deeply genuine belief that young people have "so much potential to change the world, and save the world," it's a record that's intentionally designed to "wake people up to that" and get people talking. "It's our whole mission statement: to start a conversation and try and get particularly young people excited about politics; they can dictate their own opinions," Mattie says. "I feel like this generation could be the one to put these plans into action." If anyone can help that cause, VANT can. Maybe 2017 won't be all that bad after all.
VANT's debut album 'Dumb Blood' is out now.
Photos: Emma Swann/DIY. Taken from the Feburary 2017 issue of DIY, out now. Subscribe below.

Get your copy of the latest issue