Live Review
Cherry Glazerr, Camden Assembly, London
28th February 2017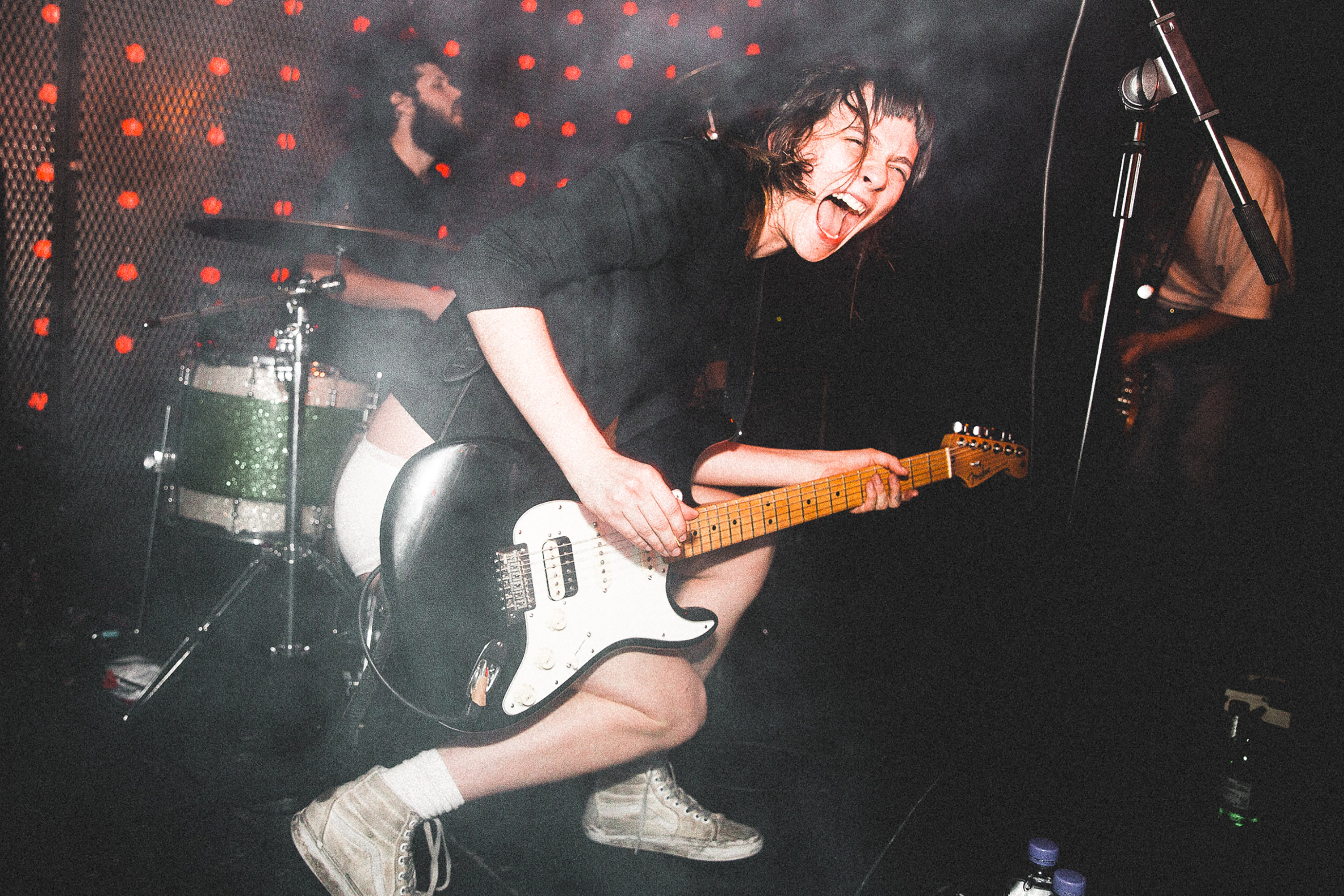 Riff-heavy, and packed with teenage chutzpah.
"Shut up, shut up! Fuck off, idiots!" shouts Clementine Creevy with a smile at Camden Assembly's applauding crowd after Cherry Glazerr's opening number. This is not a woman on an obvious charm offensive, but one with tongue firmly in cheek. Free of malice, packed with fun.
Cherry Glazerr have been around for four years now, weathering a couple of line-up changes, but with Clementine as the constant lynchpin. This, the 'Pussy Bites Back' tour, is providing a terrifically aptly named platform for her to set out her stall unmistakably.
The band bounce off each other like puppies in a pen, bashing through tracks from 'Apocalipstick' and 'Haxel Princess' with total gusto, sometimes veering off wonkily with scant regard for fine tuning. At some point the songs plateau and the patience in the room seems to be wearing a little. Kind of like a toy's thinning appeal at the end of Christmas Day, there's not an awful lot to delve into or get lost with, but it doesn't matter so much for now; Clementine, established in her own right as a musician, actor and model at the age of 19, is clearly a woman with her eye on the prize. Despite the onstage goofing around, only a fool would disregard her.
Growling disappointment at the social media focused antics of her peers in 'Instagratification' ("We don't see through our eyes/We see through a lens") while 'White's Not My Colour This Evening' finds her listless and out of place ("When's this going to go away / I have all these crazy pains") but it's 'Teenage Girl' that neatly hammers home their party line: "Don't make us feel belittled, world." Balancing pre-requisite insecurities with frustration and budding feminist intent, it ends up transcending age and becomes an encouraging thing to encounter.
"How was your day?" she asks the crowd with knowing inanity. When someone responds that they broke their finger, bandmate Sasami Ashworth retorts it must've been the result of a sex injury with a candle, which then prompts a double act miming of such a sexual mishap. It's juvenile, it's funny, it's dumb.
Clementine screams and emphatically bobs her way through songs, which are riff-heavy, packed with teenage chutzpah. They finish off with a blistering cover of Nirvana's 'Territorial Pissings'. Teen spirit indeed.
The value in watching a band actually look like they're enjoying themselves can't be overstated. It's just that the balance tips so it ends up feeling they're having fun while the crowd's enthusiasm slightly lags behind at points. It picks, it dips, it's a bumpy ride but one you'd happily strap in for again.