Album Review
The New Pornographers - Whiteout Conditions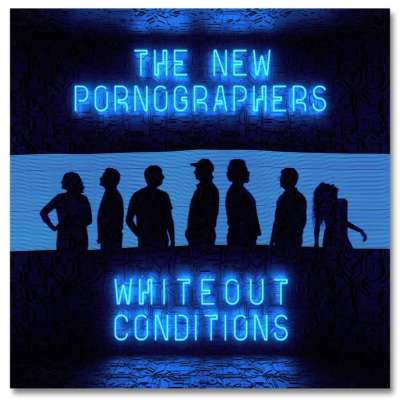 A consistently engaging and occasionally irresistible collection.
Label: Caroline / Collected Works
Released: 7th April 2017
Over the course of nearly two decades together, the transient nature of The New Pornographers' lineup has led to a kind of constant state of creative wanderlust; no two of their records have ever really sounded the same and, accordingly, things have never ended up feeling stale at any point. The band's songwriting core of A.C. Newman and Dan Bejar served as its anchor and there was therefore a risk that they might come unmoored with 'Whiteout Conditions', their seventh full-length - it's the first since Dan left the fold to focus full-time on his solo work as Destroyer.
Newman picks up the slack, penning every song on the album; the result is an LP that superficially feels like a significant departure from 2014's Brill Bruisers, but that in practice isn't actually a million miles away. That album was bright, breezy and came complete with a synth-heavy instrumental palette that, at times, felt a little bit too in-your-face. 'Whiteout Conditions' redresses the balance a little bit, increasing the prevalence of the guitars - especially on the driving 'Clockwise' and gloriously catchy 'Darling Shade'. Key, too, is the welcome return of Neko Case, who more or less sat out 'Brill Bruisers' as she focused on her solo work. She turns in a storming lead vocal on 'This Is the World of Theater' and provides backing throughout, to stirring effect on 'Second Sleep' and 'We've Been Here Before'; the latter's glacial electro-pop is arguably the album's standout.
The title has a touch of truth about it, too; repeat listens will ultimately throw up plenty of compositional similarities between 'Whiteout Conditions' and 'Brill Bruisers'. Newman's focus of late has been on hooks and melodies and however differently they've been dressed up across the two records, they've provided the bedrock on both. Even Bejar's contributions last time out felt like they were being bent to Newman's specifications and it's therefore perhaps no bad thing that he's taken his leave. The debate for longstanding fans will be whether or not having genuine clarity of vision on a New Pornographers record kind of defeats the point of a band that has always based its identity around the fact that it's made up of so many distinct musical personalities. Considered in isolation, though, 'Whiteout Conditions' is a consistently engaging and occasionally irresistible collection of pop songs, carried off with the unmistakable assurance of old hands.