Album Review
Forest Swords - Compassion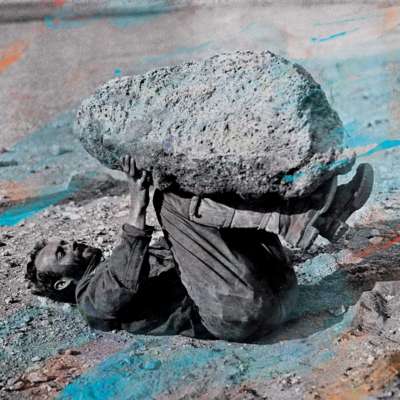 At times heart-stopping, at others movingly barren, but always thoroughly arresting.
Label: Ninja Tune
Released: 5th May 2017
On the surface, the world is more open than ever. We can travel almost at will across the globe, learn new languages and communicate with people at the other ends of the Earth through social media. And yet, despite this, the 21st Century is also becoming increasingly hostile, from raging wars and acts of terrorism to displays of antagonism shown towards refugees simply looking for a better life. Producer Matthew Barnes, like many others, started to think that there might be no light at the end of the tunnel.
Rather than craft a record that simply wallows in what feels like the impending doom of the modern age, his latest album under the name Forest Swords, 'Compassion,' strikes a balance between hope and fear, and does it in a way that's even more musically bolder and compelling than debut 'Engravings.' That's evident even from the pounding drums of opener 'War It,' its blend of beats and classical components swiftly carrying you away into a world that effortlessly toes the line between glitch-ridden electronica and organic, primal instrumentation.
With the likes of the jazz-inflected 'Raw Language,' Matthew at first sounds like he's come closer than he's ever been to creating a pure dance track, thanks to the hopeful yet heart-pounding orchestration and urgent handclaps. There are more extended passages of quieter reflection too, from the fluttering flutes and floaty beats of 'Exalter' to the sweeping strings of 'Border Margin Barrier,' there's a definite sense of fragility. Some tracks sound as if they could disintegrate with the slightest touch, simply reflecting how transitory life is, and the inherent vulnerability of man.
It's that sense of susceptibility and humanity that's captured on the most remarkable aspect of 'Compassion': his truly valiant attempt to find a way to break down borders with a new language. Looking past the incessant aggression of trolls and spiteful commenters, he's been inspired by the way in which we now communicate with each other through the internet and other media. In the process, he's created a flexible and unique form of communication. Unsurprisingly, there's something incredibly primordial about the wordless enunciations that he uses as the basis of this new language. By using these expressive bursts of voice, he deftly avoids accidentally planting certain seeds into the listener's mind with the connotative essence of words. Instead, it's the way that he edits these segments that unleashes their true power, communicating ideas and intense emotion simply through their tone and composition.
When the choral segments are at their most strident, as on 'The Highest Flood,' Matthew cuts them up in such a way that the passages seem unnaturally clipped. Rather than being jarring against the portentous brass though, it emphasises just how difficult it can be to really listen to and find a true connection with others. 'Vandalism' breaks down into otherworldly howls that scream pain and suffering; similarly, the heavily distorted humming on 'Sjurvival' is incredibly haunting, coming across like a cry for help from an abyss no one can possibly reach; similarly, Despite their distance, you still want to reach out to help, or at least make some form of contact with these unknown souls.
Even when there's the very occasional line in English, Barnes still makes sure that it's there for a very specific reason so as not to break the immersion. With 'Panic', for instance, he clips the end of the line "I feel something's wrong, any moment you could," leaving the meaning completely open to interpretation. The listener could either fill in the blank with their own words, or assume that the voice was obliterated mid-sentence, another unsuspecting victim of the harsh perils of the contemporary age.
'Compassion' barely utters a word and yet still manages to convey trauma and sorrow, life and death. It covers a huge spectrum of human emotion by delving deeply into the past in its organic instrumentation, while still looking ahead to the future with its cinematic, atmospheric electronic passages and fascinating attempt at breaking borders. It's at times heart-stopping and at others movingly barren, but is always thoroughly arresting. Forest Swords asks for greater compassion, and this album will certainly elicit it out of any listener.