Album Review
Ho99o9 - United States of Horror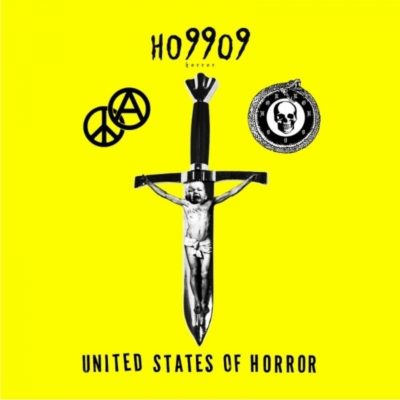 It's obvious this LA duo haven't spent much time reading the rule book.
Label: Toys Have Powers
Released: 5th May 2017
An artist may get lost in their art, but debut album 'United States of Horror' seems to have actually possessed Ho99o9. An abrasive duo, challenging and difficult, Ho99o9 have the point of no return firmly in the rear view mirror as they manically slash through every decibel-blasting genre of the last three decades.
So dedicated to starting a fire and then just dousing it in petrol over seventeen venomous tracks, Ho99o9 almost immediately lose control of the apocalyptic inferno. From the tortured screams of 'War Is Hell' under Dave Sitek's electronic production, straight into the Dead Kennedys-meets-industrial 'Street Power' it's obvious this LA duo haven't spent much time reading the rule book. The snarling delivery may artificially put Ho99o9 alongside Death Grips, but the directness is traded for indiscriminate attacks, and the focus replaced by pure frenzy. There's a palpable sense that from one second to the next Ho99o9 aren't even loosely aware of what they're about to do next. Most terrifying is in the startling moments of clarity, 'Knuckle Up' and title track 'United States of Horror' the pair prove more than capable of crafting four minutes of sonic destruction that hangs together. A reanimated corpse that moves just artfully enough to be considered a devastatingly effective metal, rap, hardcore, industrial, experimental noise crossover, the unholy nature of which has never quite revealed itself to the world before.
The 'United States of Horror' is an outrageous, bewildering and scary place. Where every alley presents an open invitation to get attacked in ever more gory and interesting ways. With songs that have long ago morphed into brutal initiations, if you can somehow defend yourself long enough Ho99o9 almost invite you to see their world through their hazed-over eyes. In a shadowy landscape of startling binary logic, it becomes easy to draw the line through through Converge, The Prodigy, Death Grips, Pantera, The Stooges, Danny Brown and DMX if you're only here with that one goal - to start the fire. Ho99o9's particular arson is burning bright.

Get your copy of the latest issue
More like this