Interview:
Girlpool: High Rise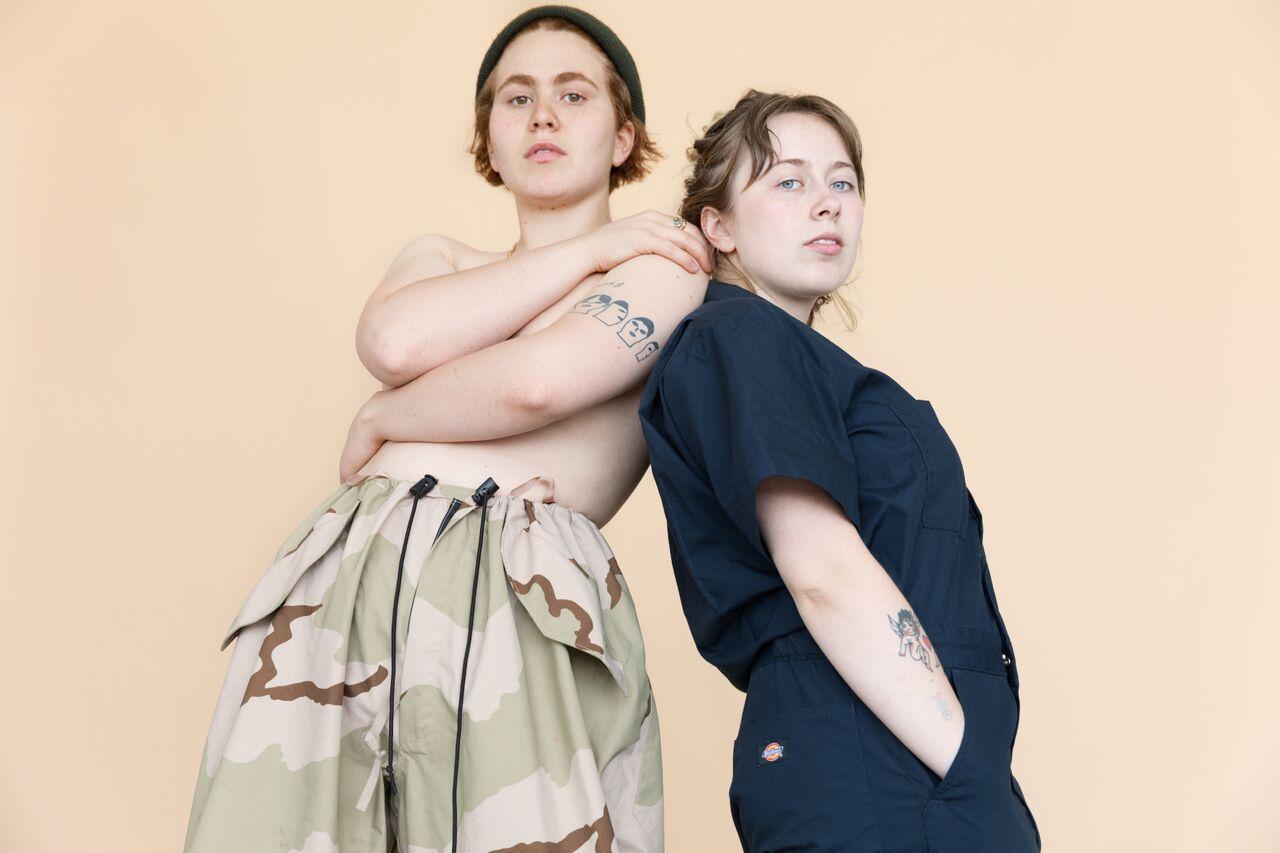 The world might be bigger than it was before, but with second album 'Powerplant,' Girlpool confront it head-on.
Girlpool left L.A. in 2015, back when their full-length debut 'Before The World Was Big' was still fresh out in the world. A stark musing on the fleeting experience of growing up – or, in Harmony's words, "the idea that you're always feeling like you're onto the next thing and the past is a smaller version of that" – its bare-bones approach to honesty was frank, refreshing and distinctly West Coast. Two-years and a 6,000 mile round-trip down the line, Cleo Tucker and Harmony Tividad can count an East Coast relocation and stint in the Philly DIY scene amongst their victories, but now, on the brink of something brilliant, they're back in Cali and ready for round two.
Split between two homes ("we would send a lot of voice memos," Harmony explains), Girlpool went about creating 'Powerplant', their second album and first set for release on Anti- Records. A new label for a new chapter, Harmony and Cleo found what they were looking for in Anti; creative freedom. Not ready to settle, and with 'Powerplant' already written and recorded, the ball lay firmly in their court. "We both have a lot of respect for what they've done," Cleo says of the label. Having posthumously released Elliott Smith's 'From a Basement on the Hill' – "[his] songwriting is like, literally the most inspiring thing for me ever," Harmony clarifies – and worked with the likes of Kate Bush and Japandroids, the move was a no brainer on Girlpool's side. "[The team are] all very compassionate people and really so nice," Harmony continues, "we just felt really compelled to work with them."
Working with Anti- wasn't the only thing Girlpool were compelled to do on this record. Long-standing fans know the band for their exposed vocal harmonies and palpable lack of percussion; on 'Powerplant' though, things are about to change. "We were working on these songs that we felt could really be interesting to see grow in a way with different instrumentation" Cleo begins. "We thought that the songs had an opportunity to get kind of more climactic at parts and start to explore different kinds of dynamics. We were kind of like, 'oh these are… we're kind of writing rock songs!'" And so came the new sound. Thicker, at points anthemic, yet not at all removed from the Girlpool we all know and love, 'Powerplant' arrives less a departure from the world the band inhabited back in 2015, and more a welcome extension of it.
"We were kind of like, 'oh these are… we're kind of writing rock songs!'"
— Cleo Tucker
"It definitely felt natural and exciting, because it was what we wanted to explore," Cleo explains, venturing to describe the change in direction. With the addition of new musical layers – and by default, two new touring members – Girlpool opened their narrative to outside parties. "We have a drummer (friend, Miles Winter) and an extra guitar playing right now and they're coming with us [on tour]" Harmony says. Having previously performed exclusively as a duo, expanding their on stage presence is something they were keen to try out. "It was a new kind of dynamic that we were interested to see how it would feel and we're still learning about it, it is different for sure" Cleo continues, "[but] it's been really fun just to feel the songs the way we imagined the way them feeling, and to hear that and play them has been really exciting, really cool."
After the shake-ups, it seemed only natural that 'Powerplant' came to reflect the point at which Girlpool found themselves. Where 'Before The World Was Big' ruminated on childhood, Powerplant sees Harmony and Cleo turn towards a different passing of time. "It's a lot about the grey", Cleo begins, thinking hard about the context that informed their second record. "[It's about] the inbetween time of navigating a new kind of lifestyle and living in new cities, and a different chapter of our lives." Forever on the same wavelength, Harmony is quick to jump in with her take on the transitional state of being that 'Powerplant' embodies. "Every arena [of life] has a period of passing through," she explains, "you're always passing through things, and arriving, and passing through." Listening to their latest record, it's clear that Girlpool have written the book on passing through; whether it's the journey from L.A. to Philadelphia (and back again) or travelling between their respective homes to work on songs, moving swiftly on to the next thing is a condition they've grown to know all too well.
Naturally, it's not been without making sure they pause to soak up the sights – and sounds – on the way. But, making a conscious effort to absorb your surroundings doesn't come without its perils, something Girlpool have thought about at length. "I think lots of bands that become popular will be ripped off in some way or people will be inspired by it but not know how to be inspired in a way that pushes them to write something that's different," Harmony says, elaborating on the complex art of taking influence, "[musicians] reenact [a sound] because they like it so much and that makes sense."
"We just felt really compelled to work with Anti-"
— Harmony Tividad
Between Elliot Smith and The Beatles, Girlpool count an eclectic mix among their influences. But, settling for verbal gushes over more discernable aural reenactments, it's in conversation that Cleo and Harmony choose to profess their mutual love for one melancholic individual in particular. "We're both from LA and she's kind of using the Hollywood stereotype in a really hilarious way," Harmony explains, speaking – of course – about the imitable Lana Del Rey, "it's funny to wonder how self-aware she is of everything." Self-aware or not, Lizzy Grant's more well known persona made quite the impression on Cleo and Harmony – their favourite tracks are 'Radio' and 'Gods & Monsters' (namely this lyric) respectively – and her work is some that they've come to admire more than most. Perhaps it's the West Coast connection, or maybe it's just sheer fascination like the rest of us: either way, Lana's impact has been one of lasting significance. "She's very interesting as a character," Harmony continues, "and I think her songs are very cinematic and the production is really amazing, which I think is really a big part of it for me."
Although Girlpool's affinity with pop's most melodramatic member might seem a stretch for some, the two share something many years their senior fail to master; an ability to shrug-off the cynics, no matter who they may be, doesn't come easy, but it's one that Harmony and Cleo acquired early on. Sure, the world might be bigger than it was before but, right now, there's no doubting that Girlpool are more than equipped to handle it.
Girlpool's new album 'Powerplant' is out now.