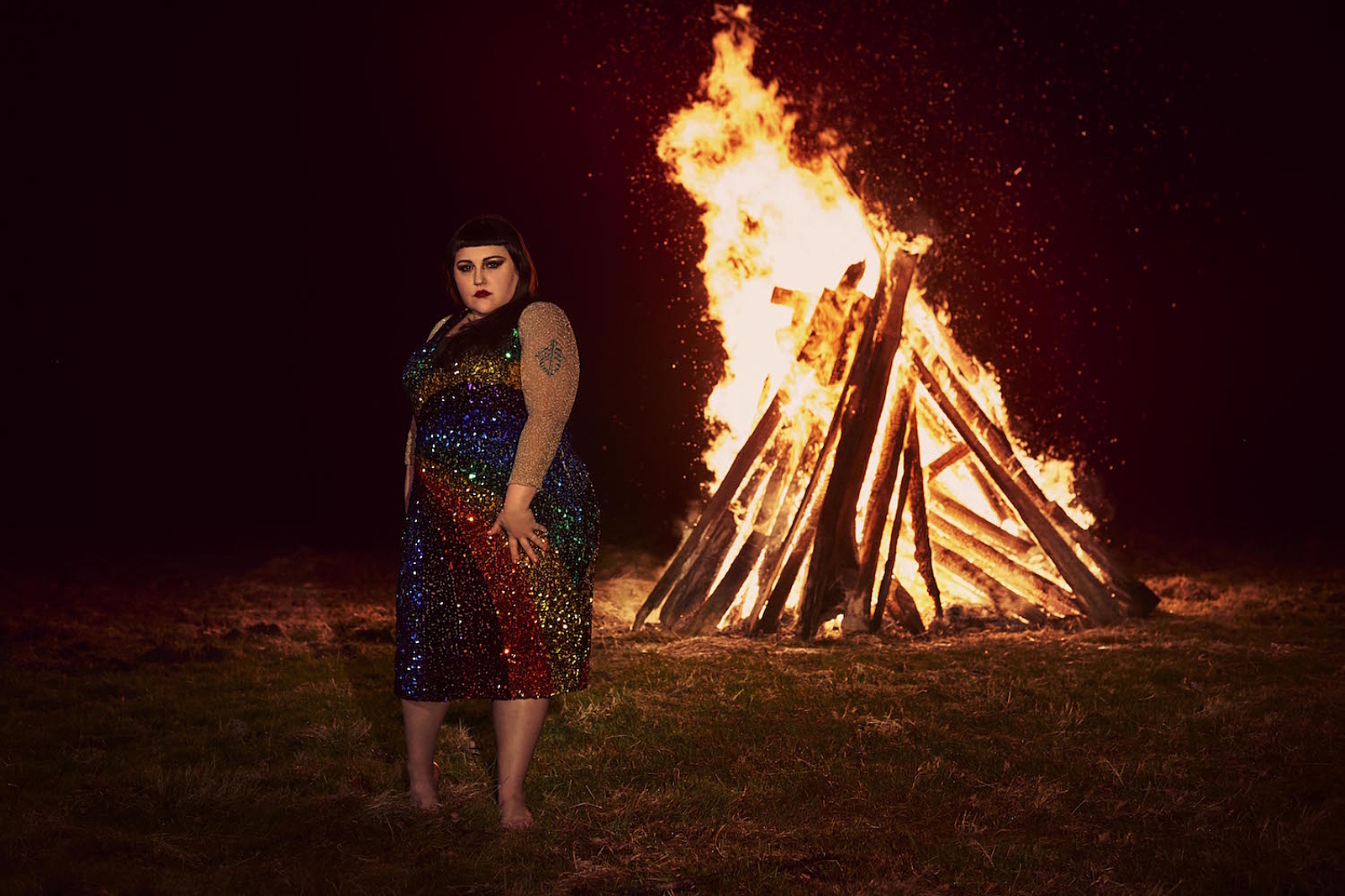 Photo: Mary McCartney
Interview:
XOXO Gossip Girl: Beth Ditto
For almost two decades, Beth Ditto has been synonymous with her trailblazing punk band Gossip. Now, with 'Fake Sugar' she's striking out alone, in pursuit of making the uncool cool.
It's no overstatement to claim that Gossip - for all the weirdo kids of the noughties that struggled to fit into society's pre-prescribed moulds – weren't just another punk band. All three members hailed from the same Southern city of Searcy, Arkansas, and spent the majority of their teenage years trying to draft an escape plan - a scenario surely familiar to anybody who grew up in a small town with little room for rebellion. Fleeing to the rainier climes of Olympia, Washington, they'd become a vital force; non-conforming trailblazers who were ludicrously camp, bold, brash, and completely unconcerned with sticking out like a sore thumb.
During the best years of Gossip, 'Standing in the Way of Control' soundtracked late nights of watching Skins' raunchiest moments on mute (with a finger poised by the remote, in case a family member walked in, obviously) and slung an extended middle finger in George W. Bush's direction at the same time. Over the course of five albums, Gossip morphed gradually from freak outliers to a mainstream force; teaming up with Rick Rubin and pop magic workers Xenomania for their final album in just one of their curveballs. Beth Ditto, meanwhile became a cultural icon in her own right, pissing off and delighting people in more or less equal measure. And though all things must eventually come to a close, it came as a surprise when Gossip disbanded. A year on from their split, with solo album 'Fake Sugar' ready to deploy, Beth Ditto is still getting used to referring to herself in the first person.
"Pack a lunch," she hoots. "This is gonna be a long story…."
"Pack a lunch. This is gonna be a long story…."
— Beth Ditto
Everything, it must be said, is a long story when it comes to a conversation with Beth Ditto. Liable to veer off on bizarre tangents at a second's notice, she asks nearly as many questions as she answers, too. At one point, she suggests a segue into U2-based roleplay; "I'll be Bono. You be The Edge," she orders, only half-joking. Reminiscing about her first ever trip to SXSW, meanwhile, prompts her to suggest several not entirely truthful edits for this very feature – halfway through completing a totally unrelated sentence. "I just had a nostalgic moment," Beth proclaims. "What if I just started bawling, and made you hold me? 'And then she cried herself to sleep,'" she helpfully suggests as a possible sentence. "'And then my arm went to sleep. I was trapped under her for an hour.' That would be so amazing," she cackles. "Feel free to lie about that. Feel free to… embellish. Go right ahead."
It's no surprise, then, that debut solo album 'Fake Sugar' is equally as bonkers. Veering between the Journey-level ridiculousness of belter 'We Could Run,' to the chipper call-and-response vocals of the poser-baiting 'Savoir Faire', her debut's reference points range from Paul Simon, ABBA and niche Southern slang, right through to Gary Jules and "leather-daddies". There's very little playing it safe, here. And in all honesty, 'Fake Sugar' is a little bit… how best to word this…
"It's very rare that you'll offend me," interrupts Beth Ditto, wafting a dismissive arm to indicate that she's given the go-ahead.
Erm, uncool?
"And that is exactly the point!" she yells, delighted. "I did not wanna make a cool record. That was the thing. I always call it a riot grrrl proverb, but it was a slogan, dork equals cool. That changed my fucking life," Beth smiles. "That's it. Ugly equals beautiful, wrong means right. I wanted to make [this album] so far behind it was ahead, full circle. Just not giving a shit anymore, and it was just so fun to do."
"It's very rare that you'll offend me."
— Beth Ditto
Having split from Gossip, Beth's quick to admit that setting out alone has been difficult. The band's break-up, she adds, is still "really fresh." "The thing is," Beth starts, "Nathan [Howdeshell, her former Gossip bandmate] moved back to Arkansas. That was a shock to my system," she admits. "We spent so much time trying to get out of there! We couldn't fucking wait, and we really undid all of this bullshit we'd been put through. When he moved back, he became born again," Beth continues. "I'm not hateful, but [he became] just very Christian. It was really difficult for me. Not because I'm not open-minded, but some of the conversations we had were just really sad. My family still lives there, and when I would go visit, we would try to write together and stuff, but it was like we were reworking the same four songs."
"It's not that thing where you're like, you know what? I'm going to do it myself," she explains, adopting a theatrical boom. "It wasn't like that, it was more like, if [the band] isn't going somewhere, I need to do something else. Because I was bored." she states. "So yeah, I just called Nathan, and I said, I think I'm done. That's why it was the right time. I had been working on this ['Fake Sugar'] anyway. There was no decision. I was just like, why am I beating myself up for not writing a good Gossip song, if the Gossip's not here?" she ponders, going quiet.
Suddenly a muffled sneeze breaks the rare moment of hush. "Bless you!" Beth shouts at her sheepish-looking PR, sat across the room. "Just be quieter next time," she advises, trying not to crack a smile. "Yeah, thanks for ruining it."
"What if I just started bawling, and made you hold me?"
— Beth Ditto
Despite Beth Ditto's not-entirely-positive relationship with her home, 'Fake Sugar' remains jam-packed full of Southern influences, from honky-tonk, to the barnstorming cowboy brawl at the centre of the video for 'Fire'. Her family also feature heavily on the record; her late grandmother given special credit for turning Beth into a firecracker. "I never met her," she says today. "She used to say she was a real redhead, honey, cos she had a snatch to match," Beth laughs.

Beth has increasingly started to embrace aspects of the South ("like, the good parts of the South," she footnotes) and is also adamant that both Gossip and her solo project going forward wouldn't be the same without it. "For one, it took so little to freak people out," she reflects. "There's not a lot of exposure to bigger scenes in the world, so you had to just make it up. You think 'this is how to be a band,' so you try to replicate it, and it becomes its own weird thing, and it's so cool. I think that's the thing, about the South. There's more fear in a way," she concludes. "You really had to get a thick skin really soon. You're not afraid to take risks."
Beth Ditto's solo debut album 'Fake Sugar' is out on June 16th via Virgin EMI.
Taken from the June 2017 issue of DIY, subscribe below.

Get your copy of the latest issue