Arcade Fire and Kasabian reign supreme while Kings of Leon phone it in at INMusic Festival
It's a mixed bag of headliners for the Croatian event
Croatian three-dayer INMusic, located in central Zagreb and backed by a picturesque and oh-so-Instagrammable sun-dappled lake, is undoubtedly a nocturnal affair. No struggling through midday hangovers here, the line-up kicks off around 5pm daily, culminates with a world-class headliner around 11pm and then punts you in the direction of various DJ sets or, brilliantly, a karaoke dome belting out the bangers until 4am. Wailing along, cocktail in hand, to Oasis' 'Some Might Say' is truly as integral an INMusic experience as watching any of the actual bands.
It means that the line-up itself is top-loaded with heavyweight headliners and a reasonably small supporting cast, albeit it one that finds Slaves on electric form – roaring their way through 'Spit It Out' like wild-eyed men possessed and changing the lyrics to 'Cheer Up London' to "cheer up Zagreb" accordingly. Elsewhere, Senegal troupe Orchestra Baobab act as a communal serotonin shot following an apocalyptic rain storm on Day Three, their positivity-drenched rhythms instigating a communal bout of universally terrible salsa dancing from the gathered crowd.
On Day Two alt-J take the runner up spot but give it a headline-level performance, bringing the intoxicating light show of their recent arena tour with them and injecting the nuance of 'The Gospel Of John Hurt' and 'Every Other Freckle' with the kind of rumbling basslines that send the field all a'quiver. If there was any fear that lines like the immortal "lick you like a crisp packet" might not translate then they needn't have feared – the Croatians are clearly just as big a fans of a sexy bag of Prawn Cocktail as the rest of us.
Largely, however, the evenings live and die by their headliners, and on two out of three they soar. Looking at the careers of the three groups that top the bill – Arcade Fire, Kings of Leon and Kasabian – it's strange to think that all released their debut albums within 12 months of each other, way back when in 2003/4. In the near decade and a half since, the trio have forged wildly different paths with wildly different approaches to success and celebrity: the former questioning the concept increasingly with every move, the second seeking it out in no uncertain terms and the latter naturally embodying it with every gloriously OTT gesture. On the surface, INMusic's headliners are natural peers, born from the same era, with their stars still shining bright. But underneath the parallels in timeline, their
attitudes couldn't be more different.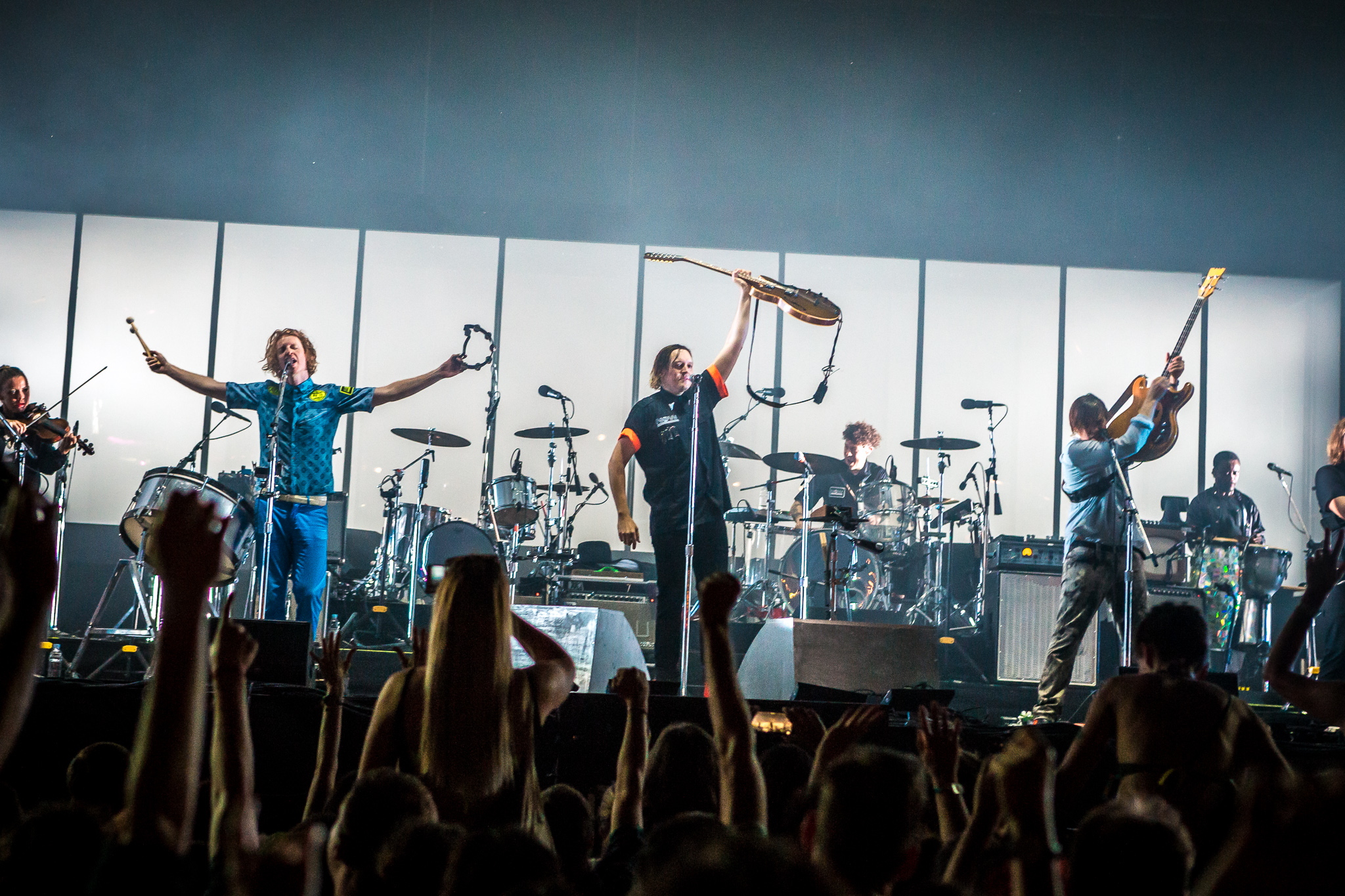 Arcade Fire take to the stage, replete with new black and orange, logo-adorned uniforms and an unrelenting energy from the off. The campaign for forthcoming LP 'Everything Now' may only just be starting, but, like everything the Canadians do, its corporation-questioning, society-skewing concept is fully realised. Whether damning Donald Trump or powering through purposefully uncomfortable new single 'Creature Comforts' ("God make me famous/ If you can't, just make it painless"), Win, Regine and co are an antagonistic force, a bunch of feisty firebrands armed with glitter and disco bangers. Then, of course, there are the hits ('No Cars Go', 'The Suburbs', 'Ready To Start') – hits that have soundtracked your greatest nights out and most painful nights in alike for the past fifteen years now. By the final, ultimate catharsis of 'Wake Up' – 20,000 hands aloft in a communal sermon – their return feels biblical.
By comparison, Kings of Leon's slot the next day feels positively lacklustre. It's not just in the setlist; by now it seems too easy a shot to blame a lack of early, excitable material for a dearth of fizz (although, let's face it, a little splash of 'Molly's Chambers' or 'Taper Jean Girl' would have done a world of good). But the Followills themselves seem tired, huffing out their more recent material backed by the kind of polished graphics of lips and nails that look like they're playing an enormous advert for Superdrug. There's no chat, no danger – they arrive, play a competent set of radio-friendly anthems and disappear. It's absolutely fine, but at this level, 'fine' should never be nearly enough.
And so to the final evening, and a band who have swaggered in the face of boredom for nearly two decades now. If Kasabian's 'lads lads lads' arsenal may seem as acutely British as throwing up on a Wetherspoons floor, then Croatia is more than up for the party too. The whole set, from new album opener 'Ill Ray (The King)' through 'Bumblebee', 'Underdog', 'Club Foot' and the rest, is designed for pure hedonism, led by the most endearing bromance in indie. Between tracks, singer Tom Meighan grins at his best mate and leads the crowds in chants of "Sergio! Sergio!", doffing a cap to the songwriter behind the bangers; if Kasabian are this generation's bolshy Oasis, then at least there's a lot more love going around this time. They end with a ludicrous one-two of 'Vlad The Impaler' and 'Fire' as the whole field bounces along in tandem. Kasabian, quite rightly, are still having the time of their lives.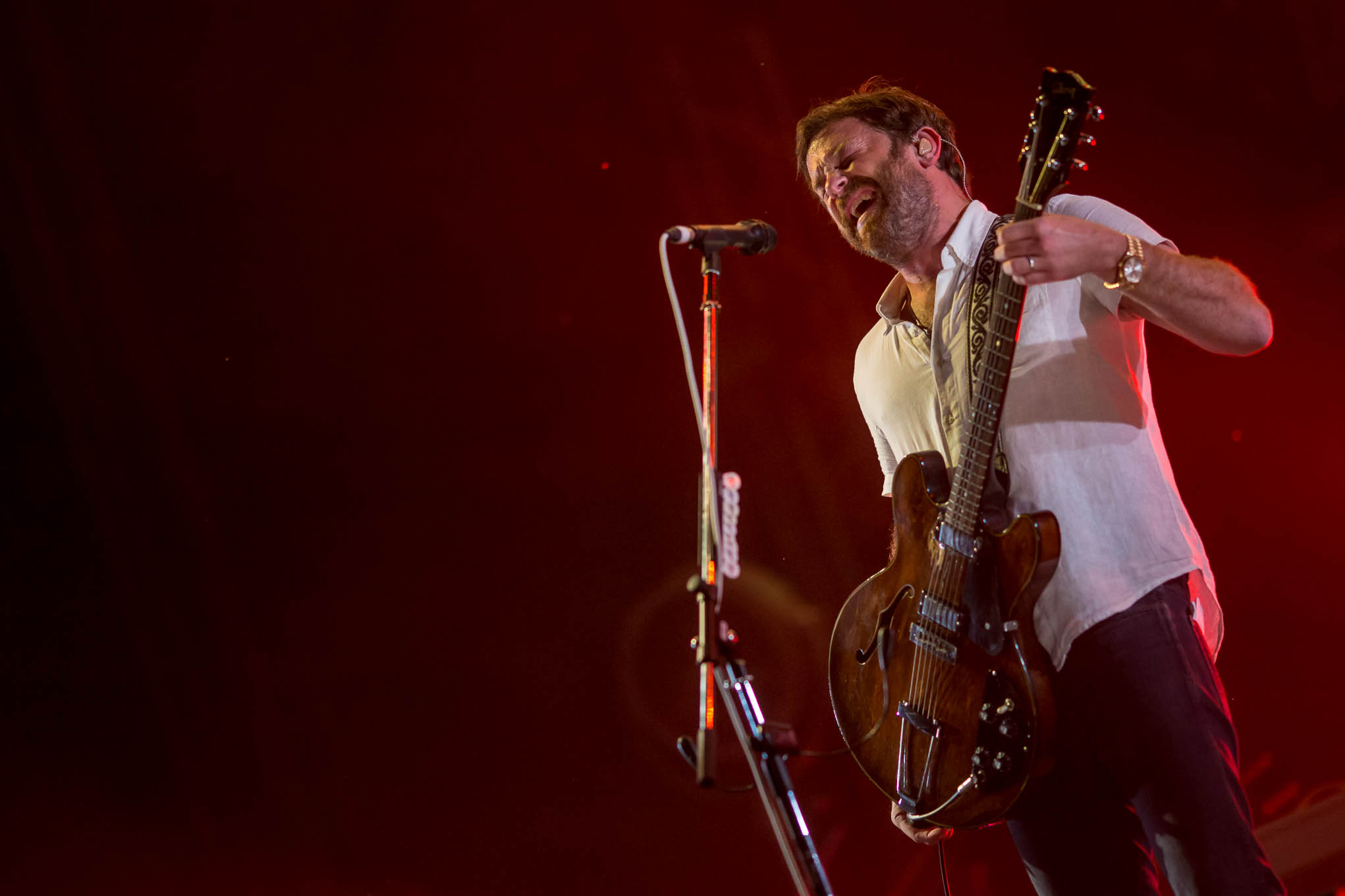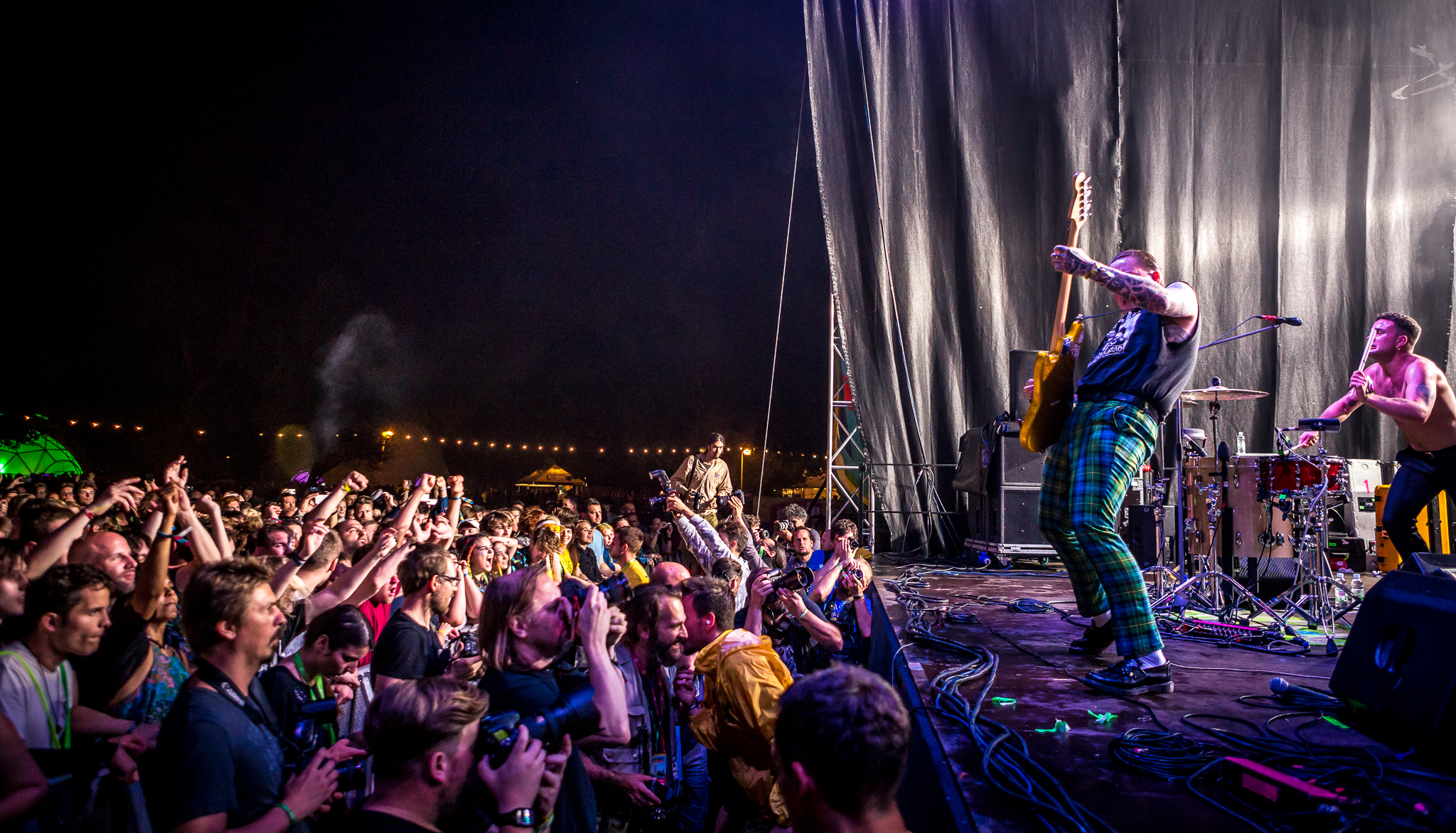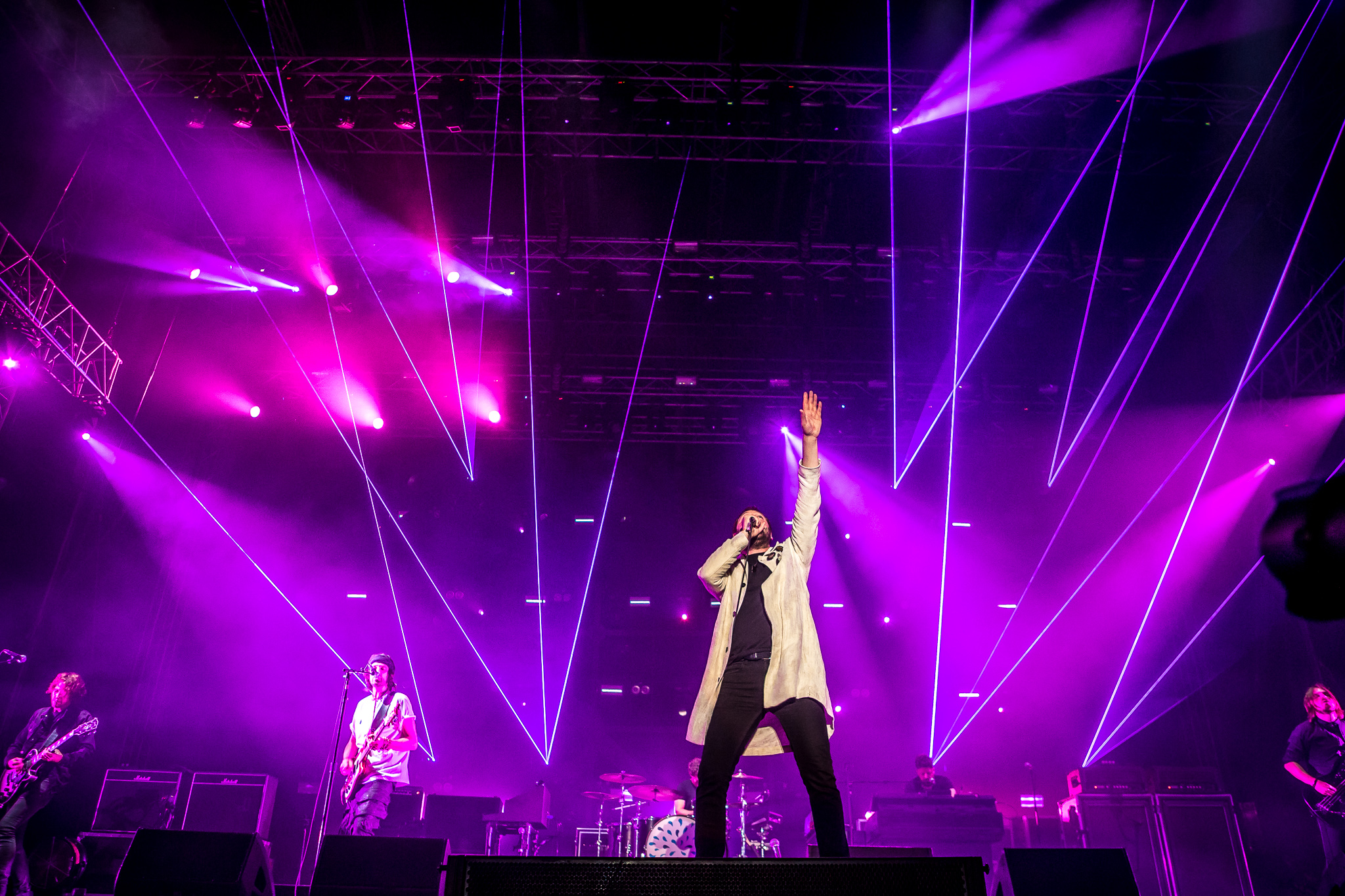 Photo credits: Duval, Filip Bušić and Samir Cerić Kovačević

Get your copy of the latest issue