Premiere:
Catholic Action announce debut album 'In Memory Of,' share 'Propaganda'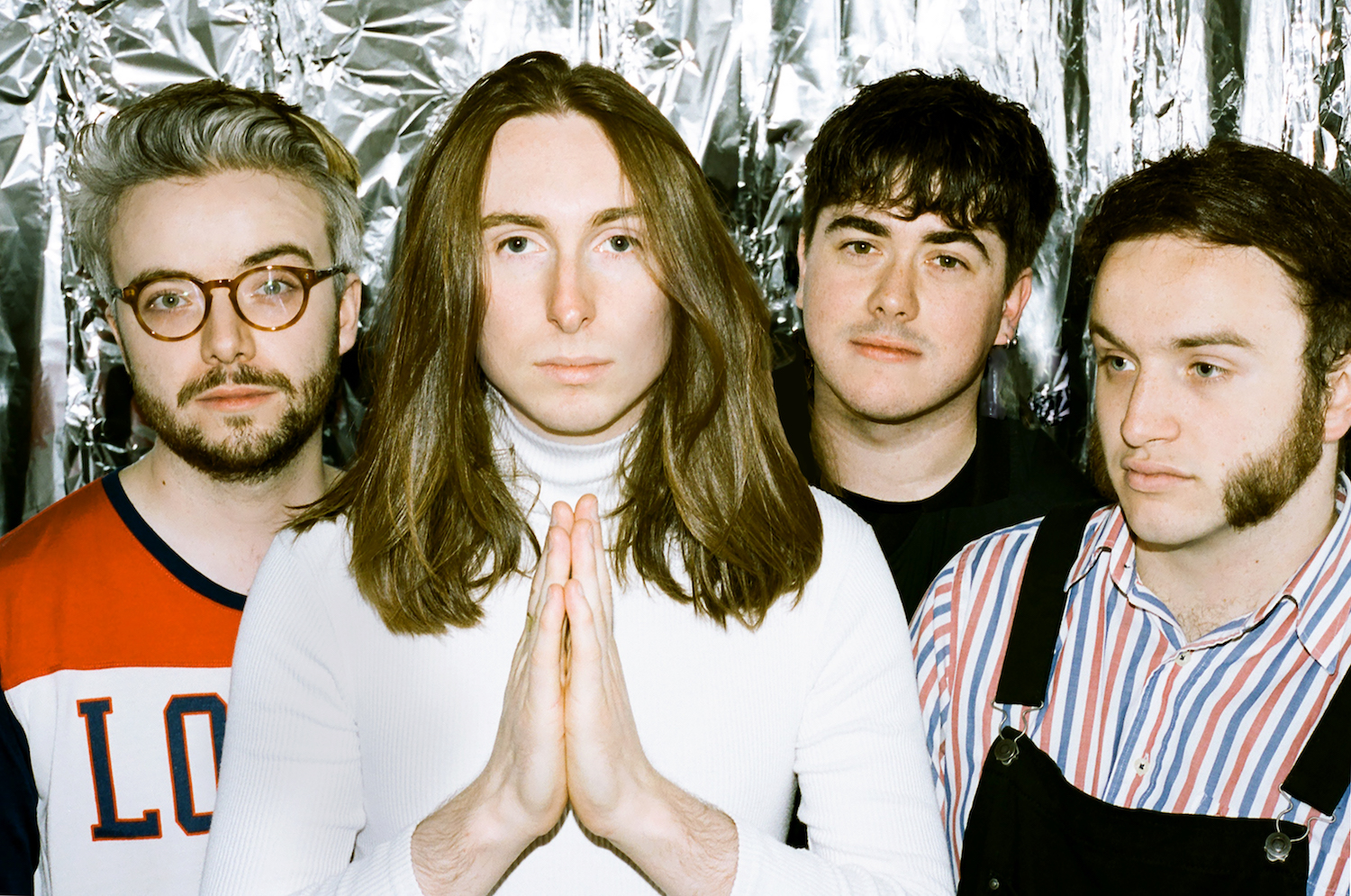 The band's Chris McCrory fills us in on Scottish breakfast customs, and recording their debut with Margo Broom.
Glasgow legends Catholic Action have announced their debut album!
Titled 'In Memory Of,' the band's first full length is set to come out later this year on Modern Sky, with an exact release date yet to be firmed up. We do know a few more spicy details, however; 'In Memory Of' is co-produced by Margo Broom (who also manned the production desk for Goat Girl and Dead Pretties) and the band's very own Chris McCrory.
Along with lifting the lid on news of their long-awaited debut, Catholic Action have also shared a brand new banger called 'Propaganda,' and we've got the first spin.
We're premiering 'Propaganda' below. We also had a quick chat with frontman Chris McCrory about Catholic Action's debut, and he very kindly filled us in on everything from their new single, to Scottish breakfast rivalries.
Hello, Catholic Action! Are you excited to be a 'Band With A Debut Album'?
I'm relieved. I read an interview with Lias from the Fat Whites and he said making an album was like a protracted nervous breakdown - I never USED to believe him. I'm a perfectionist - I could have given you an album three years ago, but that wouldn't have been our album. I'm proud to have my name all over this.
Can you tell us a little bit about your new track 'Propaganda'?
'Propaganda' is a bad reaction to a hellish night, spent up to my neck in landfill indie and cheap pints. A drunken epiphany, a realisation that you're very, very lost.
Alternatively, for the higher-browed among us, here is a Haiku (俳句) on the matter:

Out of place and time
I will never be like you
I've drawn my own line.
In honour of 'Breakfast' - a song from your debut - what kind of breakfast dish do you think this album would be?
The peculiar, warm euphoria from watching the perfect poached egg empty its innards over golden brown, buttery toast - just as the strong coffee and prozac kick in.
Full Scottish breakfast is very tasty indeed, but we're a bit confused about the rivalry between squares and links. Which one do you prefer?
I think squares have a lot less cardboard and/or toenail clippings in them. However, as a vegetarian I'd have to skip those entirely and recommend you the veggie haggis. It's a lot tastier, and a lot less disgusting.
Chris, you co-produced with the lovely Margo Broom (Goat Girl, Dead Pretties). How was that?
Margo Broom didn't just record us, she forged us. Margo smashed what I thought Catholic Action was down into its constituent parts, and helped me reassemble it into something better than I thought it ever could be.
We were three musicians and a neurotic songwriter. Now we're Catholic Action.
Your press release says you have a penchant for writing memorable pop nuggets. Could you describe what a pop nugget might look like, and maybe suggest which dip/condiment is the best to serve one with.
That's very kind of the press release! I wouldn't want to eat a pop nugget raw though, it'd burrow into my brain and never leave. Drown it in barbecue sauce first.