Interview:
LIFE, oh life, oh life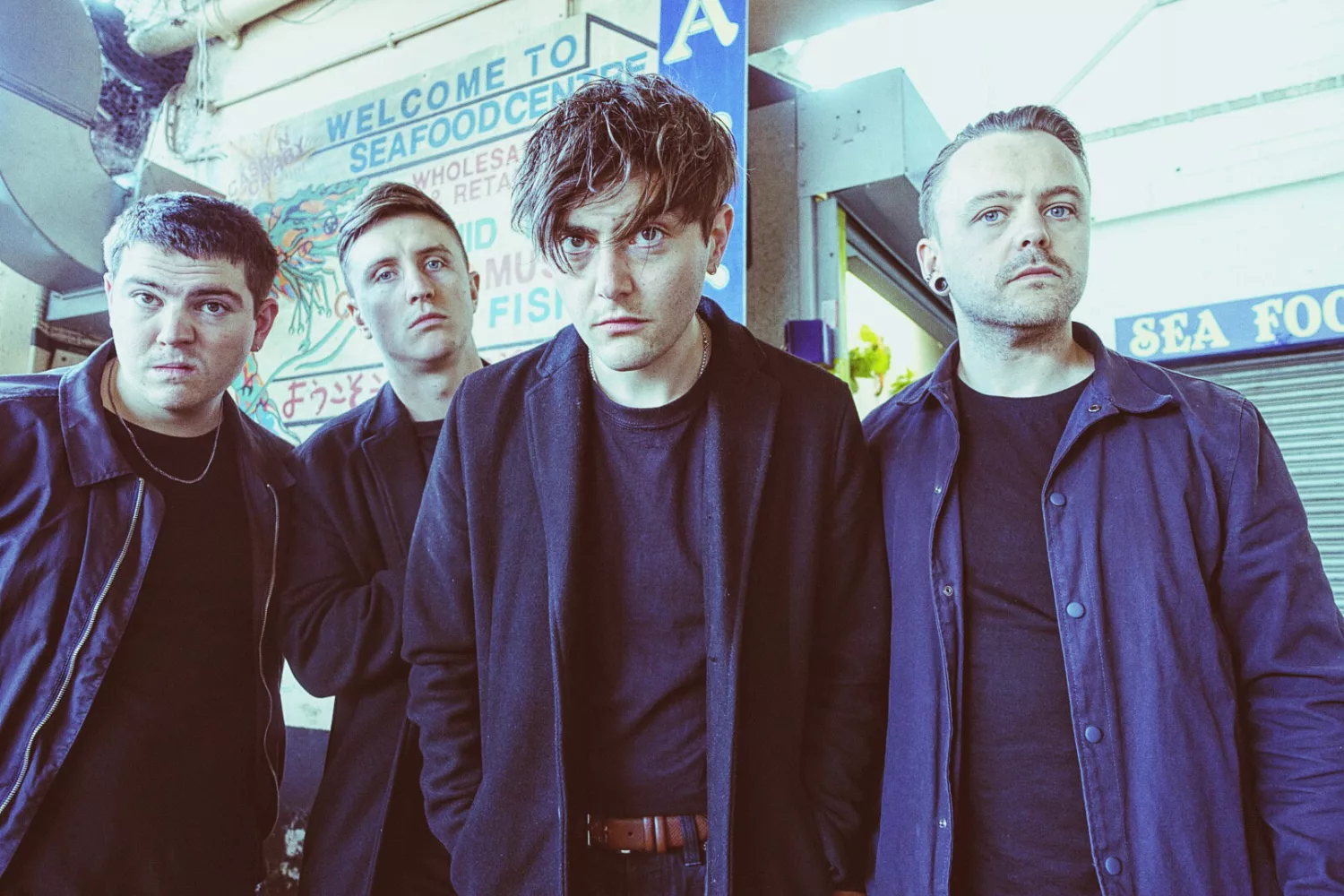 With their debut album 'Popular Music' winning hearts, this rabble from Hull are one of this country's most promising new bands.
Going back even to before American folk legend Woodie Guthrie emblazoned his guitar with the slogan 'This Machine Kills Fascists', musicians have been using their platform as a means to speak out against political and social injustices; acting as mouthpieces to those who otherwise wouldn't have their voices heard, or providing a way to reach out to disenfranchised demographics.
The same could be said of Hull's LIFE, a band for whom societal imbalance is at the forefront of everything they do. Frontman Mez Sanders-Green and drummer Stew Baxter are both heavily involved in outreach work in their day jobs for a local youth organisation called The Warren. "The Warren is a youth centre slap bang in the city centre opposite the BBC building" Mez explains. "There's open access to any young person under the age of 25. There's a community-based label, Warren Records, and that encourages young artists to come in and channel their energy and anger into music. We also have food banks, sexual health clinics, our own councillors and a team of social workers, an employment arc to the building."
Hull, like many others in the North, is a town that's seen its fair share of hardship as older industries decline. Organisations such as The Warren, meanwhile, have unfortunately become an necessity for many members of the surrounding community; those people marginalised by benefit sanctions and government cuts being evermore reliant on the services provided. "We're basically offering hope to young people who have been constantly squashed and squeezed by the government" Mez continues, "it feels good, it's a good place to work".
"The situations young people are faced with influences our writing."
— Mez Sanders-Green​
His work and his home city are clearly things that Mez feels passionate about, and LIFE's music makes this clear. "The situations young people are faced with influences our writing," he agrees. "Tracks like 'Euro Millions,' which was about Brexit, or 'In Your Hands,' which was about young people seizing the right to vote - whoever you voted for really - it's just about making sure they realise that their voice counts for something. We did see that in the election just gone by. And I think 72% to 75% [of young people] turned out to vote, which is a marked improvement on what it has been." Mez makes a fair point. Galvanising young people to vote, it seems, is something he feels especially strongly about, too.
"I did a campaign here [in Hull] which was centred on encouraging young people to vote. It was a video, a spoken word poem, about realising the power of the young person's vote, like the Bob Dylan video 'Subterranean Homesick Blues'. What I did was, with a group of young people, we went to [local Tuesday club night] The Sesh, and after the headline act each night in the month leading up to the election we played it. We signed up, like, 30 or 40 young people, and we saw a massive swing in Hull, back to how it should be really, back to hope rather than negativity".
It's not just the band influencing young people, however. LIFE take plenty of inspiration from everyday goings on in their local community as well; a form of aural social realism. "It shaped the record quite a lot," Mez says, "because a lot of the lyrics I write are a comment on society. It's a socially conscious lyrical style, whether that be about politics or just simple things like trying to get your baked beans cheaper".
"We write about what's happening at the moment, and presently that is all sorts of political things."
— Mez Sanders-Green​
"It's been fucking ace really" says Mez, looking back on the last year or so, and LIFE's debut album, "and we're just so humbled to get it out. It's been a crazy process for us, being that is was all done ourselves, and so the response has been amazing."

With plenty of bands writing politically-charged records at present, what is it about 'Popular Music' that seems to speak volumes to LIFE's burgeoning fanbase? Mez has his own theory, "You get a lot of bands that are writing angry songs or political songs, and they're doing it from their parents' bedrooms, with the luxury of not having to work yet. But we're all in our late 20s, and working, and we see this stuff face to face and it does influence us in a lot more instantaneous way. We write about what's happening at the moment, and presently that is all sorts of political things, and I think that has resonated with the young people. And I think that's part of why people are buying into our music."
It's a sensible assertion. But LIFE shouldn't, and indeed don't, rule out the time and effort they themselves have put in to the band. "We've been fortunate enough to go on tour with Slaves. They took us on tour across Europe and the UK and we ended up playing to 30,000 people. And we were lucky enough to do SXSW in March as well as all the inner-city festivals like The Great Escape. All these things that are buzzy prove our hard work is paying off. When you get these sorts of opportunities, that's when you make them count."
This combination of a tireless work ethic and social conscience has allowed LIFE to become entrenched in their community, becoming role models and aspirational figures. They're a hugely promising band, and for Hulls's young people in general, the work done by Mez and The Warren makes the future look a lot brighter.
LIFE's debut album 'Popular Music' is out now. Find out more about the work of The Warren here.

Get your copy of the latest issue