Interview:
Good Morning Good Morning: Ratboys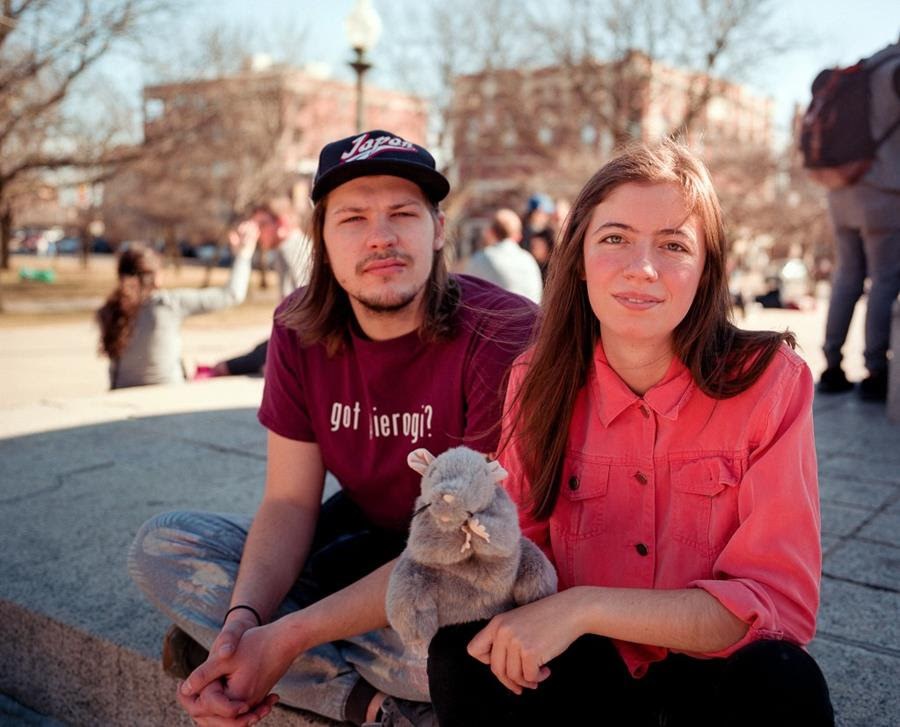 Feeding off the chaos of the road to make 'GN,' this Chicago band are about far more than that 'post-Country' label.
"There's nothing to the whole 'post-country' thing," ponders Ratboys' Julia Steiner, midway through a tour of the States. "It's just a genre I made up when I was in college."
It seems curious, then, that Julia Steiner's group has become so inextricably linked with that particular tag. It's as if the press largely picked up on that one particular tongue-in-cheek comment that she made about it epitomising the band's sound and run with it, without actually listening to 'AOID', their debut album. Had they done so, they'd realise that - for all the folky intonations - it actually landed closer to the kind of melodic indie fare that generally blurs the line between rock and pop; it bears a striking resemblance to the likes of Rilo Kiley's Take Offs and Landings and those early Neko Case albums.
Now, two years on, Ratboys return with 'GN'. If that sounds like a quick turnaround, it certainly wouldn't have felt like it to Julia and her bandmate and songwriting partner Dave Sagan. In the immediate aftermath of their debut's release, they toured extensively, spending eighteen months on the road across North America and Europe. "I never thought I'd get to go to Croatia, or Northern Italy, or even all these beautiful towns in the UK like Bristol and Glasgow," laughs Julia over the phone from New Orleans, where the band are about to play a show. What that's meant, though, is that 'GN' is effectively a paean to the promise, excitement and infinite possibilities of life on tour, as told through the lens of the friendships and memories it generates.
"That's actually where the title comes from," agrees Julia, pointing to Ratboys' first extensive exposure to the road. "There's a track called 'GM', and then the album's called 'GN'. They were abbreviations we'd use on tour for 'good morning' and 'good night', kind of as a nod to the friends we made. As goofy as it sounds, it made us feel really connected, and it brought consistency to our lives on tour. You're constantly struggling to find a sense of home and consistency when you're travelling so much, and that song, 'GM', was written really quickly in Akron, Ohio, when I woke up and felt so excited and so in love with the whole lifestyle of being so transitory all the time," she explains. "That definitely encapsulates the spirit of the record."
"It's nice to try to be somebody else for a while."
— Julia Steiner
Even if the spirit and feel of life on tour as seeped into these new songs, though, some of them actually predate 'AOID', with Julia sifting through a slew of old ideas in the early stages of writing. "I was looking over this really old, broken laptop the other day, and trying to get my head around some dates for when these tracks actually originated. The very first recording I've got of 'Molly', for instance, is from December of 2011, which is crazy," she muses. "The album feels like a collection, almost like a patchwork quilt, of moments from the last few years of my life, but I think touring and meeting so many different people really inspired us to kind of knuckle down and try to do this full time."
As personal as some of the tracks can sound -Julia describes some of them as being tantamount to a 'tour diary' - there's also some hugely oblique lyrical content across 'GN'. It runs the gamut from 'Elvis is in the Freezer', which details Steiner returning to her family home in Kentucky to learn that her dead cat was in cold storage - to 'Crying About the Planets', a tale inspired by the Australian explorer of the Atlantic, Douglas Mawson.
"I think certain songs come out and they're about your feelings, or your moods, or your emotional life," she explains. "and then there's some that are more abstract. I feel like the best way to appreciate and engage with other people's stories is to insert myself into the situation. Stories like Douglas Mawson are ones that I found on Wikipedia and then eventually ran out of reading material on, but I wanted to keep going. It's nice to try to be somebody else for a while."
"There's nothing to the whole 'post-country' thing - it's just a genre I made up when I was in college."
— Julia Steiner
That's something that extends to musical considerations also, with different influences taking hold on 'GN' that transcend the idea of post-country. "Growing up, country music to me was Hank Williams and Dolly Parton - people who were icons," says Julia. "It seems like it doesn't exist any more. People like Keith Urban, they're very talented and obviously super successful, but I wouldn't classify that as country - it's pop to me. We were definitely more deliberate this time, thinking more about tone and melodies. It still blows me away that I bought my first guitar a week before we started recording 'AOID', and as fun as it was to be that spontaneous, I think this record is better for having had us pore over the songs a little more."
With the day-to-day of touring now so crucial to Julia's creative outlook and the band now established on Topshelf Records, they'll doubtless be out in force in support of 'GN', with dates overseas beginning to come together. "Literally right before you called me, I was emailing somebody who books for us in Europe, so we're definitely coming back," she enthuses. "The first time we went over was intense, because we were there for five weeks. It was a dream come true though, especially to go back to Dublin, where I lived for a year; to go back there with my band, when I only ever used to play by myself, was the most satisfying thing ever. The plan is early next year, but we'll see; it seems like things always take their own course with this band!"
Ratboys' new album 'GN' is available now via Topshelf Records.