Album Review
Nadine Shah - Holiday Destination
4 Stars
A record that never shies away from being overtly political.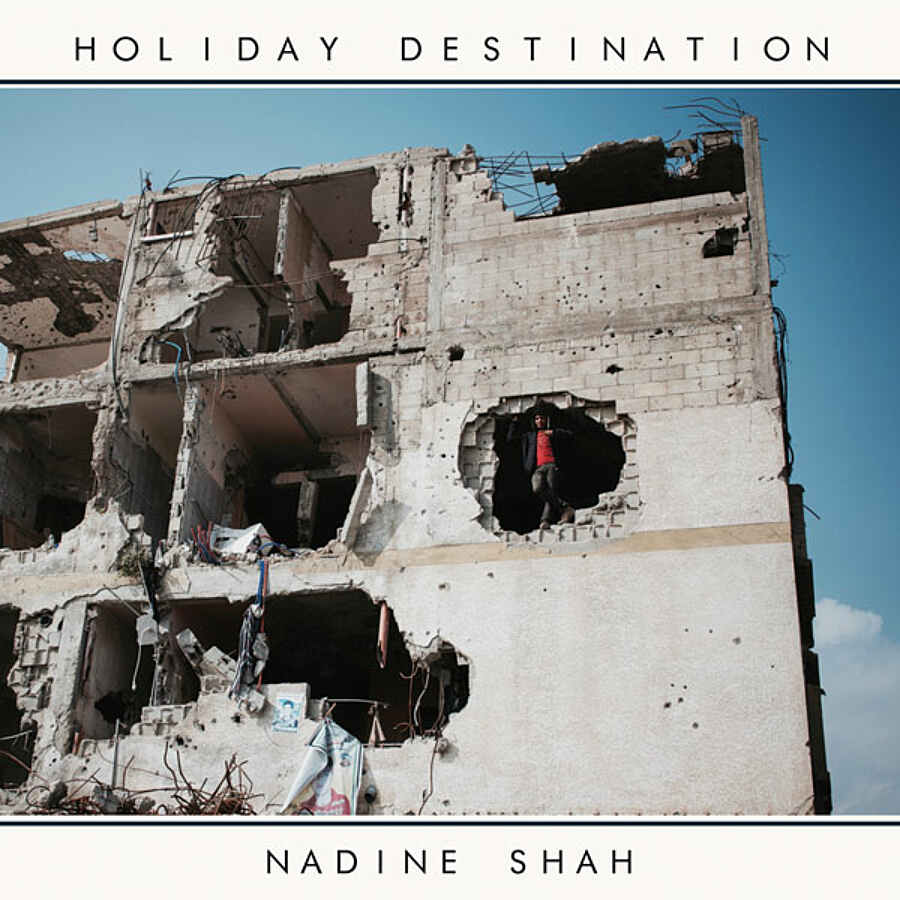 Part-way through second album 'Fast Food,' Nadine Shah mutters "my mother would be so ashamed of me if I didn't act in a classy kind of way," expressing a private, intimate thought in the most open of ways. Nadine's songs have more often than not been dripping with similar moments of soul-bearing intimacy and passion, sometimes cloaked in a veil of dry wit. With third album 'Holiday Destination' though, she channels that passion in a very different way. Stepping away from the personal stories that have characterised her previous efforts, she turns to cast her eye on to the wider world. What she sees is not pretty, especially for a second-generation immigrant with Pakistani roots.
She now finds herself dealing with a world which doesn't just question her actions but her very existence as British, which both angers and baffles her. On strident lead single 'Out The Way', she questions "where would you have me go? I'm second generation immigrant don't you know," pointing out that many thousands of others are just as British as anyone else, knowing no other home. With the measured 'Evil', she turns her ire inwards, grappling with the notion that "all these folk they think that I'm evil / Like I am the living devil himself." While she doesn't lose any composure vocally, keeping a conversational tone as if these accusations are nothing, her sheer frustration at this concept bubbles over into furious outbursts of scuzzy guitar riffs.
Nadine also directs her attention to the plight of refugees. With the title track, she juxtaposes the experiences of tourists having "the best time of your life" with "fatalities in the water." Its repeated refrain of "how we gonna sleep tonight" addresses both the homelessness of refugees (in that they neither have a roof over their head nor a native land to return to) and our own ability to find a good night's rest with so much turmoil in the world. After the almost tropical guitar melodies of opener 'Place Like This' have drifted away, a pounding clip of a crowd chanting "refugees are welcome here," one of the most strident moments on a record that never shies away from being overtly political. It's in these instances where she shows that her personal anguish is just a small part of a collective consciousness.
There are moments where she takes on other contemporary social issues too. On 'Mother Fighter', despite a woman being able to raise a child and express her power at the same time she also "knows her place," stopped in her tracks by a patriarchal society. She also tackles a whole year on the fidgety, anxious '2016' – no easy feat. Nevertheless, she sums up the feeling of disillusionment caused by 12 months of upheaval. Lamenting that it was "the year that took our idols / what is there left to inspire us / with fascists in the White House," she also comments on some of the minutiae of contemporary living, reading the nutritional information on food packaging and watching too much TV, witnessing the "real life murder mysteries." These little asides on everyday life manage to sum up the feeling of powerlessness and malaise that Trump, Brexit and more have cultivated.
But despite all of the darkness that hangs over the album, there's a faint glimmer of hope on closer 'Jolly Sailor' where she urges us to "speak of holidays / Of work that pays / Of better days." Although it's somewhat hushed, the statement becomes a rallying cry against the status quo, to fight for something better than what we currently have. With 'Holiday Destination,' Nadine puts a critical magnifying glass over why we should do just that.
More like this