Eminem slams Trump during Reading 2017 headline set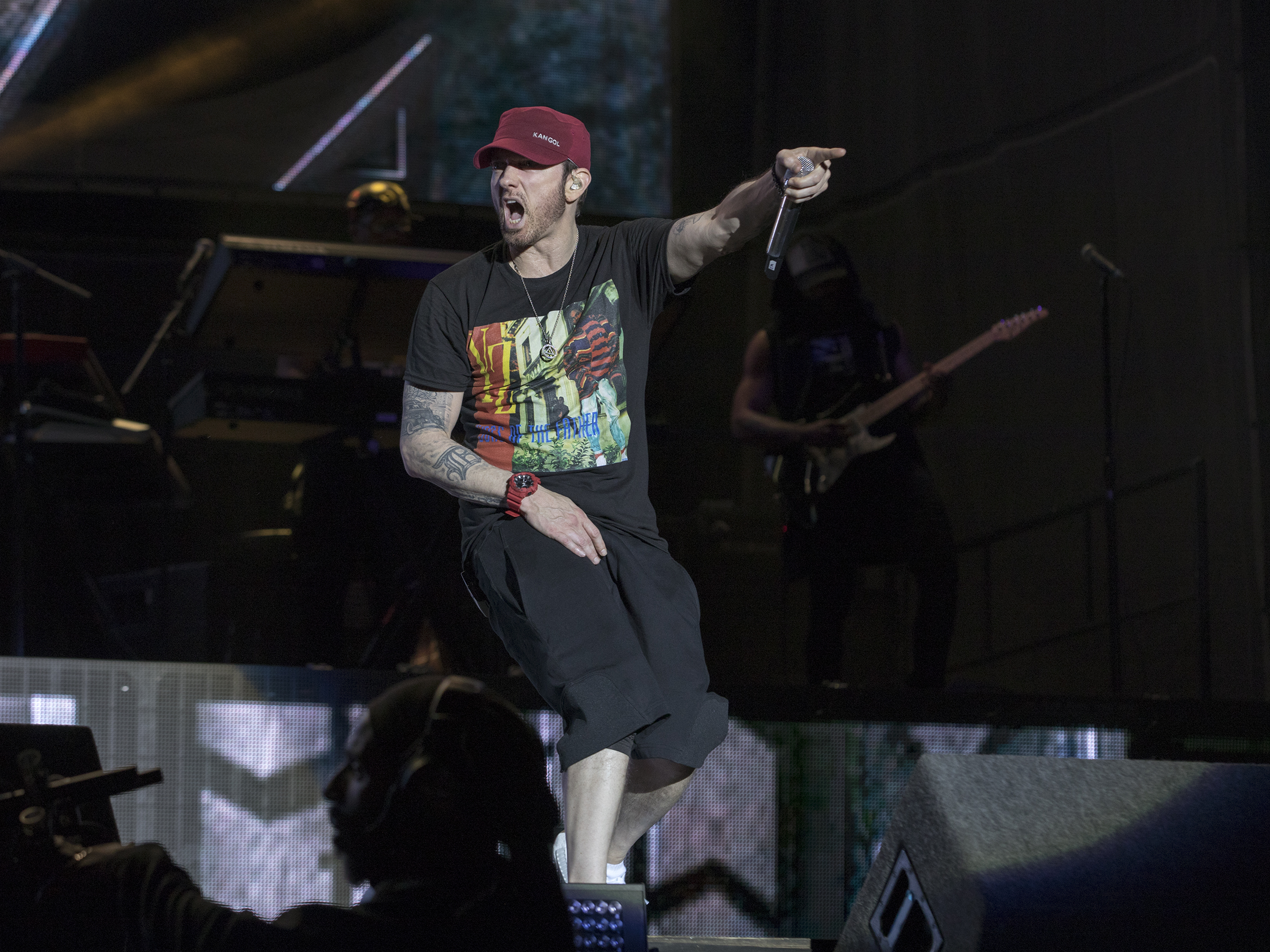 The iconic US rapper drew the biggest crowd of the weekend
Everywhere you look across the Reading site today, there are scores of people in Eminem t-shirts. It's a hugely anticipated set, despite questions of him miming on the same stage a mere four years before, and the crowd that congregates to witness the iconic rapper is enormous.
If tonight's set is here to settle a few scores from 2013, then the major one gets put to bed immediately: Eminem is definitely performing live tonight. He's also on customarily opinionated form, declaring before 'White America' that he "doesn't wanna get all political and shit, but that guy Donald Trump [he] can't stand". It's a popular opinion of course, a transatlantic crowd pleaser that breaks up the usual Corbyn chants, and when he reappears in a top that reads 'FACK TRUMP' - a purposeful misspelling that amusingly makes him sound like a comedy cockney geezer - then the point's hammered home.
Dropping 'Business' and 'Kill You' early, he saves the real big guns for an all-too-short medley, mixing fragments of 'The Real Slim Shady', 'Without Me' and 'My Name Is' into one super-charged five minute blitz. 'Stan' comes with a Dido-less substitute (sad times), while there's a random section of covers midway through including, for reasons unknown, The Weeknd's 'The Hills. Later, he dedicates 'Love The Way You Lie' to the ladies in the audience before splitting them down the middle and having a cheer-off with his hype man.
They're classic moves and the crowd still lap them up; with a fanbase this dedicated, Eminem only needed to turn up to have won. And if there's something wilfully contrary about his refusal to fully indulge in his past glories then, well, what did you really expect?
Photos: Jeremy Deputat