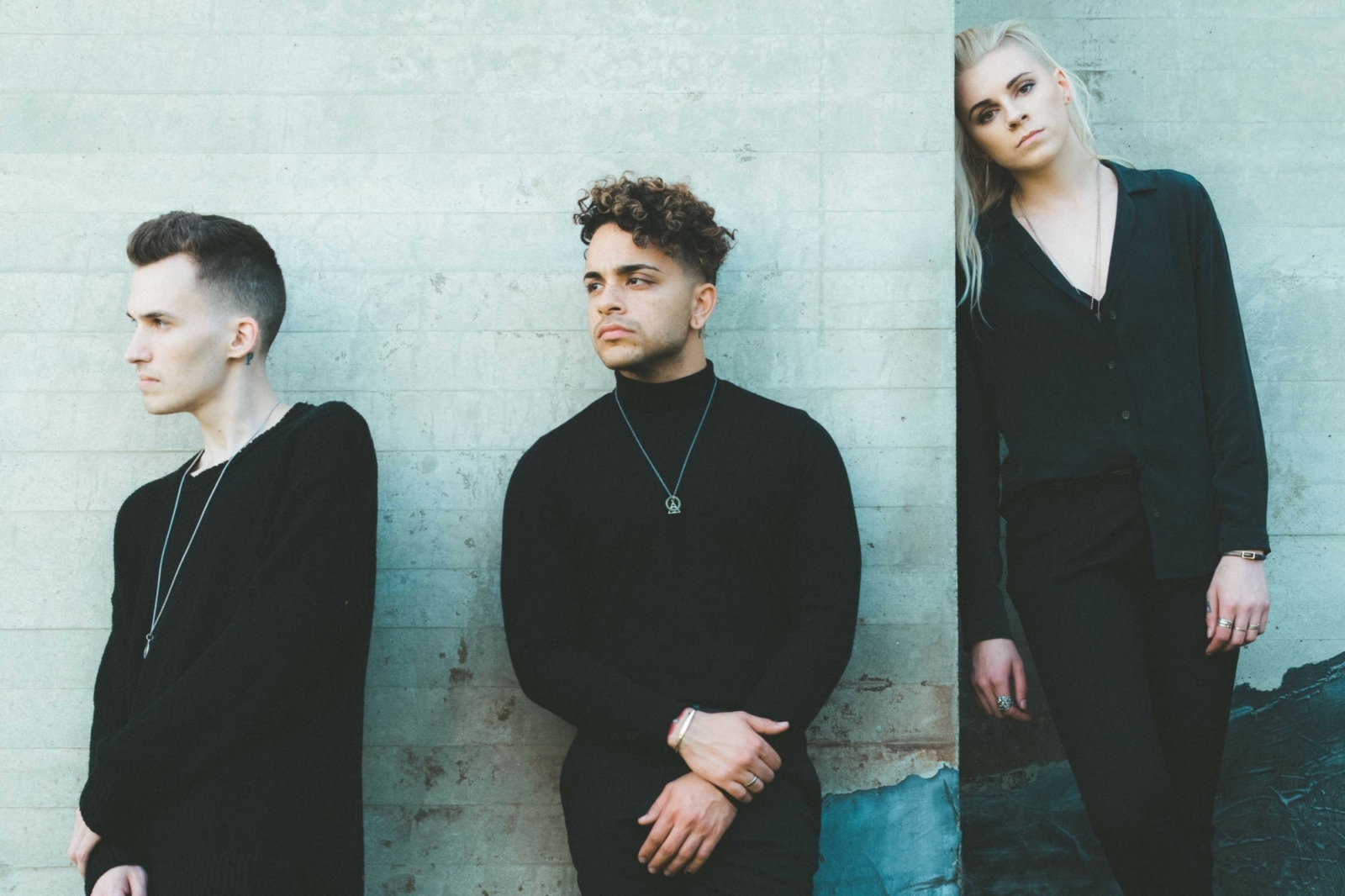 Photo: Eliot Lee Hazel
Interview:
PVRIS is burning
Crashing to a halt after a relentless spell touring the world, PVRIS found themselves confronting darkness head on. Their second album exorcises all those demons.
"Parting is all we know of heaven, and all we need of hell," concludes Emily Dickinson's 'My Life Closed Twice Before Its Close' – a poem that deals with overcoming two hugely emotionally losses, and then battles with facing the reality that darkness is a regular fixture of life that never quite goes away. It is from this poem that PVRIS' second album borrows its paradoxical title, but it didn't just catch their eye because Dickinson was a fellow Massachusettsan (though it's a handy coincidence). Crashing back into stillness after a punishing world tour, straight off the back of 'White Noise''s runaway success, was something that PVRIS didn't expect to find tricky. When the time came, though, vocalist Lynn Gunn found herself facing up to the most shadowy aspects of life.
"It was kind of like an emotional whiplash," she ponders, speaking over the phone mid-way through supporting Muse and 30 Seconds to Mars on tour in the States. "Just stopping, and having the time to reflect and process the past few years…" she adds. "Where we were mentally, emotionally, physically, energy-wise. It was a lot to adjust to, and all of us dealt with it pretty differently."
For Lynn, facing her demons and moving forward mainly involved buckling up, and throwing herself straight back into the beginnings of what would become 'All We Know of Heaven, All We Need of Hell' after just two weeks' downtime. Accidentally continuing the religious threads of the title, the band headed to a renovated church in Utica – upstate New York – to pitch up "in the mountains and valleys and wilderness". Their huge, space-filled new home crept onto the gigantic bangers that pepper this album, too. "'We did 'White Noise' in what was pretty much a small bedroom," she explains, "probably the size of two cars put together. So we went from that to this massive church! I really think that comes across in the music."
"It was kind of like an emotional whiplash."
— Lynn Gunn
Holy surroundings aside, 'All We Know of Heaven, All We Need of Hell' is never quite sure which camp – good or evil – it really belongs in. The title itself traps the entire record in a kind of emotional limbo, and duality is all over the place, colouring every turn. The artwork itself shows Lynn and bandmates Alex Babinski and Brian MacDonald reflected by an ominous black lake; 'Heaven' lyrically brings along yet another opposite in the shape of a "rising and falling chest that's barely breathing". And musically, too, it's one big colliding shard of light and shade, lyrical darkness jarring with euphoric pop melodies.
"I didn't even think of that!" Lynn says. "I didn't even process the heaven and hell duality until after [we'd titled the album] but it's right here staring me in the face."
"Once we got off the road," she starts, "I realised how much I'd suppressed my emotions and hidden them, and I didn't really acknowledge or honour them, to the point that I felt numb. Learning to be vulnerable again, and opening up - without shying away from any emotion - was a really important thing. And I think that comes across. It's a lot more straightforward, and vulnerable, and candid," she says.
"It's a lot more straightforward, and vulnerable, and candid."
— Lynn Gunn
"One of the things that I learned personally was embracing dark and the light equally," she adds. "I definitely went through a lot in the more negative end of human emotions and experiences, and I learned to really embrace that, and find it just as beautiful. You can apply it to anything, and it's vital; whether it's music, or your health, physical health, mental health, diet, compositions, artwork, production. It's everywhere and it's so important. Lyrically I don't ever think it was a conscious thing, it just seeped in."
All that seeping seems to have done the trick, because 'All We Know of Heaven, All We Need of Hell' is privy to Lynn Gunn's most honest songwriting to date, metaphors stripped away, and honesty pushed to the fore. "No, I didn't want this throne," she protests on 'What's Wrong' – quite possibly referring to the runaway levels of fame that she and PVRIS have found themselves in reluctant possession of over the last few years. It's also a song that she had her reservations about ever releasing. "It was a really scary one to let out," she admits. "The subject matter a lot of people can easily guess what it's about… and I felt so exposed and scared. I do think that's a good thing, though," she reasons. 'I think anything that scares you is a good thing at the end of the day."
PVRIS' new album 'All We Know of Heaven, All We Need of Hell' is out now via Rise Records.
Taken from the August 2017 issue of DIY. Subscribe and read online below.

Get your copy of the latest issue