Live Review
LCD Soundsystem, Alexandra Palace, London
22nd September 2017
James Murphy and co. are relaxed, supremely confident and on top of their game on the first of two nights in North London.
Bar a show last summer at Lovebox Festival in Victoria Park, the last time LCD Soundsystem played a London headline show, it was at Alexandra Palace. An awful lot has happened between the show in November of 2010 and tonight - the first of two shows at the venue to wrap up a UK tour - but when the instantly recognisable bassline of 'Get Innocuous!' creeps its way up in the mix to open the set, it feels like not a thing has changed.
A brilliant, heartfelt 'I Can Change' follows, before 'Call The Police' brings the first showcase of material from new album 'American Dream'. Any doubt as to how well the newer cuts would be received - by a fiercely passionate fanbase with more than a few issues surrounding the band's comeback, no less - the propulsive, anthemic track is yelled back at James Murphy with as much venom as anything from 'Sound Of Silver', and already feels like a bonafide classic.
'I Used To' is a creeping, slower cut, easing the band into a mammoth two-hour set. The always brilliant one-two of debut album tracks 'Tribulations' and 'Movement' lead into set highlight 'Yeah'. Tucked away on a one-off 12" from 2004, the track has become one of their main calling cards live, and turns the cavernous Great Hall at Alexandra Palace into a euphoric rave. Dipping and diving through breakdowns just to crash back into life with the track's title repeated over and over, it's a sign of the band at the very top of their game.
After the track bleeds into the emotional 'Someone Great', Murphy is as matter-of-fact as ever. "We've got three songs left," he says. "Two new ones and an old one. Then we'll pee, then we'll be back to do some more new ones and some more old ones."
There's a typical lack of traditional showmanship on offer tonight, but the honesty that replaces it - never mind some of the best dance punk songs ever written - doesn't make the set feel like any less of an event, with 'Tonite' and the main set closer 'Home' feeling absolutely gigantic.
'Losing My Edge' crashes the set back into life after a particularly tongue-in-cheek intermission of '60s track 'Spanish Flea', before an unexpected hit comes in the form of 'Emotional Haircut'. A closing 'Dance Yrself Clean' and 'All My Friends' is an expected, predictable end, but no matter how many times it's rolled out, it's never less than earth-shattering. Predictably understated as they leave the stage, LCD Soundsystem's comeback tour rolls on, and any doubts about the legitimacy of their return have surely been wiped out.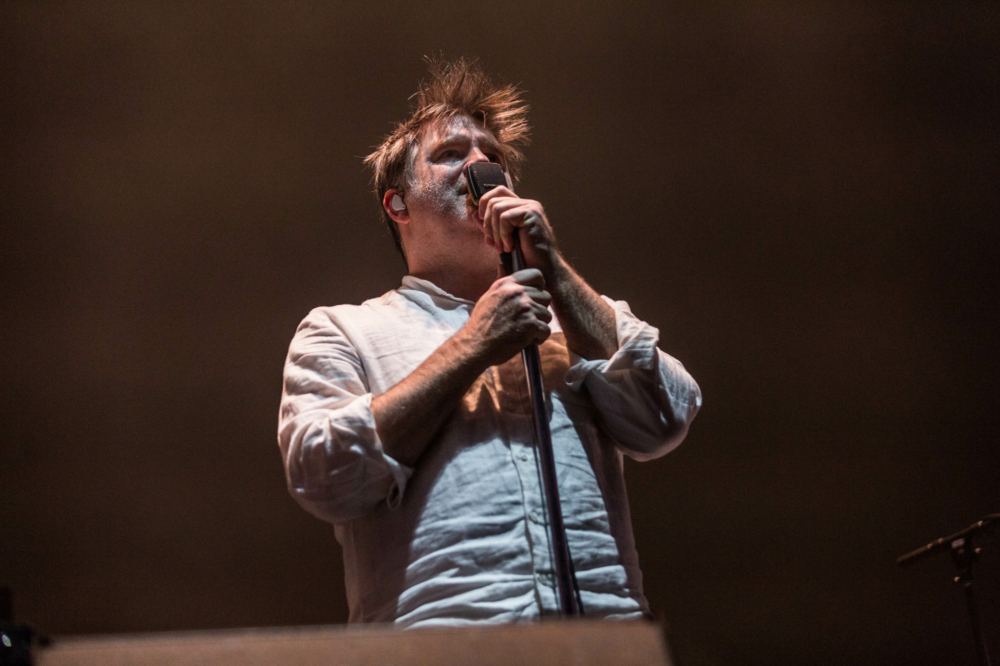 Photos: Emma Swann

Get your copy of the latest issue