Album Review
Weezer - Pacific Daydream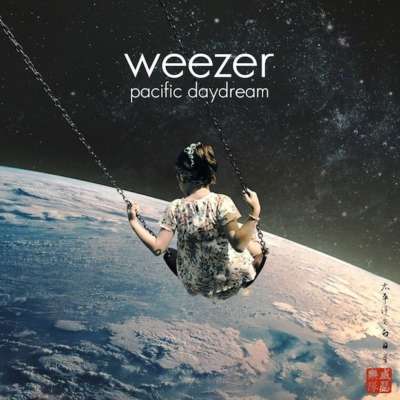 A band at play.
Label: Crush Music / Atlantic
Released: 27th October 2017
'Pacific Daydream' is not the album Weezer set out to make. Where most of us find ourselves distracted when undertaking creative endeavours (taking the bins out, doing the washing up, changing bedlinen), Weezer's 'Black' album - a night-time follow-up to last year's impeccable 'White' - quickly became less "Beach Boys gone bad" and more… well, something completely different.
The level of expectation on the band's collective shoulders for the past twenty-odd years is, to most, unimaginable. Are there any other bands on their eleventh album whose existence is so dominated by their first couple of albums? Probably not. But, with licks and riffs nodding back in time, immediate choruses and a knowing sense of nostalgia, 'White' signalled a contentedness with the band Weezer had always been.
Which is why, while 'Pacific Daydream' and its inception may have come as a surprise, the playful lightness that pervades it doesn't. Unlike many of their '90s peers, Weezer haven't really been allowed to experiment, let alone stray too far from their alt-rock path, and their previous foray into pop production - '2009's 'Raditude' - was, let's say, not a high point. But here, they're not chasing perceived 'relevance' - simply put, Weezer are a band at play.
Permission to sprinkle Big Sounds over their insta-recognisable songwriting might not have been something they'd allow themselves in the past, but here it transforms what could've easily been 'churning out more of the same' into 21st Century alt-pop bangers. In a world where Fall Out Boy co-opt the dregs of dubstep for the (awesome, no less) 'Young and Menace', Panic! At The Disco borrow from the B-52s and Paramore spin a full 180 to pure bubblegum bliss, when Weezer were knocking on pop's heavenly door when at least two of those were still in school, well, it's only fitting.
'Weekend Woman' is heartwarming in the way Rivers and pals do best, similarly 'Sweet Mary', while 'QB Blitz'' line of "I can't get anyone to do algebra with me" is more than enough to let the world know it's the same Weezer as ever.
More like this