Interview:
Class of 2018: Her's
An eccentric Liverpool duo with more cheese than your average cheesemongers, Audun Laading and Stephen Fitzpatrick don't believe in broody.
On seeing Her's walking down the street, you could be forgiven for mistaking them for the Edinburgh Fringe's most eccentric newcomers. Together, Stephen Fitzpatrick - a spritely man from Barrow-in-Furness with a floppy bowl cut and jazzy shirt - and Audun Laading - a red-headed Norwegian with a towering stature - have all the makings of a legendary duo. It's a theory this pair have heard before, too. "One guy recently thought we were the reincarnated Laurel and Hardy," Stephen laughs. "We get offered comedy gigs every now and again," Audun adds. "Maybe we could do a comedy night? And make it reaaalllly awkward," he adds. "Awkward Comedy."
The two of them mull things over, and then think better of it. "Bit niche" Stephen decides.
As much as Her's might be opposed to the idea of a comedic spin-off project - "I don't even think I'm funny!" protests Audun - their live shows still offer something of a stand-up experience. Performing at SXSW 2017, the pair munched M&Ms between numbers, and flamboyantly introduced Stephen's capo changes like surprise guest appearances. And today, perched on a seat they've dubbed "Grandma's bench" for whatever reason, the two of them reckon their on-stage antics are a product of their cast-iron friendship and shared small town cabin fever. "We met across the bar. I shyly smiled at him, he winked back," Stephen starts, revisiting the first time they met one another. "We were forced to be friends by curriculum," he jokes, referencing their aligning schedules at uni. "We had mutual tastes; jangly guitar and whatnot. Similar experiences growing up, that parallel of growing up in a small place and getting glared at by the locals…"
"One guy recently thought we were the reincarnated Laurel and Hardy!"
— Stephen Fitzpatrick
Growing up in eerily similar seaside situations and joining forces in the harbourside city of Liverpool, the band have taken one big takeaway from their years spent fairly bored as teenagers. "There's a certain vibe growing up," Stephen reckons, "on a weekly basis you're faced with this eternal boredom that you can't get over." At times they turned to some noisy forms of entertainment. "I drummed in a metal band, double bass drum pedal," Stephen goes on. "We were called…" he pauses dramatically, "Dethroned. Good times. We played at the Alma in Bolton, and we asked the sound guy if he could put on green lights and fill the venue with smoke because we were apparently a bit of a 'weed band'," he laughs. "And I didn't even like metal! Swamp metal. Everybody has to deal with metal in small towns. We did end up writing a Metallica song for the collection ['Songs of Her's'] he adds. "Bit of distortion on 'Medieval'. Dedicated to the hometown. There we go."
Spare for a few nods to the old ages, though, Her's don't really channel any of their metal beginnings. Instead, fusing a blend of art pop and unfussy, brilliant songwriting (Stephen and Audun are massive fans of The Free Design and Supertramp, and cite Scritti Polliti as being "the sexiest band ever") Her's make woozy, melodic brilliance; jittering drum machines mingling with a lead vocal that soars from gruffness to flighty falsetto. Playful and honest - a tricky act to balance well - debut 'collection' 'Songs of Her's' (and yep, that is a tongue in cheek reference to Songs of Praise, fyi) captures trying to keep something special afloat, and daydreamy mornings flecked by romantic sunlight alike - with frilliness left well out the way. The cheese to be found here comes entirely from Her's' unabashed set of influences instead; dwelling in every shameless, addictive chorus hook. "We'd like to be an old cheesy band," Audun says, though he hasn't got a specific decade in mind. "Romantic melodies resonant throughout history, I'd like to argue," Stephen adds. "They transcend its point of conception."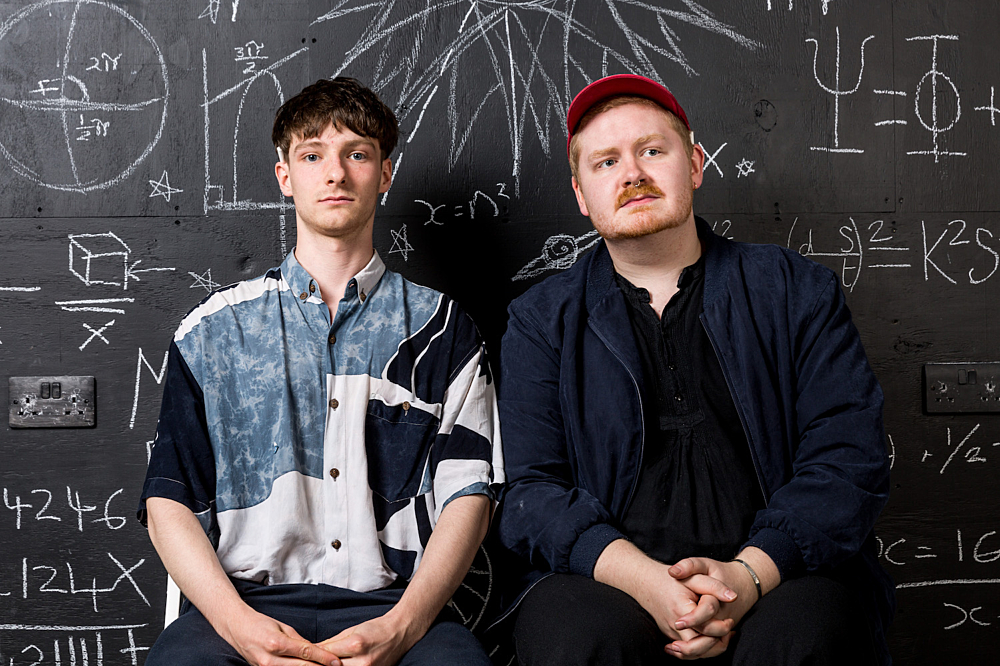 "We're not broody dudes."
— Audun Laading
'Songs of Her's' - though not a proper first album by any stretch; "a collection of songs it was," says Stephen - made good on all the promise of early singles 'What Once Was' and 'Dorothy', and showed oodles of personality in the process. "And now we've got our sea legs, is that the expression?" Audun says. "Our wings are spread. We're a bit braver, more learned." It's a discussion on the birth of Christ, that's what we're figuring out," Stephen deadpans, speaking about a vaguely in process debut.

"I don't know if we're committing to that religious subtext…" Audun interjects warily, before strengthening his resolve. "Let's just stop this tangent," he declares, pointing vaguely in the direction of the band's manager, who is looking mildly worried across the courtyard. "Martin is over there shitting himself."
"We'll see how the next six months pan out with what we're recording," Stephen adds more sensibly, "speaking of that debut album lying vaguely on the hazy horizon. "We're doing a lot of demos and that. It's coming together slowly."