Neu Pick:
Team Picture go large on '(I Have a) Little Secret'
Ahead of playing Hello 2018 tomorrow, the Leeds six-piece are today's Neu Pick.
Every weekday, DIY's new music know-it-all Neu brings you one essential new release to get obsessed with. Today's Neu Pick comes from Team Picture.
Tomorrow, Team Picture are set to say a big "Hello" to 2018 as they hit the Old Blue Last, so now is the perfect opportunity to get familiar with their latest track! The Leeds six-piece are back with '(I Have a) Little Secret', produced by Matt Peel (previously Eagulls, Autobahn and Pulled Apart By Horses).
Building on their previous work, the new track fine-tunes their pop sensibilities and knack for a killer hook by fusing together a flurry of drums with 80s-aligned caged reverb, a dose of super-sweet harmonies and anthemic waves of slightly fuzzy electronics. It's a huge, vibrant slice that's pretty much guaranteed to be a highlight of their live set.
Speaking of the new track, guitarist Josh says: "We really resonate with the sincerity and enduring relevance of pop music from the 70's and 80's, and the ability of so many bands from this period to transcend genre and remain influential. We wanted to celebrate that, and maybe shed some of the grungier associations we've previously collected."
He continues: "Once the synth bass was on there, Matt [Peel] was like "okay, how poppy/80's do we want to get here?" and I think at some point we decided to go completely balls-to-the-wall and make it as joyous as possible".
As mentioned, as well as playing DIY's Hello 2018 showcase tomorrow at The Old Blue Last in London tomorrow alongside Horsey, Whenyoung and Nervous Conditions, they'll also be playing Oporto in Leeds on Valentine's Day next month.
Listen to '(I Have a) Little Secret' and see Team Picture's upcoming tour dates below.
JANUARY
23 London, Old Blue Last (Hello 2018)
FEBRUARY
14 Leeds, Oporto
£7.00
Buy Now
More like this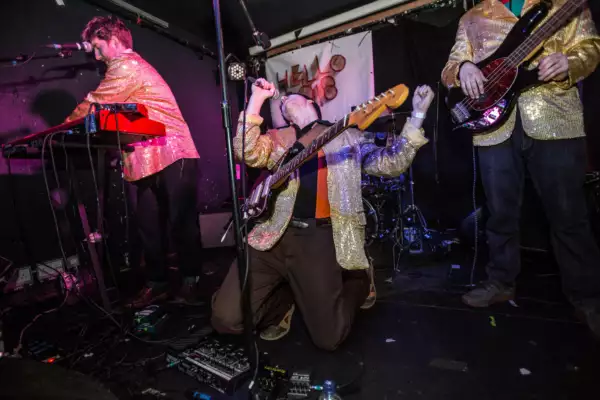 Nervous Conditions and Team Picture also packed out the Old Blue Last last night