Album Review
No Age - Snares Like A Haircut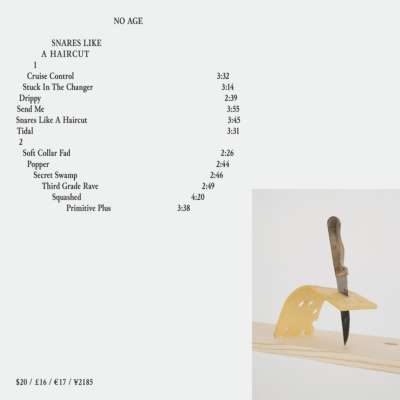 Sharper and brighter than ever.
Label: Drag City
Released: 26th January 2018
It's been five years since 2013's 'An Object' - the longest No Age have ever left between albums. In the intervening time, Randy Randall and Dean Allen Spunt have - bar a couple of self-released oddities - been largely quiet, focusing on "working on that thing called life" until the urge to smother themselves in noise hit again.
Last time round, the LA duo kept things pretty spare, stripping away the usual swathes of reverb to leave something more skeletal and brittle. 'Snares Like A Haircut' immediately makes you think the duo have ditched that tactic and there's definitely nothing about opener 'Cruise Control' that can be described as skeletal - after a very short, building intro it dives headfirst into a fleshy rush of noise; drums clattering, guitars veering from lush to sludgy and back again. For the most part, that's representative of the whole record, but you could never accuse No Age of being monotonous before their half-decade break, and you still can't now.
Instead, this is a record interspersed with glistening respites. The title track and 'Third Grave Rave' are weaving instrumentals that take the form of soundscape collages - a brief pasting of chopping block stutters here, a smattering of metallic jangles there - while the likes of 'Send Me' are stripped back and glacial. The latter might not be as much of an onslaught of sound as what surrounds it, but with crisp, clean production, it still sounds like more of a whole than anything on 'An Object'. Closer 'Primitive Plus', meanwhile, marries the two approaches, opening with twinkling notes and distant drones, before lurching into one final hubbub where Randy's vocals are buried so deep he sounds like he's miles away, cocooned by the noise emanating above him. It, like the rest of the album, is proof that time away hasn't dulled No Age's musical sword - they're sharper and brighter than ever.
More like this