Album Review
The Soft Moon - Criminal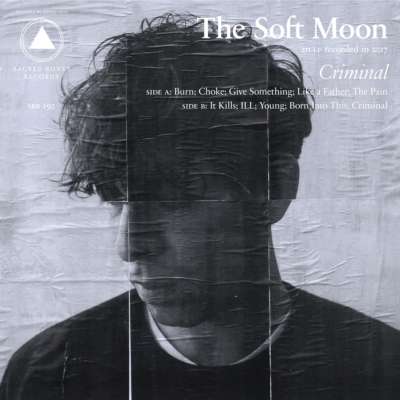 The most complete result of his vision he's committed to record thus far.
Label: Sacred Bones
Released: 2nd February 2018
'Criminal' is The Soft Moon's industrial album. Luis Vasquez has toyed with the genre since his debut Soft Moon LP at the top of the decade, and after three albums and an EP that worshipped at the altar of Bauhaus, he's finally content to go full Nine Inch Nails. Perhaps this change is partially thanks to signing with experimental label Sacred Bones after a lifetime with the shoegaze-heavy Captured Tracks. Doesn't matter - he's never sounded better.
Enjoying The Soft Moon has always required a fair level of tolerance for lyrics that, when they can be made out at all, could pass for a whiny 16-year-old boy's most cringe-inducing diary entry. In this regard, 'Criminal' is no different, but its thick industrial blur makes Luis' woes sound realer than ever. Death, blood, destruction, and the usual nihilistic palette still occupy his writing, and it's refreshing to hear them bound in the utterly crushing sounds of mechanical clatter, beatific drumwork, and dread-cloaked guitar lines. If "stuck inside of me / there's no way out / I yearn for anything that burns me down" reads as unjustifiably flippant, that's the point - when Luis whispers it across the liquid chug and flamethrower backbone that opens 'It Kills', it instead sounds all-consuming, like a phrase one could live inside. And that's before the chorus goes into a riveting, nauseous double-time headspin.
There are tender moments too. As he ends 'Young', a dirge that blares like an endless nuclear launch siren, he remarks, "You remind me of when I was young." It's an awfully human, nostalgic moment, even if it might not be meant as a compliment; it feels especially heartwarming against the deathly current of a song like 'Choke', which focuses on the mantra, "Take your time / crush me right." There's also something endearing about hearing Luis eerily mumble "you're the ghost of my problem" repeatedly during the chorus of 'Like a Father', especially since he repeats this line after defining said problems: his guilt, his hate, his throat, his head.
Much of 'Criminal' is rendered in Luis Vasquez' most Reznor-like whisper, a style that works exceptionally well for him. It's all over the album, which makes the moments when he escapes this tendency even more exciting. Lead single 'Burn' finds him snarling lyrics both literally and figuratively fiery during its high-octane chorus, which mashes a phaser-drenched guitar line with a percussive battering for the ages. 'Give Something' and 'The Pain' at times pass his voice through a filter that dramatically upshifts its pitch, the effect so strong on one portion of the latter that it takes something like ten listens to realise that's his voice and not the world's most bent, wah-smashed high E-string.
A major trait of industrial music is how strikingly and viscerally it merges the sounds of man-made objects and processes with melodies, narratives, and emotions that would feel lifeless if they were synthesised. Luis fuses himself - his voice, his riffs, his beats - with mechanical sounds throughout 'Criminal', the most complete result of his vision he's committed to record thus far. Like the machines inspiring his latest effort, it seems The Soft Moon is capable of working well even after all sorts of wear and tear.