Interview:
Building Bloxx
Brought together behind the bar, and penning attention-grabbing, straight-up bangers, Uxbridge upstarts Bloxx take things far more seriously than they first let on.
Bouncing around like possessed jelly beans, and veering wildly off topic at every turn, it's a mean feat to get a word in edgeways at the best of times with Uxbridge's newest upstarts, Bloxx. It's particularly tricky when the dual distractions of table tennis and a sprawling bubble tea menu are tempting the four-piece from the other side of the room, too. Going off on tangents ranging from their passionate gripes with Wetherspoons' new order-to-table app (three quarters of the band originally met through working at the bevvy utopia and have strong feelings on the matter) to constantly taking the piss out of one another to the point that almost every original point of conversation is instantly derailed, it's a wonder that this lot ever get anything done. And yet, taking stock of the music itself, it's apparent they're doing something very right indeed.
"If we took this seriously, it'd be too much like a job," starts guitarist Taz Sidhu. "We're mucking about 99% of the time, even when we're writing music. We keep it nice and laid back."
It's an approach that's won out for the band so far. When Bloxx first popped up last year, playing raucous gigs in packed East London vintage shops, and penning the infectious, unfiltered sort of songs that seem custom-made with the stage in mind, they showed a raw kind of promise that soon caught the attention of the discerning Chess Club Records, and won them support slots with INHEAVEN, Sundara Karma and Will Joseph Cook along the way. "Since those tours, it's seriously levelled us up," frontwoman Fee Booth says. "We've shown thousands of people our music who would never have heard of us otherwise."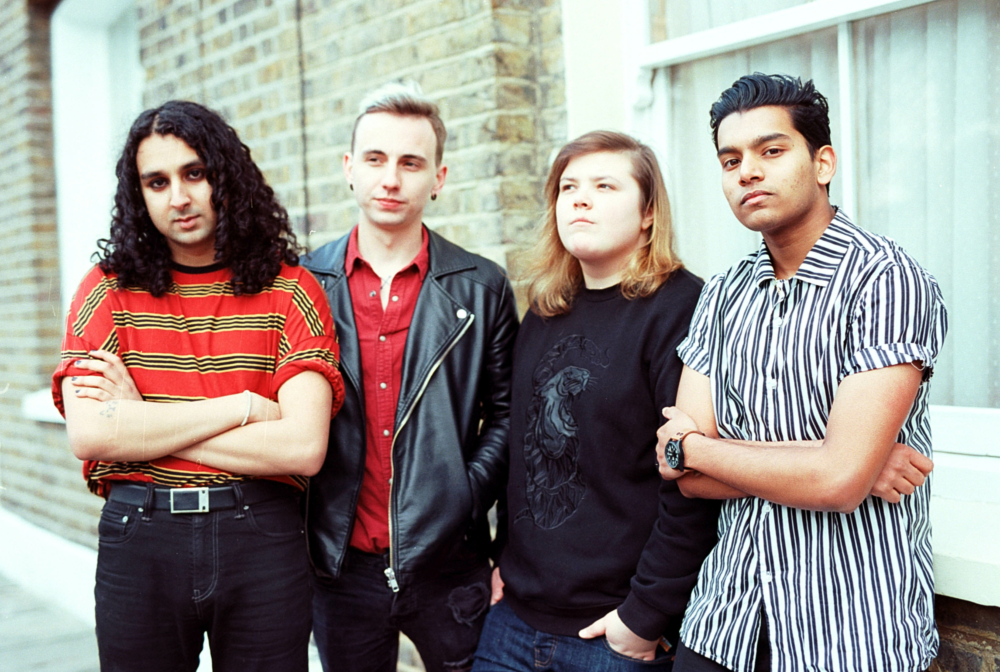 "We're literally just a generation of people who love 'Spoons."
— Fee Booth
Early singles 'Your Boyfriend' and 'You' - the latter of which comes complete with the golden lyric "I'll go to 'Spoons and I'll buy myself a beer" - are similarly straight-up, investing energy in immediacy over floweriness. "I cannot for the life of me write lyrics down and keep them the same," reasons Fee. "Every night we played a song on the Sundara tour, and the words were different. I don't sit down and overthink it, so just write straight-up as things come out my mouth; that's where my mental headspace is at. Word vomit. If I was to be all metaphorical and linguistical, it just wouldn't be Bloxx," she pauses before summing the band's no bullshit lyricism with another to the point one liner. "We're literally just a generation of people who love 'Spoons," Fee concludes.
Speaking about what's next on the agenda, Bloxx - for once - focus on the matter in hand, and it's clear that, despite the clowning, they've got sky-high ambitions. "We've honed in our sound," Fee says of their work on an upcoming new EP, "and in the new ones it's a joint effort. We're so excited. The next two [songs] we're going to release will take us from here," she gestures, lifting her hand upwards towards the ceiling, "to here."
Bloxx play DIY's Class of 2018 UK tour. Get details here.
Taken from the February 2018 issue of DIY. Read online or subscribe below.
Photos: Emma Swann / DIY


Get your copy of the latest issue