Interview:
"We got rid of all the half measures" - Peace are powering back up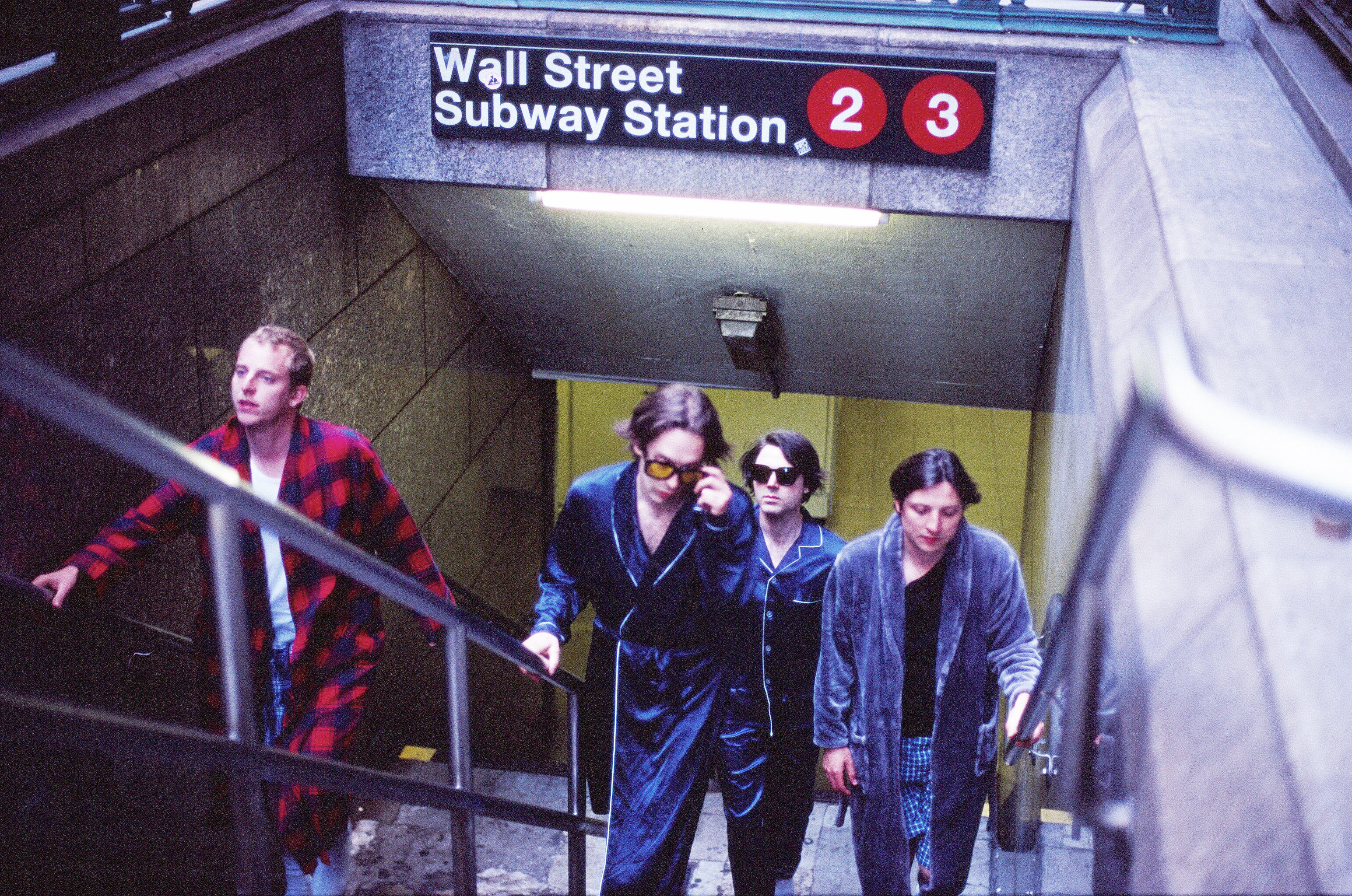 Photo: Jonnie Craig
It's been three long years in the making, but Peace are finally back in the game with gloriously ballsy single 'Power' and a third LP around the corner.
It may have been three years since Peace last emerged with an album, but worry not: time away hasn't dampened their playfully OTT charm. In fact, with their third record now firmly on the horizon, they may be the most ridiculous version of themselves yet. "We started treating things like, 'Okay, this is it now.' Before we'd just groove out for a little bit, be a bit more nonchalant. But then we were like, let's just seize the band and try and squeeze every drop that we have into this," suggests frontman Harry Koisser. "That was basically it: let's just put absolutely everything in and then just sprinkle a little bit more on top, you know?" If the Birmingham quartet – an effervescent whirlwind of ludicrous jackets, indie anthems and gloriously quotable bon mots since their first steps back in 2012 – have never exactly been ones to shy away from a little bit of excess, then now they're throwing themselves at it, head first.
It's perhaps the result of spending a few years away from the spotlight – a need, as Harry attests, to either give it up or "go fully in" - but it's not the reason for their prolonged period away. See, while most bands in their position will spin emotive yarns of being lost in the creative wilderness, Harry just went and lost his mind in an actual wood. "For the first six months after we finished the second album cycle I went to a farmhouse in the midst of nowhere to write. I was taking the 'me time', but it was quite literally too much 'me' and not enough of anyone else. The only people I saw for that period of time were Dom [drums], Doug [guitar] and Sam [bass], who lived there sometimes but not 24/7," he tells us. "I don't think I'd been in the countryside for more than two hours at a time until that point, being townie scum. I think I might have ruined my brain for a little while because I didn't know the difference between reality and fantasy. It probably took another six months to a year to undo what six months of isolation had done. I came back to London and everything looked like it was made out of plastic. I don't know what I was thinking, but you know, I wrote some good stuff…"
From then, the singer spent a period of time readjusting and another six months doing, well, he's not entirely sure ("There's about six months where I was probably asleep? There's a big gap in the memory…"). But eventually, after a few more delays, the band took themselves to Woodstock, "the actual home of peace".
"I came back to London and everything looked like it was made out of plastic."
— Harry Koisser
Recording with producer Simone Felice, their location couldn't have been more of a free-loving masterstroke. "It was a stars aligning moment," the singer nods. "The town has lots of peace symbols hanging everywhere. The pines were breathing their piney dew into the air and you could feel this power. We saw a few mountains, dipped our toes in a few lakes, the whole shebang. Campfires at midnight, screaming at the stars, yoga at 5am, skunks running around. I got mauled by a dog and then forged a meaningful relationship with it, you know, why not?" And between their new status as men of the woods (Justin Timberlake, eat yer heart out), they crafted what would become LP3.
You'll already have heard 'From Under Liquid Glass', a surprisingly personal track originally released in aid of mental health charity MQ, and lead single 'Power' – a celebratory, inclusive banger influenced by seeing a bolt of lightning strike the ground "like the opening chord of Mother Nature's headline set". Not audacious enough yet? Try 'Kindness Is The New Rock'n'Roll' for size. "It's like Bat Out of Hell in two minutes, you know? Let's try and get as much into as little as possible," Harry grins. "We got rid of all the half measures. We topped them up to full. It was suggested at some point in time that we make a very experimental record full of ten minute songs – basically an album of '1998's - but then we did the exact opposite. And that's what happens when you suggest something to us. When the world thinks we're going to zig, we zag and then when the world thinks we're going to zag, we do zag because the world thinks that we would have zigged."
Well indeed. But whether they're zigging or zagging, the destination seems to be the same. On Album Three, Peace are going straight for the jugular. No half measures. "I don't think we could get any more Peace on this record, I don't think you could squeeze anymore in. It's jam-packed," Harry concludes. "Someone has to do this album, so it may as well be us. At this point, why the fuck not?"
Peace's new album 'Kindness Is The New Rock And Roll' is out on 4th May via Ignition.
Taken from the March 2018 issue of DIY, out now. Read online or subscribe below.