Album Review
The Magic Gang - The Magic Gang
5 Stars
A debut that'll be remembered as a milestone moment in years to come.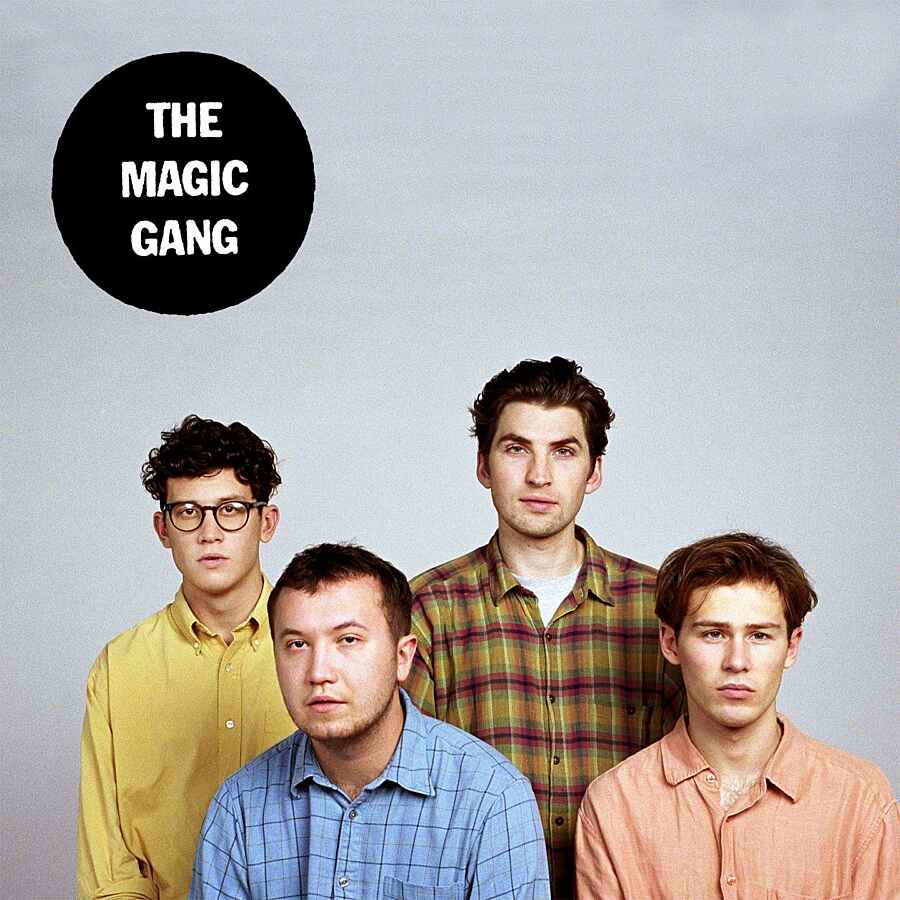 With One Direction headed off in, erm, opposite directions, and leaving the title of World's Best Boyband™ well up for grabs, The Magic Gang might just be the lot to bag it. Ok, so they might not be up for working on group dance routines, donning matching cashmere sweaters and cradling a variety of cute puppies for an official calendar any time soon (though we wouldn't complain) but still, their flawless debut album has all the makings of worldwide domination, and heaps of individual personality to match.
Their rise hasn't been a lightning quick blaze of glory - rather, the four-piece have trucked away, relentlessly - for years, in fact. In that time they've infinitely polished their already innate talent for penning jangly-hewn gems of bottled sunshine, and built up a deservedly dedicated following along the way. Often, The Magic Gang shows feel like frenzied beaches instead, wave after wave of fans surfing their way forward, before washing up - in a blinded daze - on the stage shores. And taking turns on the microphone, Jack Kaye might be the de facto lead singer, but Kris Smith and Gus Taylor are right there with him, along with the band's percussive pulse, Paeris Giles. As a group they feel like a gang of distinct members - and with this debut, that's even more pronounced. And while 'The Magic Gang' has felt like a long time coming, you suspect that they couldn't have conceived such a fully-formed and far-reaching record any sooner.
Established faves, from closer 'All This Way' to the soaring 'Jasmine' are present and correct, but re-recorded and honed, they sound more gigantic than ever. It's in newbies, though that The Magic Gang demonstrate how much they've grown. The stomping and bittersweet 'Take Care' - channelling the glammy sensibilities of Electric Light Orchestra - sees Gus taking up lead vocal duty for the first time. "Don't you think the world feels so much colder, without our love?" he asks with simple, wrenching effect - a quieter banger with a razor-sharp heart. And 'Your Love', a gigantic barbershop croon blown up and distorted, stands out just as much. It takes a deft hand to write about being madly in love and watching rain roll down a window-pane without coming off as a bit tradge.
The Magic Gang's classic influences are clear at every turn, too, from the dominant 7th chord drops that pepper motoring piano-banger 'I'll Show You' to peppy lead single 'Getting Along' complete with its dreamy melody lines. Here, a clear love of music from eras bygone - even flecks of The Osmonds and the Temptations are audible, at times - results in a forward-looking ear for songs that are classics in their own right. A rare album without a single Achilles heel, The Magic Gang have created a debut that'll be remembered as a milestone moment in years to come.
More like this