Album Review
GUM - The Underdog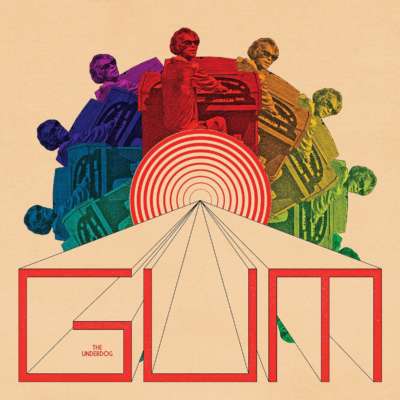 As expected, bleary-eyed psychedelic pop numbers are the main ingredient here.
Label: Spinning Top
Released: 6th April 2018
As the drummer of Pond and keyboard player of Tame Impala, Aussie polymath Jay Watson can be considered a veteran of the kind of tie-dye pop that's melted minds at festivals across the globe. As an outlet for Jay's personal music works, GUM has historically been a much more low-key affair than these collectives - an intergalactic journey explored largely from the comfort of his own bedroom studio. Returning with his fourth album in 2018, 'The Underdog' is a record that sees him continue his quest with joyful aplomb.
As expected, bleary-eyed psychedelic pop numbers are the main ingredient of 'The Underdog', with the triumphant title track setting the mark for what's to come. A space-age soul anthem straight from the book of Todd Rundgren, it packs enough bass licks to make Stevie Wonder blush, alongside a dizzying stack of rocket-launch electronics and fuzzy synths. Cosmic lullaby 'Seratonin' is another highlight; a tender and blissed-out plateau that offers a dreamy counterpoint to the bassy swagger found on tracks like 'The Blue Marble'. Meanwhile, 'Couldn't See Past My Ego' offers a different psych-out, recalling The Animals' 'House Of The Rising Sun' with it's merry-go-round synthesiser arpeggios and vocal hooks.
Elsewhere on the record there are hints of dark, throbbing electronic funk as Watson switches up his play with drum machines and sequenced electronics. Beginning with 'S.I.A.''s motorik beats and dancing bass lines, the album's side-odyssey peaks with the schizophrenic, arpeggiated climax of 'Trying My Best' and concludes with the six-minute rhythmic thumper 'The Fear' at the album's tail end.
While the limited production leaves something to be desired (there's little here that sounds like it was recorded with full live players), Jay's knack for pop hooks makes his latest record shine just as much as his previous sun-soaked offerings.
More like this