Do It Yourself
Wanna work in the music industry? Join us for our special 'Do It Yourself' event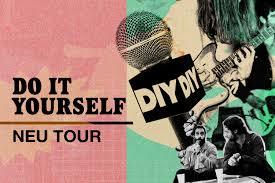 Next month, we'll be hosting a full day's worth of panels and talks at London's Tileyard Studios.
Calling all young people! Want to get involved in the music industry? Let DIY give you a helping hand.
Next month, DIY will be launching a special 84-page publication alongside a one-day conference and we want to you to come join us.
Taking place on Monday 4th June, across Tileyard Studios - near London's Kings Cross, fyi - we're inviting anyone who's interested in getting involved in the music industry to join us for full day's worth of panels and talks - including a very special key note speech - to give you the chance to get closer to the experts and get a real sense of how to make your mark in the business of music.
Our Do It Yourself event will include four industry-focussed panels, before an evening showcase that will boast some of our favourite new bands. Registration for the day will kick off at 10am, after which the showcase gets under way at 7pm over at Two Tribes Brewery.
Tickets are priced at £15 and include access to the full day's programme + evening showcase, a lunch package - as provided by Vinyl Café - as well as a DIY goodie bag tote containing a copy of our new Do It Yourself supplement - we'll have more info on that very soon indeed…