Album Review
LICE - It All Worked Out Vol. 1 & 2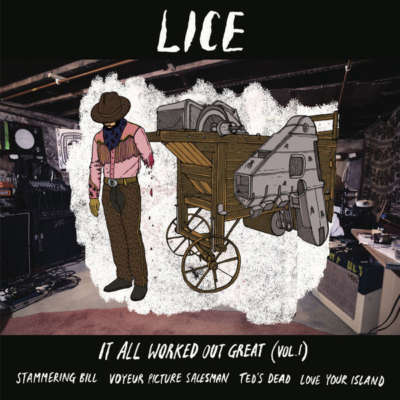 A decent catch-up on LICE's story so far.
Label: Balley
Released: 25th May 2018
Across a handful of early singles and a series of riotous live shows, Bristol's LICE are another example of the city's prowess for producing gritty punk bands.
'It All Worked Out Vol. 1 & 2', a double EP chronicling the band's sweaty journey thus far, presents a band driven by intensity and no-holds-barred chaos. Opener 'Stammering Bill' pits psych swirl against relentless punk in a gorgeously unhinged cocktail.
'Voyeur Picture Salesman', meanwhile, puts misogynists under the spotlight. "I'm a window cleaner by trade, I take photos of unsuspecting ladies," Alistair Shuttleworth yelps, before his retort is spat out, slowly and deliberately, then screamed with abandon: "I'm sick of having naked girls thrown in my face by magazines."
'Ted's Dead', meanwhile, tells the story of a recently-divorced man who murders his ex-wife after finding out he is terminally ill, only to find out he has been misdiagnosed, and lives out the rest of his life in prison. Cheery stuff, you'll agree, but it all adds to the crazed, uncompromising atmosphere around the album.
In itself, 'It All Worked Out' serves well as a catch-up on LICE's story so far, but it also has both eyes firmly fixed on the future.
More like this