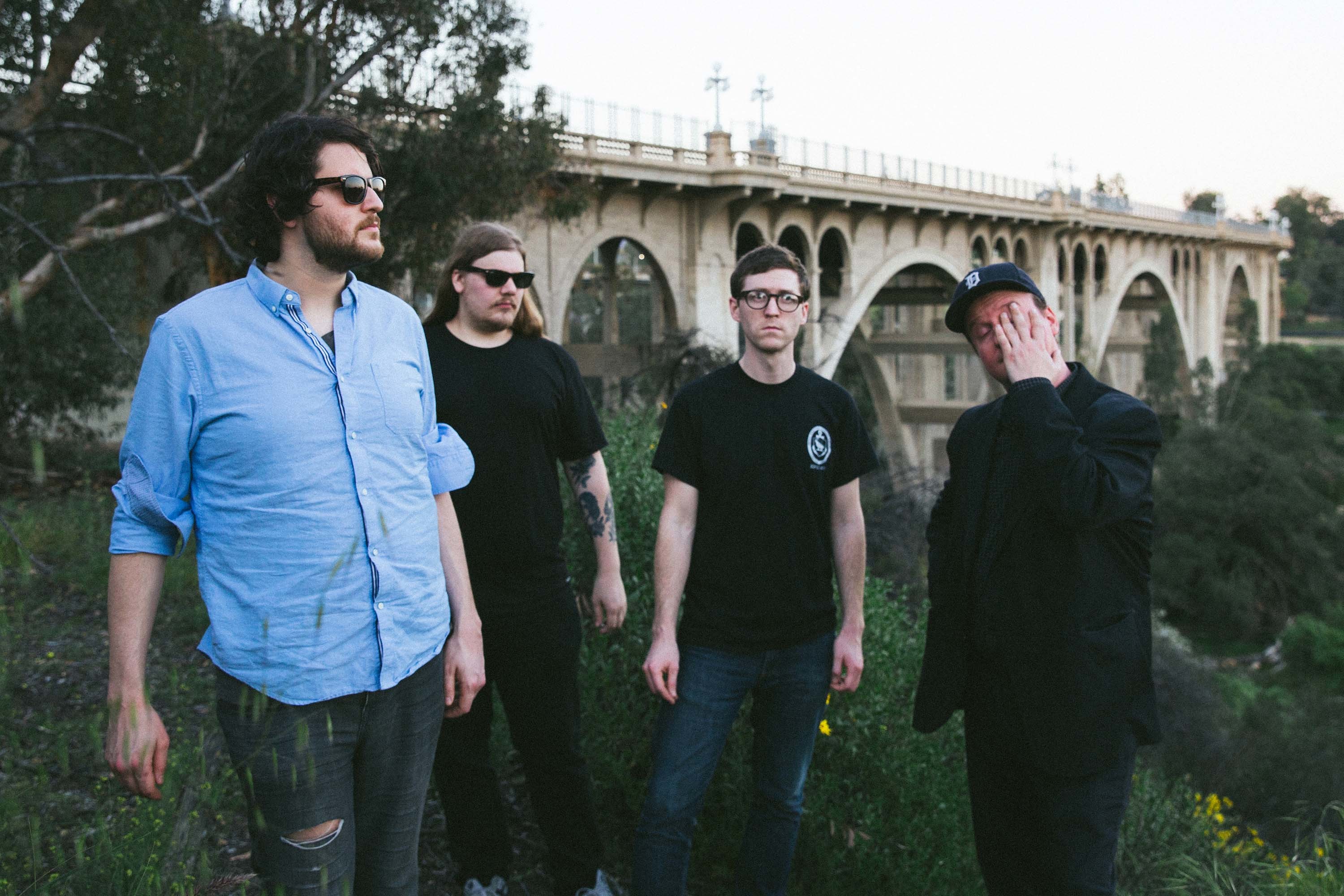 Photo: Daniel Topete
Interview
"My voice isn't made to sing happy songs" - Protomartyr are continuing to rage
Releasing new EP 'Consolation' - featuring Kelley Deal of The Breeders - Joe Casey talks the band's slow and steady evolution.
Joe Casey is a little bleary eyed when he meets us the morning after the final date of Protomartyr's extensive UK and European tour in support of last year's brilliant, brutal 'Relatives In Descent' LP, but you can forgive him that. On stage at the Scala the night before - the band's biggest in the capital to date - he spends 90 minutes bellowing into his microphone with all his might, like he's trying to forcibly expel his demons with pure power alone. Moving at a pace unaffected by the taut, ever-changing instrumental section behind him, he creates a world all of his own - one which has made him one of indie-rock's best frontmen - while looking like a cross between a Geography teacher and a baseball-loving dad, and not trying to be a frontman at all.
Across four LPs and a decade of being a band, Protomartyr have slowly but surely become one of the most interesting indie-rock bands in America, never quite fitting in, but in doing so, gaining their own little corner for other misfits to gather in. Their songs are unflinchingly bleak - rallying against global power structures while knowing they'll never really win - but the hope and energy gained from thrashing the songs out is just enough to keep going. The progression continues in earnest on new EP 'Consolation'.
"No," Joe chuckles when we suggest there might be a little more hope peeking through the clouds on the new collection, which includes two songs featuring Kelley Deal of The Breeders. "I try to make sure that things aren't too heavy, and I think that's one of the reasons why 'Wheel Of Fortune' didn't end up on ['Relatives In Descent'], because it would've tipped it into being even more of a dense record to the point where it might've crushed it. I try to find light in things, but my voice isn't made to sing happy songs."
The aforementioned 'Wheel Of Fortune' is the EP's blistering centrepiece, a track bathed in darkness but lifted out of the dirge by Kelley's gorgeous, piercing vocals. It's joined by sharp, punchy opener 'Wait', the melodic ode to community, 'Same Face In A Different Mirror', with its defining repeated line: "With this, who could be against us?", and intriguing, winding closer 'You Always Win', which sees Joe and Kelley's vocals intertwining brilliantly.
Arriving less than 12 months after the career-defining 'Relatives In Descent', their second release for Domino sees Protomartyr continuing to stamp their foot down as one of indie's most important, consistent bands.
You worked with Kelley Deal on a lot of the 'Consolation' LP - is it strange for you to bring someone else into the writing process?
Yes. But with Kelley, it was very easy when we did the split [2015 single A Half Of Seven' with Kelley's other band, R. Ring] because originally we were just going to record our song, but then Kelley said 'Oh, can I add some vocals?' and we're like... 'you're Kelley Deal, yes you can!'.
Whenever people can see what you've written down - because it always looks stupid written down - and you're trying to figure out how to sing it, it's always a weird process. But then again, all Kelley's suggestions were great. In fact, she threw out a lot of suggestions too. It's always a weird process though.
Do you ordinarily talk to the band about your lyrics?
They hear them when the song's done and hopefully have no complaints! Alex our drummer comes from a family of writers, so he could know a turn of phrase that might help, or something. He's the one I'd take the most criticism from. Usually they leave me alone!
Was there something that tied these four songs together that made them fit as an EP?
For me, it's almost like a four-song run-through of what we do as a band. The first song is very short and punchy; the second one is a weird pop song in a way; 'Wheel Of Fortune' is this weird, giant mass of a song; and the fourth one is...I don't even know what that one is. I remember with that one, Kelley was saying that she was kinda picturing a Nancy Sinatra song, and then went away and ripped the guts out of it and put in all the strings, and I just thought 'Oh, now I see what you're trying to do!'.
And does going through such a process change how you'd think in the future when just writing as the four of you again?
I think we're more open. We tried to do it on ['Relatives In Descent'] - we had our friend Olivier from France in to be more collaborative, but he couldn't get to the studio until the end, so we were already locked into our groove. I think we're open to bringing in collaborators now to see where things get pulled.
'Relatives In Descent' seemed like it must've been an emotionally exhausting album to write, and 'Consolation' follows on so soon - did you ever feel like you needed to take some time out to reflect?
No - the worst bit is the silences in between. When you don't have anything to do. When we were younger punks, we'd just continually put out stuff, and now that it's our job, the breaks in between are where you're scratching yourself, and thinking that we've gotta keep doing stuff. [Signing to Domino] was a nice feeling; the feeling that someone wanted us. When we finished our contract with Hardly Art, we were wondering if anybody wanted us. Greg our guitar player actually used to intern for Domino, and it was one that we knew we wanted to go with, and keep this thing going.
"As long as people are answering questions, an answer will be found."
— Joe Casey
The lyrical content on 'Consolation' is pretty intense again, and almost reads like poetry - is it your aim to make it exist separately from the music?
It's actually the opposite - the words are less important than the sound, and because I'm not really a traditional singer, it's me trying to fit into the music - or disrupt it occasionally, if I think 'This is my chance to bark!' - and be part of the machinery that's at work. People are surprised sometimes, but the words really do come second to the music.
And was that a tactic to use early on to bark them out and mask their meaning?
Yeah, it was. When we started, we were in some shitty practice space where we had a PA but I couldn't hear myself at all, so I was just making noise to shout over this echo-y, rubbish system. We played a song last night - 'Principalities' - where I have lyrics for the quiet parts, but in the loud parts...whatever you're feeling that night, however drunk you are or aren't...just do that. I kinda miss the freedom of saying 'This song doesn't actually have any lyrics'.
I decided early on that there have been too many love songs, and it's been done. A lot of bands - at least when we started - were party time bands, and just write about pizza and beer and havin' a good time. And I have something against such positive pop music. Of course I get why it's popular, because if you're feeling bad, you want to feel like you could do anything, but... So I didn't want to do those three things, so realised I was stuck with writing about what's around me, and unfortunately, a lot of those are political things.
And do you see the songs as a reaction to what you're seeing around you, or trying to help you get through it yourself?
I think all things are political, but you don't wanna be the person that holds the answers in the song: 'We need to do this!' or 'We need to do that!' - it's more the emotional response to the questions being posed.
But it doesn't bother you to pose more questions than you hold answers?
As long as people are asking questions, an answer will be found.
On that point - is it a strange position to be in, travelling through all these places at such a pace and getting a snapshot of what's happening all across the world?
Yeah. Just the fact that we're going to go to Korea, and there might be peace, or maybe not. The first time we came to Europe on tour, we saw the camps in Calais. When we tour America and we get nearer to the border, we see all the extra military that are there now. We played Las Vegas when the last American election happened, and I remember driving into the city and joking and laughing - 'Hahah, that's where the wall's gonna go! Donald Trump's never gonna win! - and then boom. Having to drive out of town past one of the Trump hotels. And Las Vegas is a shitty place on a good day...
Is it something you feel more connected to or more detached from, witnessing it all first hand in such short bursts?
I'm glad of the perspective, because you realise that people are still going through their day to day existence, but it is interesting to see it first hand. In America, they're always trying to say that mainland Europe is being taken over by jihadis or whatever. Detroit has one of the largest Muslim populations in America - a town called Dearborn - and it's a great town, but everyone shouts about how there's Sharia law there. To actually go to these places, and see for yourself first hand that these things are obviously a lie, makes you feel better in your own thoughts, and to know that humanity - as fucked up as we are - is not as bad as people can say.
Protomartyr's new EP 'Consolation' is out now via Domino.