Ones to watch
Neu Recommended (Sistertalk, Fontaines DC, Sauropod & more)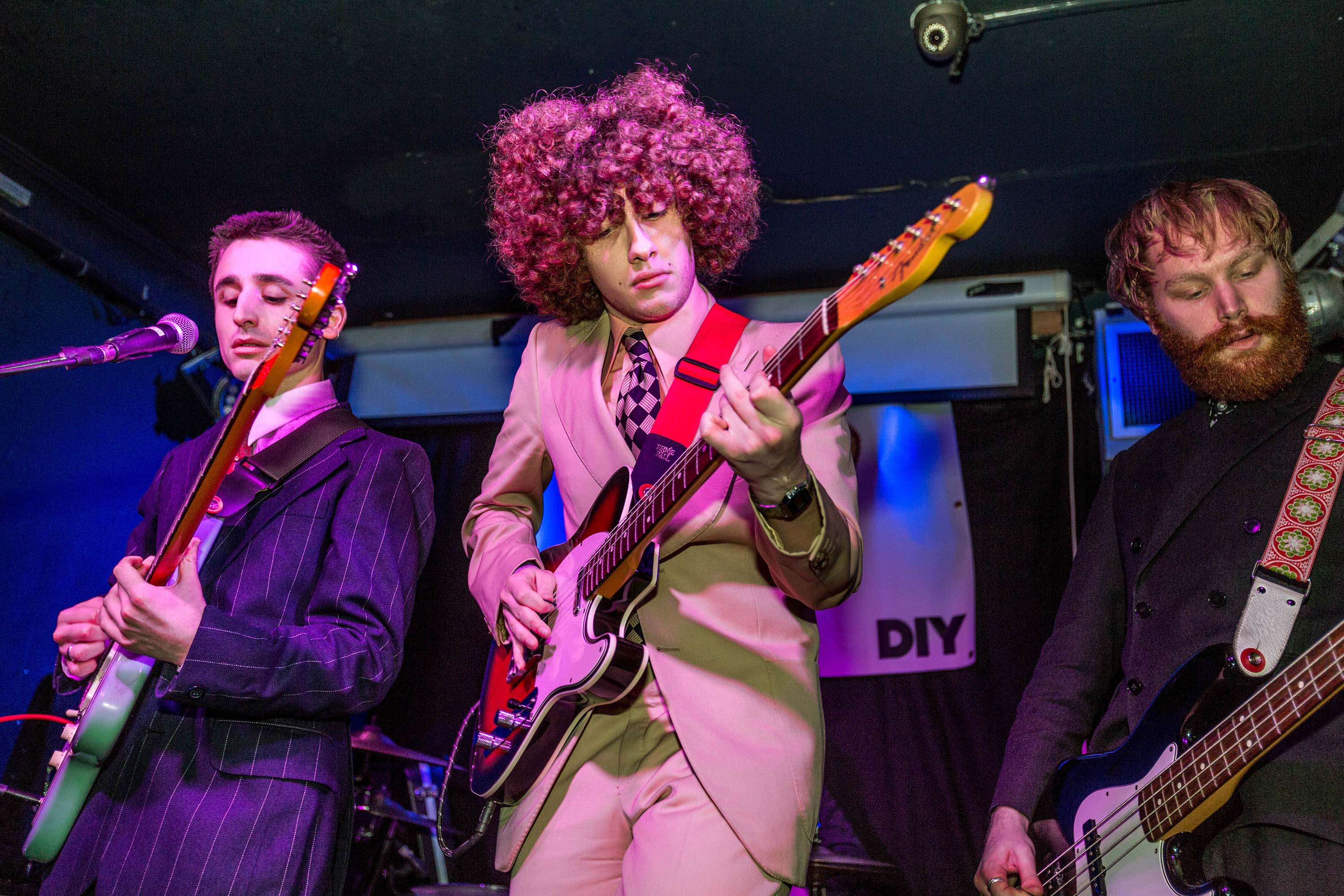 Our monthly guide of the buzziest new acts around.
Our Neu section is all about finding the buzziest new bands and artists poking their heads above the water right now, and then telling you about them immediately. 
Neu Bulletins - shared every Wednesday - are DIY's guide to the best new music. They contain every single thing that's been played at full volume in the office, whether that's a small handful or a gazillion acts. Just depends how good the week's been.
Alongside our weekly round-up of discoveries, there are also Neu Picks. These are the very best songs / bands to have caught our attention, and there's a new one every weekday. Catch up with the most recent picks here.
Once a month, we also share Neu Recommended, our list of who's pricking our ears at the moment and why you should be just as excited by them as we are. Featuring Sistertalk, Fontaines DC, Crack Cloud and more, here's your next buzzy update.
Sharp-suited Londoners plundering music's dark and dangerous underbelly.
Sistertalk are still yet to gift us with an actual recorded track but never mind such trivialities as these: with one of the most immediately engaging live shows we've seen from a new band all year, they've planted themselves firmly in our sights, regardless. Suited up like a bunch of wheeler-dealing spivs, their slices of taut, lurching angst are like an icier, cooler take on The Horrors' debut 'Strange House' - all nightmarish back-alley botherings, but with a surprising amount of hooks.
Listen: You'll just have to wait for that one.
Similar to: If The Krays had listened to a lot of post punk and formed a band.
Fuzzy, off-kilter indie-rockers from Norway.
Emerging from the same Norwegian indie-rock scene as Slotface, this Propeller-signed trio are carrying on the country's recent penchant for creating brilliantly off-the-wall, angular twists on the well-travelled formula. Recent single 'I Know Where You've Been', the first preview of an upcoming EP, is their most intriguing yet, marrying into no traditional genre boundaries, but still managing to be instant and appealing.
Listen: New track 'I Know Where You've Been' is an unpredictable beast.
Similar to: Weezer as their weirdest, most evasive selves.

Elusive multimedia collective with very good record collections.
If you dropped a bomb on any of Crack Cloud's shows during their recent London jaunt, you probably would have killed a good portion of the music industry, such was the buzz around the mysterious troupe. It centers around a recently-released self-titled album that draws influence from Talking Heads, Gang of Four, more modern preoccupations like, er well, Preoccupations, and basically every other Very Fucking Cool reference point in between. You know that line in 'Losing My Edge' about their record collection being more relevant than your record collection? They're like that, but for real.
Listen: All of 'Crack Cloud' is worth your time.
Similar to: The sound of BBC 6Music having one giant orgasm.

IDLES-approved, incendiary-yet-melodic Dubliners.
If you've got the patronage of one of the country's most important, exciting bands on your side, then you're probably doing something right. Such is the case with Fontaines D.C., who recently signed to Partisan - the home of pals and supporters Idles. It's not just the company they keep that's getting us excited though; with one foot in the purposefully shambolic anarchy of The Pogues, and the other in a baggier, Las-esque lilt, they're messy but melodic, in the best possible way.
Listen: 'Boys In The Better Land' is a rollocking, hedonistic delight.
Similar to: Shane MacGowan and Lee Mavers having a scrap at pub closing time.

London five-piece twisting indie-pop and math into delightful new shapes.
flirting.'s new single 'Peppermint', the first preview of an upcoming debut EP, is an intriguing introduction, an indie-pop song that constantly shape-shifts. Marrying spiky, lightning fast lead vocals with a brilliantly sardonic, almost spoken-word counterpart. It presents the five-piece as a multi-faceted proposition, as well as an extremely exciting one.
Listen: Shape-shifting new single 'Peppermint'.
Similar to: Indie-pop taken to its relentless extremes.