Live Review
Fall Out Boy, Wolf Alice and Travis Scott kick off day one at Reading 2018
Bring Me The Horizon, Creeper, Gengahr, Rae Morris, Yonaka, Maggie Rogers and more also performed sets on the first day of this year's festival.
Reading Festival is never predictable. With a line-up spanning almost the entire genre spectrum and a schedule that doesn't stand still or consolidate for a second, the cliche that there's 'something for everyone' at the festival is perfectly true. It's proved in the first 45 minutes on site. First, Big Shaq brings his viral skit 'Man's Not Hot' to the main stage for a suitably tongue-in-cheek opening, before Gengahr try to make their way on the festival's dance stage. Despite the number of slightly confused, bucket hat-adorned teenagers wondering where the techno is, the band completely win over a new crowd - by the time set closer 'Carrion' careers into life, a cavernous moshpit has opened up, considering Reading 2018 well and truly started.
"I played the BBC Introducing stage here in 2011, but I was behind the piano," Rae Morris tells the crowd at her early Radio 1 stage set. "This time I get to dance with you!" It's a concise, accurate summation of the singer's evolution this year with brilliant second album 'Someone Out There'; 'Do It', 'Atletico' and 'Rose Garden' are wonderfully leftfield pop gems perfect to shimmy a festival into life.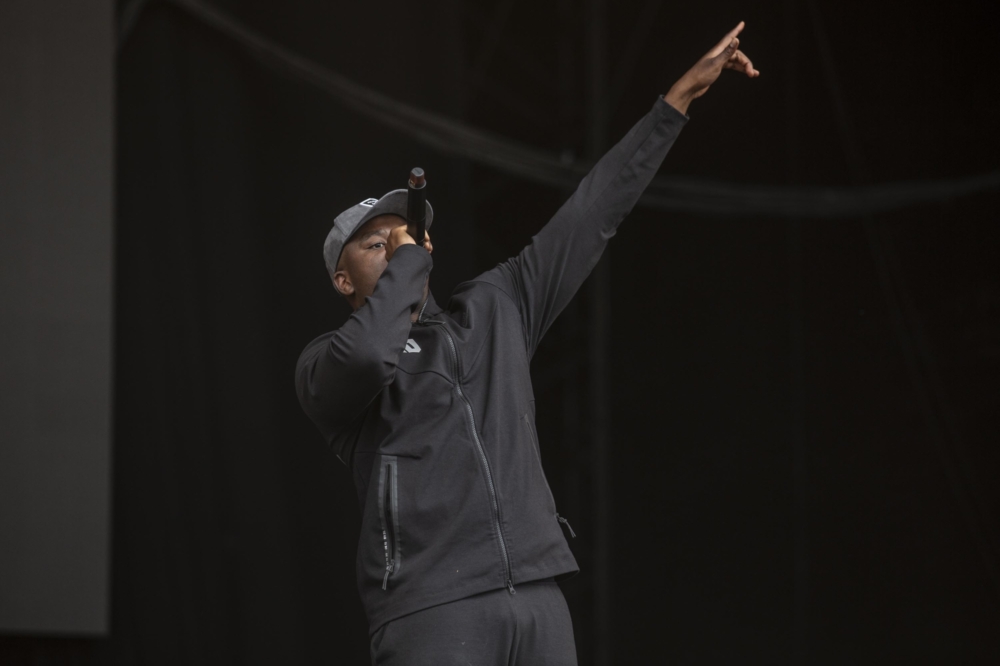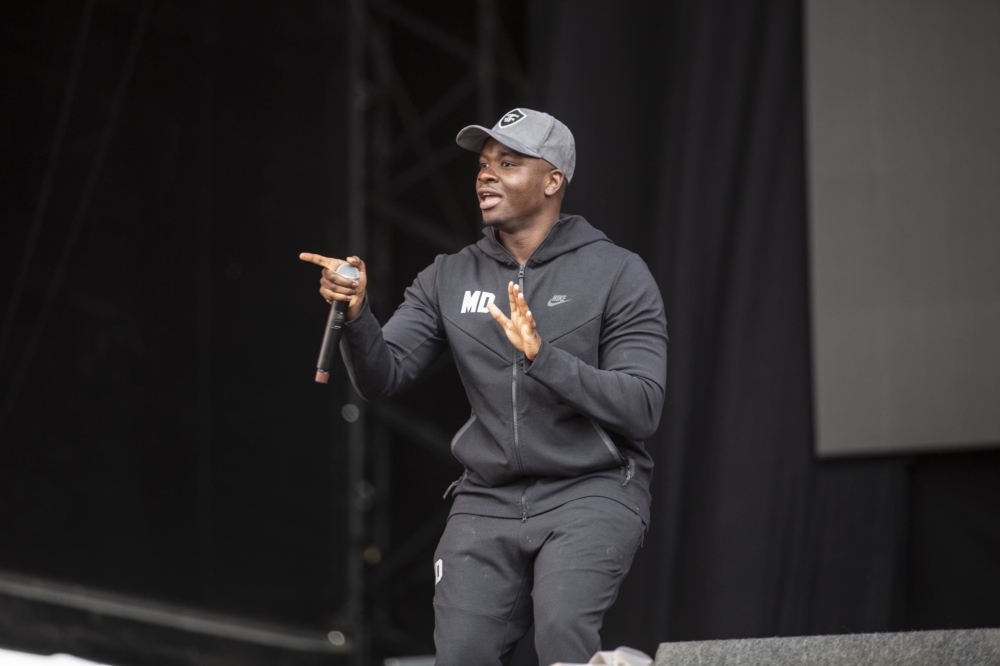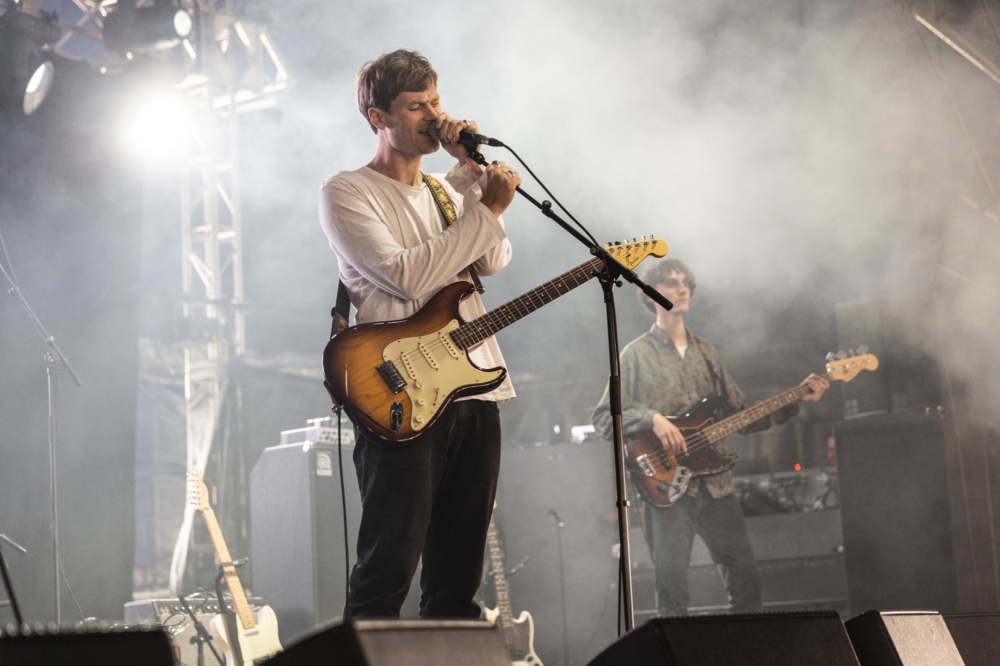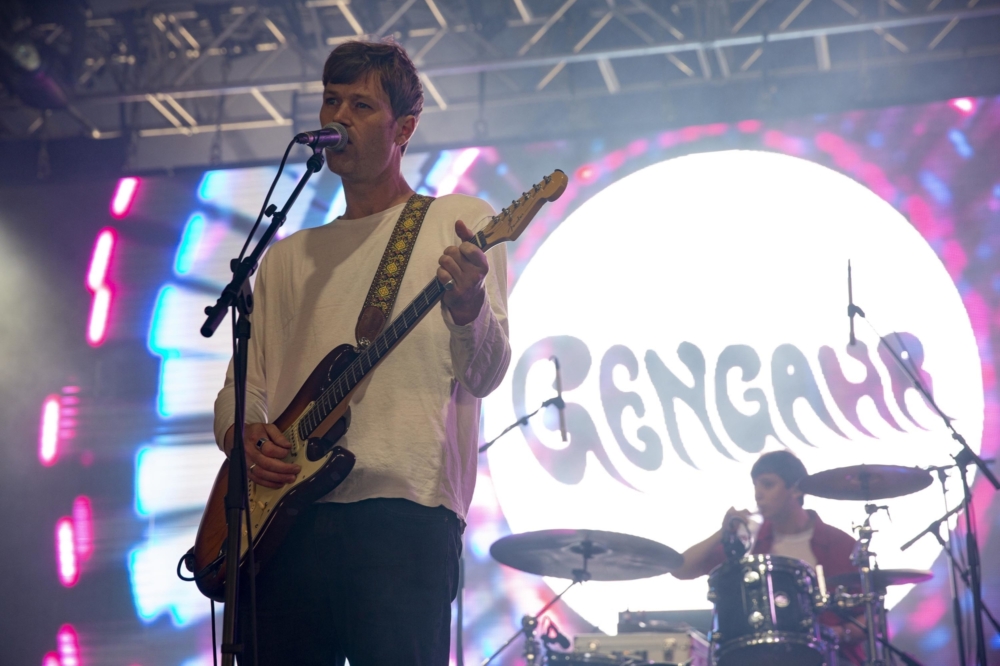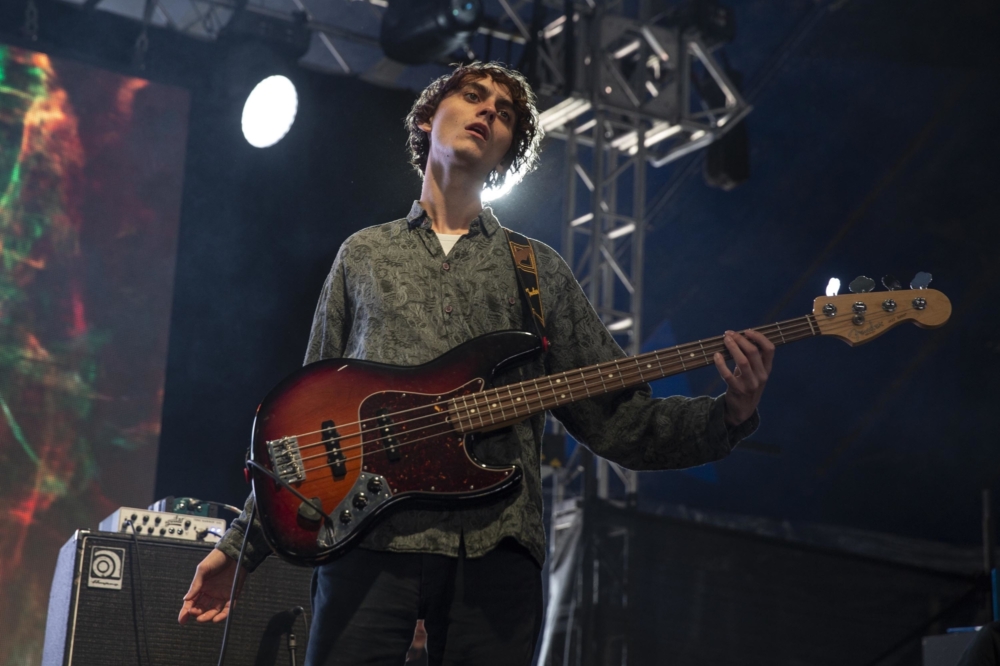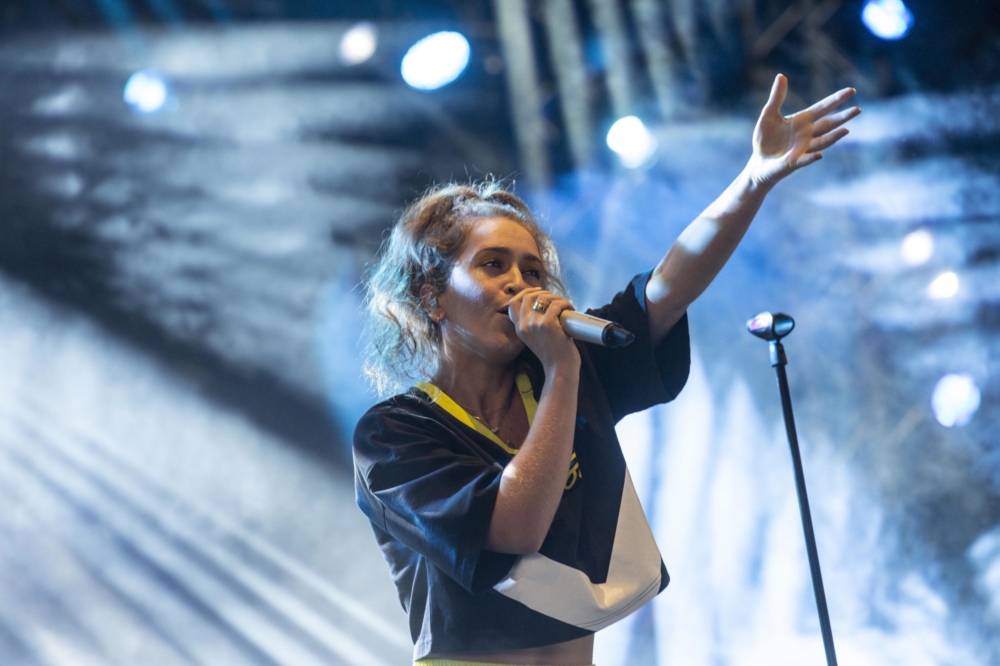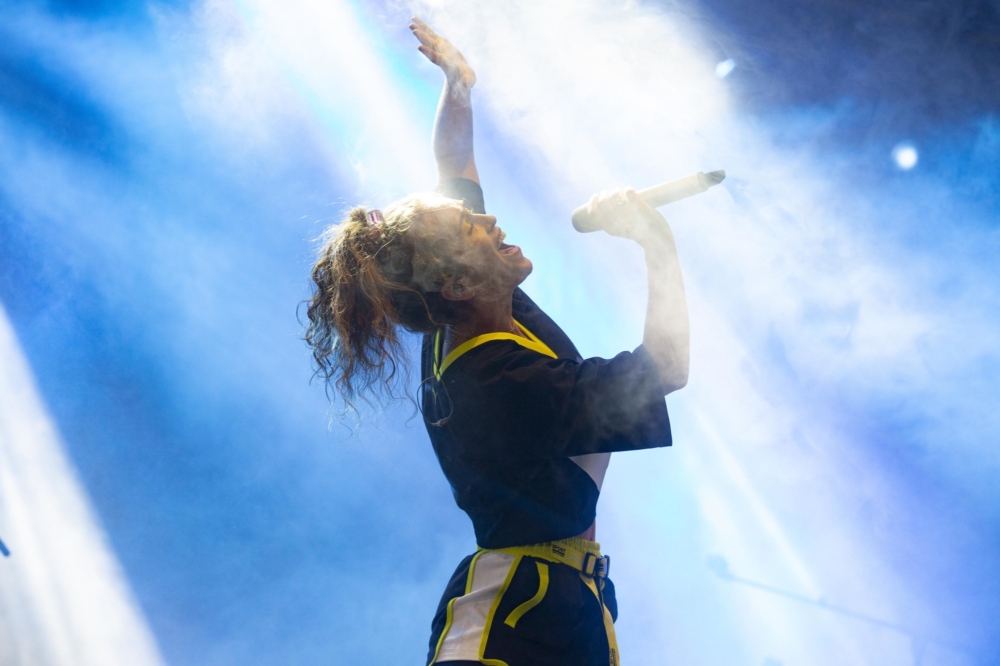 Over at the Festival Republic stage, Yonaka sound better than ever. A set jam-packed of huge riffs and unstoppable force, the band's recently released EP 'Teach Me To Fight' sounds massive on stage. With frontwoman Theresa Jarvis spending the entire set a constantly moving bundle of energy, whipping up crowd singalongs and, at one point, throwing band merch into the crowd, it's hard not to get swept up in the energy of it all.
Meanwhile Maggie Rogers arrives fashionably late for her set at the BBC Radio 1 Stage and the crowd is a little sparse, but she more than makes up for it with her incredible voice. Beginning with the lush piano tones of 'On + Off', it's during second song - new one 'Give A Little' - where things really get going. Casting off her coat to one side and taking her hair tie out so her hair tumbles down her shoulders, Maggie's clearly a committed performer and the upbeat folk-pop of her new track allows her to showcase her rich voice whilst bopping and twirling her way around the stage. It's a short set - clocking in at just five songs - but, after closing on a slower note with 'Falling Water', it's clear she has a bright future ahead of her.
North London rapper Jimothy Lacoste became a viral sensation last year when he released the video for 'Getting Busy' and, judging by how many people turn up to see his early afternoon set, he's been doing exactly what the track suggests since then. With his deadpan delivery, comic dance moves and absurdly straightforward lyrics, it's hard to tell exactly what the point of his music is. Is it a spoof? Is it serious? We can't tell, but either way, the crowd loves it, screaming back his every word.
There's been a troupe of cape-clad, sign-brandishing cult members marching their way around the festival all morning, handing out flyers which say 'MANTRA IS HERE', which can only mean one thing. Yep, Bring Me The Horizon are today's not-so-secret set, making a welcome comeback to the festival circuit. New single 'Mantra' may have only been released a few days ago but when they open with it today - the first time the track's ever been played live - every line is screamed back at them with relentless adoration. Throughout the next forty minutes, the band blast through their greatest hits - 'Throne', 'Can You Feel My Heart', 'Follow You' and 'Antivist' all make high energy appearances - with frontman Oli Sykes inciting the audience to create mosh pit after mosh pit. The crowd, predictably, obliges.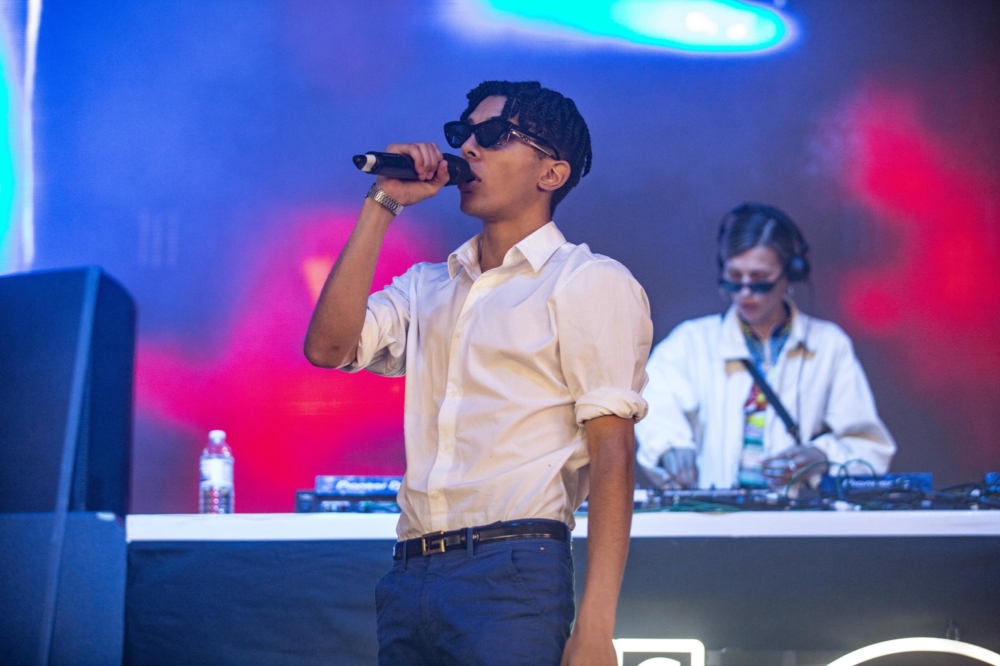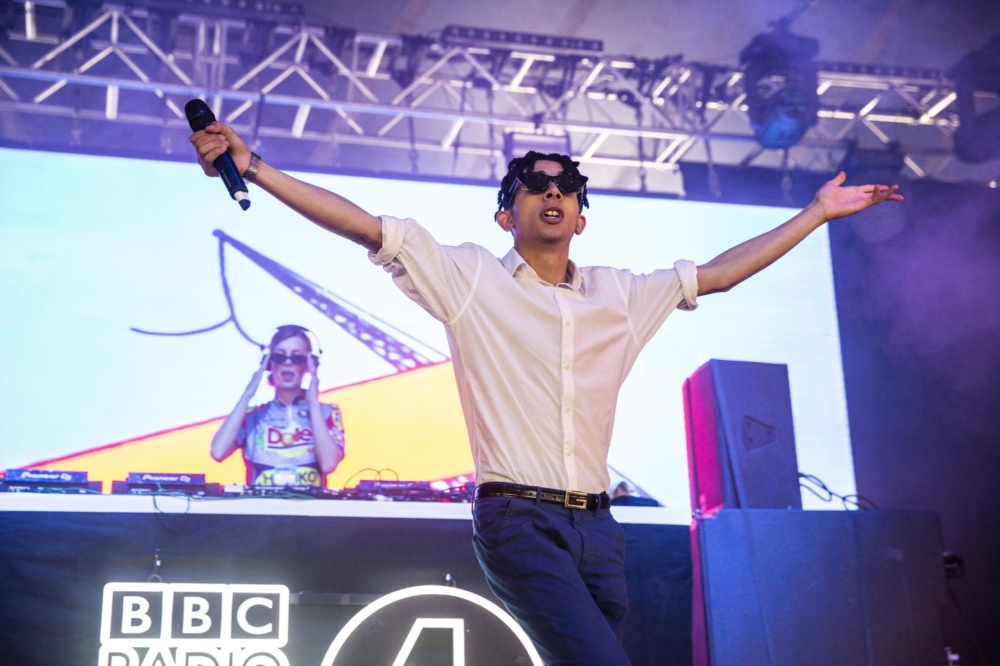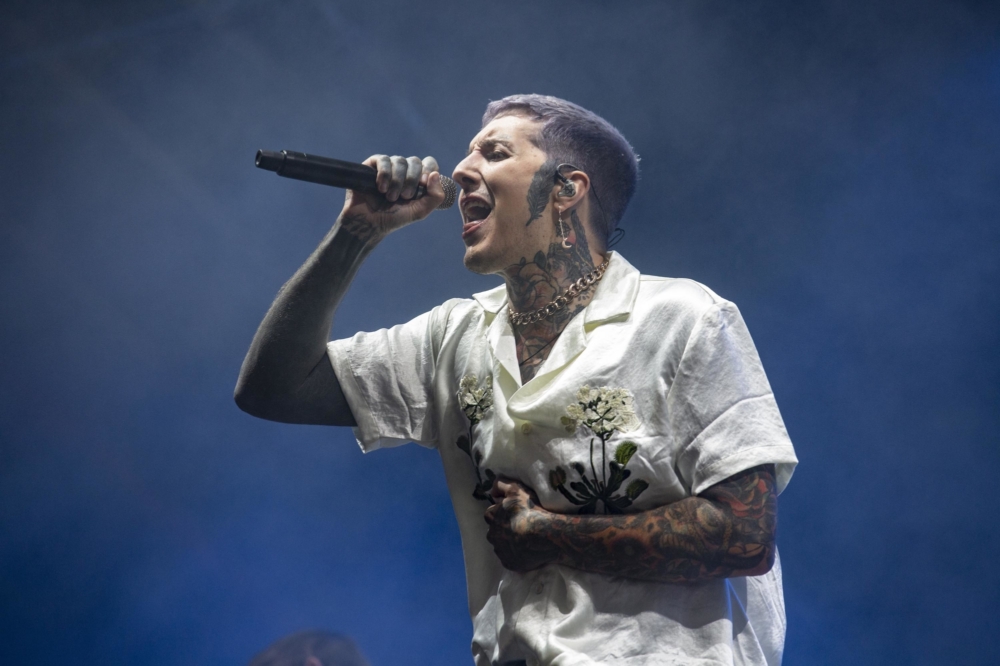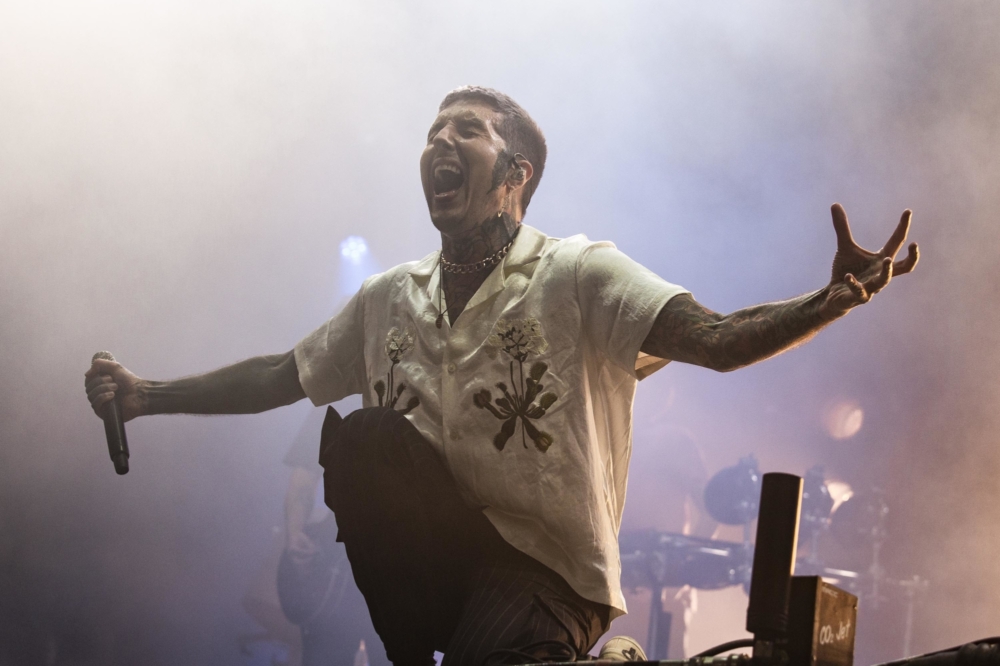 As soon as Bring Me finish, the crowd barrel their way across the site to witness a site almost everyone in British rock has been waiting patiently for in the past few years: Creeper taking the main stage at Reading. Despite the front rows being crammed full of largely unimpressed Post Malone fans (he plays next to the biggest crowd of the day), Will Gould whips the crowd up into a frenzy, with the slightly comical sight of said Post Malone fans trying to work out how a circle pit works while being in one. Songs from 'Eternity, In Your Arms' are as vicious and brilliant as ever, closer 'Misery' remains a festival anthem, and Creeper remain the most exciting new rock band we have.
"Who's that on the main stage?" asks King Nun's Theo Polyzoides part way through their Festival Republic stage spot. "She's got a nice voice." The band find themselves clashing with Creeper's main stage debut - but that doesn't stop the foursome inciting singalongs on shoulders. As bouncy, joyously infectious - and gnarly - as ever, even the number making its live debut is given a clap along from the assembled mass.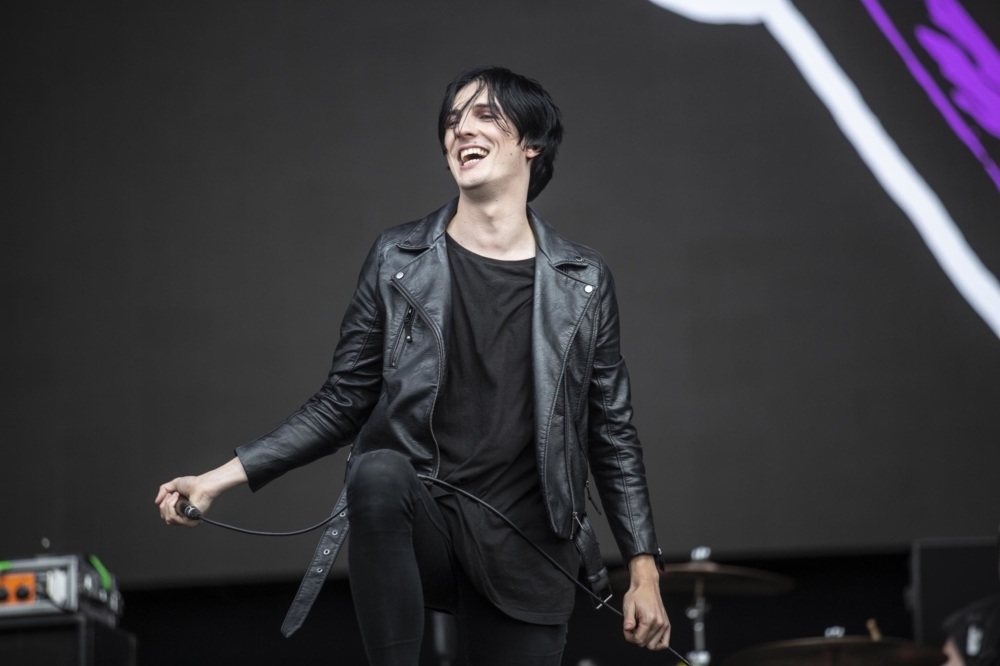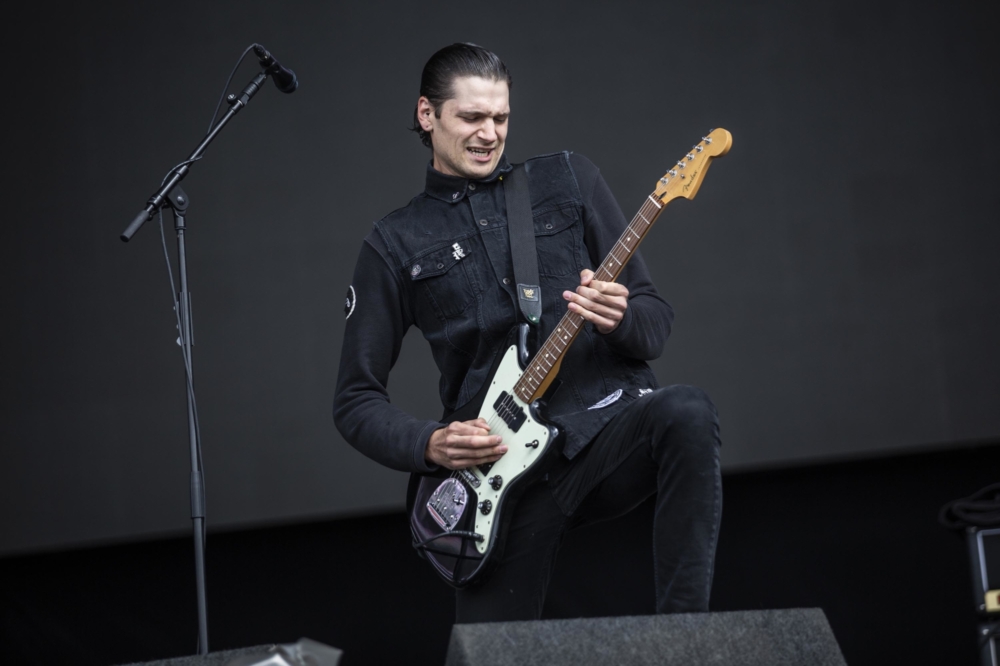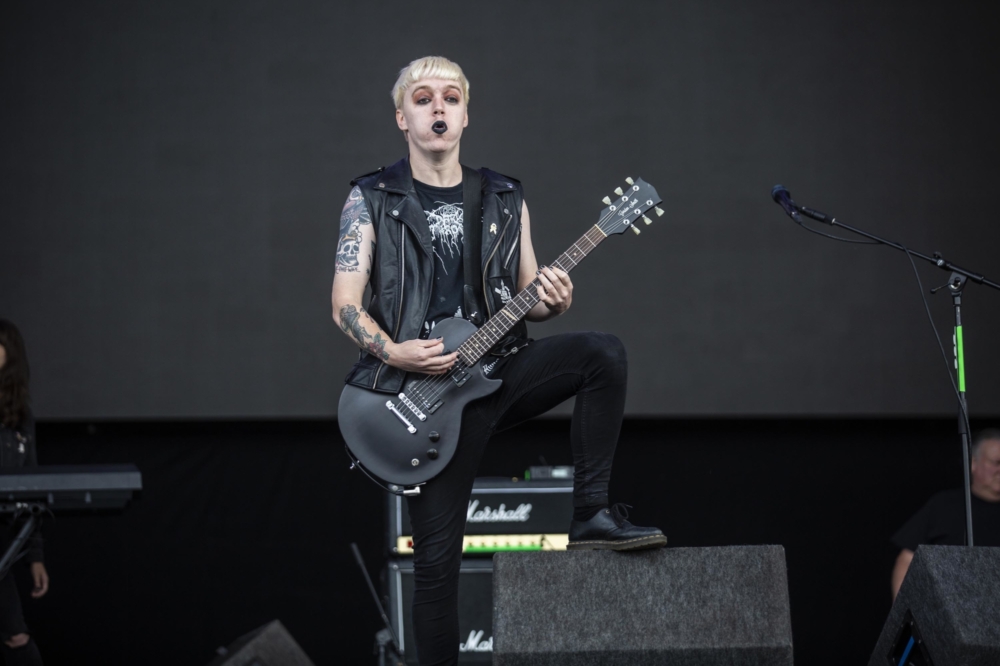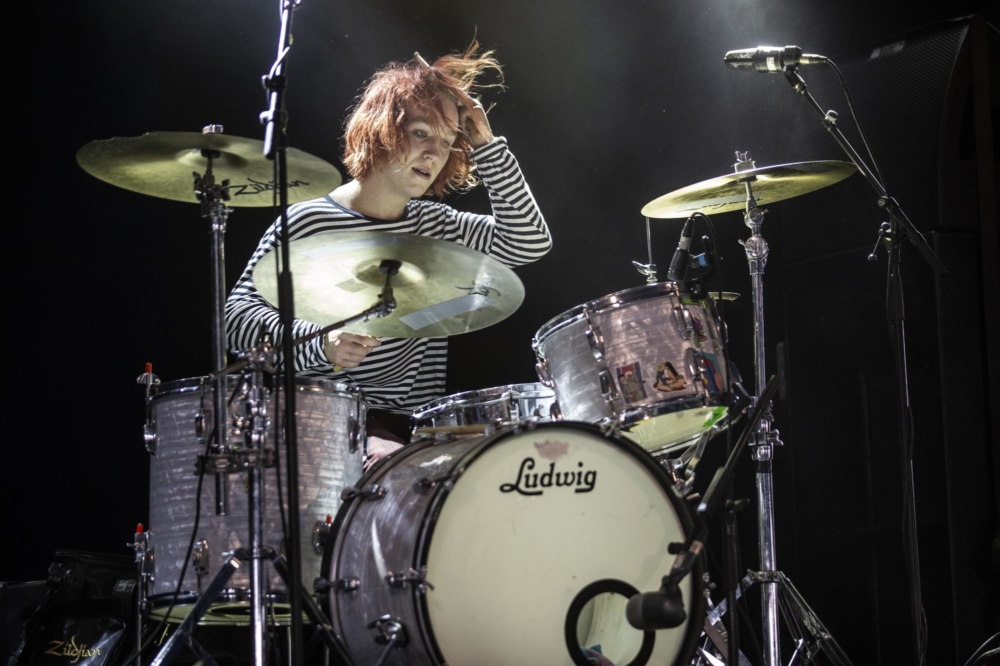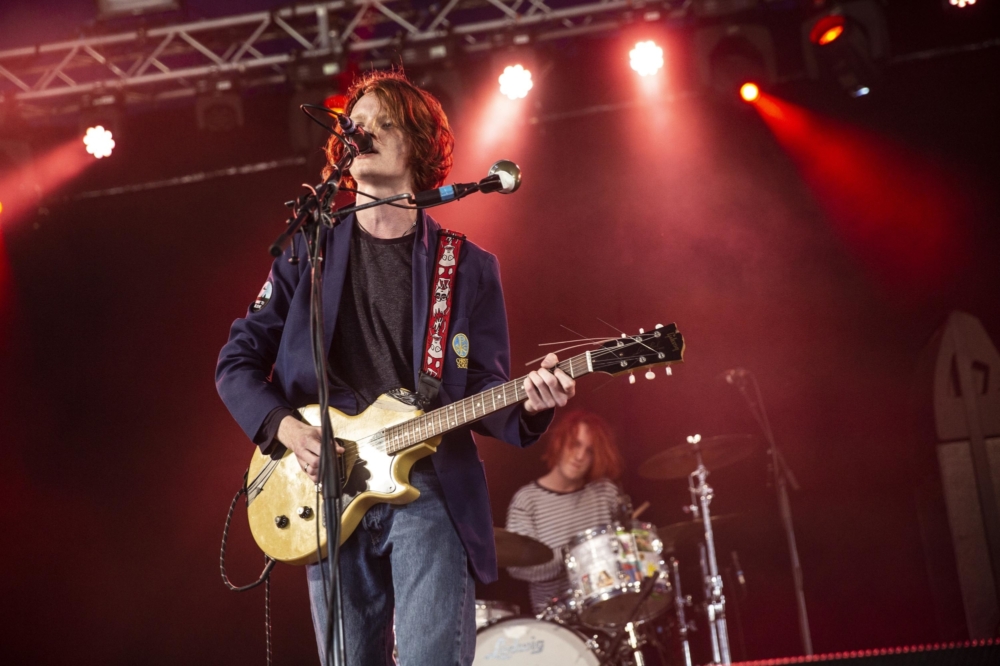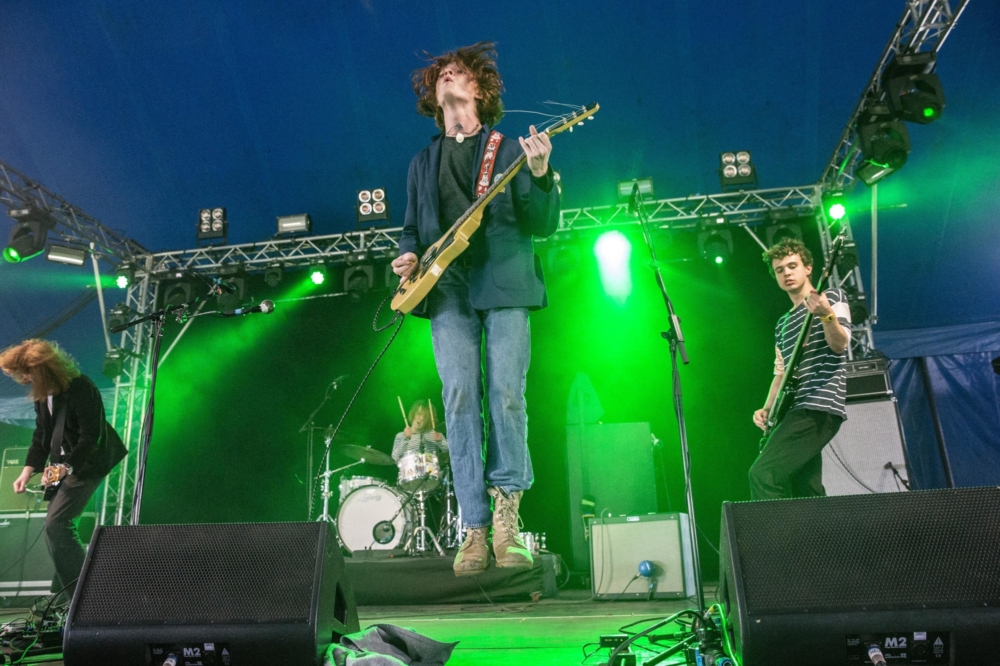 Dream Wife have been relentlessly touring this year - they're just off the plane from a tour in Japan - but you wouldn't know from their energy levels; Rakel, Bella and Alice pelt their way through an uncompromising half an hour. Rakel's become more of an imposing, brilliant frontwoman with every next show, and today she commands the Festival Republic tent impeccably through 'Somebody', 'F.U.U.' and 'Let's Make Out'.
As with Post Malone earlier in the day, Travis Scott brings a simply massive crowd to the main stage for the penultimate set of the day. He's fresh from releasing promising but somewhat bloated new album 'Astroworld', but tonight's set is streamlined, hit-driven and brilliant. Taking to the stage during a biblical downpour, the atmosphere around the set is just amped up, as Travis manically bounds around the stage. Bookending the set with 'Astroworld' intros and outros, while also dropping a cover of SZA's 'Love Galore', the idea of Travis Scott headlining here very soon isn't out of the question.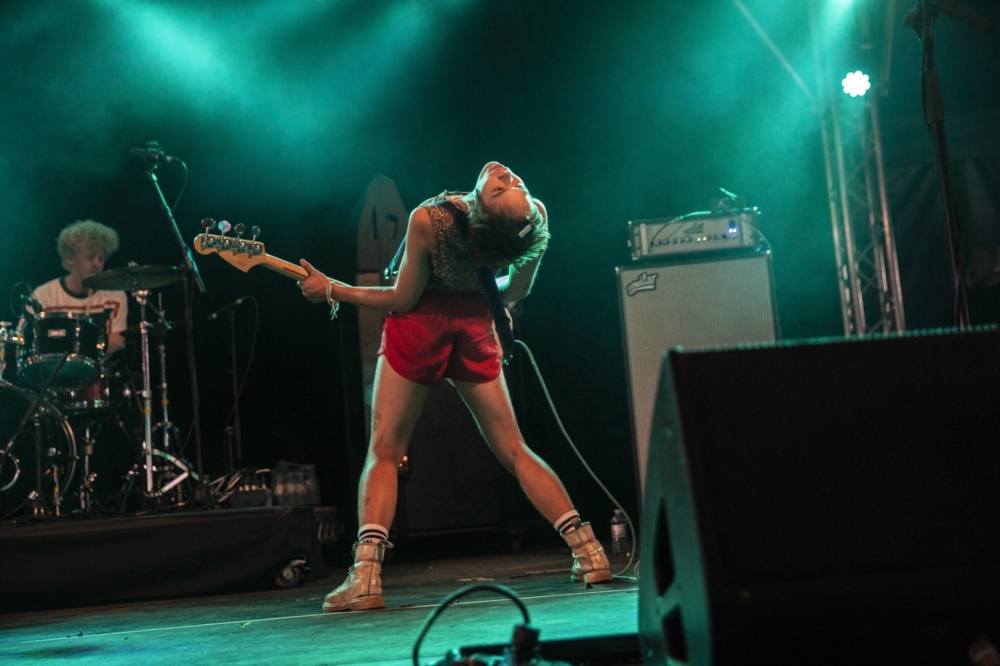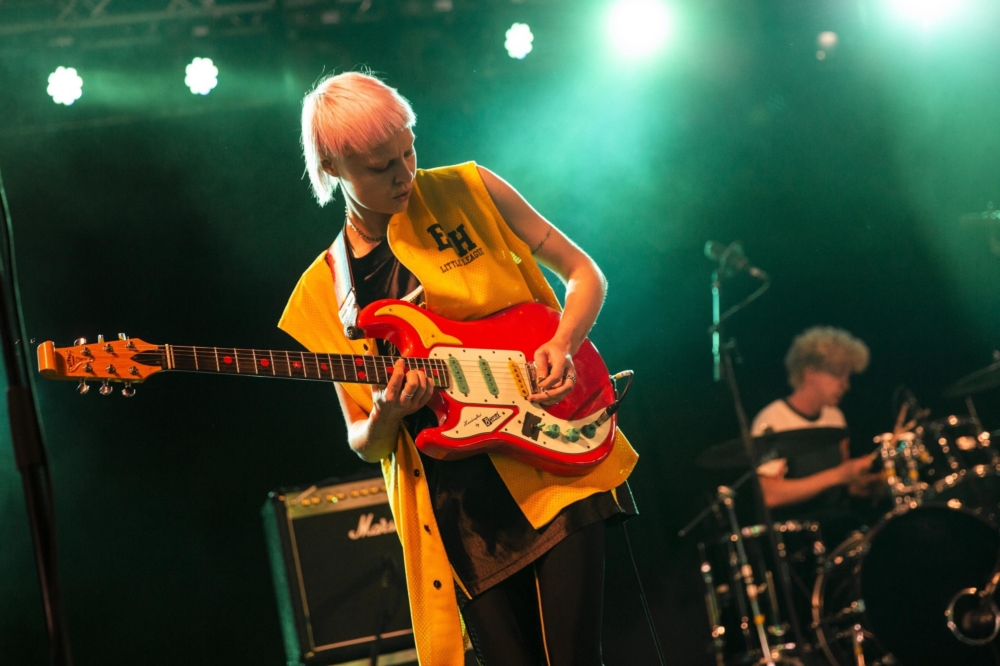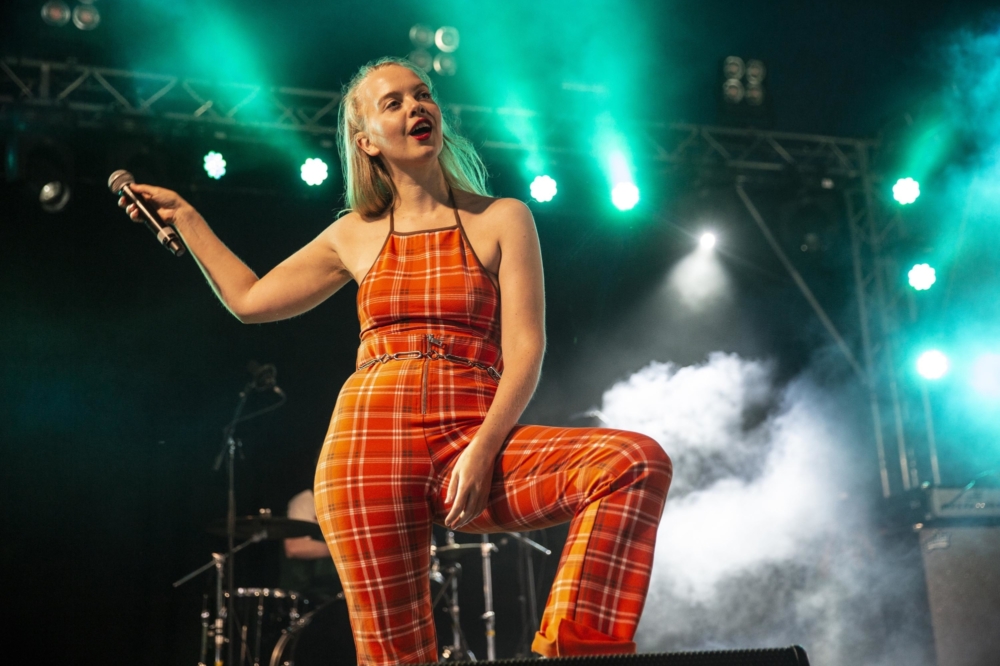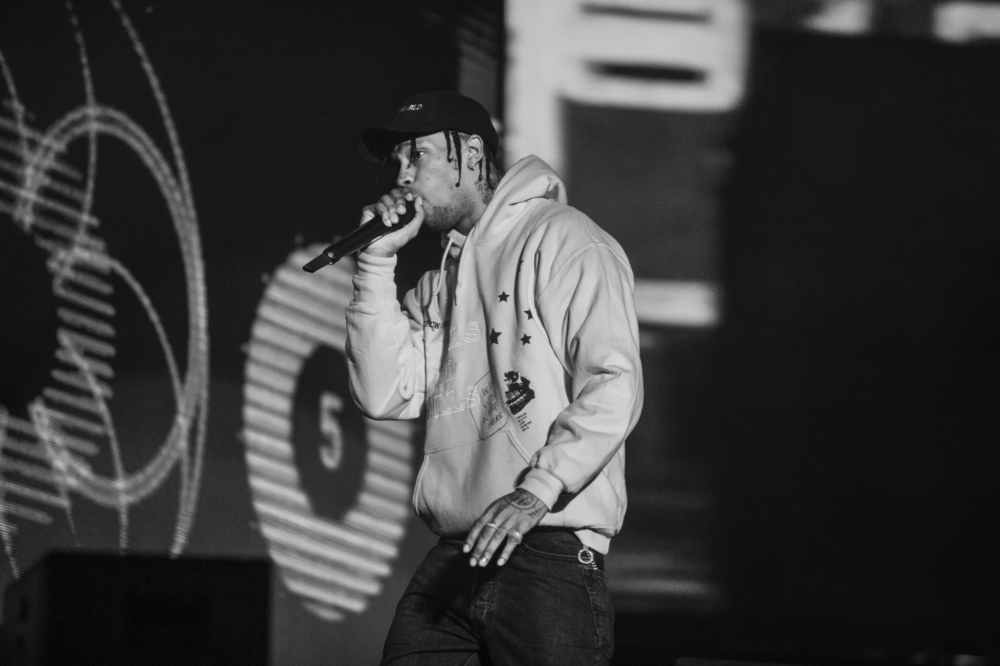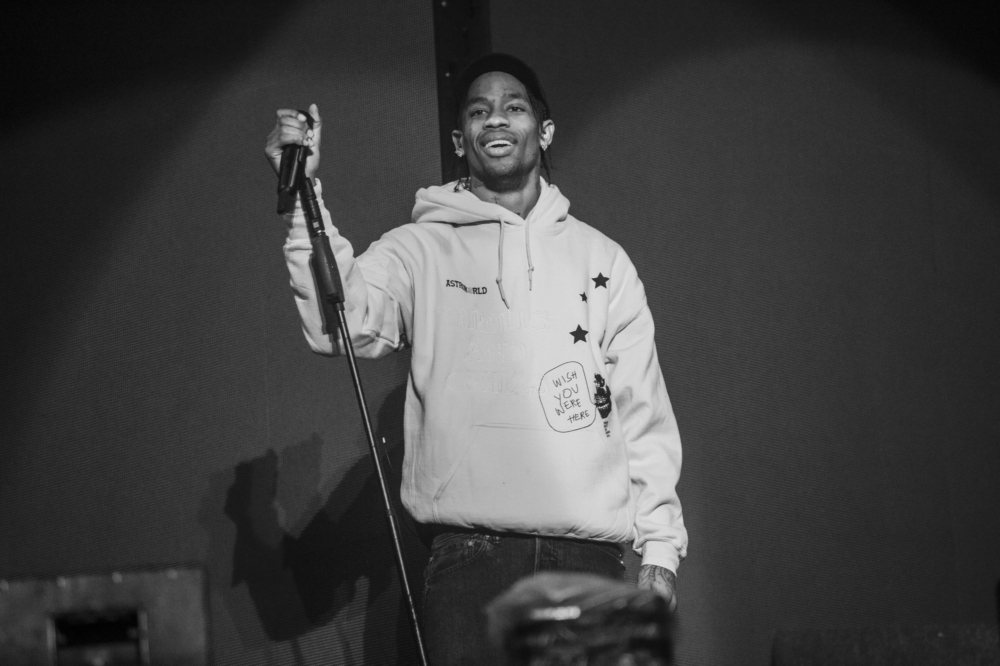 "A dream come true." It's impossible to count how many times the members of Wolf Alice repeated these four words throughout their Radio 1 Stage headline set, but it's pretty obvious they've spent their entire existence as a band working up to this moment. Conquering the hallowed space of Brixton Academy: check. A triumphant night at the cavernous Alexandra Palace? Why not. But for indie kids, Reading Festival rules all - and to headline the festival's main tent is very much the stuff of dreams.
And - naturally - theirs is a set that delivers. From on-stage proposals (congratulations, Hannah and Katie), to the confetti cannon the climax of 'Giant Peach' was always destined to trigger, there's an added confidence, an intent tonight that elevates it above the band's other festival spots this summer. Ellie Rowsell is power-suited, bossing it not only all over the stage itself, but in the crowd. Fans are on friends' shoulders all the way to the back. There's more than a few tears shed during 'Bros'; a full-on screamalong for 'Moaning Lisa Smile'. Making it to the upper echelons of Reading & Leeds alumni? As eyepatch-wearing popster Gabrielle famously sang, "dreams can come true".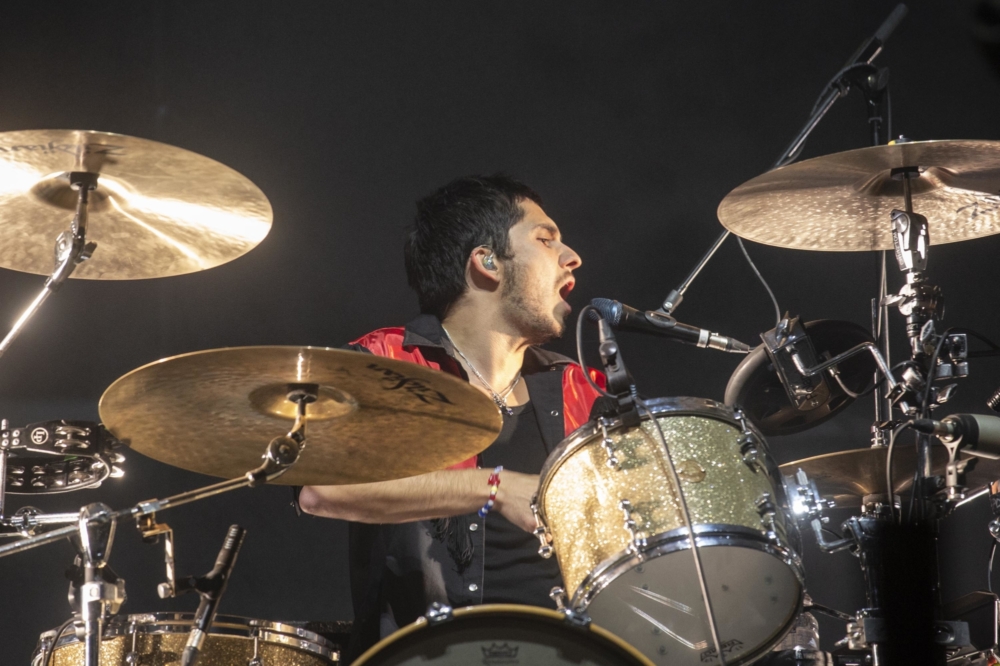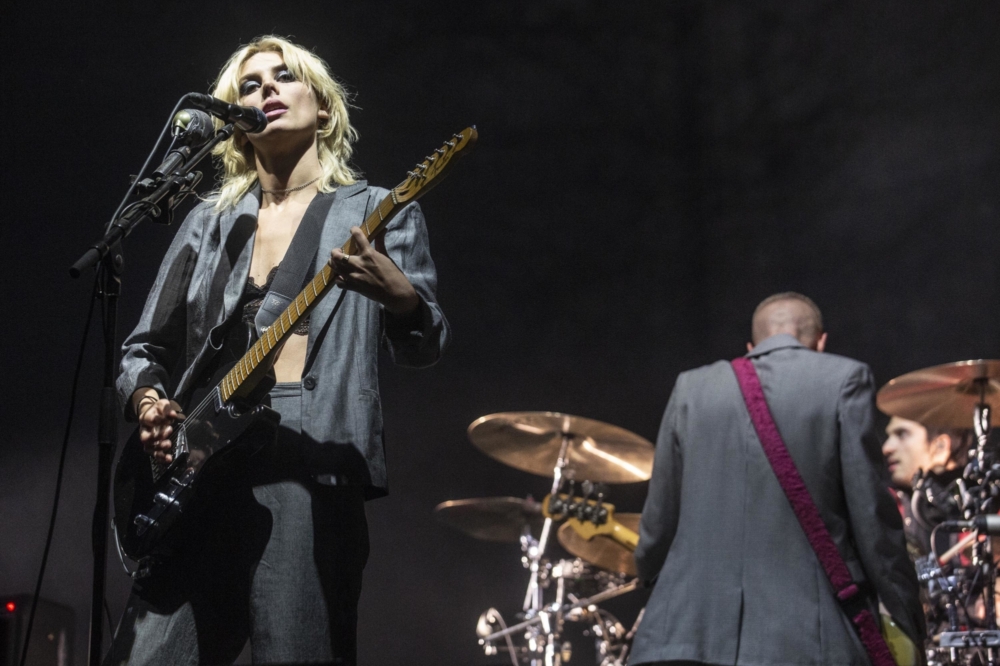 They may have had their roots almost two decades ago in Chicago's hardcore scene, but headliners Fall Out Boy tonight prove their music is made for festival wide sing-alongs. Tonight's show is exactly that - a show - full of fireworks, flames (at one point, bassist Pete Wentz' bass literally becomes a flamethrower and shoots fire out of it) and confetti, around a career-spanning set that pleases fans from all eras of their music.

Early tracks, such as 'Grand Theft Autumn/Where Is Your Boy' and set closer 'Saturday' are met with just as much adoration as newer tracks 'Centuries' and 'Immortals', but it's on the ones that made them famous a little over a decade ago - 'Sugar We're Going Down' and 'Thnks fr th Mmrs' - which predictably get the best reaction. Longtime live set favourite - a cover of Michael Jackson's 'Beat It' - gets thrown in too, rousing even the most borderline of fans into singing along. Tonight feels like a celebration and for Fall Out Boy - who achieve the impressive feat of headlining the festival for the second time in less than three years - proof they're still at the top of their pop-punk game.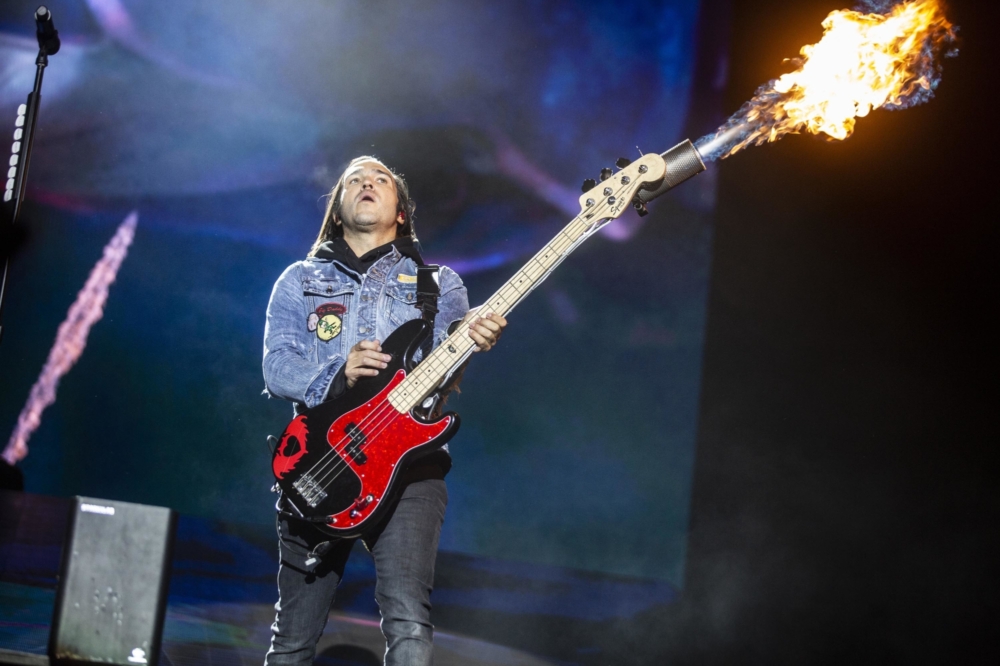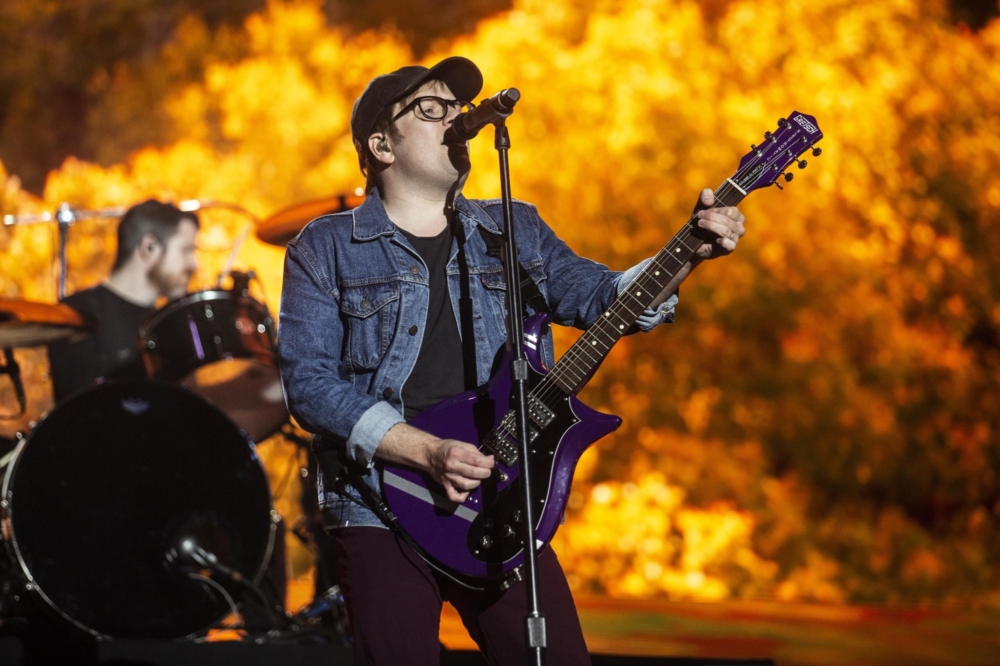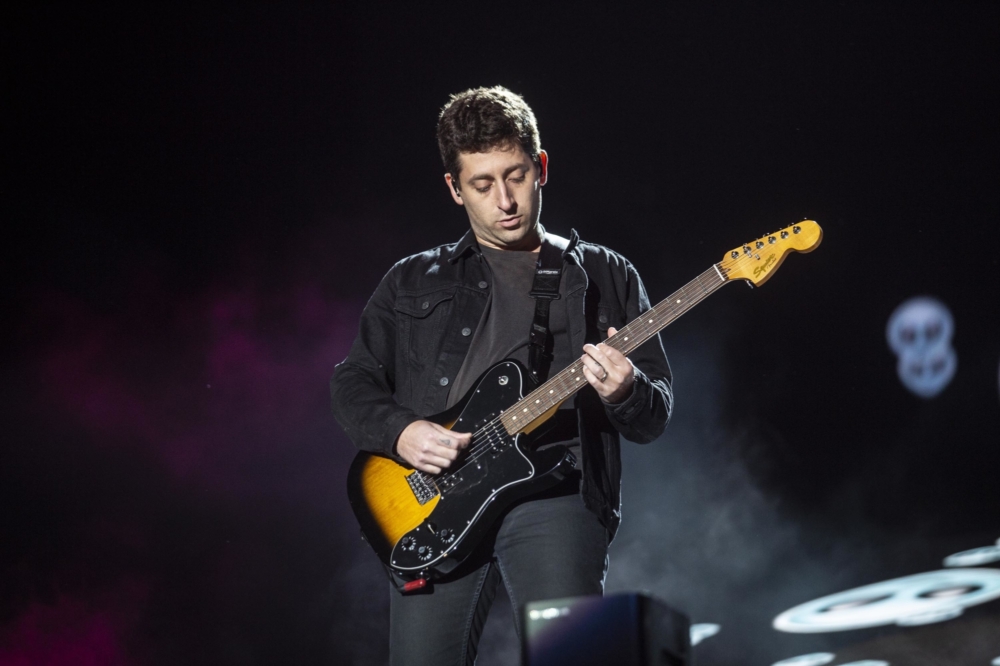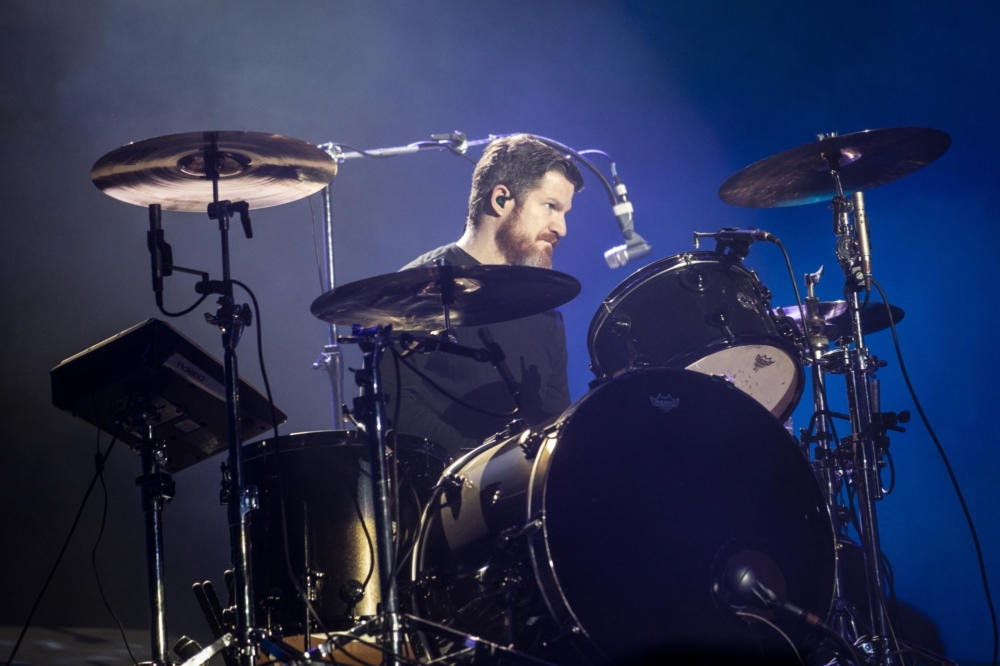 Get your copy of the latest issue