Introducing…
Get To Know… Black Belt Eagle Scout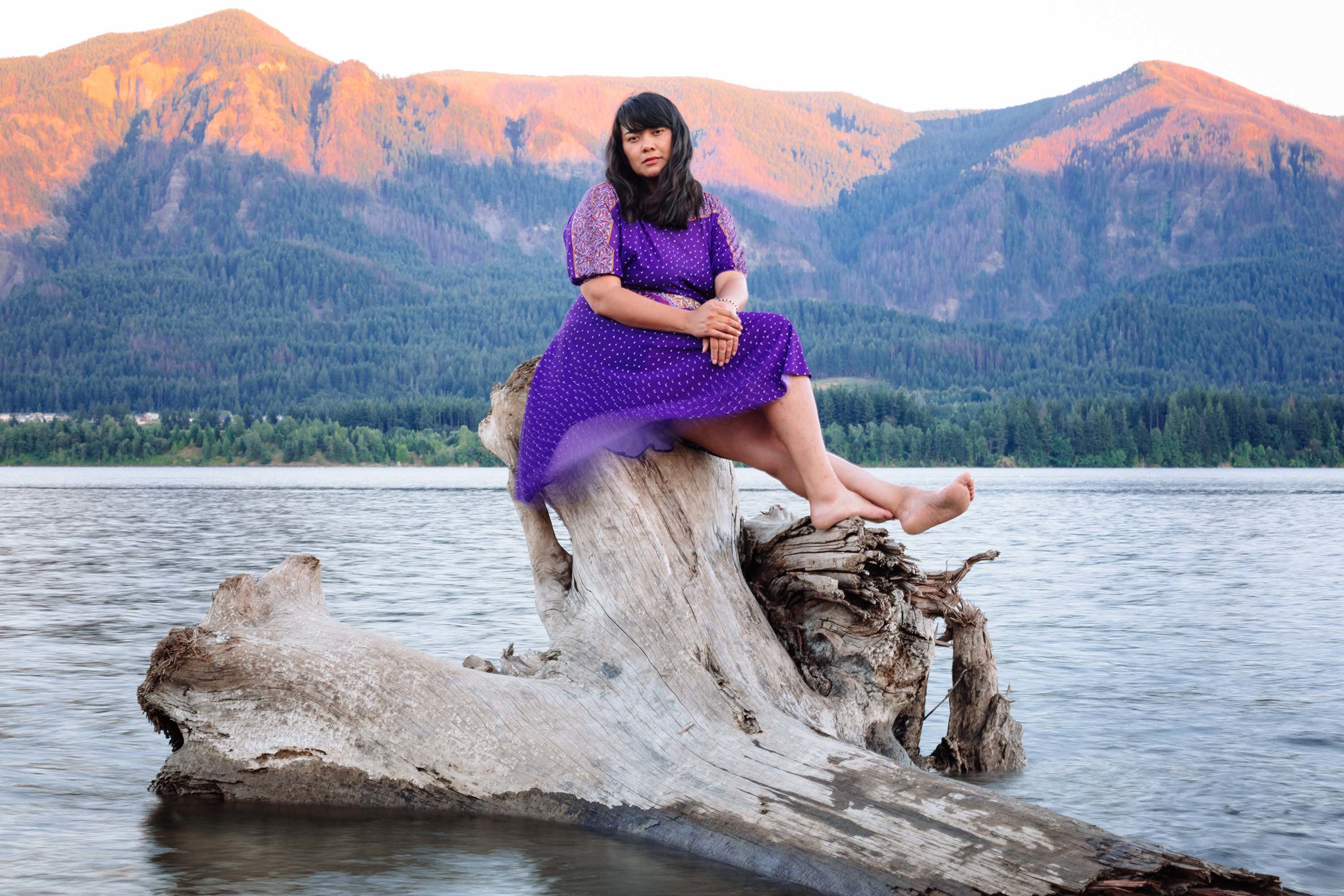 Meet the Portland-based musician exploring life as an indigenous, queer woman in the US today.
Hello and welcome to DIY's introducing feature, Get To Know… With two new acts a week, the feature pretty much does what it says on the tin: getting you a little bit closer to the buzziest new acts that have been catching our eye as of late, and working out what makes them tick.
Recently we introduced you to Liverpool-based singer-songwriter Pizzagirl, brilliantly exciting new Brighton bunch Squid and new Bella Union signings Pom Poko. This week we're with Black Belt Eagle Scout, the moiker of Katherine Paul or KP, who's due to release her debut album 'Mother Of My Children' later this week.
A record that sways between crunchy guitars and softer, more delicate moments, KP draws from her childhood spent in a small Indian reservation in Washington state in her music, melding together themes of frustration and dreaming into her lyrics. After releasing the heavier 'Soft Stud' back in July, she's returned with the sparse yet beautiful 'Indians Never Die' ahead of the release of her debut album this Friday.
Watch the video for the new track and get to know Black Belt Eagle Scout better below.
Describe your music to us in the form of a Tinder bio.
Radical Queer Indigenous Feminist seeks tender listening souls who love part-time thrashing. My music is gemini sun, scorpio moon and libra rising. Don't be scared! Down to have thoughtful and political conversations while also hanging at the river on the weekends.
What's your earliest musical memory?
My earliest musical memory is being sung to by my dad when I was a toddler. My dad would sing Coast Salish (Native American) songs to get me to fall asleep. Growing up, I was always surrounded by indigenous music of the NW Coast of Washington. I grew up on the Swinomish Indian Reservation, which is a small 800 person tribe in the Islands of the Salish Sea. There I experienced music through powwows and canoe songs.
Who were some artists that inspired you when you were just starting out (and why)?
I was really into the riot grrrl scene and the DIY K Records / Anacortes WA scene when I first started playing guitar. Bands I listened to back then (and still some to this day) were Heavens To Betsy, Microphones, D+, Bikini Kill, Sleater-Kinney, Dear Nora, Spider and The Webs, Woelv, Thanksgiving, etc.
It was easy for me to access music when I was a young adult as most of these small punk bands would play at the local DIY music venue near me. They were inspirations to me because the Anacortes scene was so welcoming, especially to young people, and you felt like you were just as important as the band playing when you were at the show. Music seemed tangible to me, and that's a lot when you're a young person.
You're based in Portland, Oregon - how is the scene there at the moment? Are there other artists breaking through at the same time that you take inspiration from?
While I'm from NW Washington, I've lived in Portland, OR for the past 11 years. In Portland, I have a good group of women of colour and queer musicians I play with and am friends with. We always support one another in our music endeavours. One of my close friends that continually inspires me is Fabi Reyna, who started She Shreds Magazine. I've seen her grow the magazine from a small zine and DIY music festival (Shred Fest) to an international powerhouse platform. She's a friend and inspiration who shows up for queer women of colour like me. She plays in a band called Sávila and they're my favourite group to come out of Portland in a long time.
Another of my friends who always inspires me is Haley Heynderickx. She put out a record earlier this year with Mama Bird Recording Co. and has since been touring all over the world. Her songs are tremendously beautiful and to see her take off and go is really inspiring.
Your debut album 'Mother Of My Children' is due out soon - can you tell us a little about it? What themes run through it? What inspired you when writing it?
'Mother of My Children' is out on September 14th on Saddle Creek. The album deals with grief, dreaming, loneliness and what it's like to grow as an indigenous, queer woman in the present day United States. It is my first attempt at creating art in a serious manner. In the Fall of 2016, I was experiencing the loss of a mentor, the loss of a 10 year long relationship and the loss of hope for my Indian people from what was happening at Standing Rock. Native people in the United States continue to deal with historical trauma from genocide through colonisation and the base of that is traumatic enough for some. I was going through a particularly rough time within that trauma and the only way I could try to remedy it was through playing music. A lot of the songs were created through this therapeutic process. I would stay up late at night and just play. Some of the songs have lyrics that don't quite make sense and that's because I think that moment, when the song is first being created, is a powerful and vulnerable time. I like to be able to have that stick through the entire song.
"Some of the songs have lyrics that don't quite make sense and that's because I think that moment, when the song is first being created, is a powerful and vulnerable time."
Who is your dream collaborator and why?
I've always wanted to record with Phil Elverum ever since hearing Advisory Committee by Mirah when I was a teenager. The sounds created in that album have always resonated with me because they're naturistic and powerful. The closest I've come is recording the 'Mother of My Children' with Nich Wilbur at the studio they share called The Anacortes Unknown Recording Studio.
Musically or otherwise, what are you most looking forward to in 2018?
I'm looking forward to touring and playing songs for people across the country. I've got a US tour around the East Coast planned for September, supporting Saintseneca on the books, so stoked for that!
If people could take away one thing from your music, what would it be?
I want people to be inspired by my music. I want to be able to keep playing and be a role model for native youth and for women and queer people. I want people who are like me and who struggle, to see someone who has dealt with something hard and come out of that with a beautiful album because that's a hopeful thing. I want to be hope for people.
'Mother Of My Children' is out 14th September via Saddle Creek.