Album Review
Tiny Ruins - Olympic Girls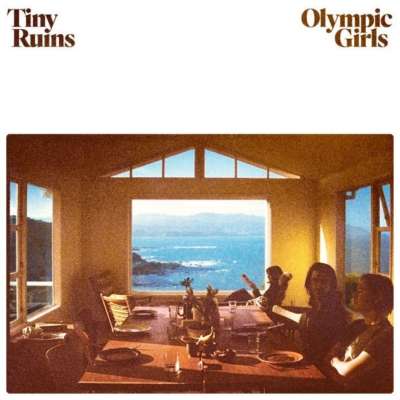 By moving further out, they start to let us in.
Label: Marathon Artists
Released: 1st February 2019
New Zealander Hollie Fullbrook has a sharp eye for detail. As her solo project-turned-band Tiny Ruins has grown and evolved, it has been this that has caught the ear of everyone from The Clean's Hamish Kilgour to David Lynch. Tautly cryptic, but with a keen sense of place, Hollie is able to build quietly emotive vignettes with ease.
However there was a feeling permeating their last two records that everything is at arm's length, not fully letting us inside her stories. Third record, 'Olympic Girls', for the most part omits the spartan instrumentation that marked those first two records and, in doing so, brings us closer than ever before.
Much of the evocative poetics that signalled Hollie as a masterful songwriter still sits at the core of 'Olympic Girls'. 'School Of Design' echoes the beauty and precision with which Leonard Cohen brought to life even the most seemingly mundane spaces or objects. "There was fresh paint wet on the walls / Everything was white / And all the clocks were well designed / All ticking in time", she sings. To her, the spaces in which epiphanies occur are just as important; intricate recollection making the memories feel more tangible. Her deftly woven lines are as stunning as ever.
But it's sonically where Tiny Ruins have made the biggest leap forward, helping to lift that veil that was stopping us from truly understanding them. Where 'Brightly Painted One' opted for a rigid '60s folk revival style, 'Olympic Girls' sees Tiny Ruins more eager to experiment. 'Holograms' shimmers with a dream pop ethereality more akin to Beach House. 'Cold Enough To Climb', with its woozy guitars and reverb-strewn vocals, brings an element of beautiful psychedelia to the record.
Early standout 'How Much', meanwhile, sits neatly at the intersection of the two states of Tiny Ruins, glistening guitars and thumping bass accompanying neatly woven tales of finding yourself lost in memories.
The brio with which Hollie Fullbrook and her band tackle these tales makes it as though one can physically feel themselves in the moments of which she sings rather than simply picturing them from a distance. Like Sharon Van Etten's 'Tramp', 'Olympic Girls' is Tiny Ruins diversifying their sound and, in the process, unlocking something new and palpable. Simply by moving further out, they start to let us in.