Track By Track
Witching Waves explain their new record 'Persistence', track by track
The band's third album is out today (5th April).
London trio Witching Waves have released their third album 'Persistence' today (5th April).
Founded by Emma Wigham (drums and vocals) and Mark Jasper (guitar and vocals), with the addition of new bassist Estella Adeyeri (who's also a member of Big Joanie and Charmpit), since their formation in 2013, the band have become known for their hectic shows and distinctive post-punk sound. Their third album 'Persistence', follows on from their 2016 album 'Crystal Cafe'.
As guitarist Mark explains: "Persistence means continuing in spite of difficulty, so there is a sense of something positive there too. A lot of the album is about change and things coming apart, and there's a lot about feeling distanced orupset by someone else's actions but trying to make it right."
Listen to 'Persistence' and read the band's track by track below.
This is the first song in our live set and it feels very representative of this phase of the band. The song is about change and a sense of joyful destruction – a letting go. Everything new obliterates the thing before it. A good way to start a record.
This song is about persevering! It's about pushing on when things are hard in spite of everything. It's about getting ground down by somebody or someone but picking yourself up and carrying on - you get the best of yourself. It's a sort of play on something 'getting the better of me'.
This song started the whole record really. We were looking to simplify our song writing and we didn't have a bass player at the time and so we were just kind of banging our head against a brick wall. It was a tough time, but this song helped us through and gave the record some shape to hang off. Estella came in later and put down a kind of buoyant bass line and it really felt like a Witching Waves song.
Originally, when I [Emma] started writing the lyrics, I imagined it as a conversation with someone else, like a past relationship, but it quickly developed into something less personal. People have asked us if it's about Brexit. It was definitely on our minds when we wrote it but it's not so specific. It's about existing within society, different types of relationships and interpersonal tensions. And yes, the number in the title is a little nod to Prince.

This is one of our favourite songs to play live. It's essentially about mental health and being able to acknowledge the role it plays in our lives but we wanted the song to have a sound which was both powerful and playful. It's got a lot of energy and the "I can't shake this feeling" bits were based on 80s new wave and power pop.
This song was written with all three of us present from the beginning. It starts quite focussed and then sprawls out into a more chaotic, crashing section towards the end. The song is a meditation on the routine and mundanity of daily life, and the sense of frustration that can bring. The vocals are delivered in a very straight, almost robotic way, but then the noisy instrumental part feels like finally letting that frustration bubble over the surface before inevitably going back to the grind!
We worked on this is a song for a long time. Originally, it had a completely different guitar part and the structure was less direct. We just couldn't get comfortable with it and it took ages to figure it out. With this record, we consciously spent a lot more time working on structures and arrangements. In the past, it was much more about just writing it and getting it done quickly. This record has been the opposite.
The song is about Mark and his sister breaking glass behind their primary school for fun when they were kids. It's about wanting to make things easy again, when you know being an adult is hard and complicated.
Sometimes when we play this song, it feels like it has its own momentum driving it along which is only just under control. That feels right for the song– it's like the giddy excitement you get from running too fast down a hill or, as Mark sings, smashing glass for kicks.
The production on this song was interesting, in particular the sound of the toms remind me of a Phil Spector song.
Lyrically, this song comes back to the theme of persisting and existing in everyday life. The pressure to keep going, to try and earn enough and to keep up with the pace of the city; of doing all these things and still not feeling like you're getting it right.
I think, musically, I had in mind a sort of minimal efficiency that you could dance to, something like the Delta 5. We were working on it and changing it right up until the time we recorded it.
Despite the serious subject matter, there's a humour to it, like an acknowledgement of the absurdity of that pressure. The chorus is us shouting 'money' which is just kind of ridiculous!
I actually wanted this to be like a country song originally, but it got faster and faster and became something else. Maybe I'll get my country moment on the next album…
Anyway, 'Underachiever' is about purposefully holding yourself back, self-sabotaging yourself, because it feels like the safer option. It's been a bit of a recurring theme through our albums and it was based around a memory I had of purposefully slowing down in a race at school to avoid standing a chance at winning. This song serves as a reminder to myself to not let the fear take me down.
We almost abandoned this song because we thought it was too poppy. But we gave it one last chance, added the end section with all three of our voices, and it soon became a regular staple in our live set.
This song is essentially about believing survivors. It's about not expecting to be believed or taken seriously and how that can affect someone. It has felt very powerful to play it during a time when we have seen many stories of abuse come to light and awareness brought to the issue. It's really a message of support.
My original inspiration for this song was Neil Young but it quickly morphed into something else all together! This song feels different for us and I like that about it. We worked a lot on it during the recording process which we don't normally do and added in some percussion and new vocals. I felt out of my comfort zone writing it and learning to play it but it's been a really exciting process.
Lyrically, I imagined it being about somewhere very remote – different to a lot of the other songs we write which are about living in a city. It's about feeling isolated, in both a physical and an emotional sense.
It's ended up being one of our favourite songs on the record and it probably sounds the least like a Witching Waves song. It feels a fitting way to end the record as we look towards the future.
'Persistence' is out now via Specialist Subject Records.

Get your copy of the latest issue
More like this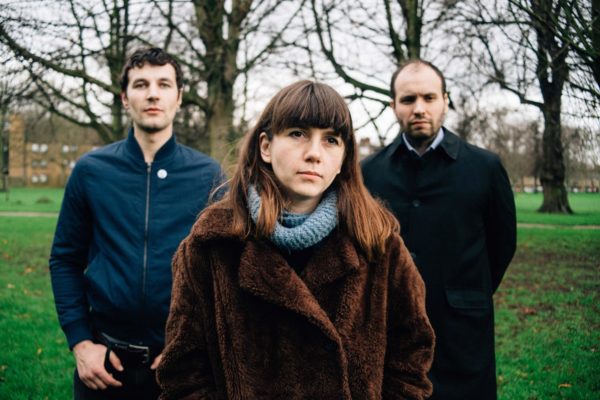 London group's second full-length is a sprawling, inventive take on noisy guitar pop - it's today's Neu Pick.