Album Review
King Gizzard and the Lizard Wizard - Fishing For Fishies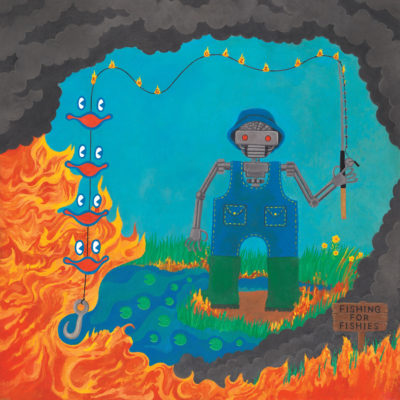 Do not doubt that King Gizzard and the Lizard Wizard still know how to kick ass.
Label: Flightless
Released: 26th April 2019
Even after releasing a mere five albums in 2017, it would be wrong for the ever-prolific 'Gizzard to have taken too much time off, wouldn't it? It'd have been almost offensive too, if the Aussie psyche-rockers hadn't released something as curious and unexpected as this to follow up to that gargantuan year.
'Fishing for Fishies' sees the band incalculably balance a distinctly upbeat mixture of hand-clapping Suzi Quatro glam, pastiche blues, and 'Rumours'-era Fleetwood Mac soft rock, also negotiating dreamy harp flourishes and space-y electronica wanderings in the meantime. A false-start snare-roll opening is just the first of many surprises.
Take 'Plastic Boogie', for example. It's nuts. A tirade against plastic over-consumption, ("It's gonna be brutal if we don't fuck all of that plastic"), the song pairs twangy blues riffs with an almost shocking High School Musical-esque teeny chorus, before resolving itself effortlessly in one of their trademark rock-outs.
So sweet, puckishly colourful and genre-dizzying is this 13th effort, that it's like a motorised adventure through the topologically muddled yet enchanting landscapes of a Mario Kart universe - deserts one minute, icecaps the next, concluding at one of Bowser's perilous volcano-citadels no doubt, with its flesh-singeing lava and swinging axes.

Closer 'Cyboogie', the cheesy, sci-fi-inspired lead single from the LP, is by far the most tepid of the set, as if marking the roll of the end-credits and a collective sigh of relief. With that being said, do not doubt that King Gizzard and the Lizard Wizard still know how to kick ass.

Get your copy of the latest issue
More like this