Introducing
Get To Know… Talk Show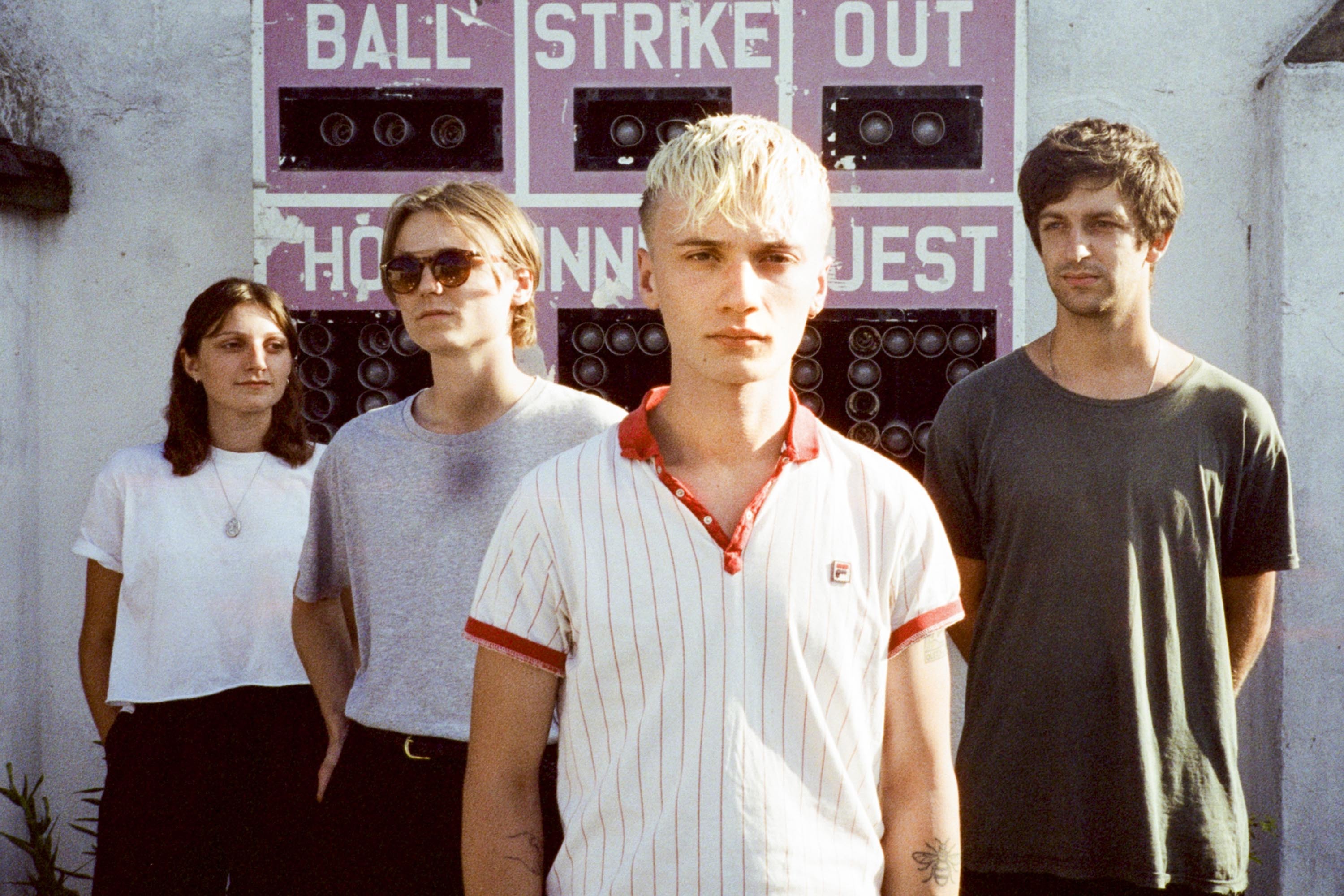 Watch the band play debut single 'Fast & Loud' in a Yala! Records session alongside our interview.
Hello and welcome to DIY's introducing feature, Get To Know… With two new acts a week, the feature pretty much does what it says on the tin: getting you a little bit closer to the buzziest new acts that have been catching our eye as of late, and working out what makes them tick.
We've recently introduced you to New York's Gus Dapperton, Spanish/London duo Family Time, and punk-funkers Public Practice and Big Scary Monsters signings Orchards and Brooklyn bunch Barrie - today, we're with Talk Show!
The new Yala! Records signings' debut single 'Fast & Loud' is a staggeringly good first statement. The track's name does pretty good justice to the first effort - it's danceable enough to feel at home at the disco, but you wouldn't call it sunny-side-up; full of sharp, scratchy guitars and a booming, deliciously Northern vocal, it feels like drunkenly sprinting home from a night out, angry and exuberant in equal measure.
Watch the band play the track in a Yala! session and get to know them a little better with our interview below.
Describe your music to us in the form of a Tinder bio.
Energetic and emotive Post Punk/New Wave from South East London. If you're after down and dirty basements, and flat lager, swipe right. Combined height 23.1ft. Let's hope love don't tear us apart.
What's your earliest musical memory?
George: For me listening to music in my parent's car, my dad used to put Kraftwerk 'Pocket Calculator' on. I would sing along to it and pretend to play it, trying to recreate all the weird noises I heard. There was something about four fully-grown men acting like robots that I loved.
Who were some artists that inspired you when you were just starting out (and why)?
As individuals we each have our own influences and inspirations, but when we started we were aiming to create something that channelled some our favourite artists: The Cure/The Stranglers/New Order. We were also drawn to a lot of spoken word acts such as John Cooper Clarke. Lee Ranaldo's delivery on 'Be Safe' was a big influence when we were much younger and that's something we attempt to bring to the party when creating. The intensity of Jacques Brel's live performance of Ces Gens-La set a precedent for how we approach our live shows. There's an incredible video on youtube you should watch if you haven't already.
You're based in South London - what's the music scene like there at the moment? Are there other artists breaking through at the same time that you take inspiration from?
The scene in South London is thriving, we're truly privileged to be around so many talented people all driven by music and the arts. There's a few great venues around and constant buzz of shows and opportunities for young bands to get involved in. We're huge fans of Scrounge, Italia 90 and blue bendy who're all killing it right now.
Who would be your dream collaborator?
There's a few artists that we'd love to collaborate with for a variety of reasons, mainly we'd hope to work with someone who would bring something different to the table- whether that's genre, style, or simply approach to creating. One that stands out most would be Matt Johnson of 'The The'. The way he composes a pop song, and crafts music to create something with depth and character is remarkable. Not to sound too much like a bunch of fanatics but he's got his own unabashed stamp on it, which is incredibly enviable.
Musically or otherwise, what are you most looking forward to in 2019?
We've got a busy schedule over the next few months, playing some festivals so we're excited to be travelling around the country and playing with some great bands too. We also want to get some more music out into 2019, and of course, there's a Madonna album coming too haha.
If people could take away one thing from your music, what would it be?
The fun of it. Don't get me wrong, we take our music seriously and work hard trying to better ourselves. But the music is for all of us and should be enjoyable, so we want anyone who comes to a Talk Show gig to leave with a big pearly grin - ear to ear.