Interview
Other People's Problems: Foxygen
Refusing to tour, railing against the industry and sitting on a tell-all memoir, with new LP 'Seeing Other People', LA duo Foxygen are teetering on the edge of collapse – or is it all just an act?
Less than a minute into our chat with Foxygen's flamboyant frontman Sam France and the singer offers up a declaration: "Everything I do is performative. I'm not genuine. I don't feel real feelings. I'm a robot, a robot of rock." Then silence. Next question.

If it's a slightly baffling way to begin a conversation then it's also one that fairly accurately tees up the next thirty minutes of careering, sometimes bitter and awkward, sometimes genuinely understandable and eloquent thought. In the space of a sentence, he can veer from hilarious raconteur to pompous ass and back again. You're never sure if he means it, or it's all an act, or where the lines might begin to blur between the two: everything, as he says, is performative. But is it really?

Since Foxygen - the project of Sam and muti-instrumentalist and noted producer Jonathan Rado - first properly broke through with 2013's eccentric, hedonistic 'We Are The 21st Century Ambassadors of Peace and Magic', they've sought to create a mythology based around theatre and excess. Onstage meltdowns, internet diatribes and cancelled tours regularly overshadowed the fact that the duo were quickly amassing a catalogue of wildly creative, unusual and often brilliant music. "We started when I was pretty young and it was more tabloid-y. It was like my teenage journal was being made into headlines every week. I don't know if I'm proud of everything I've done, I'm pretty embarrassed by a lot of it," mumbles the singer now, speaking down the phone from his Los Angeles home. Then the irritable rebuff kicks in: "It's a stupid band, right? Foxygen? It's not very well-respected. Cool record nerds, kids who like to smoke weed and listen to records from the '70s, they like it. And I like that, I like Foxygen and things like that. But I don't think we're very critically appreciated. I think we're seen as pretty goofy and not a very progressive group. I don't know… I don't know what people think of what I do…"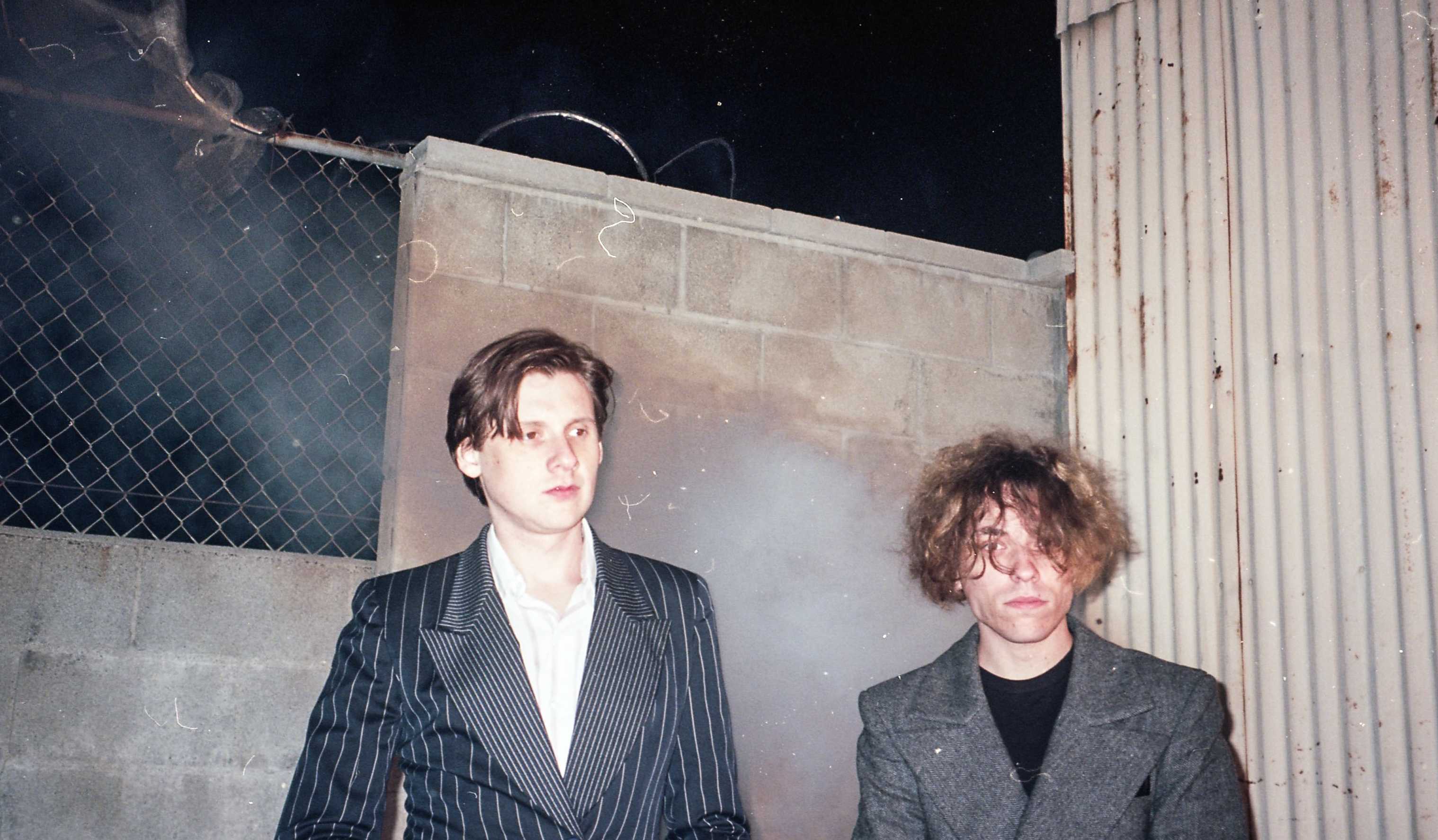 "Everything I do is performative. I'm not genuine. I don't feel real feelings. I'm a robot, a robot of rock."
— Sam France
It's this world-weary view that writes itself over forthcoming sixth album 'Seeing Other People'. If Rado, who we speak to separately, has a slightly more pragmatic view of the band's current musical output as simply the next reinvention in a career defined by them - "it was always the idea," he explains, "to do an incredibly rough and drawn out record like '… Star Power', and then an orchestral pop record like 'Hang', and then to make kind of a hip hop record which turned into [this album]", then lyrically it seems like the divide between their usual fiction and increasing reality is less clear.
"I'm just doing all the work / If you've got something to say, then say it," goes the chorus of opening track 'Work' before a series of songs called things like 'Livin' A Lie' and 'Face The Facts' follow. The singer may be a self-declared "robot of rock", but these are gripes that sound suspiciously human. "Everyone else gets paid except me, is what I feel like sometimes," he begins. "That's kind of what the record's about - the realities of it all. I don't mean to make it seem like, 'oh it's so hard being a touring musician', because it's not. It's just that musicians are idiots, and people that run the music industry are idiots and there's a lot of bad business."
As a response, the band have decided not to tour this record. "The way that we've always decided to tour has been extremely expensive because we've always put the show first; we'd tour with a horn section or a nine-piece band and singers and dancers, so it hasn't been a profitable thing for us," Rado explains. For Sam, it's a more personal affront. "When you don't get paid and you perform like I do, then after a while you start to feel a little silly. The whole last tour I was drunk off my ass for every show because I just didn't care about it, and I'm not proud of that. If someone wants to pay me a shit load of money to play then I will, but I'm kind of a diva. I have pretty high standards for what I do at this point. I don't just hand out my presence unless there's a pretty high price and it's really worth it for me."
Not the most humble of comments, but he admittedly makes a fair point. Even on the band's last pissed and unpleasant tour, the singer spent their London show dashing off the wings for unexpected quick changes, commanding the stage like a ringleader and generally being the kind of frontman that you'd guess was having a far more pleasant time than he was in reality. "That's how good I am," he shrugs by way of answer. "I'm not one of these musicians who's like, 'Oh I'm a long-haired white guy with a guitar, let me tell you about my feelings'. I'm a performer, and I enjoy performing."
"Foxygen is never gonna be a traditional thing."
— Jonathan Rado
Though almost every aspect of the industry falls under the wrath of Sam's unapologetic acid tongue, there is, at least, a genuine creative love that still sits at the heart of the duo - the thing that makes 'Seeing Other People' a deceptively grand and enjoyable listen despite its fraught thematic preoccupations. "I'm probably better at working with Sam than anybody else, and we're both a little bit nihilistic so I don't have to worry about a band [I'm producing] sitting there looking at me like I'm crazy," says Rado of their relationship. "Foxygen is never gonna be a traditional thing; I never see it that way, and I think there's so many bands that can do it that way so we don't have to follow those rules." "Rado is an artist, that's what I've realised at this point in my career," theorises Sam. "There's a difference between a musician and an artist, and musicians are the WORST. If you were to X-ray their brain it would be like a guitar amp with a beer can on it. But Rado is an outside thinker and I'm so grateful I've had him in my life for so long."
It's a viewpoint that will doubtless come out in full force on the singer's forthcoming, incredibly-titled memoir 'Sam Francisco: Confessions of an Indie-Rock Star' - a book he currently, probably not inaccurately, describes as a "big rambling mess that needs a lot of editing". "I think it's a good glimpse into what the record industry is really like; what this stupid, sexist, boring, corrupt, disgusting business is really," he says of the text. But how does a band as prickly and outspoken continue to operate within an industry they hate? With a new album literally about to land, what happens next? "I'm way too next-level to be in the music industry. In the US it's a devastating time for music because basically if you're a white rock'n'roll indie artist you're not allowed to make anything except for watered-down folk music that can be played at a low volume in a cafe," he spits. "If you do anything different or fun or colourful, nobody wants it. It needs to be sold and packaged so specifically, it's so exhausting. You have to be uncreative to be successful. It's a bleak atmosphere and I wanna get out of it; I don't wanna be part of that system."
"I don't know what the future is," his bandmate nods. "I think we both have ideas that we'd like to do but we're gonna take a little bit of a break for a second and figure out what the next move is... But we've always been an unusual band... We're not even a band..."
'Seeing Other People' is out now via Jagjaguwar.