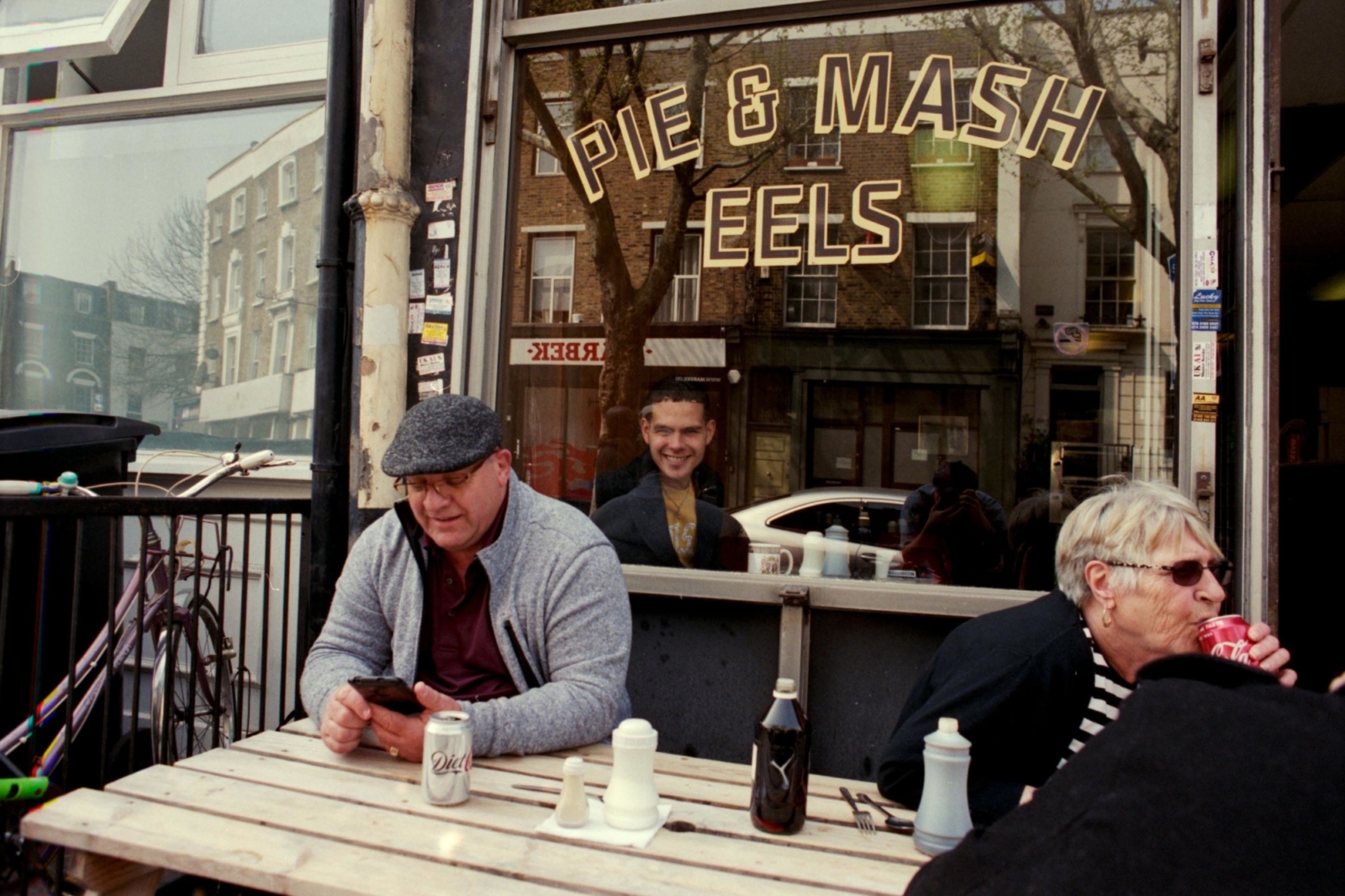 Anarchy In The UK: slowthai
How slowthai became the mouthpiece for young broken Britain.
A few years back, Tyrone "slowthai" Frampton's daily routine involved staying up all night, sometimes dealing cannabis but mostly smoking it, and then sleeping it off during the day. By his own admission, he was lost and working his way through a lot of anger, only really getting excited by the prospect of drinking a cup of tea at his Nan's house or beating one of his mates from the estate on FIFA. Yet, on this unseasonably hot April day, we find him confidently walking around Camden looking every bit the superstar, aware that critics are hoping upcoming debut 'Nothing Great About Britain' will forge a new path for UK rap like Dizzee Rascal's 'Boy In Da Corner' did back in 2003, and maybe even help us all make sense of the unrelenting fuckery that is Brexit.
"Fuck, I just met slowthai!" exclaims one excited teenage fan (a steady stream enthusiastically approach him throughout the day) who's granted a street-side selfie with the rapper. Throughout their exchange, he rocks a mischievous if slightly unhinged smile, a cross between Jack Nicholson's Joker after murdering an enemy and punk anarchist Sid Vicious after scoring a bag of heroin. In-between having his picture taken, slowthai chats about problematic faves and how JPEGMAFIA's chaotic banger 'I Can't Fucking Wait Til Morrissey Dies' forced him to rethink The Smiths. "There's a few Smiths songs I used to like, but that track was so hard, it's got me like: 'Meat is murder? Nah, you're just a fucking prick, mate!"
The riveting way in which slowthai processes and translates British iconography - whether that's Morrissey or our Queen, who he calls a "cunt" on 'Nothing Great About Britain''s opener - is one of the reasons why he's got the music press so excited. His debut moves from mocking the toxic masculinity of far-right group the English Defence League to referencing the brutish Stoke City defender Ryan Shawcross and Eastenders OG Phil Mitchell, all at frenetic pace. It's a once-in-a-generation record, the kind that's able to shine a mirror on all things good and bad about British culture, and ask Brits whether they're ashamed or proud of their reflection.
"Some British rappers might rap in a way that's very general, because they don't want their regionality to get in the way of them blowing up or getting a Drake co-sign, but that's not me," he explains. "I want to write references that you will only get if you're British because, growing up, I was taught to be proud of where you come from. I could aim to take over the world and fall flat on my arse. This place where I'm from, Britain, is the only place I truly understand, as that's my home, so why would I rap about anything else? So long as I can be the King of Northampton, that's all that matters."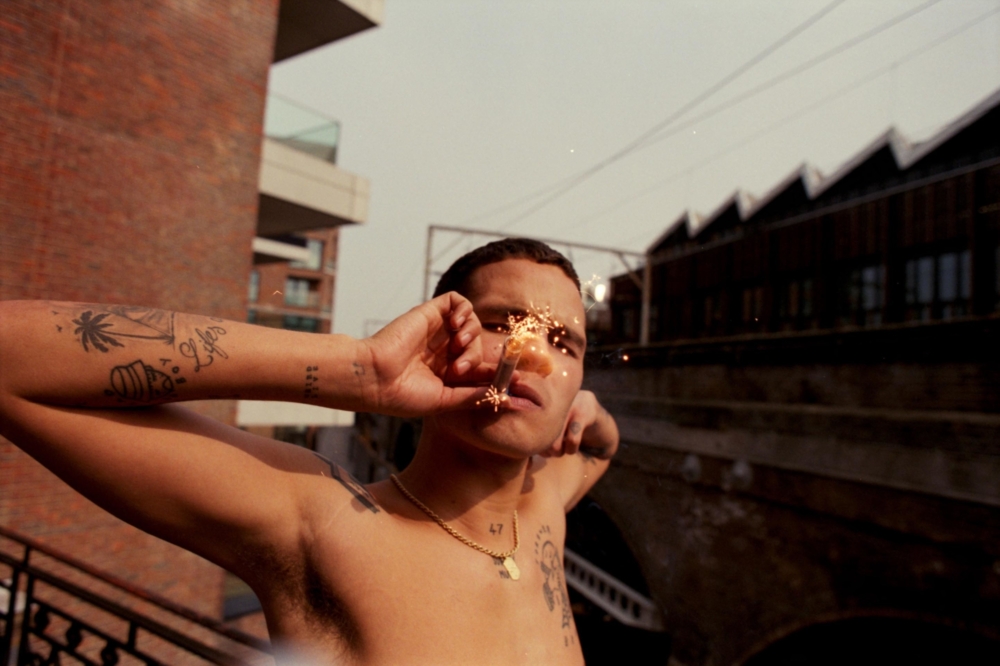 "
So long as I can be the King of Northampton, that's all that matters.
'Nothing Great About Britain' bottles the chaos of Brexit, transitioning from soothing introspection ('Peace of Mind') to messy disorder ('Doorman') and veering rapidly from one extreme to the other, with the erratic mentality of our own political discourse. The already-iconic album cover depicts a fully naked slowthai locked in stocks in front of a soon-to-be-demolished Northampton tower block. Instead of attempting to prevent his demise, his neighbours are pictured watching on, intrigued by the spectacle. This is something he sees echoed in the popularity of politicians such as Donald Trump or, on these isles, Boris Johnson, calling them "two people who pretend to be village idiots, but are actually very sinister and have somehow fooled millions of people", many of whom watch on with similarly giddy excitement. He says it's also supposed to reflect how it feels to be working class, with deep government cuts making society's most vulnerable feel like they are, quite literally, trapped.

Growing up in an estate known locally as 'the Bush', slowthai says he was conditioned to think he was less of a person than the kids with more money and stability; at school, he'd pull silly faces and act the fool to live up to richer kids' expectations of what a "Bush kid" must act like. "It was very much an 'us and them' set-up, but no matter how much money you've got or how poor you are, we've all got similar problems," he shrugs, "I want to show that with this album."

The record itself is fascinated by the idea that, even though there's so much poverty in our country and Brexit has us staring down the barrel of disaster, we're still sat around drinking cups of tea with our fingers in our ears, trying to preserve a carefree kind of Britishness that doesn't really exist anymore. On album highlight 'Peace of Mind', he raps "I feel peace of mind, when I think about a life I'm not living" - a lyric which speaks to the idea that many Brits still see the country as a fruitful empire rather than a crumbling hotbed of social division. "It's like, the country could be in flames and people would still be like, 'Fuck it, let's have a cup of tea and some scones, everything will be fine'!" he says, letting out a howl of laughter. "I really think there needs to be riots again; something has to change to wake people up."

The album's smart marketing campaign has been a clever, needling comment on this. Over the past months, it's seen slowthai erect a series of stark, black and white billboards that take a satirical swipe at the likes of Boris Johnson (who he also mocks on new track 'Dead Leaves', rapping: "I run my town, but nothing like Boris!") and pronounce some of modern society's more troubling facts: 'Recorded offences of hate crime in the UK have increased by 123% in the last 5 years'. '78% of large companies in the UK pay men more than they pay women'.

slowthai wants to make people take a closer look at things they might have ignored in the past. On the heartfelt 'Northampton's Child', he pays tribute to his mother, Gaynor, who is half Bajan and gave birth to him when she was just 16. In it, he describes her as his "only Queen". For too long, he believes the British media has stigmatised teenage mothers, but he wants to be one of the people to help destroy this perception. "Teenage mums are stereotyped as some sort of lower tier of human being just because they chose to create a child at a young age," he ponders. "Why is that? The reality is they are braver and have more courage than just about anyone you know. Most people wait until they're 40 to have a baby or whatever, but teen mums give up their lives for a baby. That's beautiful and something we should celebrate and try to understand rather than mock."

On older tracks such as 'Ladies', he raps from the perspective of a woman, the song turning the idea of female bodies being objectified by men on its head - in the bold music video, it's he who is naked and being cradled in the arms of a fully-clothed woman. He says being raised in a house full of women has "taught me the value of women. Like, they are the creators, they're the ones who breathe life into us and they're the ones that raise us so it's important that I champion women. For too long, men have had all the power and that needs to shift in another direction. "As a man, the reality is that the only person that really will be there for you, through thick and thin, is your mum. So that's why everything I do is about making her proud."


"
I want to do stuff for kids like me so they don't feel like they've got to go and sell drugs or be the next top boy on the estate.
Despite largely operating within a different genre, cut slowthai to the core and he's pure punk. A fan of the Sex Pistols, he's often found spitting "fuck the queen" during his raw live shows, stripping down to his boxer shorts and sweating buckets as he dances likes a madman during the chaotic likes of 'IDGAF': the audio equivalent of a rush of blood to the head. With his manic eyes and twitchy energy, he's a lot like Sid Vicious, only with much more of a social conscience. "Sid Vicious is like my spirit animal," slowthai proudly exclaims, happy to indulge in the comparison. "I relate to a lot of things in his personality and this idea of not twiddling your thumbs, but going out and taking action. I want to embody the punk ideals. Like, it isn't conscious or anything, but I am unfiltered and completely myself, and that's what punk was all about." He pauses to think, before joking: "But I'm not trying to murder my missus like Sid did. That was fucked up!"

This punk ethos extends to his acerbic vocal delivery. He records all of his verses in one go, something that recalls legends such as Tupac Shakur, who urged producers during the 'All Eyez On Me' sessions to use his first take. Subsequently, whenever you hear a Tupac verse, it sounds urgent, his booming voice coming from the very pit of his stomach. slowthai creates that same kind of feeling, his verses wearing their imperfections like a badge of honour. When his voice strains or cracks, it isn't a sign of weakness but something that makes him more human, more like one of us.

"You hear a lot of rap songs and then see the rapper perform it live and they're unable to keep up with the beat. It's because it's all been created a few bars at a time in the studio. It's a stop and pause situation," he explains. "This eliminates all the character, like, you can make it pitch perfect and not a breath out of place, but you sound like a robot. My whole thing is about it being new and fresh each time I perform a song, so the delivery will be different every time and have a unique edge. I'd say imperfections [in the studio] are what lead to perfection."

Recalling records such as Skinnyman's 'Council Estate of Mind', which boldly humanised the so-called 'scroungers' dehumanised by the media during the Blair years, 'Nothing Great About Britain' similarly gives a voice to the voiceless and shares that record's anti-pop tone. But the comparison that's perhaps most apt could be drawn with Mike Skinner of The Streets, slowthai's conversational rapping style sharing the same kind of colloquial wit and playful self-awareness. On The Streets' landmark 2004 album 'A Grand Don't Come For Free', Mike makes the mundanity of the every day - whether that's going to a shitty nightclub or stealing a tub of ice cream - somehow sound compelling. 'Nothing Great About Britain' also takes this idea of being bored in the UK, with nothing to do but shoot pigeons with an air rifle, and makes it sound like a thrill ride.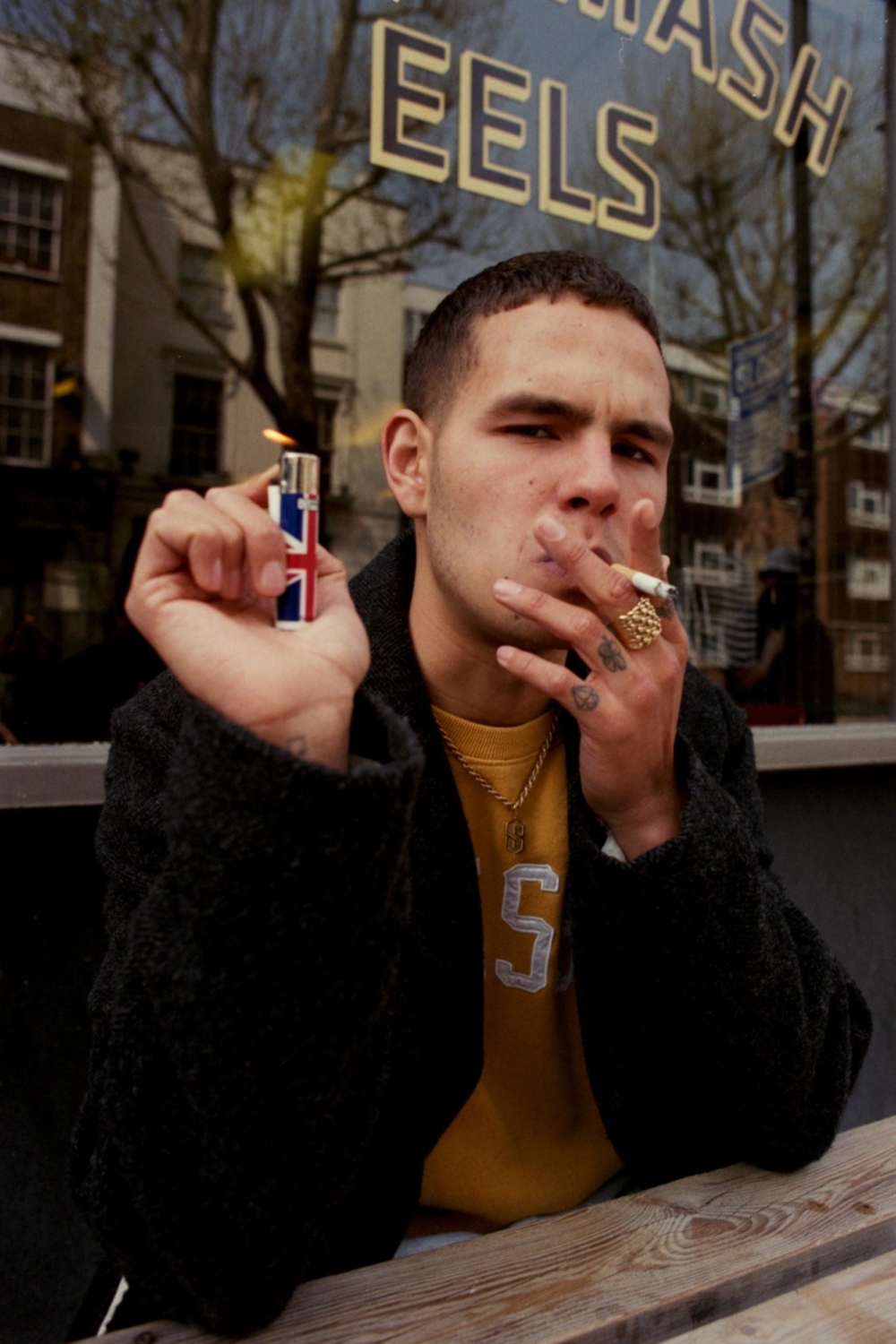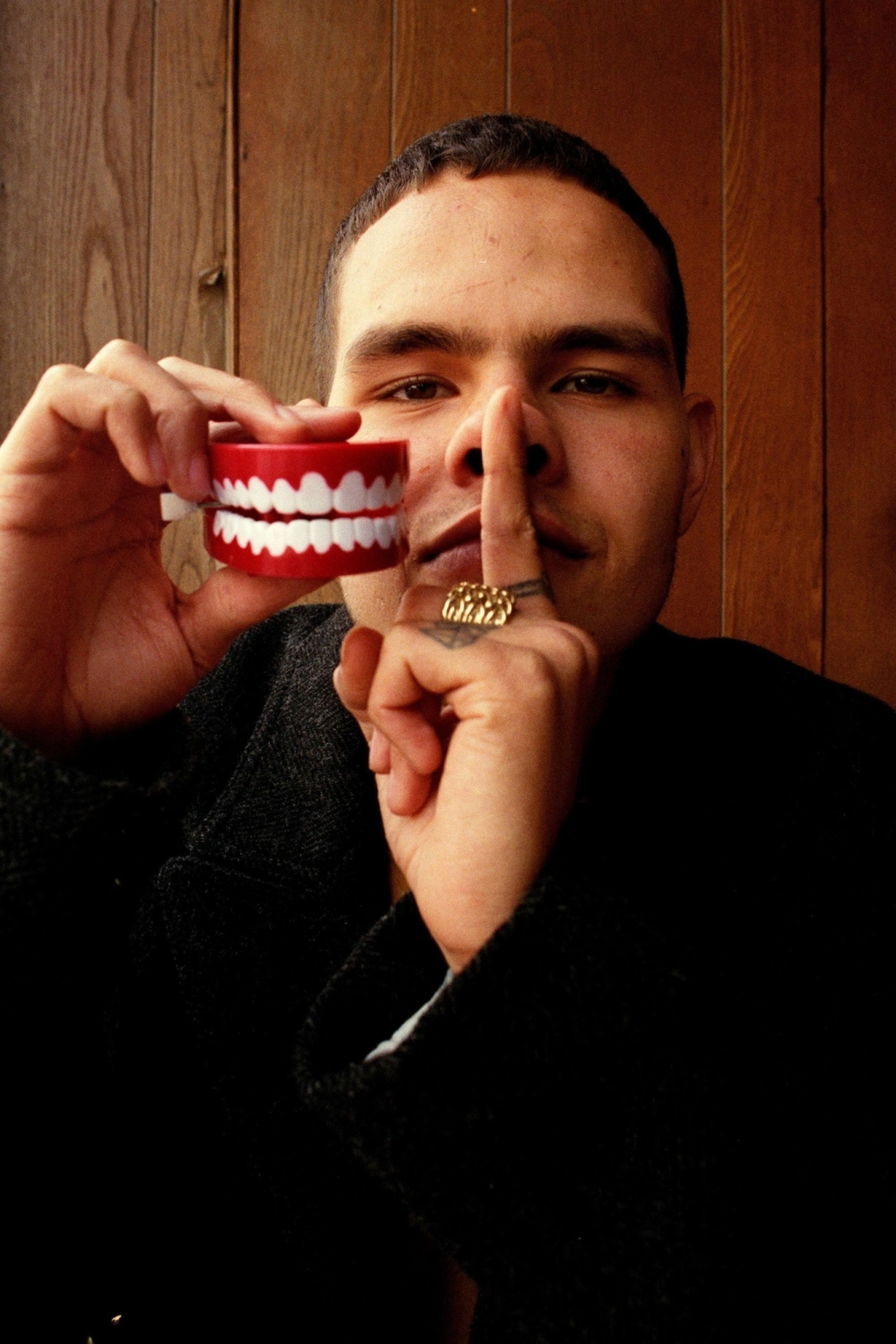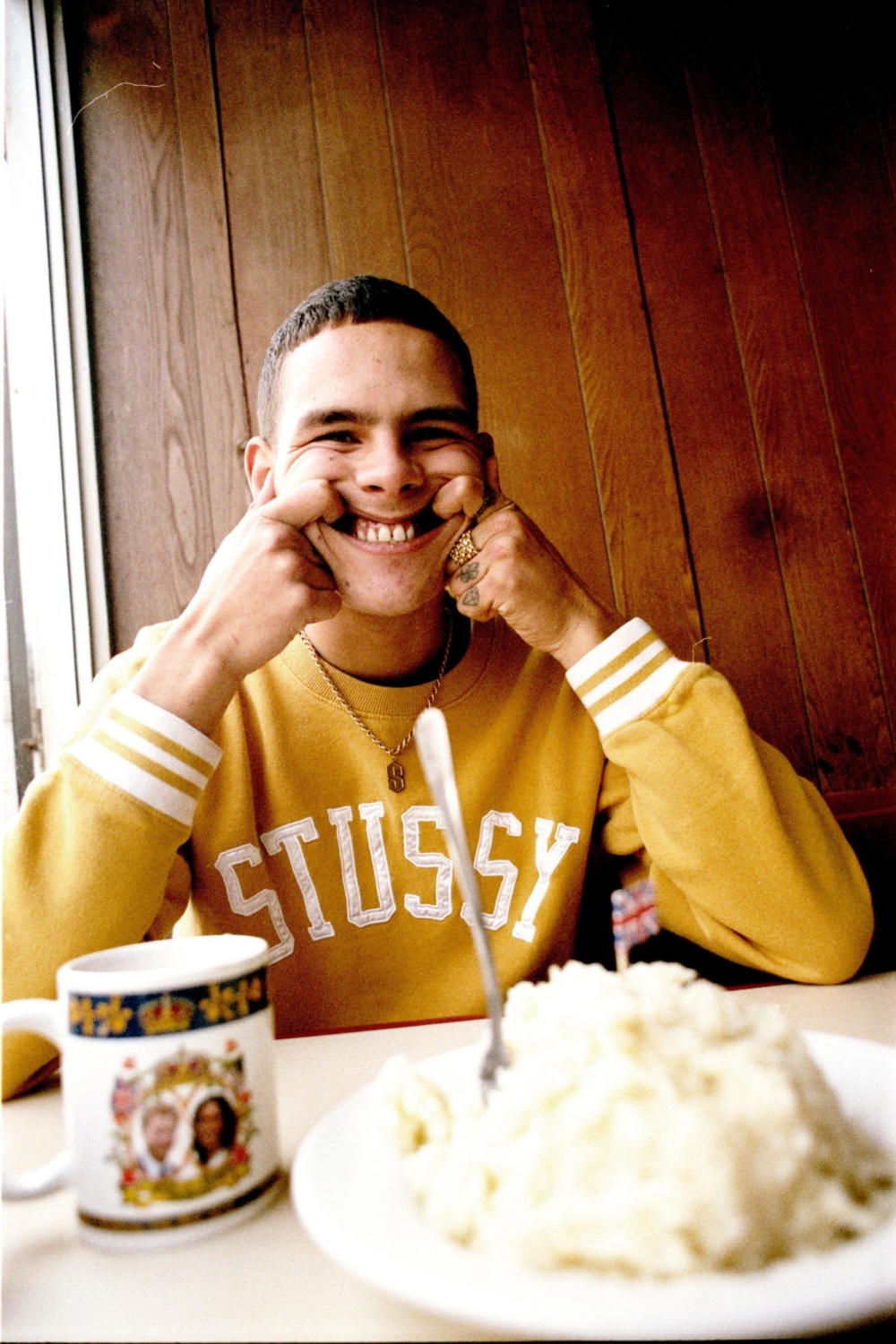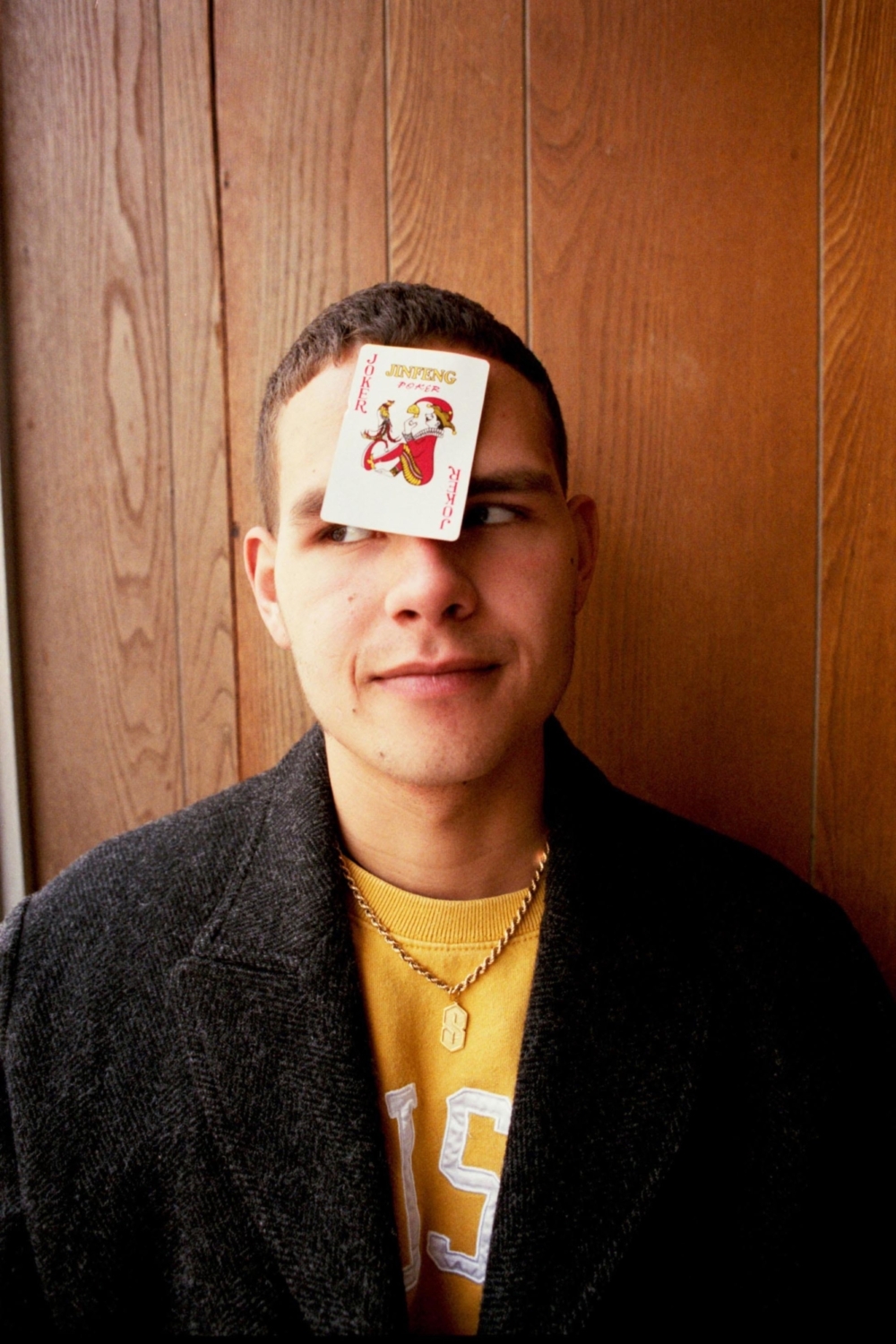 "
Sid Vicious is my spirit animal.
Slowthai, now teetering on the edge of genuine stardom, is starting to get noticed more and more in his daily life. Sometimes, as with today's autograph-hunters, it's in a giddy, innocent way. Sometimes, within his small circle of close pals, his newfound fame has slightly cheekier perks. "My boy might ask me to do an Instagram post to help him get with a girl, but I'm happy to help, to be honest," he giggles. However, slowthai claims the long-term aim isn't just to get famous, but to actually do things for his home town that leave a lasting legacy.

On new banger 'Grow Up', with its industrial electric buzz that bubbles under the surface, recalling Northampton's famous Sidewinder scene, he jokes about a 99p cone ice cream now costing £1.50. On the stirring 'The Bottom', meanwhile, he raps "I don't go to the dentist because I'm poor, blud". Throughout his lyrics, whether playful or more pertinent, there's this sense of the rising and, in a lot of cases, increasingly unmanageable cost of modern life and all its trappings, particularly if you're poor.

He says gentrification has already irrevocably changed Northampton with "a lot of the community-based buildings being replaced by a Starbucks or something shiny and middle class." He explains further: "They take away everything that you value growing up. They closed all the pubs on all the estates around my area, which were the only places anyone would congregate. A Freddo chocolate bar used to be like 10p; if I was a kid in 2019, I wouldn't be able to afford one. It's like £1 now!"

To address this worrying social backdrop, Slowthai wants to pump the money he makes from music back into his hometown so locals can once again feel a sense of community and working class kids can stay on the straight and narrow. "I want to do things that actually help kids. I want to open a boxing gym so inner-city kids can let out some of their energy. I also want to set up an initiative to help prisoners learn things so they can go on to teach kids when they're released and it helps with their rehabilitation," he says.

Lately, he's been reading up on the Windrush era, where thousands of people moved from the Caribbean to Britain, and trying to understand what might have inspired his great grandparents to move here from Barbados. He says the "false hope" they felt is something he wants to draw on with his debut album, particularly the idea that "the grass is greener on the other side, when it so rarely is" - a notion which also has obvious parallels to Britain's current status in the EU. Through his music and plans to help young people, slowthai says he wants to achieve things that might have inspired him five or six years ago to get out of bed and do something more productive with his life. He explains: "I want to do stuff for kids like me so they don't feel like they've got to go and sell drugs or be the next top boy on the estate. I want to show them there's more to life than that."


'Nothing Great About Britain' is out 17th May via Method.