Live Review
Surfbort, Crack Cloud, Pottery and more shine bright on Day One of The Great Escape 2019
Chai, The Murder Capital, Yak and a whole host of others descended on Brighton for the annual new band fest.
Day One of Brighton's yearly new band marathon The Great Escape, where the great and good of music's freshest hopes battle it out to win the buzz crown like an indie Hunger Games but with less violence and more lukewarm pints, and there's barely time to grab a battered sausage before the treats begin.
Over at The Haunt, Japan's self-professed 'neo-kawaii' (aka the new cute) ambassadors CHAI kick off the lunchtime show with a set that's the aural equivalent of eating 10 bags of Skittles at once. Decked in matching pink outfits and dishing out an excitable barrage of CSS-tinged dance-punk, they serve up choreography and mad bangers in equal measure, all interspersed with the kind of hyperactive, super-positive energy that's impossible not to fall for.

Marika Hackman follows them and, despite having a terrible time in terms of technical issues (which she amicably steers through like a pro), still manages to herald the start of phase three with gusto. If her debut set up the singer as a quiet folky, and 2017's 'I'm Not Your Man' upped the ante with significantly more riffs and sass, then her forthcoming third seems set to be the era when Marika goes fully bad-ass. Shredding her way through new material, and offering up recent assured bop 'I'm Not Where You Are', she's even dyed her hair darker as if to give a visual cue that this time around she's not shitting about.

Meanwhile, it's barely into the PM and Lady Bird have already turned it up to 11. "Both of my knobs have fallen off," singer Sam Cox complains - referring to his guitar rather than his personal effects - but the resultant buzzing only compliments the arsenal of sound. Drummer Joe Walker twirls drumsticks and thrashes at the kit while guitarist Alex Deadman prances about the stage during punk anthems like 'Shag Tally Tastic'. A Hammond organ-fuelled finale closes the rampant set as proud mates Slaves watch on.

"I can tell you guys are really into having fun!" yells Surfbort frontwoman Dani Miller as she climbs the rafters at the open air Jubilee Square stage. With a quiffed mullet, devil horned make-up and fluorescent yellow fingernails, she looks the ghastly part, fronting a troop of seasoned veterans of the US punk scene. Guitarist Alex Kilgore leaps about the stage like a child at a school disco, and he and the singer can barely conceal their enjoyment as the band tear through two-minute aneurysms of meat-and-bones punk rock. With the venue at full capacity the atmosphere is similarly jubilant, with cheers ringing out as Miller screeches "Fuck Donald Trump and all the shitty, evil people out there!"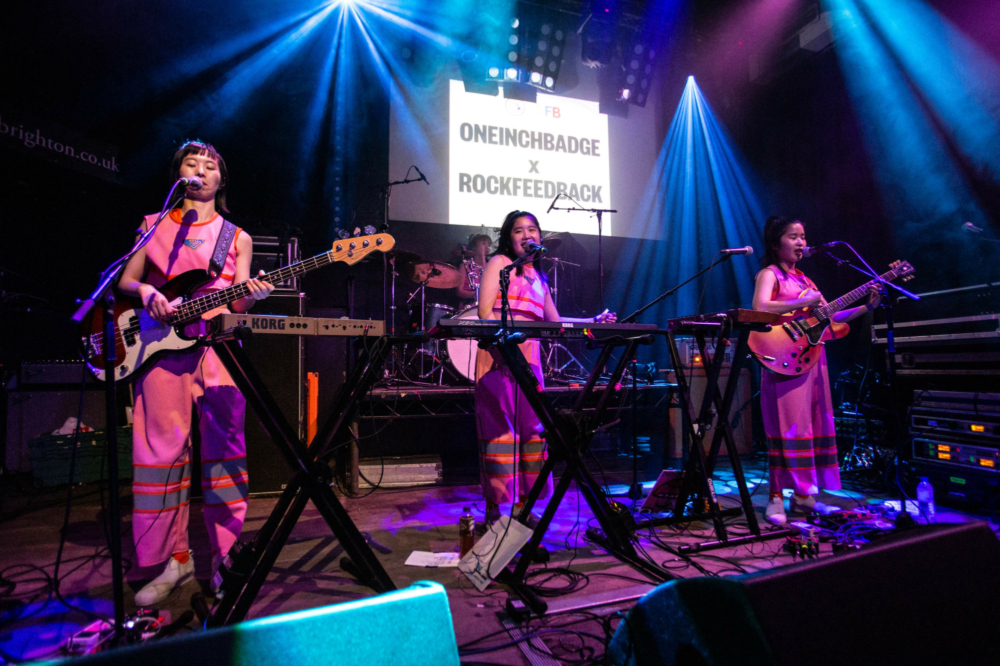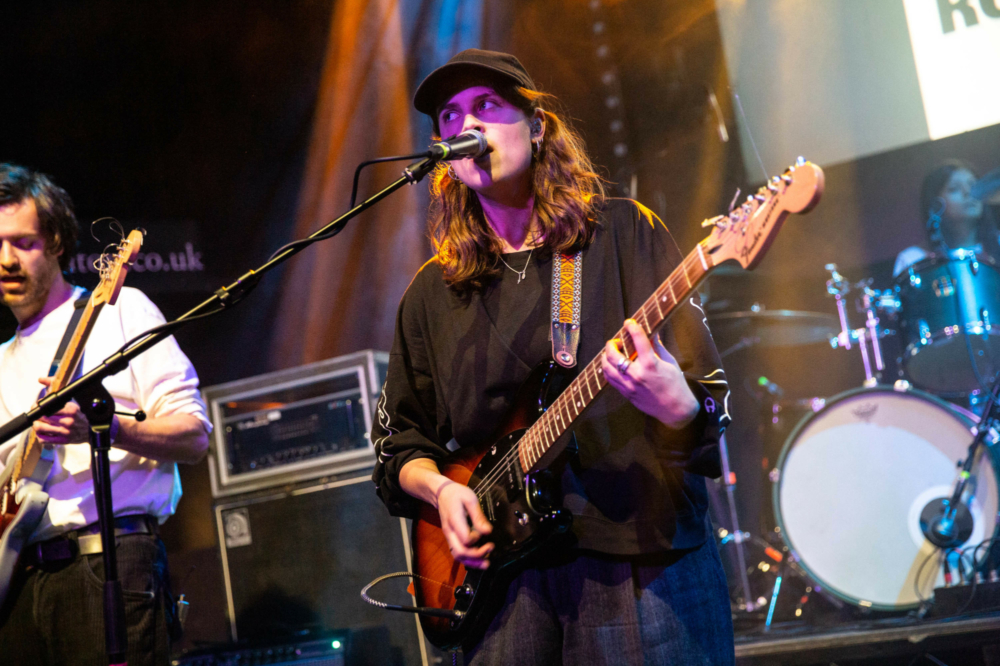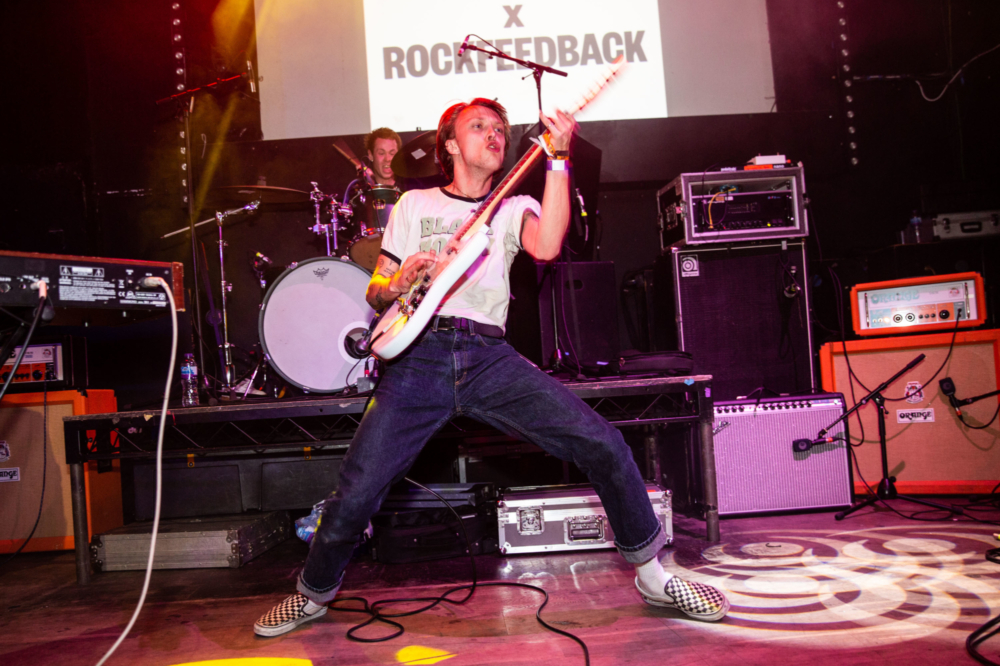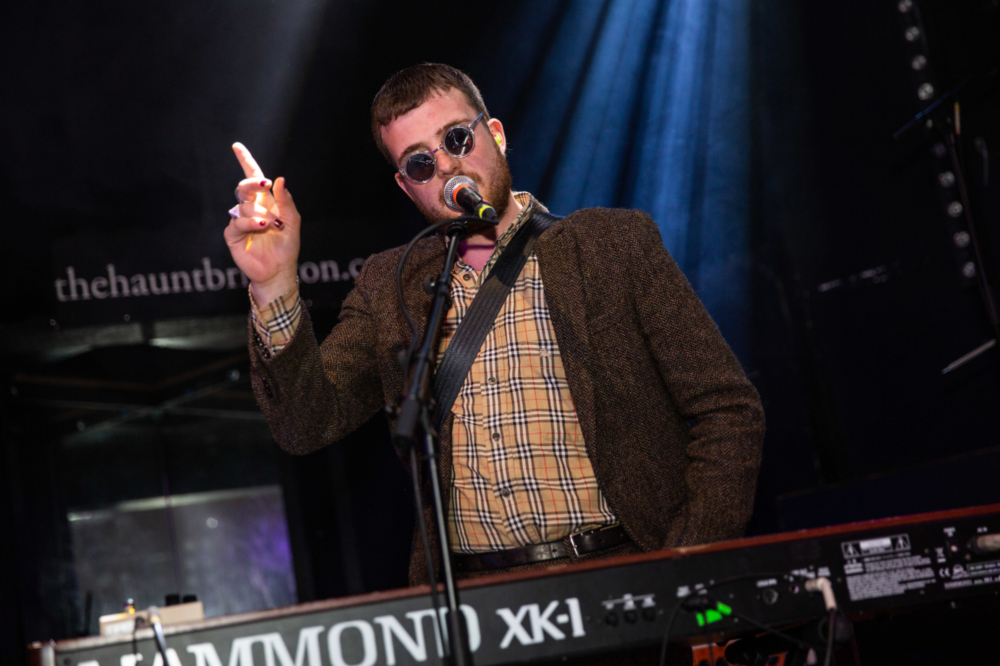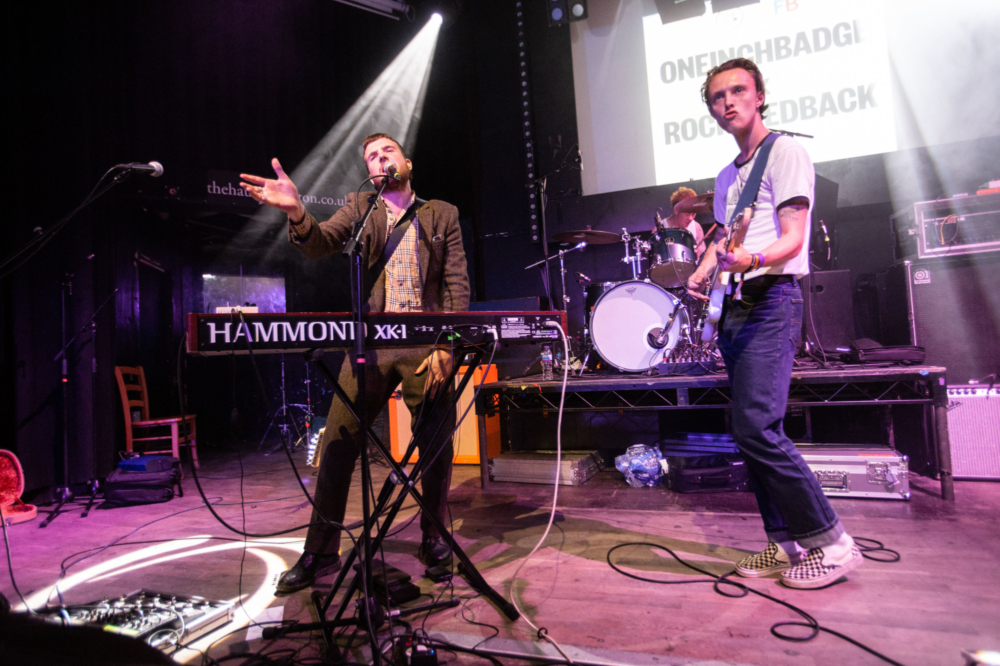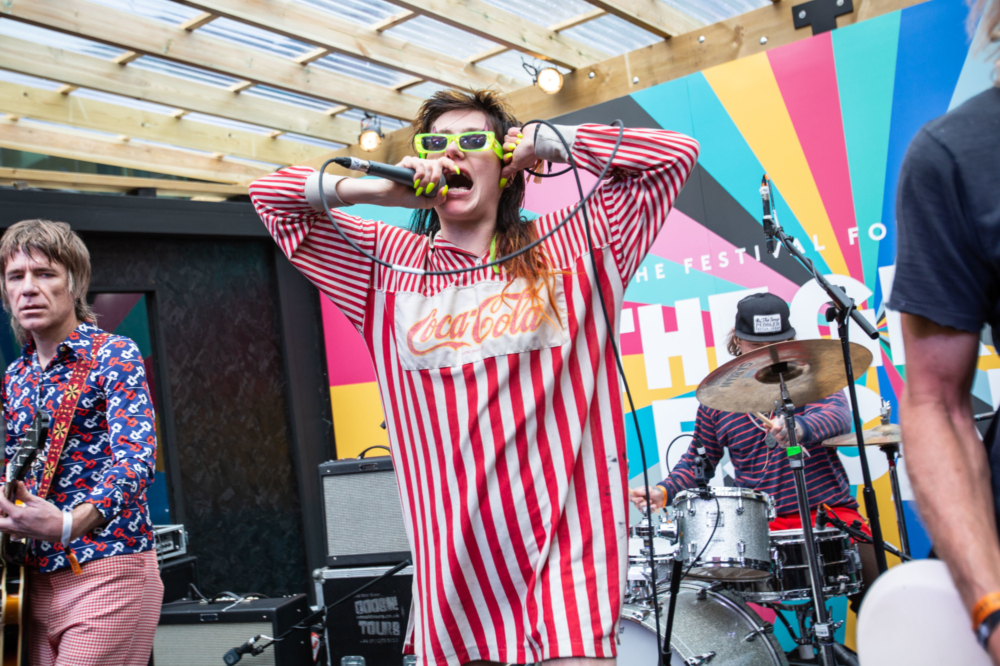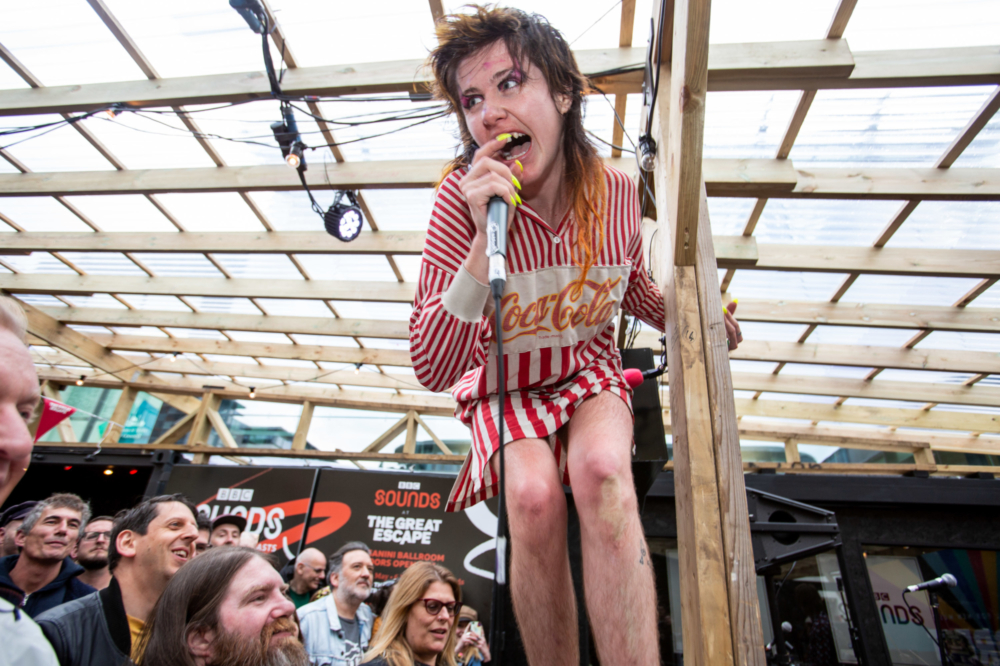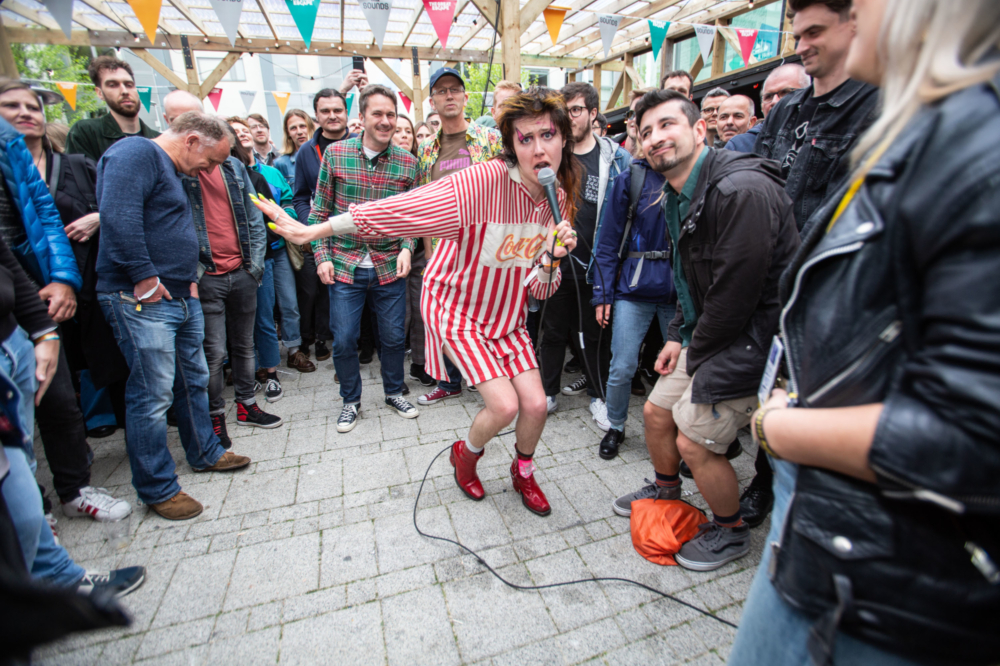 Over on DIY's stage at Horatio's, at the end of Brighton Pier, Australia's These New South Whales are an intriguing amalgamation. Starting off like a semi-skit, the group – stars of their own comedy TV show and with gaffa tape crosses adorning singer Jamie Timony's nipples – clearly have an element of Flight of the Conchords about them, but musically they're actually pretty damn tight: a slightly glammy punk prospect tight enough to succeed without just relying on humour.
Meanwhile Walt Disco, who follow them, are at their stylish best. Frontman James Potter sports a dangly earring, fishnet sleeves and a kilt as he channels both PiL's John Lydon and Echo and the Bunnymen's Ian McCulloch with powerful, warbling vocals. The rest of the Glasgow quintet look the part, too, mimicking classic 80s New Wave bands with moody black leather and wonky haircuts. The singer spends half his time in the crowd, snogging anyone that comes close to him, while their gothic glam racket ultimately climaxes as Potter joins drummer Calum Kennedy in beating the living shit out of the cymbals as guitars rage and synths whirr.
Canada's Crack Cloud are Horatio's' final climax of the evening, and live up to their top billing with ease. A seven-piece collective whose influences span decades and genres from post-punk to afrobeat, they're propulsive and taught, songs undulating with moments of blunt repetition and moments of chaos. It's a magnetic combo – a sentiment clearly echoed by members of Squid who sit on each others' shoulders, air-punching with glee.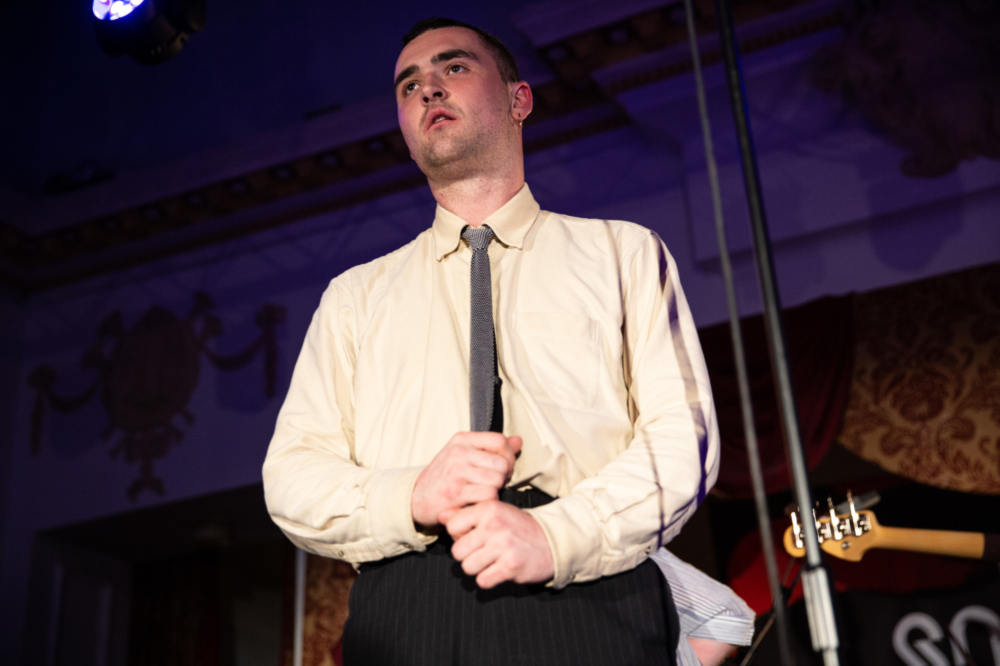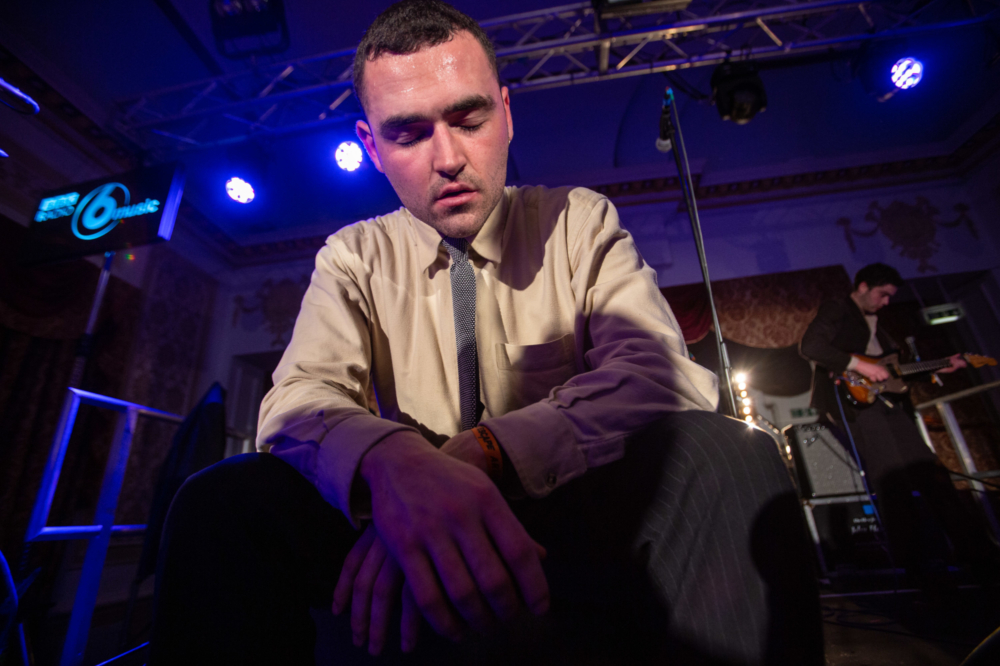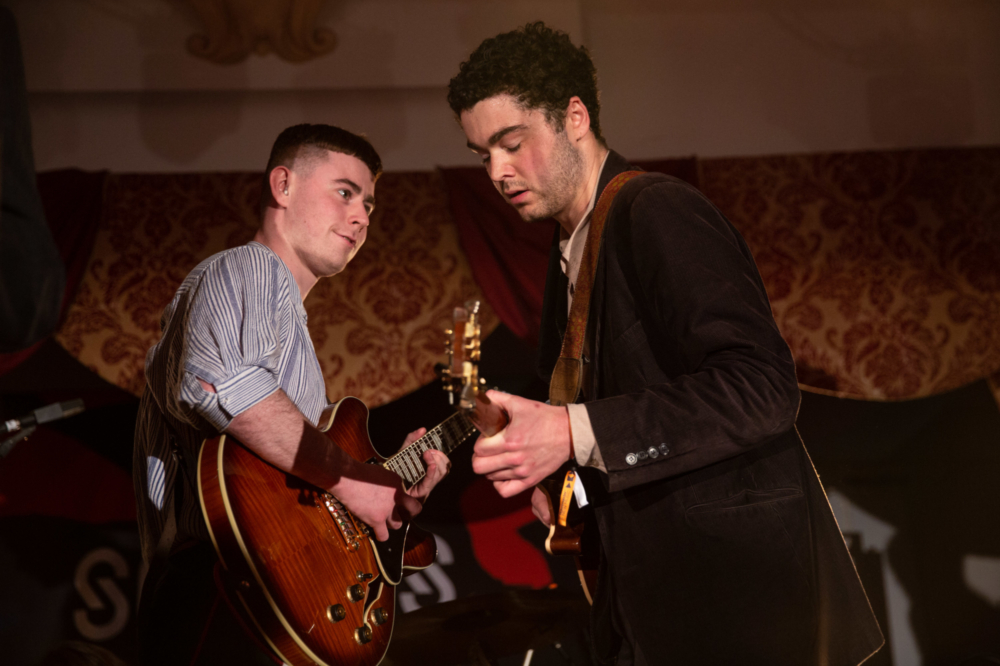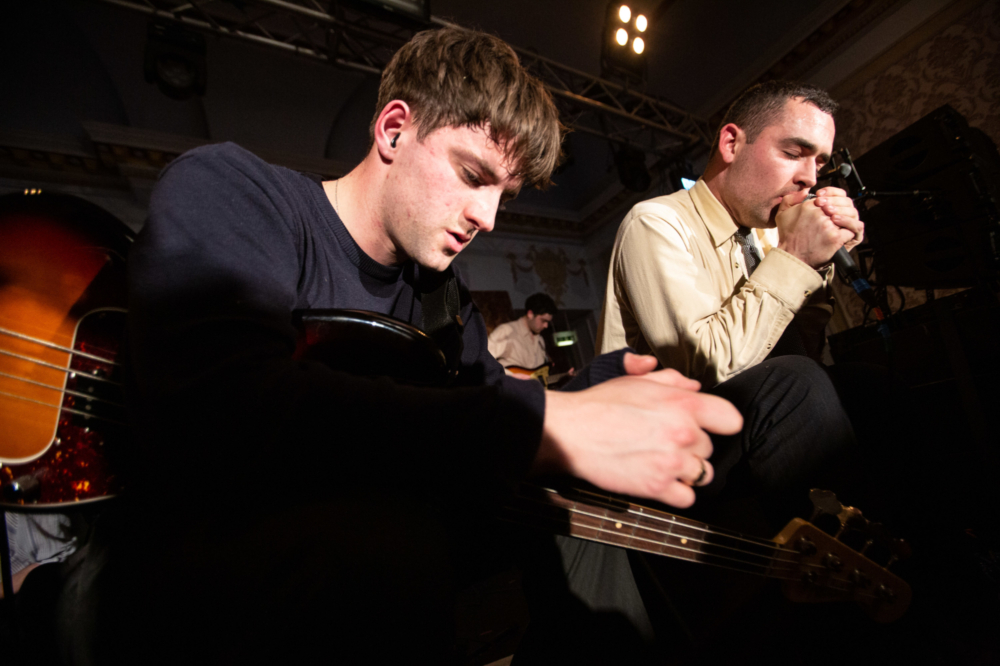 Over at the Paganini Ballroom - the spectacular 17th century meeting room of Brighton's oldest hotel, The Old Ship - The Murder Capital are causing a stir. Baritone-voiced frontman James McGovern graces the stage in a suit and tie, brandishing a tambourine as the band blitz and chug through tracks like 'Love Love Love' and 'Feeling Fades'. Waves of creaking feedback build a dark and fiery backdrop to his powerful lyrics, while the singer remains stone-faced and serious for the duration of the set. Towards its close, however, McGovern provides a tender moment as he touches on a personal loss and declares his gratitude for the friends he shares the stage with.
Steve Lamacq introduces Yak's live show tonight as the equivalent to "lying down in front of a moving vehicle", and he's not far off. With a motorik drumbeat and whirring bass licks, the trio embark on a rollercoaster ride of blistering psych-rock that doesn't let up. Frontman Oli Burslem chucks his battered Stratocaster up at the ballroom's giant glass chandelier at one point during the raging performance, but it's the dynamic new cuts from second album 'Pursuit of Momentary Happiness' that make the biggest impression tonight.
As midnight rolls around, Montreal's Pottery have the Komedia Bar at capacity, but for those that can squeeze in it's a jaw-dropping, free-wheeling ride that they embark on. At points, the quintet are like a modern-day Television, all choppy riffs and tight, springy rhythms; then, they delve into a deep funk odyssey, coloured lights dancing behind them as the band indulge in a joyous wig-out before emerging out the other side of the playful 'Lifeline Costume' in glorious synchronicity. It's tight and hedonistic simultaneously, from a band who've thrillingly only just begun.
The evening ends at Green Door Store with Russia's Shortparis – a hypnotic, industrial combination of Depeche Mode throbs and dramatic, flamboyant stagecraft, imbued with a flash of danger. These are songs to dance to, but ones that carry an aggressive streak, frontman Nikolay Komiagin's magnetic presence both inviting you in and then slamming the door. It's a suitably uncompromising end to a day brimming with big characters and ideas across the spectrum.

Get your copy of the latest issue