Album Review
slowthai - Nothing Great About Britain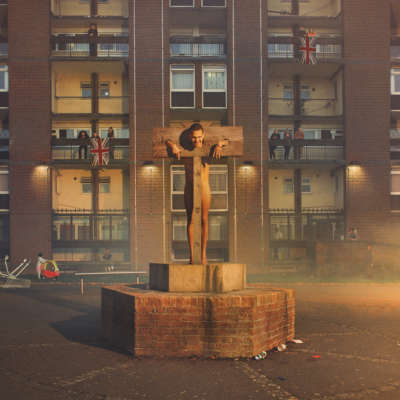 An icon in waiting.
Label: Method
Released: 17th May 2019
slowthai says he knew the title of his debut before he wrote a note of it. As such, 'Nothing Great About Britain' permeates everything about this fantastic first record from the soon-to-be-star that is Tyron Frampton. "Bottle of bucky in Buckingham Palace", he spits to open the album, and across its length, shots are fired at the monarchy, police and almost every national institution you can think of, all delivered with bags of personality and eloquence, packed with more iconic lines than you could mention. Oh and he calls the Queen a cunt.
All this feeling is transmitted via thumping instrumentals, from grubby, frantic punk ('Doorman') to minimal, foreboding strings and sharp beats ('Dead Leaves'), and epitomised on the album's stunning cover, which sees him naked in the stocks on a council estate draped in union flags. 'Nothing Great About Britain' is the clear message on the record, but though it fights against tradition and nationalism, it finds hope and solace in community and togetherness: there might just be something great about Britain, it's just not what we're brought up to think it is. slowthai is an icon in waiting.
More like this