Live Review
The Raconteurs, Electric Ballroom, London
22nd May 2019
Jack White is a prolific kinda guy: this much we know. Over the past ten years, he's carved out a solo career with three albums to date, released another three as part of the Alison Mosshart-featuring Dead Weather and continued to preach the vinyl cause as head honcho of Third Man Records. But while those projects have seen the iconic Detroit musician put barely a foot wrong sonically, they've not done a whole lot to change the stereotype of Jack, the mad eccentric. With The Dead Weather, he's the backbone of a group built on prowling rock'n'roll and nocturnal shimmies; with his solo output, his long-time tendency towards the precise, be it in colour-scheme or the consistent, omnipotent use of the number '3', has only heightened. It's all brilliant, and full of artistic merit, but he's never exactly been the kind of person you'd want to go down the pub for a pint with.
With The Raconteurs – the group he formed alongside the altogether sunnier Brendan Benson, Jack Lawrence and Patrick Keeler back in the mid-'00s – however, there was always something akin to approachability within the band, and it's Fun Jack that arrives at Camden's Electric Ballroom tonight. Heading to the venue for their first gig on UK soil since 2008, the show is technically a warm-up for Saturday, where they'll play main support to The Strokes at All Points East, but it's also an intimate, thrilling re-introduction to a band who many assumed would never necessarily return. The venue, sweaty at the best of times, is more than sold out – bodies jammed right to the back at the bar; there's a buzz in the air that only comes ahead of a real 'moment'.
And if the rammed audience are clearly rapt from the second the band walk out, backed by rows of glowing orange bulbs, then The Raconteurs themselves – bolstered live by Queens of the Stone Age and The Dead Weather's Dean Fertita - look like they're having a ball. There's an easy camaraderie between the two frontmen, Jack regularly crossing the stage to his pal to share a moment, while tonight, the singer has swapped the suits and military jackets of his recent solo tour for a simple black get-up, an intermittent Flying V guitar and a perma-grin throughout. It all feels relaxed and positive, the warmer stylings of Brendan counteracting the wilder moments of his bandmate.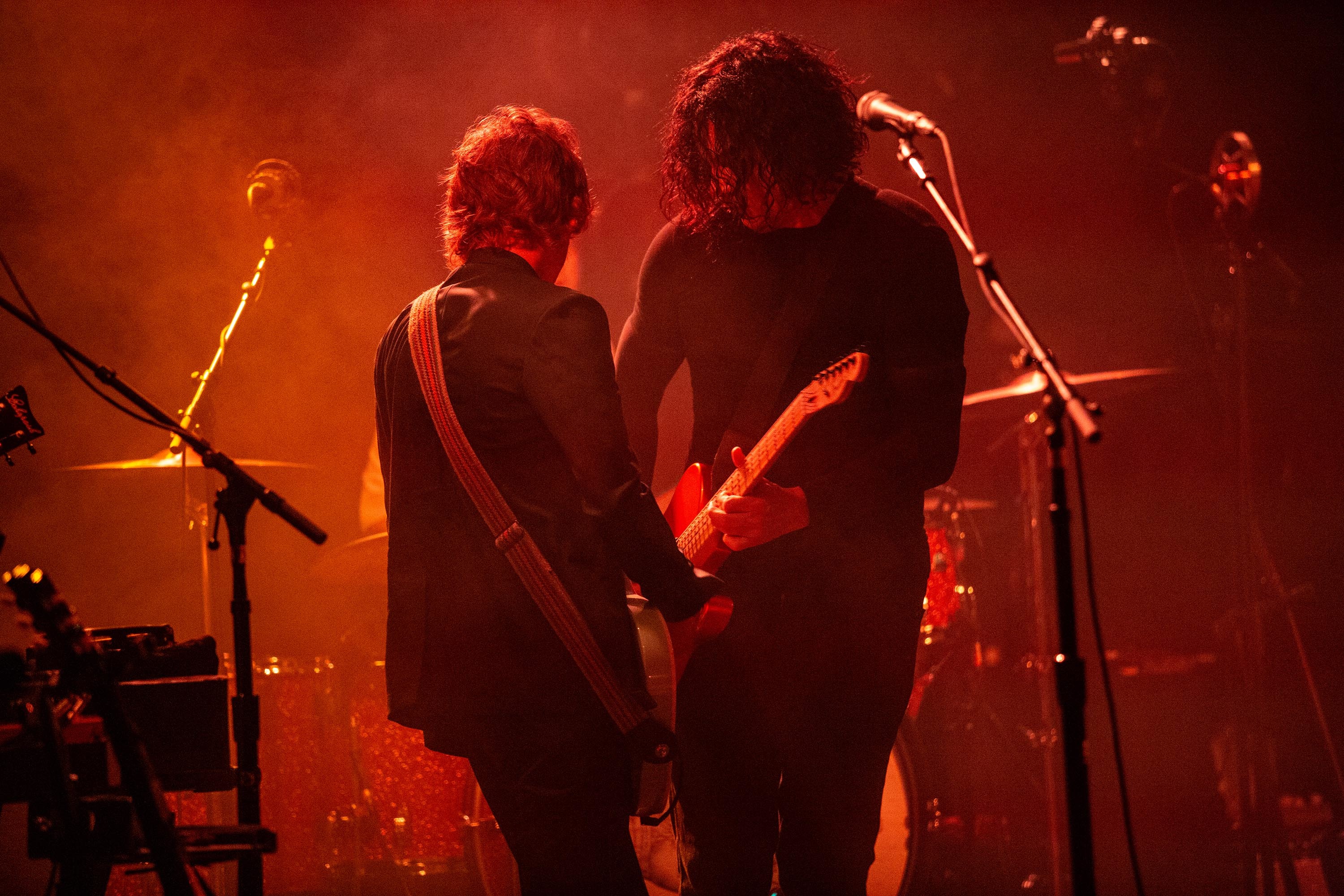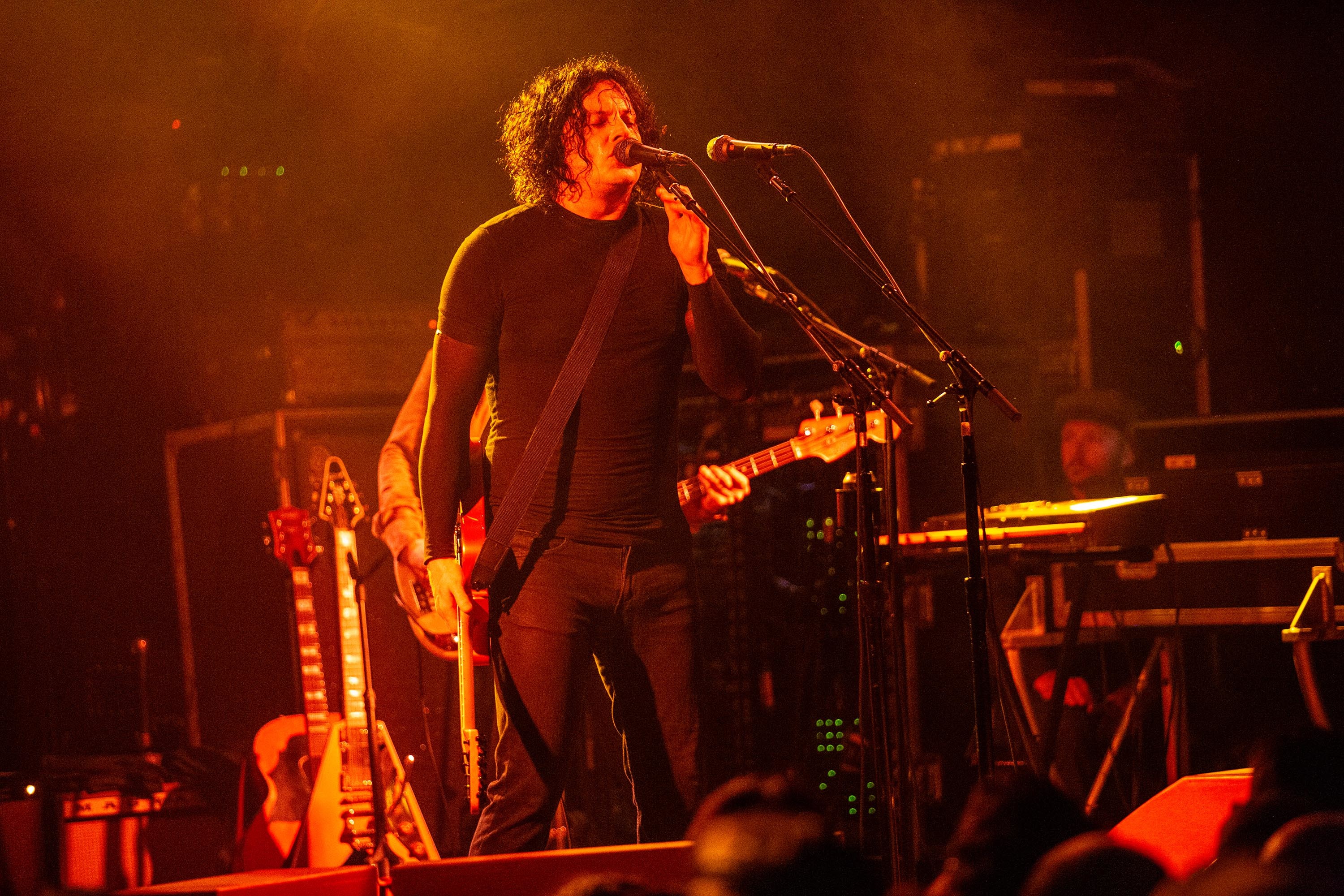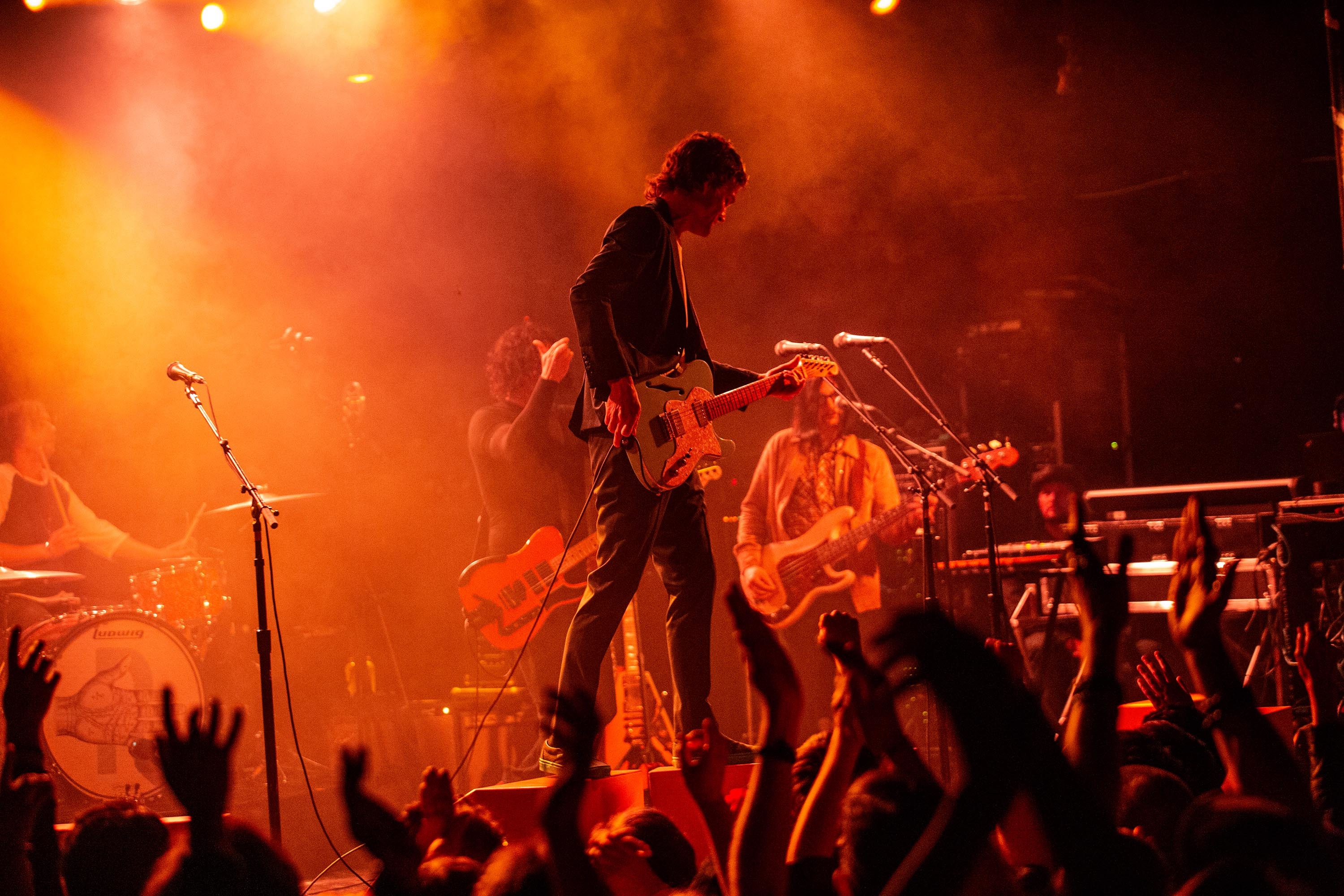 With new album 'Help Us Stranger' not long away, the evening understandably leans heavily on new material. Playing two-thirds of the record, they weave the soaring stadium stomp of 'Bored And Razed' and the fuzzy kiss-off of 'Live A Lie' into greedily sung-back fan favourites, and if it's a bold move to load a comeback show with more than 50% fresh material, then it's to the credit of these tracks that, even without the luxury of familiarity, they still rip hard. 'Don't Bother Me' is a classic Jack wild-eyed rant, the singer's singular voice sounding as feral and inimitable as ever, while 'Only Child' finds Brendan bringing in a sweeter side with an unexpected melodic punch of a bridge; the beauty of the band has always been in the duality of its two singers and their songwriting styles, and it seems a decade hasn't dampened the joy of seeing them weave together.
When they serve up the old call-and-response slink of 'Level' and the hedonistic romp of 'Salute Your Solution', it's as though they've never been gone. When they bring 'Steady As She Goes' out for an encore, meanwhile, it's a treat to see the staple of Jack's solo shows once again put into its original context. If there's a gripe about tonight it's that, after such a long time out of the game, the quartet don't pay a huge concession to the songs that made them first time around. There are notable omissions – specifically early single 'Broken Boy Soldiers' – that really should be given an outing here, especially as they bow out with a cover. But if the only problem with a show is that it ends too soon, then you're probably onto something. A decade after they last played, The Raconteurs' return to the city proves there's still a more than worthy space for them.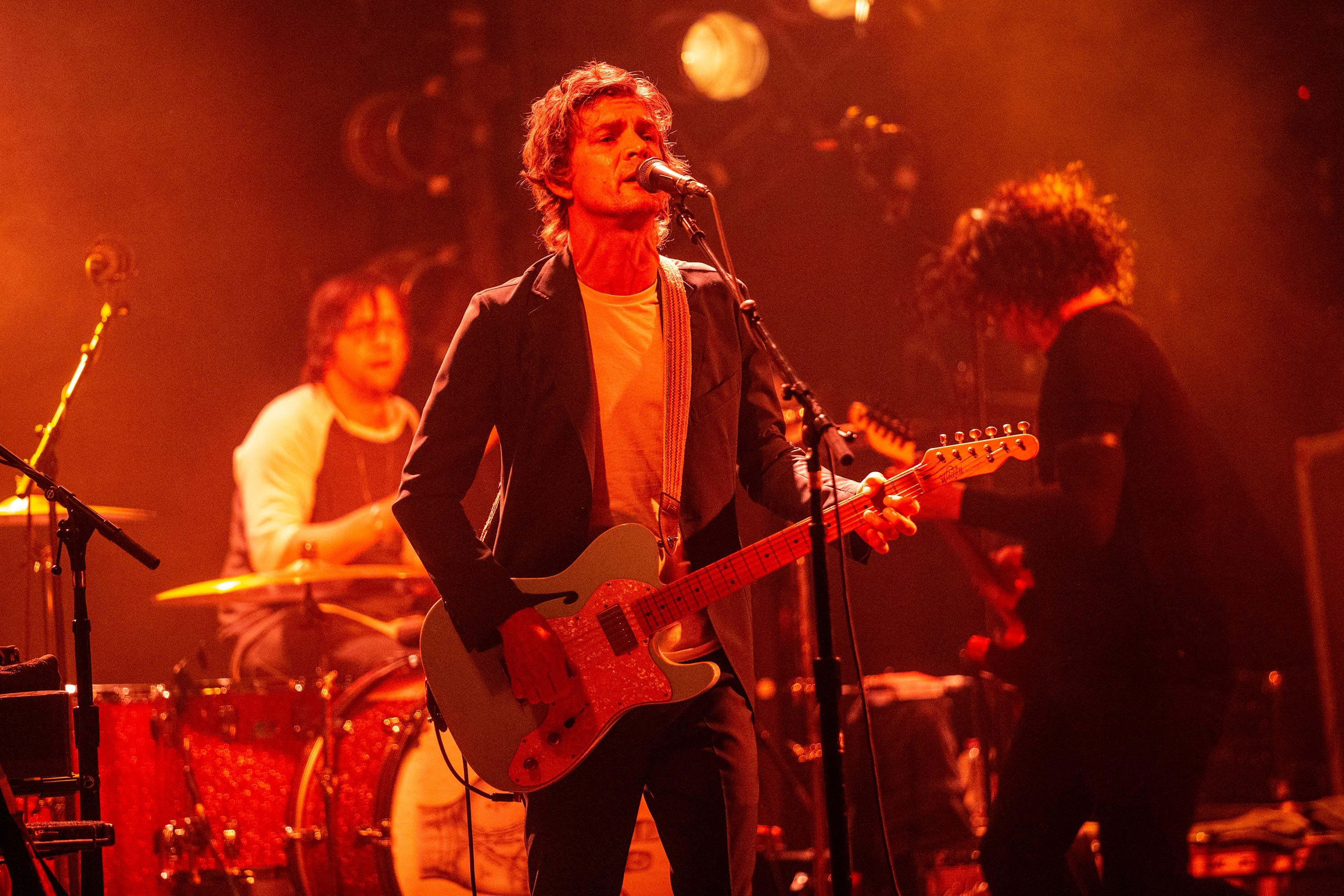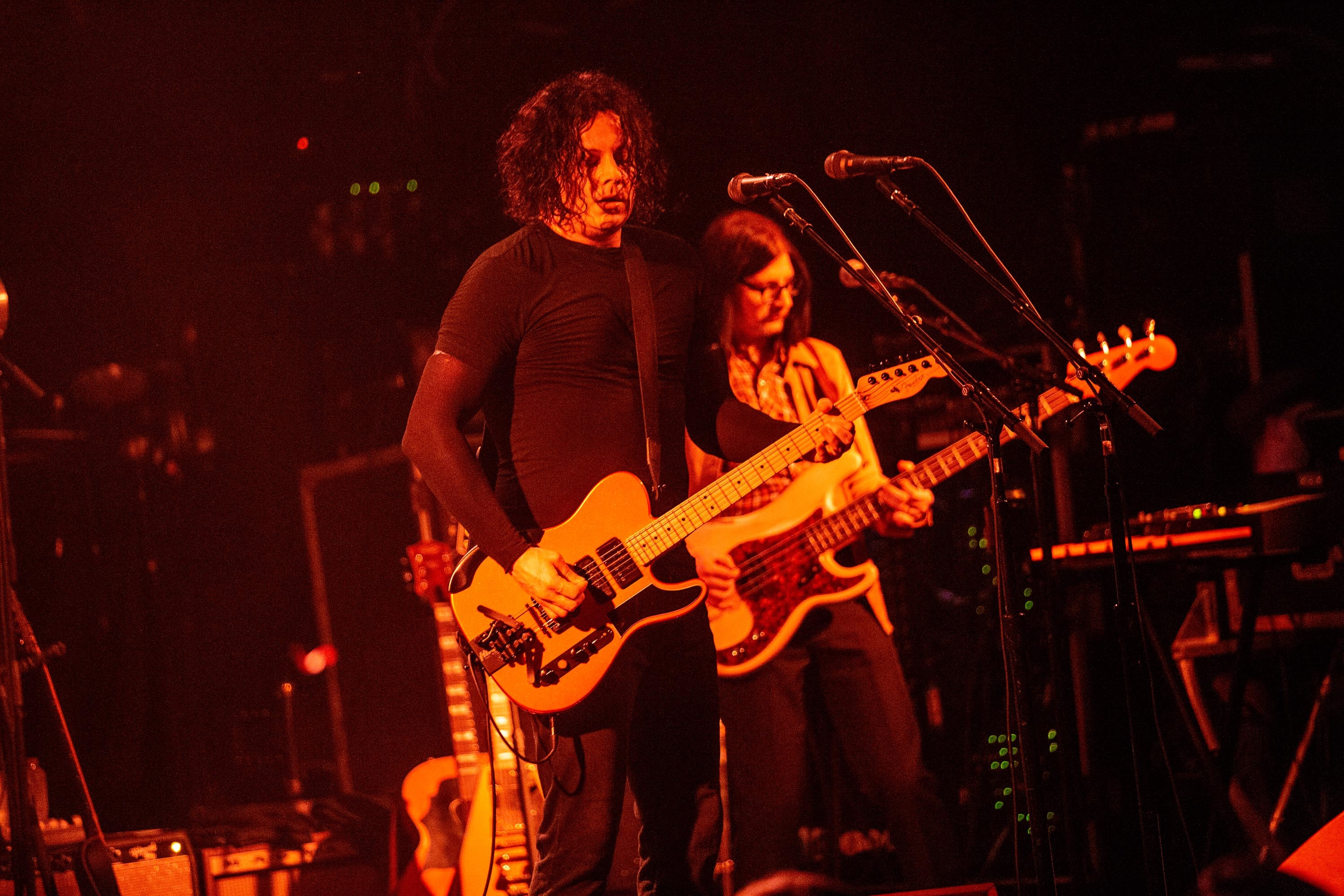 WE'VE GOT A FAVOUR TO ASK
We're often asked about you, our readers. So we'd really appreciate it if you'd offer up a bit of information about you, and your music-loving habits by filling in our 2019 readers' survey.
Click here to reach the 2019 DIY readers' survey.
(Don't worry, none of what we're asking for is personally identifiable - and no questions are compulsory.)