Album Review
Flying Lotus - Flamagra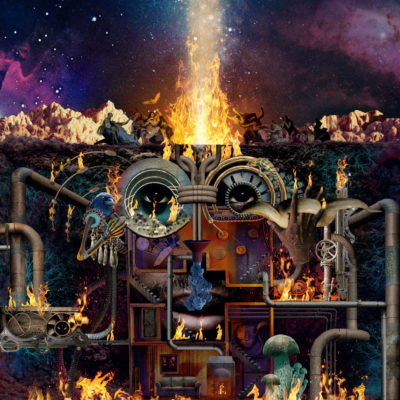 A headspin of a record, like going on an acid-fuelled stunt plane ride.
Released: 24th May 2019
Label: Warp
'Flamagra' is a whopper of an album that spans the course of a delirious hour. Where Flying Lotus' previous record 'You're Dead!' was a concise collection of cosmic jazz, 'Flamagra' is a beguiling tapestry of everything he has ever created.
The opening sequence of tracks takes in jazz, hip hop and acid-fried elevator music, and then ends with a thumping cameo from Anderson .Paak on 'More'. From there things continue to take a turn for the weird: funk overlord George Clinton steps up for a trippy verse intoning "the fire won't stop burning" on 'Burning Down The House'. This is all before a haunting bit of spoken word from your boyfriend's favourite film director, David Lynch.
If this sounds like a lot, then that's because it is. 'Flamagra' is a headspin of a record, like going on an acid-fuelled stunt plane ride. It is a deliciously weird album that demands it be met on its own terms for better or for worse. Some tracks become bogged down in their own bizarre tendencies, such as 'Yellow Belly ft. Tierra Whack' but, thankfully, FlyLo usually pulls it back.
On thing that is clear in all this is is that Flying Lotus is a master of collaboration. Solange puts in a mesmeric contribution on 'Land of Honey', Denzel Curry delivers a career best verse on 'Black Balloons Reprise' and Thundercat shreds over nearly the entire record.
'Flamagra' is potentially the most eclectic musical trip of 2019. It is an album that combines all elements of Flying Lotus storied career into one very bonkers universe. It is well worth the price of admission if the listener is willing to hang on throughout all the twists and turns.
More like this