Cover Feature
Daddy issues: Vampire Weekend
With 'Father of the Bride', Vampire Weekend have returned from a six-year break refreshed, and more creatively dextrous than ever. As Ezra Koenig explains, it was a much-needed expansion.
It's a cripplingly early Saturday morning in North London's affluent Islington, and there's already a queue around the town hall. This isn't a mad rush to the voting booth, though, it's a Vampire Weekend show - the second in an intimate run of gigs marking the band's first return to London in more than half a decade. Perhaps the stand selling flat whites at the door gave it away.
On stage bang on 9AM, the band work as a warming wake-up call to their bleary-eyed devotees. Frontman Ezra Koenig's all smiles, while the rest of the group - completed by bassist Chris Baio and drummer Chris Tomson - stretch each song out to almost comical proportions, throwing in guitar solos, Grateful Dead-like jam sessions, and a three-times-in-a-row run-through of breakout single 'A-Punk'. They might not be the first band to play a gig in the morning, but the wholesome gang are certainly the most befitting.
If a hangover-shifting AM gig sounds like something of a switch-up, however, that's likely music to Ezra's ears. Long-awaited fourth album 'Father Of The Bride' is a deliberate tonal shift for Vampire Weekend in many ways - an attempt to break out of the box that the frontman saw himself building around the band as their first three records came together. Rich with instrumentation and boasting a variety of styles, feelings and stories to tell, it's an 18-track odyssey that feels a world away from where they last left off with 2013's brooding 'Modern Vampires Of The City'.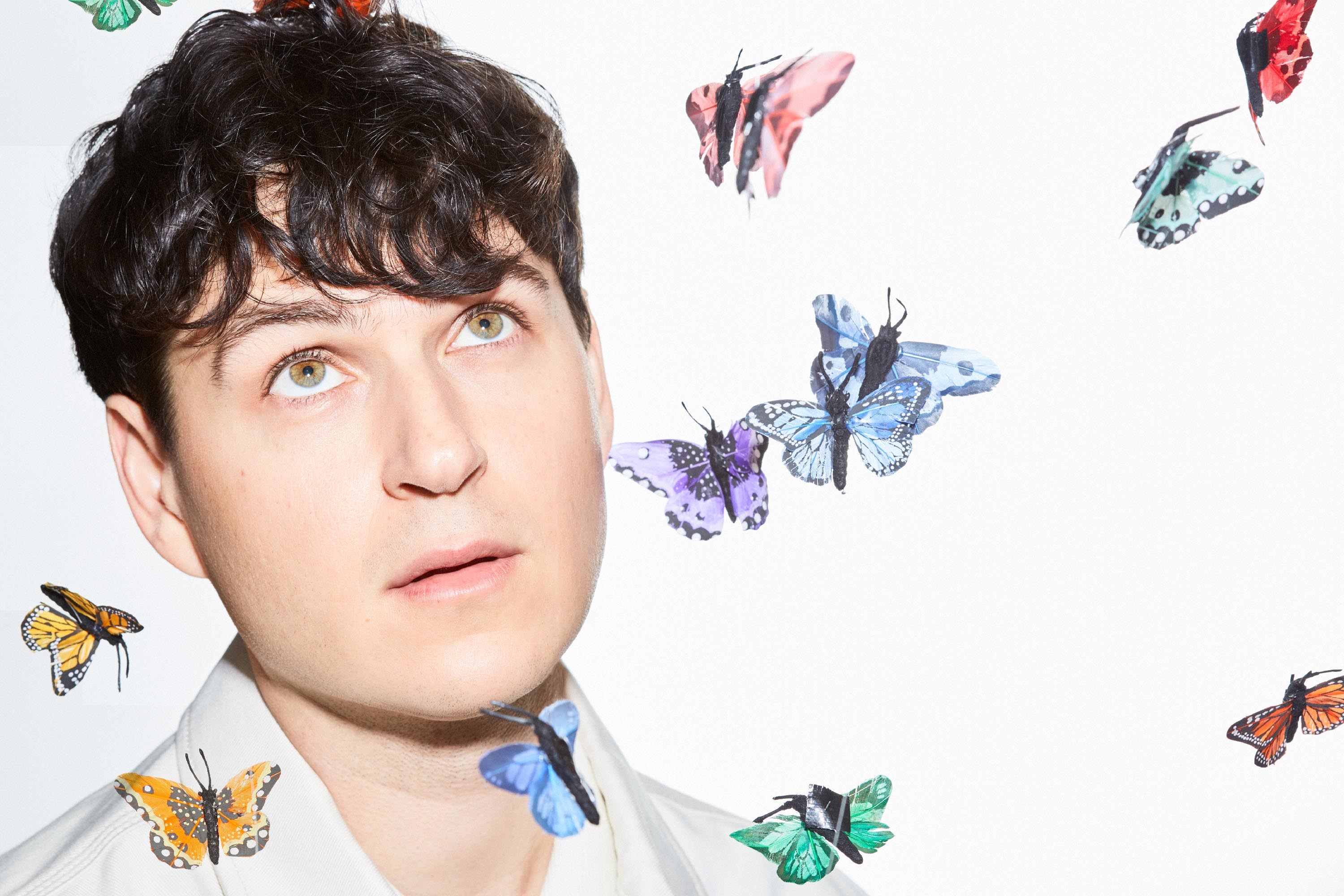 "I needed to take time off to go back to not feeling like a professional musician, but feeling like a person who has an interest in music."
— Ezra Koenig
"As much as, in my twenties, I saw the world, experienced new things and met new people, there was also a mental thing happening where the way I thought and the things I thought about got smaller, and smaller, and more intense," Ezra explains now. He's holed up in a fancy hotel in the city a few days before that early morning show, clad in socks and sandals; they'll soon become a meme among the VW fanbase, before then becoming this season's go-to summer style. Always ahead of the curve.
Ezra recalls a depression that followed him around the making of that third album. "I think at that moment I definitely felt a little - and I think a lot of people probably feel this in their late 20s - a sense of dread, a sense of the walls closing in, a sense of unease or discomfort about the way things were heading," he recalls. "I remember being unsure if I really wanted to make an album. Being unsure if this career which has certainly brought me joy, but has [also] brought me a lot of stress and anxiety, was something I wanted to really lock into." It all fed into a record which felt encumbered by dread; their most emotionally direct album to date, 'Modern Vampires…' stripped back the sunny-day sheen of their early, collegiate years in favour of something tenser with a less obvious light at the end of the tunnel. "It was the end of the beginning. The twenties are the end of youth in some ways…" He pauses and chuckles. "Although I feel like a lot of people now extend youth into their forties..."
For a band who, in their earliest incarnation with the spirited stomp of breakout songs like 'A-Punk' leading the way, had been pinned as something fun-filled and frivolous, it seemed like a bold move. For Ezra and co, though, it was a progression that felt necessary. "The first Vampire Weekend album, while I think there is some darkness in it, I think it came across as very youthful, and fun, and playful," Ezra admits. "Even some people who liked it saw it as a novelty - just young college kids or whatever. There's a lot of reasons why the second album has some legitimate ballads - 'Contra', 'Taxi Cab' - and the third album directly approaches heavy themes; it's not always hidden behind… whimsy."
It was a typical trajectory - that of the moody, 'grown-up' evolution - that Ezra refused to let continue. "You go from a chandelier at a party [on the artwork for their self-titled debut] to a black-and-white smoggy New York City [on 'Modern Vampires…'] - what's next?" he posits. "Metallica's 'The Black Album', and just songs about atrocities?!"
Life In Film
Ezra takes us through the star-studded video for album highlight 'This Life' - and that Mark Ronson-helmed feast.
"We ended up shooting it in Palm Springs on the second weekend of Coachella, and it turns out the second weekend of Coachella was the Jewish holiday Passover, and it was also Easter - that doesn't always happen. Someone was like, 'Oh, on Easter Sunday, Kanye's doing a Sunday Service - maybe you should do a Passover Seder on the Saturday!' We ended up having this beautiful scene in the video that's a Seder, and a bunch of people sit around, and we had Mark Ronson be in charge of the Seder [as you do - Ed]. And he looks really good in a kippah."
Enter: the double album. 'Father Of The Bride' clocks in at a mammoth 18 tracks (though he initially wanted a nice round 20, Ezra trimmed two at the last minute to keep it under an hour), the record hopping between styles, stories and voices with spirited abandon. Previously hemmed in by his own artistic path, he saw the bumper-sized record as a way to stretch his creative muscles again. "It meant not throwing away some of those colours and feelings of the last album, because that wouldn't be right, but also leaving room [where] you could have the heavy next to the light, the serious next to the stupid, and even lyrically, the pretentious next to the truly simple, borderline goofy." As he saw his options shrinking, an 18-song epic quickly became a way to open things up once more.
Away from the band, too, the singer began to explore other avenues. A Netflix anime series, Neo Yokio, allowed him to delve deeper into visual work, while a celebrated radio show, Time Crisis With Ezra Koenig, added another audio string to his bow. Musically, his name began to pop up in some perhaps unlikely places, too. Writing credits on Beyoncé's world-beating 'Lemonade' and alongside Lily Allen on the singer's recent LP 'No Shame' grabbed headlines, allowing Ezra to write for other voices but also prompting more questions about Vampire Weekend's own future. As the years crept on, that six-year gap between records began to fill some with fear. Time and time again, however, the singer would pop up on social media to attempt to quash any rumours; the record, then jokingly-titled 'Mitsubishi Macchiato', was definitely coming, he promised.
"To give the full context, I've considered ending the band after every album," he says with a knowing smile. "I know that sounds so dramatic, but I've found that it's not uncommon, talking to other people. If you're really working on something and you're striving to make it great, and you're really trying not just to release another album, but to release something that feels like a step forward, and it's right for you in your life right now, but also ties back to the old material… That's a very complicated thing to do, and it's the type of task that makes you want to quit, all the time."
Recalling those extra-curricular activities now, he's slightly self-flagellating. "There was also just a lot of hanging out, too!" he smiles. "I talk to a lot of people who are like, 'You've been busy!' And I feel guilty. The cartoon took a year, the radio show is four hours a month, and the writing I did for Beyoncé and Lily Allen all happened in… a couple of days," he adds with a laugh. The real benefit of that time away, he explains, was to reset his anxieties about where he was heading: "I needed to take time off to go back to not worrying about life - not feeling like a professional musician, but feeling like a person who has an interest in music."
'Father Of The Bride' certainly sounds like the work of someone with a renewed faith in their craft. Jumping from be-bopping scat intros ('Sunflower') and flamenco ('Sympathy'), to more brooding numbers like 'My Mistake', it's a creative kaleidoscope, never dwelling on one style, mood or subject for too long. Heading into the record, Ezra sought to expand his band's palette; clearly, he succeeded.
"One person will come up to me and be like, 'Oh, this album is so happy!'. And then another person will come up and say, 'This album's so sad and dark'," he laughs. "There's a part of me that's also kind of like, these are superficial ways to describe an album. I've never made an album that I think has a monochromatic emotion."
The double-album is something of a boon for an artist like Ezra, whose career-long devotion to the format has come, he admits, at a time where every industry bod around him has been trying to tell him the long-player is 'dying'. "It is funny, in the current moment we live in," he shrugs. "At the end of the day, [it's] the mode of expression that I'm most interested in, more than social media, more than live performance, more than music videos - which are all things that I do enjoy! But the true mode of expression that I fell in love with - and every year it's more clear that it's the love of my life - is making albums. Vampire Weekend's been told since we started that the album was on death's door, and I've heard it enough that I don't believe it anymore."
What's more, the longer format allowed Ezra to deepen his dearest-held connection - that he holds with the fans who've "grown up alongside" he and his bandmates. "I don't know if we've ever had a true crossover song," he shrugs. "A lot of people know 'A-Punk'; a lot of people know the name of the band. But we don't have one defining hit or anything. So I had this feeling that, with every album, you're gonna win a few people over and you're gonna lose a few people. When you get to that fourth album, with the people who truly appreciate each [one], you're building a connection that's a little bit deeper than just the ups and downs of commercial success.
"When other people connect with your albums, they do feel almost like friends. One thing that's not necessarily important to me is winning over people. There was a while where I really stressed out everyone I worked with by saying, 'OK, Vampire Weekend needs to get smaller'," he says with a cackle. "I really like this feeling that we grew up with people. That's the most gratifying feeling I ever get. That's about as connected as you can ever feel with a fan - not just someone who got obsessed with you in a brief moment, but somebody who treats you like a human being, and recognises your humanity as you grew up, because they grew up alongside you too."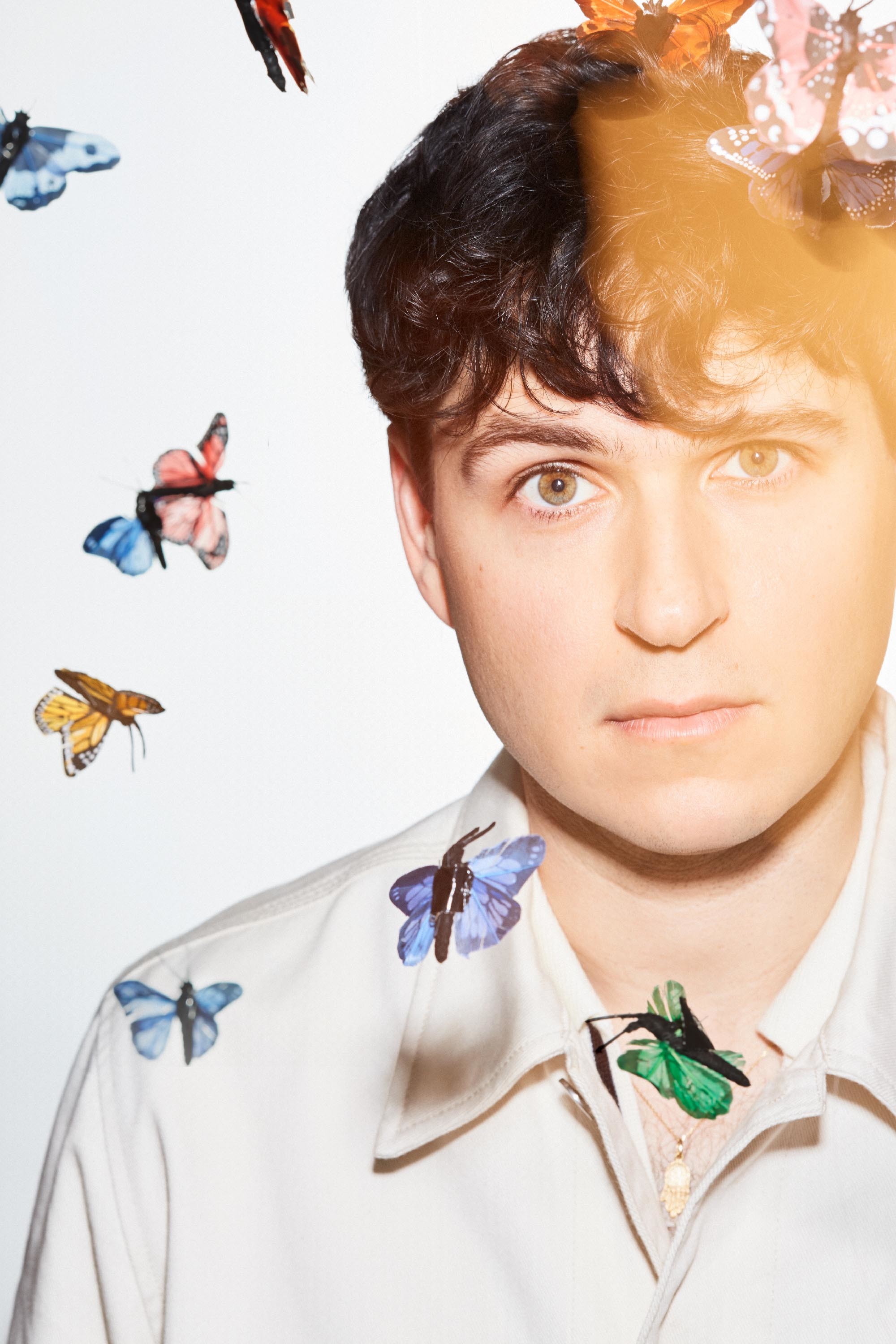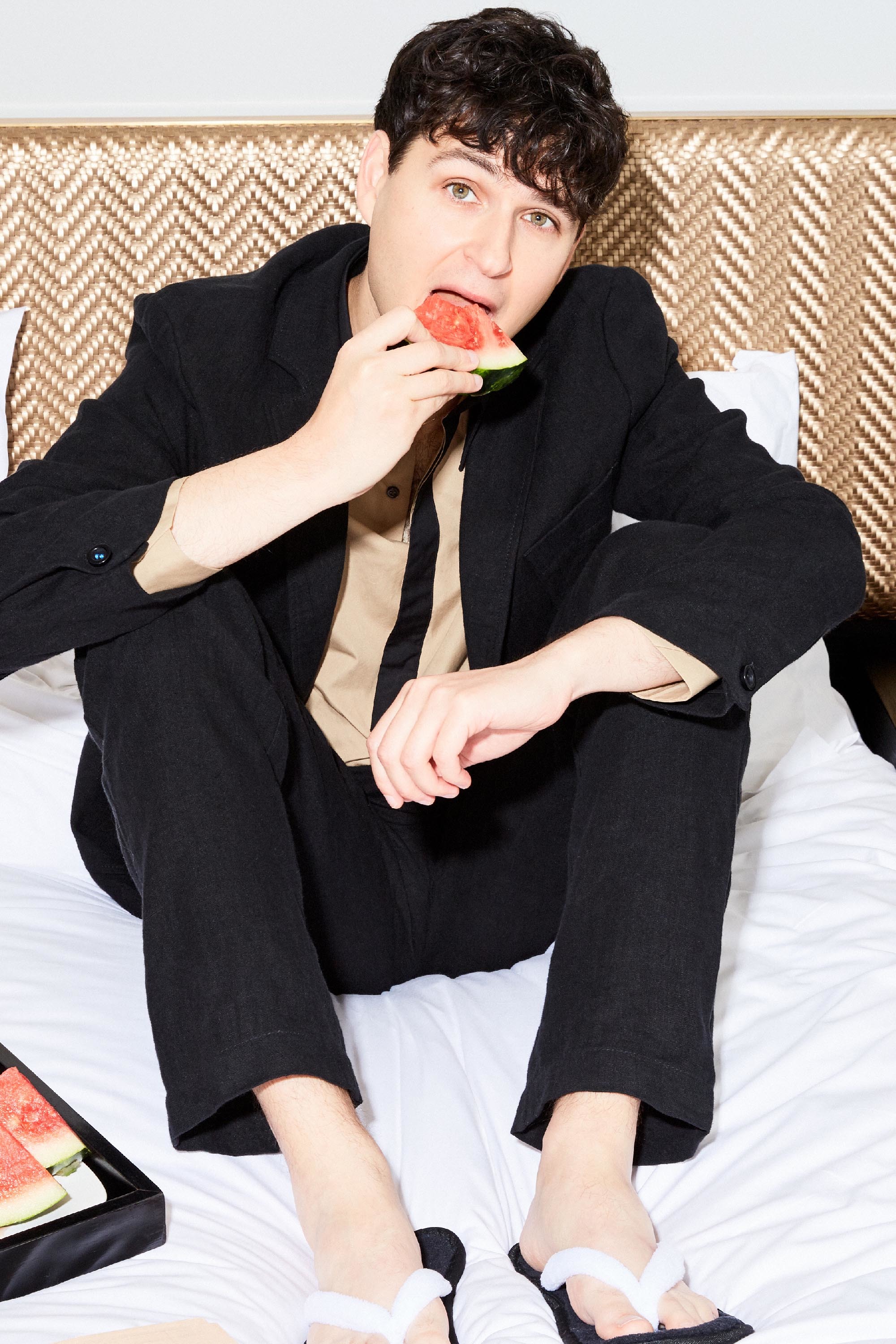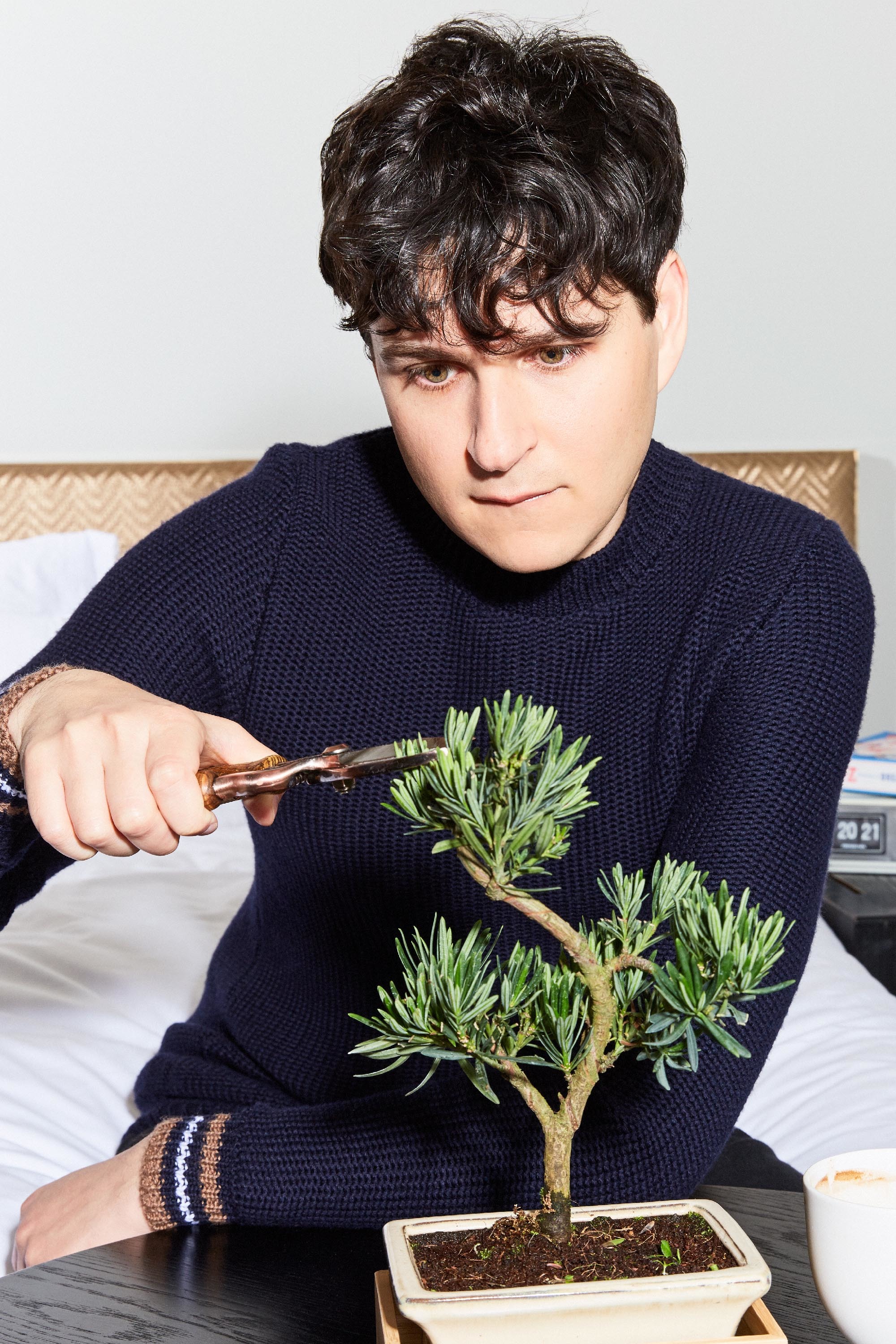 "I've considered ending the band after every album."
— Ezra Koenig
Since first emerging as a bright-eyed, bushy-tailed early-twenty-something, Ezra's done some considerable growing up outside of the band, too. Mostly, he's remained private about this area of his life, choosing to keep details of his long-term relationship with actor Rashida Jones, with whom he recently fathered his first child, out of the limelight. When Vampire Weekend finally revealed the title of their fourth as the unexpected 'Father Of The Bride' then, some did a double-take. Speaking now, the singer acknowledges the double-bind of his situation; with the ever-present, ever-understandable need to maintain a private life, what about when you crave a different level of connection? "You do almost feel weird about not sharing more [with fans]," he admits. "Because in a perfect world, why should you have to be all that private? But obviously we don't live in a perfect world." Ezra trails off a little, lost in self-analysis. "It's this tension - maybe that's where the impulse to get a little smaller was."
Ironically, of course, that desire to get a little smaller was met with a US Number One upon the album's release. But while Vampire Weekend's stature seems to show no signs of shrinking, Ezra's keen to keep things in perspective. "I've seen musicians sometimes get panicked by people twenty or thirty years younger than them - musicians who are older than me!" he laughs. "And I'm like, 'Jesus, I hope I'd have a more even keel by the time I'm your age'. Just like, some old-ass dude like, 'What's up with Billie Eilish?! How is that relevant?' I'm like, 'What the fuck are you on about? Jesus - if you catch me when I'm your age, weighing in on the Billie Eilish of 2040, please tell me to quit'. I've seen that, and I don't wanna be that. It's all ego."
Title & Registration
What's in a name? For someone as analytical as Ezra, a whole lot. So what's behind the shift from the comical 'Mitsubishi Macchiato' working title? The dreamboat explains.
"Initially, I just thought 'Father Of The Bride' was kinda funny. For my generation, Father Of The Bride was this funny film that people had on VHS often. But then I thought about the phrase, and what I started to like about it was that it makes you think of a wedding - a happy day; a major life-cycle event; two people expressing their commitment to each other in front of a community. But then I was like, 'What is it about FATHER of the bride?' Because I wouldn't make an album just called 'The Wedding'. That's the moment of transition. The father of the bride is a beautiful thing - it's a parent recognising that their child no longer needs their support. The truth is, it easily could've been 'Mother Of The Groom' too. But it's about a generational shift - a moment of transition."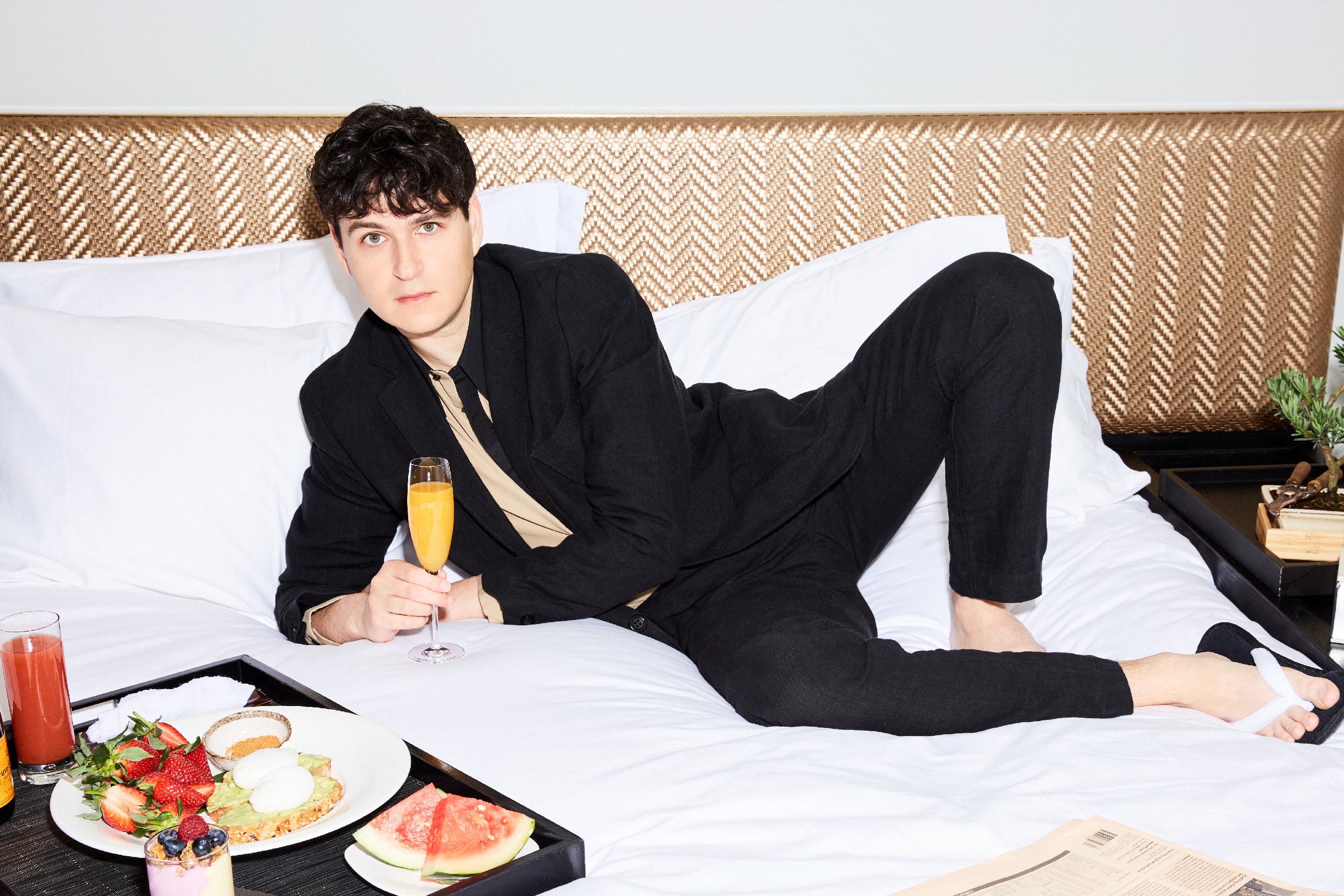 "If you catch me when I'm older weighing in on the Billie Eilish of 2040, please tell me to quit."
— Ezra Koenig
Ego is something 'Father Of The Bride' finds Ezra shying away from even further. Sharing the vocal stage with a number of guests - most notably Danielle Haim and The Internet's Steve Lacy, whose voices crop up across the album - the record is an "open door", he says. "Having other people involved, practically speaking, it's more fun! I have other people in the studio, people to collaborate with, and it gives the texture of the album a new feeling, which I think is the right feeling after the trajectory of the last three albums."
That collaborative effort has always been at the heart of Vampire Weekend, though, the singer stresses. Much was made of the departure of founding member Rostam Batmanglij in 2016, and this record being Vampire Weekend's first without him at the heart of things; for Ezra, however, there's been little change. "Practically speaking, my role hasn't changed in the band at all," he says. "I've literally done the same thing on every record. I write songs, I sing, I'm the curator, I'm the leader. I feel so lucky to have collaborators, whether it's Rostam, whether it's the other guys, whether it's Ariel [Reichstad, producer and co-writer], whether it's all sorts of new people for the first time. My role is very static, in a way."
During their time away, bassist Chris Baio has produced two solo albums, while drummer Chris Tomson heads up Dams of the West. Their move towards additional outlets could feed into the idea of this band as primarily the singer's concern, however for him - as ever - it's about trying to convey more than that. "With Vampire Weekend, I've made my peace with the tension of being an individual, telling an individual story, within a group project," he says. "But with all of these things, you have to hope that the voice of the project - which isn't my voice as a human being - ultimately wins out over all the little details."
The addition of Danielle and Steve helped that, he admits. As 'Sympathy' opens, Lacy introduces the track with a couple of lines that have been picked apart more than most: "I think I take myself too serious / It's not that serious". While Ezra's reluctant to dissect his work too directly, he does laugh at the idea that it's been seen as his own voice breaking through. "Because I don't see this as a solo album, and I see the other voices you hear on it as very important - especially Steve and Danielle - if somebody else says something on the record, it's probably fair to say that if [I] wanted to say the same thing, I would've said it. Maybe there's a different meaning if Steve says it."
Instead, much of Ezra's own musings on the record are decidedly more complex. From the musically-whimsical, lyrically-devastating 'This Life' ("Oh Christ, am I good for nothing? This life and all its suffering"), to 'Big Blue''s exploration of an individual's connection to the planet, to the intersections of life and the Jewish faith that pepper throughout, the album's musical levity - brought about by that aforementioned "open door" approach - disguises some heavy topics. There's always a bigger picture with Ezra Koenig.
Rather than any one meaning or set-in-stone interpretation, though, Ezra's keen to stress the broader nature of his ambition. On his band's new record, and in a wider context too, the New York college kid turned international indie dreamboat seems to be searching for something deeper. Just as he sought to expand Vampire Weekend's scope on 'Father Of The Bride' - be it through collaboration, experimentation, or simply throwing a show in the early hours - he hopes to inspire a similar expansion in thought among those he holds dear. "I've met people whose relationship to Vampire Weekend came via their own relationship to their identity, and how they saw something similar in what I felt about the world and what they felt about the world," he says. "That's what's most important to me."
'Father Of The Bride' is out now via Columbia.
Vampire Weekend play Mad Cool Festival (11th - 13th July), where DIY is an official media partner.