Album Review
Bastille - Doom Days
4 Stars
They've built a conceptual world not all too different to the one we're facing right now.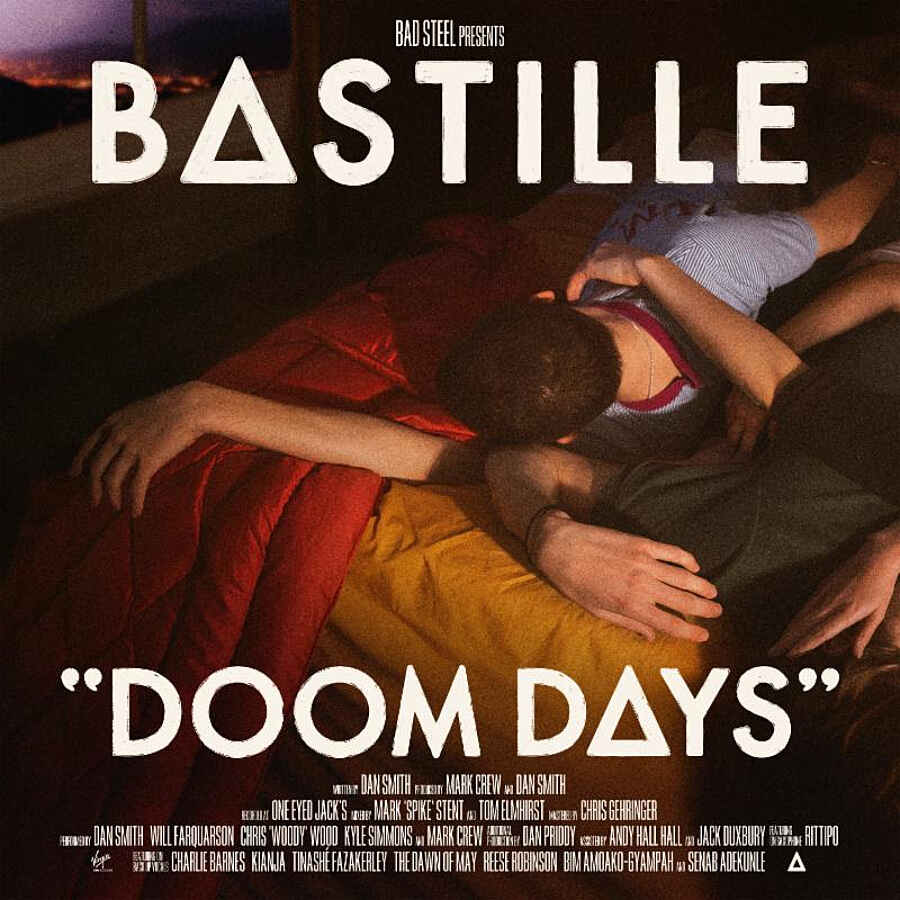 For the best part of their existence so far, Bastille have taken the darker moments of life - be it ancient history, politics, the general chaotic state of the outside world - and transformed them into anthemic pop bops, bathed in a sense of hopeful euphoria. It's a style that's dominated both of their albums so far - 'Bad Blood' and 'Wild World' - and while 'Doom Days' may share similarities when it comes to syllables, their latest record feels like its cut from a different cloth.
That's not to say the glorious hooks and earwormy lyrics that peppered those first records aren't present here; it's more that while their previous efforts channelled bombast, 'Doom Days' is more of an intimate, and therefore unexpected, affair. Based around the events of one night partying (which, as you may guess, all kicks off at 'Quarter Past Midnight') it's an album that digs into the musical influences of the band as a whole. Layered with electronics and synths, samples and drops, it finds itself constantly shifting to follow the phases and mood of the evening. Through the likes of the soulful 'The Waves', which sees Dan Smith sharing his vocals with female vocalist Bim Amoako-Gyampah, or the 'Born Slippy'-ness of 'Million Pieces' - a song that feels closer to a clubland classic that your regular Bastille chart-topper - we're given a more detailed glimpse into their brand of musical magpie-ing.
It's also a record that feels more thematically insular than previously: set against the imminent apocalypse, which apparently rages outside while the party's guests rage inside, it casts a closer eye on the insecurities and fears that burn deep in the belly of escapism. Its title track becomes the record's dark centrepiece, Dan's vocals more hushed and almost suspicious of the modern world - "So many questionable choices / We love the sound that our voice makes / And this echo chamber's getting loud" - before 'Nocturnal Creatures' sweeps the paranoia away with its cathartic electronics.
While 'Doom Days' may look like an unusual step for a band as huge as Bastille - with fewer obvious hits and more introspective numbers - it's certainly not. A record which thrives on evoking feeling and catharsis, while remaining committed to their personal influences, on 'Doom Days' they've managed to deftly build a conceptual world not all too different to the one we're facing right now, and that feels like a triumph in itself.