Interview
Bastille: Rhythm Of The Night
Already having two ginormous, multi-million selling records under their collective belt, Bastille are diving deep into a much more intimate scene on their new album 'Doom Days'.
Spend any time online, flicking through a newspaper or even just walking down the street, and it's easy to feel bombarded by life. With headlines and news stories growing more ridiculous - or more terrifying, depending how you look at it - every day, it's beginning to feel like the best option is simply to shut off, stop thinking about it at all.
Having dealt with this onslaught head on with second album 'Wild World', that's a sentiment that Bastille can sympathise with. It's unsurprising, then, to think that after another huge touring cycle, they might also fancy switching off for a little bit. And that's exactly where 'Doom Days' began. "We set out to make something that was really about escapism and that was the opposite of what we did last time," begins frontman Dan Smith, sipping a coffee in a food market not too far from the band's base, studio One Eyed Jack's. "I wanted to do something that felt hopeful, and was both a distraction for us and a distraction to listen to."
If one word dominates the feeling of 'Doom Days', it's distraction. An admittedly - as Dan puts it - "loosely conceptual" journey, the album documents the events of a single night, following a group of friends as they party through the apocalypse that's blazing outside. From opener 'Quarter Past Midnight' it follows the group on a journey through nihilism, lust, introspection and paranoia, before our narrator finds himself waking up on the fictional kitchen floor, back on the other side, with only his phone's ringtone to call him back.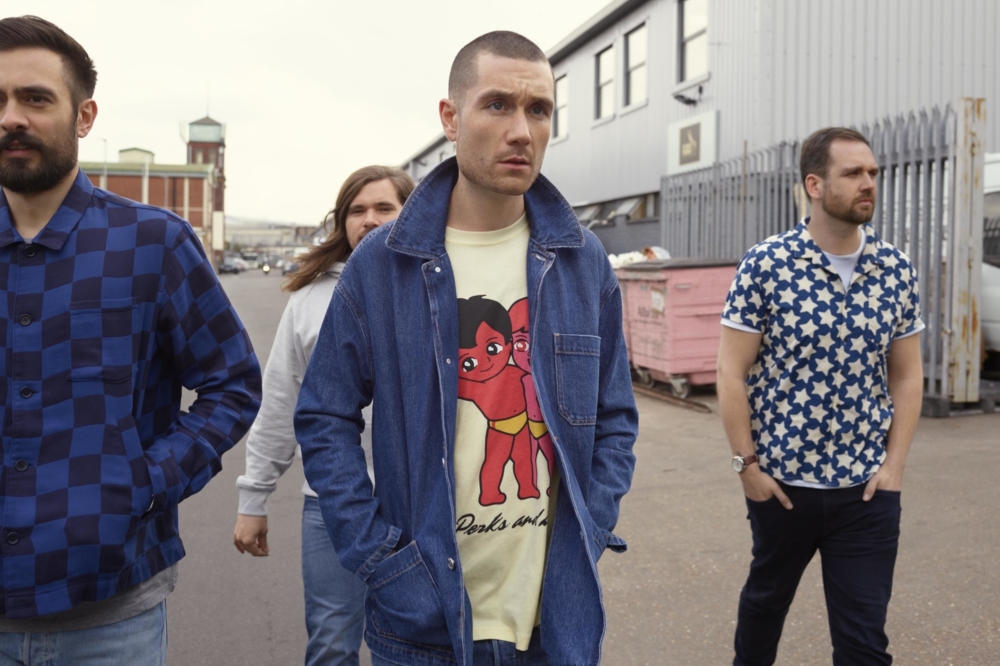 "We set out to make something that was the opposite of what we did last time."
— Dan Smith
Despite its seemingly linear storyline, the end result was not necessarily always the plan. "I had these ideas of doing a '90s-leaning rave album, but if I'm honest with myself, it was probably never going to sustain itself for an entire album!" he laughs. "We sort of headed that way with a few of the tracks; the first song that we made was 'Nocturnal Creatures', which has this break beat and a drop. We wanted to put our twist on the feeling that you get when you listen to those '90s records, with their rolling, crunchy beats.
"I wanted us to make an album that was eight songs long," he says, "and was this snapshot of how we were feeling a year ago, and was about this desire to go out and escape and ignore reality, and capture that feeling of that time at night. Then, we got distracted." It's that word again.
What happened in reality was that 'Doom Days' was complete, by all accounts, ahead of the band's 2018 ReOrchestrated tour, which saw them backed by a string quartet and brass section. But after spending some time away from the recordings, the quartet realised there was so much more to the tale. "I wanted to flesh out the story and add more elements; some more songs and some more voices to the record. It became a different thing entirely, but it's been so much fun to make and I think it's a better album for having waited."
"With 'Wild World' we were trying to do and say a lot, and be as expansive as possible. With this, just for ourselves, we wanted to react against it and do something that felt small and more cohesive."
— Dan Smith
While Bastille are no strangers to analysing the ways in which humans interact with tragedy and darkness, on 'Doom Days', there's a marked difference. "With 'Wild World' we were trying to do and say a lot, and be as expansive as possible," says Dan. "With this, just for ourselves, we wanted to react against it and do something that felt small and more cohesive." Even the idea of the party itself being cut off from the outside world, curtains drawn, reflects the record's more inward-facing soul. "I think my repetitive re-assertion of this being an 'apocalyptic party album'," a phrase the singer's used to describe the album's backdrop, "was almost a helpful tagline for me to have. I said that publicly from the beginning, so we had something to work towards. Creatively, it was a helpful tool for us to have a totally different experience."

And while it's easy to assume the apocalypse is a metaphor for the times we're currently living through, Dan is hopeful that the album's narrative is a little more obscure. "I feel like every era feels like it's going through its own apocalypse. There were fears about nuclear war, or the First and Second World Wars, or Vietnam, or 9/11… [There have been] these different periods where it feels like there are big, internationally dramatic moments. All of these changes in culture seem to provoke the feeling that there's some big scary change. Look at the millennium; people thought the world was going to end. People literally thought the world was going to end.
"In the era that you're living in, it always feels so much more intense," he continues, "and it's strange, at the moment, I don't really know how I feel about it. [Over the last few years] there was Brexit, Trump, and this huge international lurch to the right, that you can't help but feel - if you're vaguely liberal minded - that it's a huge backwards step and feels really troubling. But, because we're living in these times and it feels so acute, it's quite hard to step back and see the grand scheme of things. I guess the idea of the apocalypse on the album is that I wanted to overdramatise [our current situation], and nod to it quite a lot, but leave it really open to interpretation. There was a part of me, as we were making it, that imagined a city on fire outside, and just closing the curtains to it and trying to ignore it so I guess it can be what you choose it to be."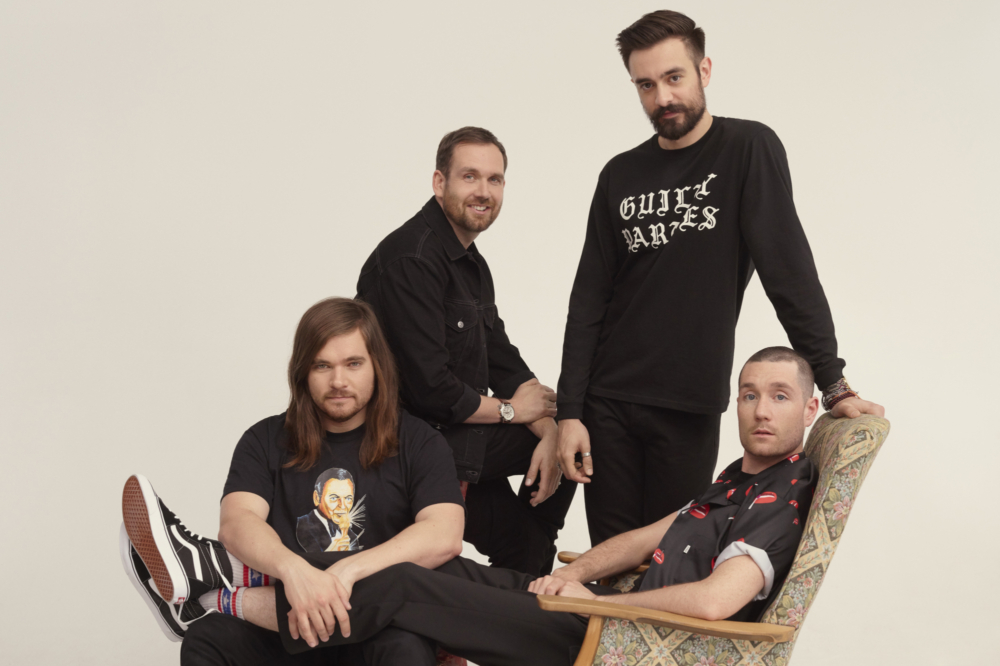 "I feel like every era feels like it's going through its own apocalypse."
— Dan Smith
What's also quite clear is that this is not the first or last time that an artist will delve into the idea of freedom from reality. There's no bones about it; escapism and hedonism aren't exactly new territory to tread, and that's something Dan knows all too well. "One of the points of crisis I had with this album was that about a year ago, it was written and finished, but I had all of these creative anxieties. At Christmas last year, I was like, 'fuck, I tried to write about escapism and hedonism, and these are things that've been written about so many times before, what's gonna set this apart? What's gonna make this album different?'" And while, at first, he feared having to toe the line with the canon, he soon realised that nodding to his influences could only enhance the album's story. "I had a bit of a week where I tried to immerse myself in loads of films and literature about those subjects - all those topics - because I thought if I at least nod to it, hopefully that will set that tone."
And much like any form of escape, what goes up must come down, and that's something felt quite tangibly with closer 'Joy'. Marked out as one of the band's 'happier' songs by fans - "It's kinda not though! A chorus of 'I was giving up / I was giving in' is hardly skipping through daisy fields!" - it offers a moment of clarity. "I just wanted to put some sort of happy note on the end of the record," Dan explains. "I always want our music to straddle the line between hopeful and very sad because that seems to be the fence that we seem to sit on all of the time," he laughs. "I guess, the arc of the album is this somewhat naive, desperate pursuit of escapism that, as we all know from personal experience or films and books, never ends well. You never find what you're looking for because you're not really looking for anything. It's about that propulsion into the night and the mess that it stirs up. But it's also about the fact that all of the problems in your life or in the world, they all seep in, no matter how much you try to shut them out.
"If there's anything [to take away] it's that the truest form of distraction and happiness seems to come from human contact. Be that being loved up with your mates at four in the morning, or having a positive one night stand experience, or," as 'Joy' concludes, "just getting a phone call from someone that is the one person who can set you straight and bring you back to some small part of reality." Who needs distraction anyway?
'Doom Days' is out now via Virgin EMI. Bastille play Citadel (14th July), where DIY is an official media partner.